From www.slashgear.com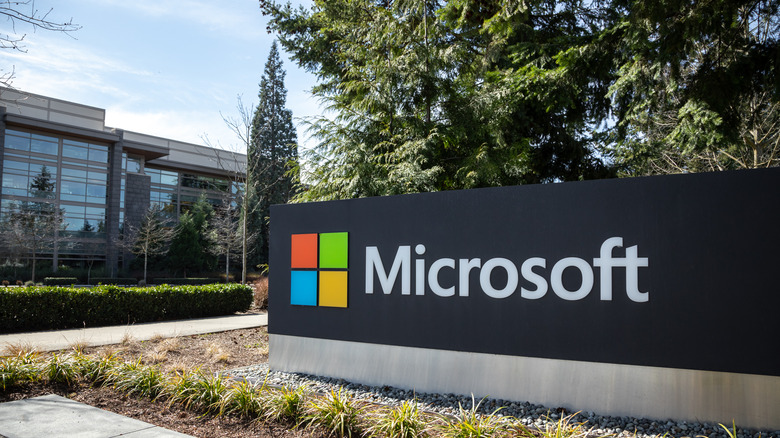 VDB Photos/Shutterstock
Microsoft originally described Windows 10 as "the last version of Windows," intending to turn the operating system into a service model with regular updates instead of major releases. Perhaps the numbering system was always intended to increase, as Microsoft's marketing from that time is slightly ironic today as it is the last version of Windows as we're now on version 11. It took six years between major releases, this time when prior Windows incarnations came every three. That should mean that the next major version of Windows won't come until 2027 but things appear to be changing over at Microsoft.
Now the rumor mills are working overtime saying that Microsoft isn't finished and Windows 12, for the sake of having a name we can say, is in the works. The company hasn't said anything publicly, but various tech outlets have spoken to sources inside Microsoft who confirmed its existence. While we can't independently confirm this yet, the number of different, independent outlets talking about a new version of Windows in the works puts some weight behind the rumors. The way Windows 11 upgrades has also changed, with the yearly feature upgrades no longer happening in favor of smaller feature updates throughout the year. We've rounded up the latest rumors and features, and put our knowledge to work on what Microsoft's potential plans could be.
Windows 12 is coming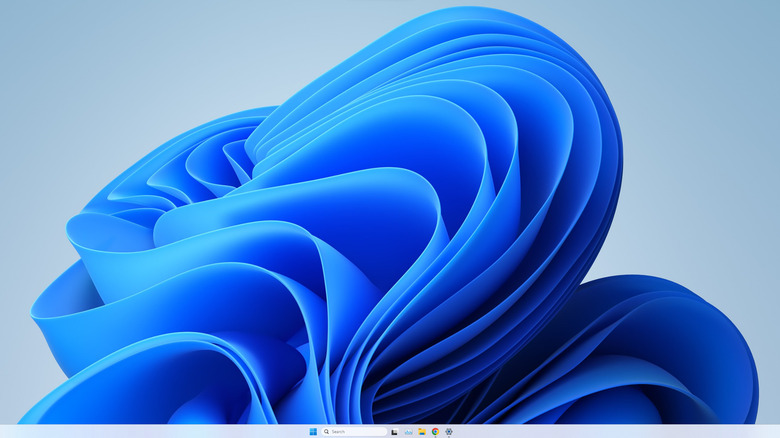 Joe Rice-Jones/SlashGear
Microsoft has been downplaying the reports about the upcoming OS, but downplaying rumors is part of the game and often is a soft confirmation that something is in the works. The rumors and reports also say that the company might be stopping annual updates in favor of a major release every three years again. One of the earliest reports was from the German site Deskmodder.de, saying that Microsoft would start work on Windows 12 in March of 2022. The site referenced its own sources inside Microsoft, popular security account SwiftOnSecurity, and job listings for staff to provide "additional support to the team."
That confirms reporting from Windows Central's Zac Bowden, who says that Microsoft uses the "Next Valley" codename internally for the next major build of Windows. That doesn't necessarily mean that Microsoft will call it Windows 12. Until Microsoft confirms it, Windows 12 as the next sequential release after Windows 11 is as good a name as any. We don't think Microsoft will skip any numbers when the next version of Windows releases, not as it did with the jump from Windows 8 to Windows 10.
Probable release window
According to Windows Central, Microsoft is changing to a three-year cadence for major Windows releases. That information tracks with how the company used to release Windows versions before Windows 10 was released and would make Windows 12 a 2024 release. Windows 7 arrived in 2009, with Windows 8 turning up three years later in 2012. Windows 10 was released towards the end of 2015. That was the end of the three-year cadence, with Windows 11 coming six years later in 2021.
Now, if Microsoft is reportedly going back to the three-year cycle, for whatever reasons, the next major version update for Windows would be in 2024. It likely won't be the end of Windows 11 or even Windows 10. Microsoft has pledged to five years of mainstream updates for Windows in recent releases and another five years of extended support after that. That would make Windows 11 obsolete in 2031 and Windows 10 in 2025. The only major update of Microsoft's operating system that got fewer was Windows 8, which dropped after four years due to how many consumers disliked the forced Start Menu view and other launch issues.
There is always a possibility that the three-year release cycle changes for whatever reason. That would make Windows 12's release window later, but how much longer we can't say. Again, Microsoft is currently on a six-year release window so it's possible the early reports are mistaken and Windows 12 won't arrive until 2026 or even after.
Cost of Windows 12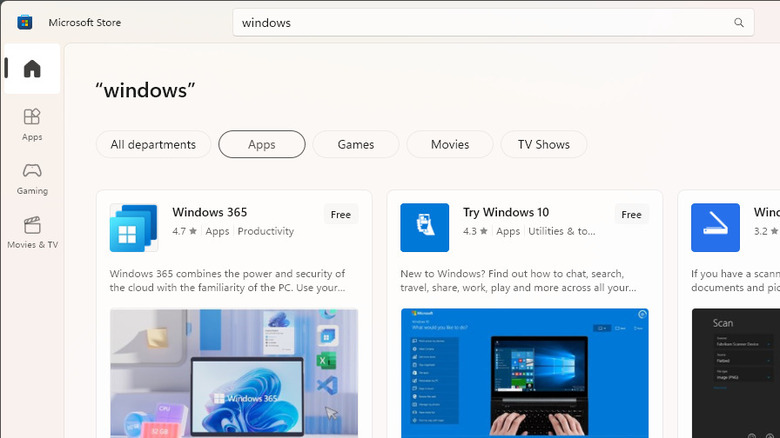 Joe Rice-Jones/SlashGear
Microsoft has offered free upgrades to its latest version of Windows since the release of Windows 8 to get more users onto its latest and greatest. This is likely for Windows 12, at least shortly after release. Microsoft had a rolling release for the free upgrade from Windows 10 to Windows 11. The upgrades started being offered in October 2021, with the company saying that all existing and eligible PCs would be offered the upgrade by the middle of 2022. Microsoft has not announced a cut-off date for Windows 10 users to upgrade, although we'd caution that those users should upgrade before Windows 12 gets announced; otherwise, they might have to pay.
As to how much a Windows 12 license might cost, we can look at the current pricing for Windows 11. A license of Windows 11 Home costs $139 directly from Microsoft. To get Windows 11 Pro, it costs $199.99. We think it unlikely that Microsoft will increase the costs of a license with the next version of Windows. The company has to keep costs low to tempt the users still using older versions of Windows that won't qualify for any potential free upgrades. For that reason, and for the number of enterprise customers that would need to upgrade at that time, we expect the price of a Windows license to stay fairly static at those numbers.
Upgrade path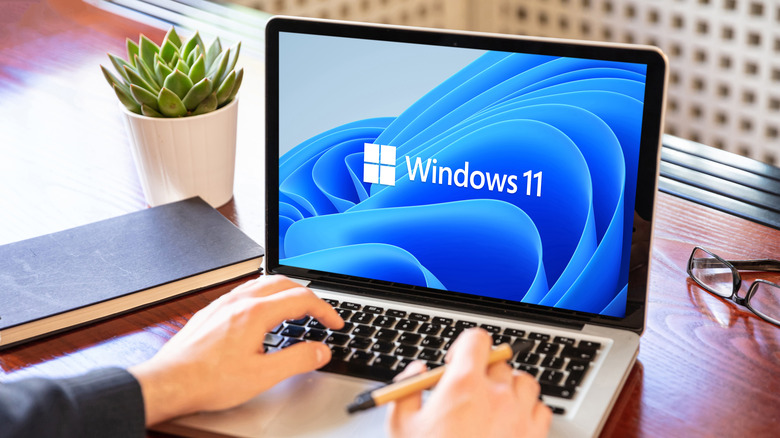 rawf8/Shutterstock
Microsoft has offered a direct upgrade path to its latest operating system, Windows 11, for any users on Windows 10. The upgrade appears in Windows Update as an optional update, or there is always the option of doing a clean install to Windows 11 from the Installation Assistant or created installation media. Users on Windows 7 or Windows 8 had to first upgrade to Windows 10 before carrying on to Windows 11. Or, they could do a clean install to Windows 11, as license keys for earlier versions of Windows still activate the latest version.
We expect Microsoft to continue this pattern of upgrade paths when Windows 12 is available. Windows 11 users should get a Windows Update notification to upgrade, and users of any earlier Windows versions might get a notification or will be able to do clean installs. That will depend somewhat on any additional hardware requirements Microsoft decides are necessary for Windows 12 use, particularly those around additional security chips. If 2024 is really the release date, then we expect any PC that can currently run Windows 11 to be able to update to Windows 12. If the release date is later for any reason, the number of existing computers that will be compatible could be reduced, simply by their aging hardware.
Your choice to upgrade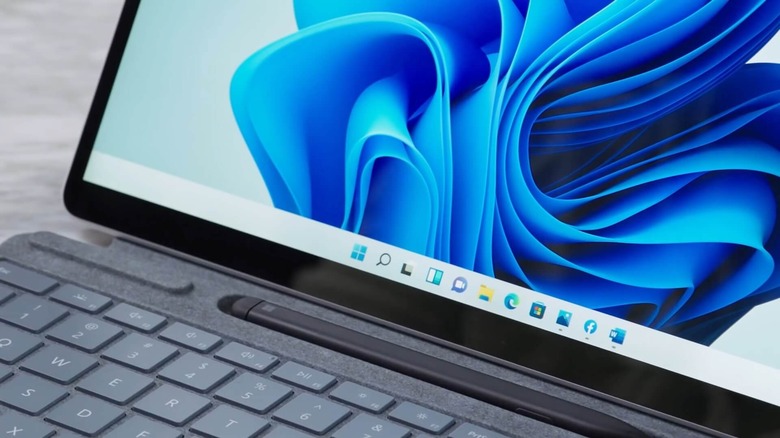 Microsoft
Microsoft is unlikely to force any users happy on earlier versions of Windows to upgrade to Windows 12 when the time comes. Windows 11 is an optional upgrade for Windows 10 users, who have until October 2025 before Microsoft stops supporting the operating system through its extended support promise. Even after that date, the operating system will still work; it just won't get feature updates and probably won't get security updates unless they're for huge fixes. That's fine for the majority of Windows 10 users, who might not even be able to upgrade to Windows 12 if their hardware isn't up to the eventual requirements.
The situation is even more fluid for current Windows 11 users. Using Microsoft's Modern Lifecycle Policy, users of the company's latest operating system will have extended support through 2031. Windows 11 will still get mainstream support and feature updates until 2026, so Microsoft isn't finished yet. The new policy doesn't mention an end date for the support of Windows 11, so users may be able to avoid upgrading when Windows 12 launches for many years afterward. Microsoft has said that specific versions of Windows 11 will get 24 months of support. For example, the latest release, Version 22H2, came out on September 20, 2022, and will have support until October 8, 2024. With Microsoft changing to a three-year cycle again for releases, this support pattern may change to suit.
Required hardware
Windows 11 introduced strict hardware requirements, including a TPM module for security purposes. That locked out many older machines from upgrading. While there were workarounds to install it on unsupported hardware configurations, there's no guarantee these will work when Windows 12 arrives. Windows 12 might not have such a big leap in requirements, coming so soon after the Windows 11 release. What might happen is that anyone who upgraded an unsupported hardware configuration to Windows 11 might find they can't get Windows 12.
Windows 11 required a 64-bit processor with 1Ghz clock speed, 4GB of RAM, 64GB of storage, a display larger than 9 inches with HD resolution (1366 x 768), an internet connection, and a DirectX 12 compatible graphics adapter with WDDM 2.x. It also required a motherboard capable of UEFI and Secure Boot, and a TPM 2.0 (trusted platform module), which could be either software or hardware-based.
That's around what we expect Windows 12 will require, maybe with an increased system RAM to 8GB. Microsoft might add other requirements as time goes on. Some modern processors have the Microsoft Pluton security processor, which brings the TPM into the CPU, making it more secure. Only AMD Ryzen 6000 and Qualcomm's Snapdragon 8cx Gen 3 chips have Pluton inside them, with no Intel CPUs on board yet, even though they were part of the design team. We can't see it being a requirement in Windows 12, but it might be an optional requirement so that other TPM methods are no longer necessary.
Windows 12 UI rumors
Microsoft will likely change the Windows UI for the next major release, although not drastically. We expect a more responsive UI that works better on different screen sizes, resolutions, and mobile devices like tablets. We might have already seen the in-progress version of Windows 12's UI, during a presentation at Microsoft's Ignite developer conference in October 2022. During one cutaway scene, a PC running what looked like Windows but with a different UI than any known Windows version was shown. The Taskbar was floating across the bottom of the screen, looking similar to the dock on macOS. A floating Search bubble wasn't near the Taskbar; it was on the top edge in the middle. The desktop also had Weather and Clock details on the wallpaper at the top corners.
It's not unknown for companies to sneak previews into presentations for the eagle-eyed. It could also be a quick mockup that was never intended for a production version of Windows except for one thing. Zac Bowden at Windows Central said he'd already seen that UI mockup before from some of his sources inside Microsoft. The UI might not be the final version coming to the next version of Windows, but his sources say it was "representative of the design goals" that Microsoft has for Windows 12. Those also include making an interface that works better across desktops and touchscreens, designed to be scalable across sizes and aspect ratios.
AI baked in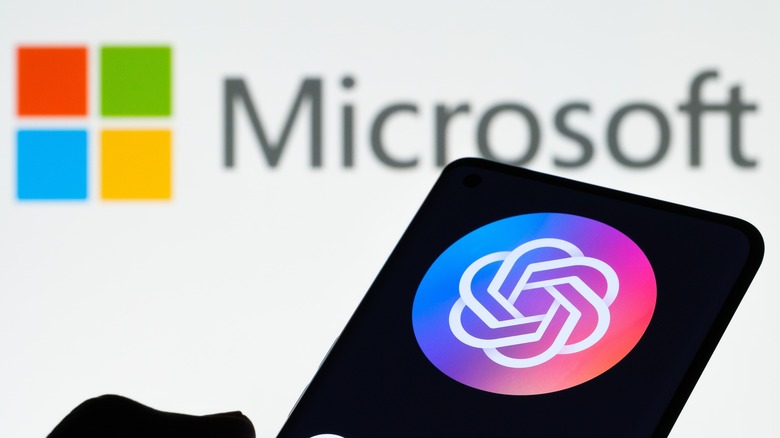 Ascannio/Shutterstock
Cortana has been relegated to the back seat, but that doesn't mean Microsoft is done with AI. During AMD's keynote at CES 2023, Microsoft's Panos Panay hinted that the next version of Windows would heavily feature AI. Shortly after, we were shown how AI would come to Windows after Microsoft announced it was entering into a "multiyear, multibillion-dollar investment" with generative chat darling, OpenAI. One of the first AI-enhanced tools is Microsoft Teams, which now can automatically gather all of the information from a meeting into condensed notes. This includes creating tasks for participants, emailing a meeting summary to any participants (including those who couldn't make it), and Teams Premium can now generate live captions in over 40 languages.
Windows 11 now has an AI-powered version of Bing search, both inside the Edge web browser and in the Search bar on the Taskbar. Expect Windows 12 to expand on the number of functions supercharged by AI subroutines. The Settings app will find what you are trying to change as you start typing, or your video calls will get AI-powered lenses to fix blemishes and make you look more attentive or awake. We could also see Cortana come back as a fully-functional, conversational AI avatar, not quite as fully featured as her namesake in the Halo franchise but closer than any other voice assistant has been so far.
Full shift to the Settings app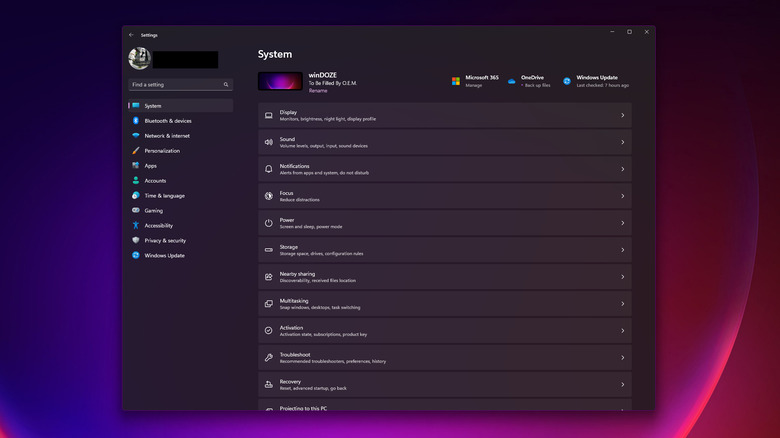 Joe Rice-Jones/SlashGear
Microsoft has been slowly moving its long list of Control Panel applets to the new Settings app, starting with Windows 8's release in 2012. Over a decade later, the company still has a fractured set of customization, setup, and troubleshooting tools in its operating system. Things like the Administrative Tools applet are full of links to other tools for controlling settings and hardware that most users don't need to touch daily, or AutoPlay settings for controlling what happens when external media is inserted into a PC.
There are over 30 applets on the Control Panel of a PC running Windows 11, controlling other functionality like speech recognition, sync settings, and other legacy systems that either haven't been ported into the new Settings app or won't be because they are to control legacy software or hardware. It's time for Microsoft to either remove these or to finally shift them all to the new Settings app. Windows 12 might even use a different core architecture than any of the current or previous versions of Windows, enabling Microsoft to remove some of these applets without needing to translate their functionality into the new operating system.
A new version of Edge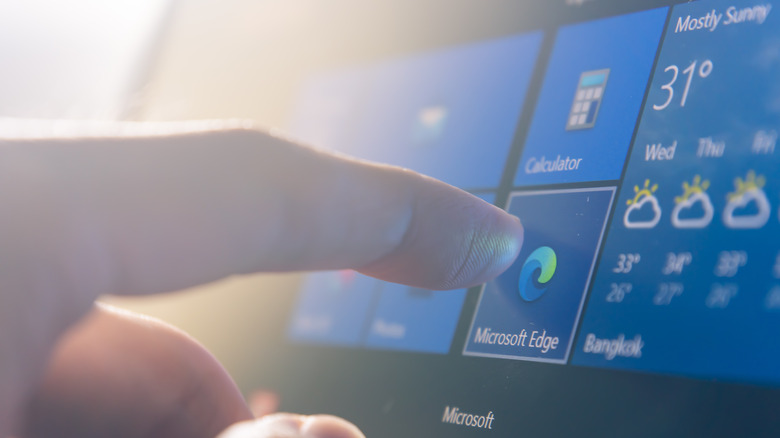 Wachiwit/Shutterstock
Microsoft's Edge web browser has nowhere near the userbase that Internet Explorer had in its heyday. Still, at nearly 11% of the worldwide browser market, it's the closest thing to a competitor to Google Chrome's stranglehold on the market. Maybe that's helped by the recent switch to using Chromium as the browsing engine inside Edge. Another feature for Edge that might be coming in Windows 12 is one that Chrome can't do, and might break off more market share for Microsoft's best browser to date.
That's the ability to show two browser tabs side-by-side without having two browser windows open. Imagine arranging browser tabs inside the open window like you can use snap layouts in Windows 11 to arrange apps around your desktop. This handy feature came from an internal Microsoft User Research team project, using an experimental browser known as "Phoenix" internally to showcase advanced user interface tools as a concept video. The split screen tabs view was the "most liked feature," according to serial leaker WalkingCat. While this might come to Edge users on Windows 11 before we even hear about a Windows 12 release date, releasing an all-new version of Edge alongside the next version of the operating system would be better timing for Microsoft.
Windows 12 on your smartphone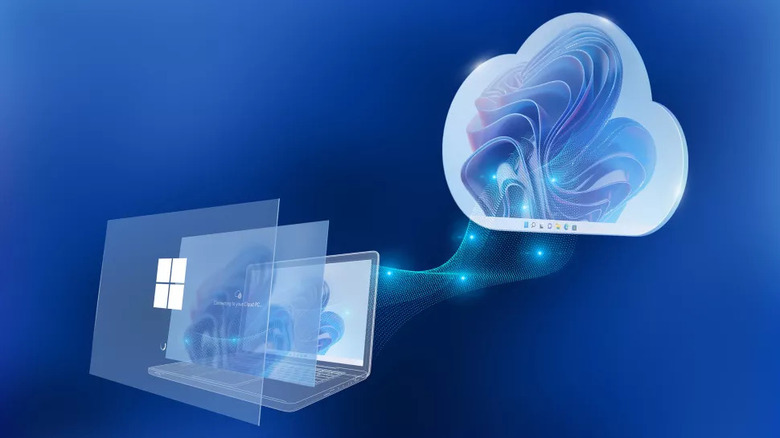 Microsoft
Microsoft has been heavily leveraging its cloud offerings lately, with hybrid working tools built into Windows 11. This moves the operating system closer to a service model and could hint at future plans with Windows 12. One of these future tools could use a combination of the cloud, your home desktop, and your smartphone to give you access to the Windows 12 desktop from wherever you are.
The building blocks are already there; they only need to be combined into one app. You can already remote desktop into your PC, but the experience is less than ideal. Your desktop can also link to your smartphone to handle notifications and take calls and messages on your Windows PC. Microsoft could combine these, plus some streaming video tech and send your desktop to your smartphone, enabling smooth productivity as long as you have internet connectivity. This could even be a Windows Phone-style UI, tweaked to work on a touchscreen instead of the smaller icons and UI used on larger screens.
Faster update cycle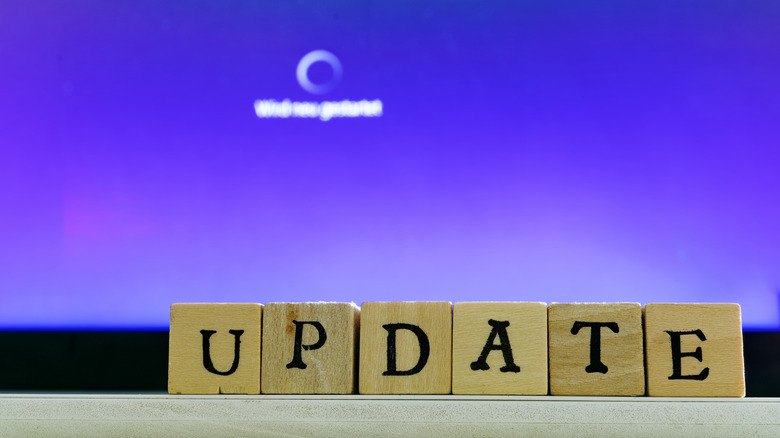 #urban-photographer/Getty Images
Microsoft had a yearly schedule for big feature updates to Windows 10 and Windows 11. The last was in September 2022, with the Windows 11 22H2 (Sun Valley) release. That was also the last planned yearly feature update, as Microsoft has changed how releases happen. Its new "Moments" engineering push puts major Windows releases back on a three-year cycle. Instead of yearly big feature updates, those features will release every few months, as often as four times a year.
The three-year release cadence all but confirms that Windows 12 is coming in 2024. The engineering push will mean a faster update cycle for Windows 12 users, with smaller, more regular improvements and new features as time goes on. We've already seen this smaller timescale for feature upgrades when the tabbed version of File Explorer came just before the Windows 11 22H2 release. The company also released the Taskbar weather button on Windows 11 in the same way, showing that the quicker update cycle was viable. Recent other updates to Windows 11 brought the ability to record your screen with the inbuilt Snipping Tool, which also now automatically saves snips in the Screenshots folder, an upgraded version of Search, energy-efficient settings to lower your carbon footprint, and Quick Assist, a way to easily allow your trusted friends and family to connect to your PC to solve technical issues.
Other potential features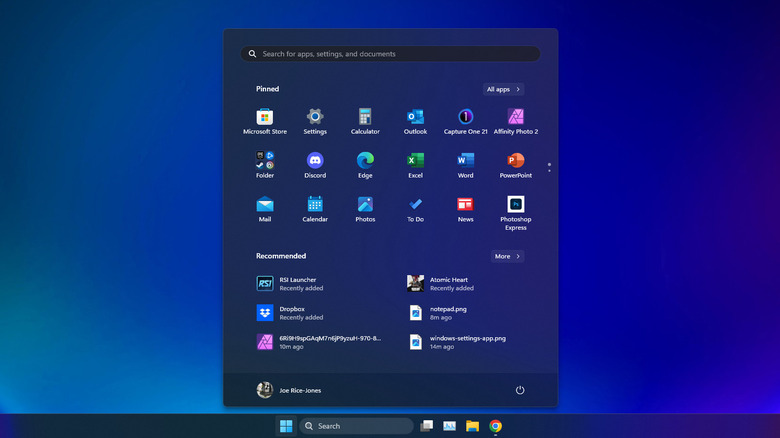 Joe Rice-Jones/SlashGear
Microsoft released Windows 11 in October of 2021. To meet that deadline, it had to test the prerelease features to ensure stability without the testers knowing they were using the next version of Windows. It did this through the Windows Insider program, with millions of testers using Windows 11 features while being told they were testing upcoming features to Windows 10. Testing of these features started as early as June 2021, months before the retail release. Microsoft could already be testing features secretly if Windows 12's 2024 release date is true.
The Dev Channel for Windows Insiders gets the first releases of work-in-progress code from Microsoft's engineering teams. Some of the current in-testing features of Windows 11 look suspiciously close to the Windows 12 UI that was shown off inadvertently at Microsoft Ignite. Insiders are testing a tablet-optimized taskbar that hides to show critical status icons only or expands when swiped to show large icons for touch interaction. That looks somewhat like the floating taskbar from the Ignite presentation. More third-party widgets are being tested, including Spotify and the Phone Link app. Expect more widgets for Windows 12, as Microsoft adds more mobile-friendly features. Another feature in testing is the ability to tweak Windows Studio Effects from the taskbar Quick Settings panel. This likely won't be the only new set of controls coming to the Quick Settings panel, as Microsoft moves away from the old Control Panel style.
The post Windows 12 Rumors, Potential Features, And Possible Release Date Window – SlashGear first appeared on www.slashgear.com
In many places around the world, horse races are an attraction that a lot of people love to watch. With the fast-paced action and thrill that each game provides, it is no longer surprising to know that millions of fans have grown fond of it.
Cybersecurity threats have become vast and more sophisticated. The rate of malware attacks and malicious activity counts within seconds despite the size or sector the organization belongs to — no one is safe enough to expect that foe actors will bypass vital company resources.