From www.phonearena.com
The Gboard app from Google is currently rolling out an update in beta that includes a split keyboard layout specifically designed for Android tablets. In June 2022, a split keyboard was introduced for foldable devices, enabling users to type with greater ease on expansive displays.
The split keyboard functionality aims to enhance the convenience and ergonomics of typing on tablets. The ergonomics of operating larger tablets with a single hand while simultaneously typing on the screen can pose a challenge for users. Gboard's "split keyboard" splits the keyboard into two halves, enabling users to type with ease using their thumbs, even while holding the tablet with both hands.
However, with Gboard's implementation of the feature, you get two layout options: One where the keyboard allows for the exact same amount of keys on either side, resulting in repeated keys on both sides, or one where it is split at the cutoff without any repeated keys. This behavior can be controlled from Gboard's settings by navigating to Preferences > Layout and toggling the "Split layout to include duplicated keys" option, as reported by

Gboard's standard split layout with no duplicated keys

Gboard's split layout with duplicated keys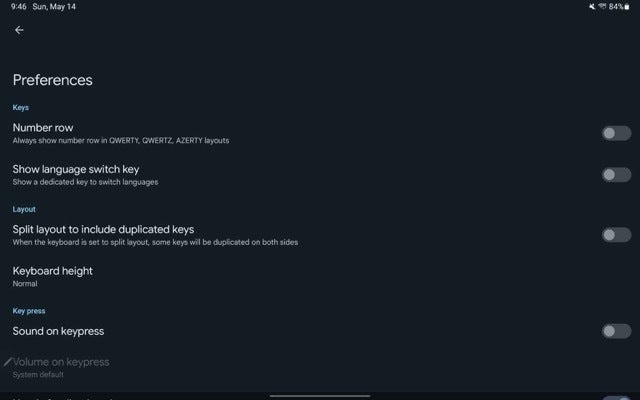 Gboard's duplicated keys split layout toggle in settings (Screenshots from 9to5Google)
Although split keyboards have been available for some time, Gboard's version is anticipated to provide a smoother and more intuitive user experience, particularly for those using Android tablets. This new layout is already available for some Galaxy Tab S8 users that are running the latest version of the Gboard beta app (version 12.9.21).
Of course, we can thank the upcoming launch of the
Pixel Tablet for this update, as I'm sure Google will be doing everything in its power to improve the Android tablet experience and thus incentivize sales. The last time Google took a chance at creating and marketing its own tablet was back in 2018 with the Pixel Slate that ran on ChromeOS. This gamble didn't quite work out for the company though, resulting in Google temporarily bowing out of the tablet space.
Thankfully, Google has revisited this decision and has put all of its efforts into Android tablets instead. Although the Pixel Tablet is not out yet, so far the UI choices made — including the split keyboard — make a lot of sense and is one that can be seen across all of Google's growing ecosystem of devices.
Banner image source – Google
The post Android tablets to get a split keyboard with two different Gboard options first appeared on www.phonearena.com
In many places around the world, horse races are an attraction that a lot of people love to watch. With the fast-paced action and thrill that each game provides, it is no longer surprising to know that millions of fans have grown fond of it.
Cybersecurity threats have become vast and more sophisticated. The rate of malware attacks and malicious activity counts within seconds despite the size or sector the organization belongs to — no one is safe enough to expect that foe actors will bypass vital company resources.