From www.phonearena.com
The Fitbit Charge 6 comes two years after the launch of the similar-looking Charge 5, and the new model now has a deeper integration with Google services, a more accurate heart rate sensor and the starting price has gone down, not up.
The fundamentals haven't changed: the Fitbit Charge 6 is still extremely light-weight and comfortable to wear for long periods of time, it still has GPS, and it has a bit more than two days of battery life with the Always-On screen function (or around five days without it). And it works with both Android and iPhones. In many ways it feels close to a smartwatch, but it's not quite as capable: it lacks features like a voice assistant, offline music playback, complications and more.
So… should you be tempted by the affordable $160 Fitbit Charge 6 or would you be better off with a real smartwatch instead? Let's dive deeper to find out.
What's in the Box?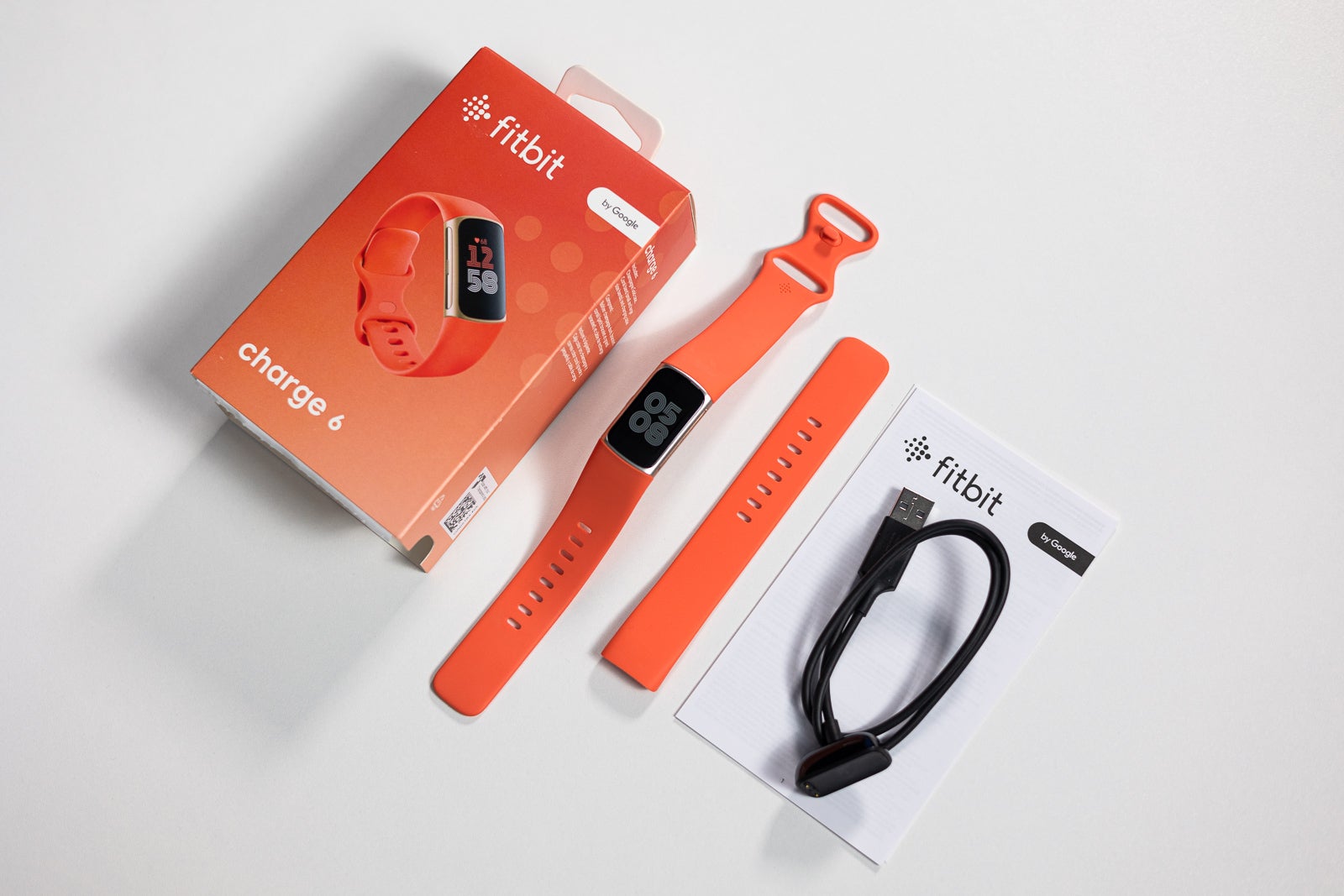 Fitbit Charge 6
A strap in two sizes
USB-A magnetic charging cable with pins
User manual
Design and Comfort
Supremely comfortable!
The design and shape of the Fitbit Charge 6 are nearly identical to the previous Charge 5. This means you get a quite simple-looking fitness tracker with a smallish screen, but a nice shape and no sharp edges.
Good news is that it is SUPER light-weight and very comfortable to wear, both during the day and at night. Most smartwatches offer more features, but are typically heavier and sacrifice at least some level of comfort, while with the Charge 6 you can sometimes even forget it's there.
Is it pretty? I wouldn't say so. But it's not ugly either. The default sport loop "Infinity" bands are soft and comfortable, but definitely look very sporty. Thankfully, you have Horween leather bands going for $50 that you can purchase separately to style it up.
Still, I have to iterate that with the big bezels around the screen, the smallish screen and the proprietary attachment system, the Fitbit Charge 6 is not quite the most elegant fitness tracker and compared to something like the Xiaomi Band 8, it definitely looks less shiny. To be perfectly honest, if you really care about style, a smartwatch would probably be look more suitable on your wrist.
Display and controls
Still, a tiny display and issues with raise to wake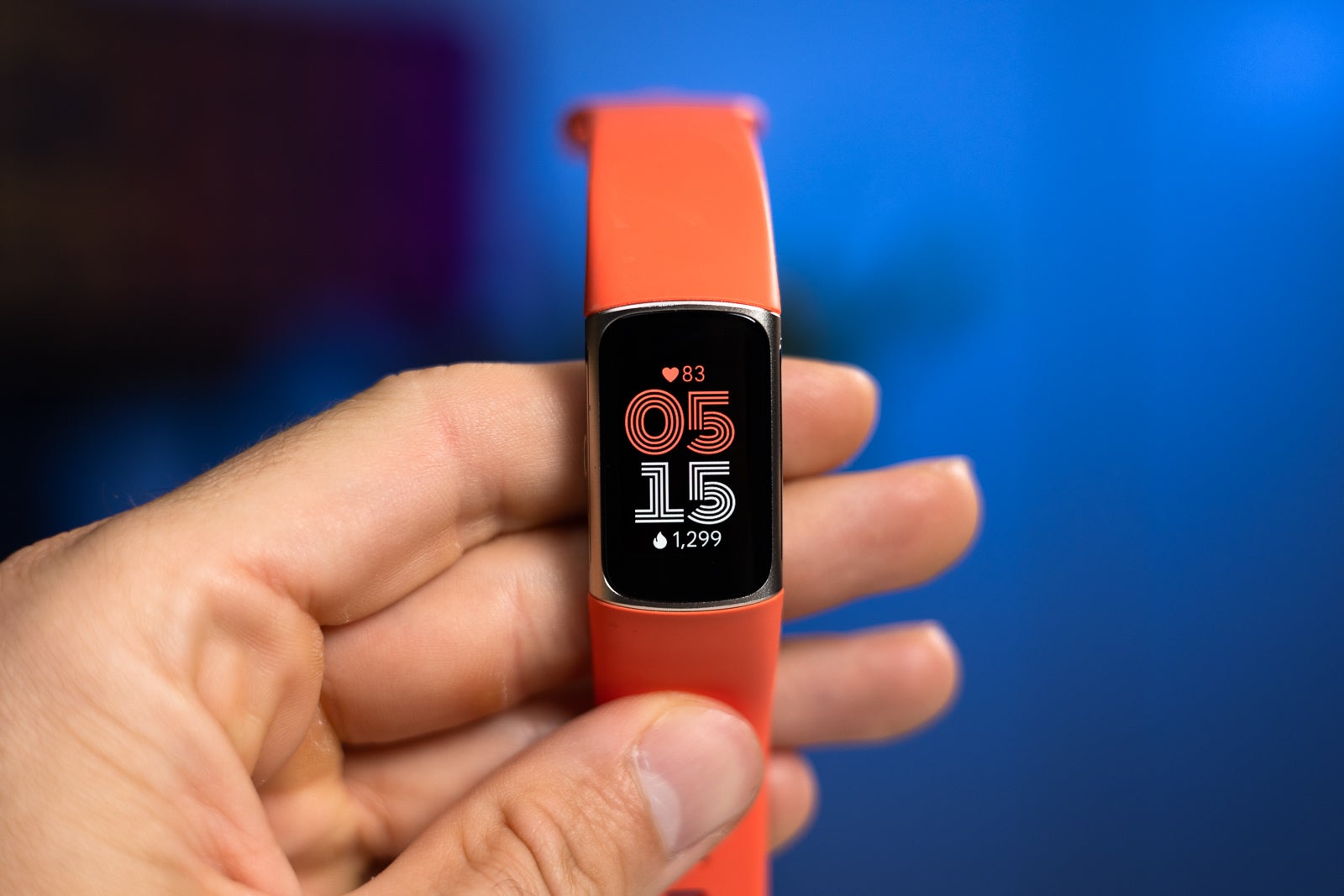 Most of the navigation on the Charge 6 happens by way of taps and swipes, but thankfully Fitbit listened to the complaints about the Charge 5 not having any buttons whatsoever, and on the Charge 6 you now get one haptic button on the left side of the device, which will either wake up the screen if it's off, or take you back to the main screen otherwise. That's a very welcome addition.
However, I have to say that placing the button on the left side rather than the right side definitely feels off. Most smartwatches have their buttons on the right side for a reason: the majority of people wear their watches on the left hand and it's easier to reach the right side, especially if the device is tucked under your shirt. Not a deal-breaker for the Charge 6, but still weird.
Compared to the previous model, the one more noticeable change is that new Charge 6 weighs a bit more:
| | Charge 6 | Charge 5 |
| --- | --- | --- |
| Dimensions | 36.7 x 23.1 x 11.2 mm | 36.7 x 22.7 x 11.2 mm |
| Weight (without band) | 37.6 grams | 28 grams |
The body – like before – is made of aluminum, but now Fitbit uses 100% recycled material.
And just like the previous model, the new Charge 6 comes with an AMOLED screen with deep blacks and beautiful, vibrant colors. Brightness can shoot to 450 nits, same as on the previous model. Most other dedicated smartwatches hit at least 1,000 nits, but I wouldn't be concerned: the screen is still plenty visible outside under direct sunlight.
The bigger problem with the screen is not the brightness – it's just how tiny the screen is, so notifications cannot fit in full and you can only have so much data on a screen this small.
For example, during a workout, on the screen you can see just one of various tracked metrics. For example, during a circuit training workout, I want to at least be able to see my heart rate AND the time of the day, but that is not possible on the Charge 6. You have to tap to cycle between the metrics, which is a very poor design choice.
Speaking of the screen, we have one big complaint: the Fitbit Charge 6 still does not properly detect the common raise to wake gesture to turn on the screen. You have to kind of forcefully flick your wrist to see an incoming notification, and even that way, we could not get it to work every time, which was definitely annoying.
You can also wake the screen by a double tap or a press on the button on the side, but often times you don't have your two hands available to do that, so a raise-to-wake gesture MUST work good on such a device.
I should also say that haptics on the Charge 6 don't feel as sharp and refined as the Taptic Engine on Apple Watches, if you happen to have used that and want a reference.
Software and functionality
You get Google Maps turn by turn nav, Google Wallet and YouTube Music controls
The software on the Charge 6 remains the same as on previous Fitbit fitness trackers.
Here are the supported gestures:
swipe DOWN from the home screen for settings and Google Wallet
swipe UP from the home screen for an overview of your daily stats: battery life, date, steps, distance covered, floors climbed, calories burned; keep on swiping for more data like current heart rate, sleep data from last night, SpO2%, and exercise data
swipe left or right to access notifications, start an exercise, turn the alarm on/off, start a timer, do an EDA scan, start Google Maps directions, or YouTube music controls
press physical button to go back to home screen from any other screen
Many data points available on other smartwatches, however, are missing on the Charge 6. You don't have the weather information available, nor third party apps or fancy complications.
For the alarm and timer features, I wish there was some indication in the home screen that they are turned on, but there is none.
Here is what else this little tracker can do:
Heart rate tracking
HRV, or heart rate variability tracking
EDA scan, a three minute scan that looks at your heart rate, but also sweat data, which is a much more accurate indicator of stress
Google Wallet for payments
The HRV tracking is one metric I find really useful and I am really glad that it's available on this quite affordable tracker. Excellent!
The Fitbit Charge 6 also supports ECG scans, but for some reasons the ECG app was not installed on our unit and it did not appear as an option for us in the Fitbit app.
As for the advertized new features, they are all related to Google products.
Google Maps turn-by-turn directions are cool, but keep in mind that you cannot see the actual map on the wearable, only the directions.
The YouTube Music integration with controls for switching songs and volume is nice, but we wish there was a way to control what's playing on your phone in general via other apps like Spotify. And on the topic of music, one big downside of the Charge 6 is that it does NOT support offline music, so those who like playing music while running for example might be disappointed.
And as for Google Wallet, it's great having it here, there are no two ways about this.
Sports Modes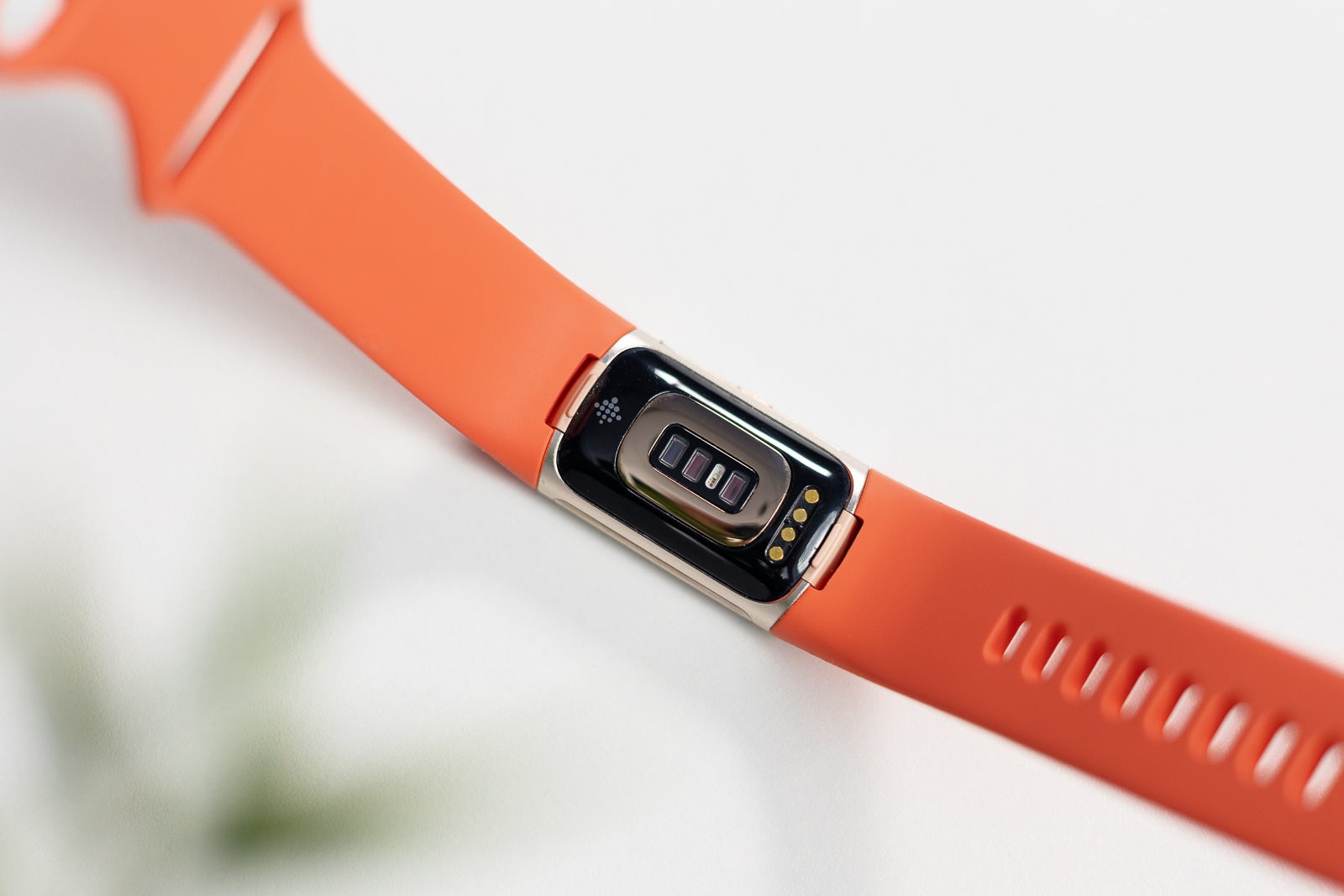 There is a total of 37 exercise types supported on the Charge 6, so let's list them here:
Aerobics, Bootcam, Canoeing, Core training, Cross country sky, Crossfit, Dancing, Elliptical, Golf, HIIT, Hike, Indoor Climbing, Interval Workout, Kayaking, Kickboxing, Martial Arts, Outdoor Workout, Paddleboarding, Pilates, Powerlifting, Rollerblading, Rowing machine, Skating, Skiing, Snowboarding, Spinning, Sports, Stair Climber, Strength Training, Surfing, Swim, Tennis, Treadmill, Weightlifting, Weights, Workout, Yoga
That's a solid list of supported workouts.
We also love that you have an option to keep the screen on during workouts. This way, you can disable the power-hungry "Always-on" screen option, but still when you are working out and need to glance the screen have it on for the whole duration of the exercise. You enable this option by opening an exercise, and swiping all the way to the bottom where you can find this setting.
GPS
The Charge 6 has GPS on board, but its accuracy is often really bad
The older Fitbit Charge 5 had some big issues with GPS activity tracking. Namely, wearing the tracker a bit tight – as you would usually do during workouts to get the most accurate heart rate tracking – would kind of block out the GPS antenna and signal would simply drop off. So you could end up with no GPS data or very inaccurate GPS data. Alternatively, you could wear the tracker loosely and get decent GPS data, but very poor heart rate accuracy.
The Fitbit Charge 6 does not seem to drop off the signal completely, but GPS accuracy is usually really bad on it. Here is one quick run with the Charge 6 on one wrist and the Pixel Watch 2 on the other:
Keep in mind that if you have your phone around, the Charge 6 would just use the GPS data from the phone, which is usually way more reliable. However, if you go on a run with just the Charge 6 (as we did above) and rely solely on its own GPS tracker, you will have GPS data that is not super accurate to say the least.
Water Lock
You have to enable it manually
Water Lock is a feature you need to manually enable on the Charge 6. It's a bit of a process: you need to swipe down a few times to find the option, and then you have to double press firmly, and similarly for disabling it, you also double tap firmly.
If you don't turn it on, though, keep in mind that the screen is way more sensitive than that of an Apple Watch, and it will just go crazy when you take a shower (unlike the said Apple Watch). This was a bit annoying, so I had to actually take the Charge 6 off while showering, it's easier than fiddling with the settings to turn Water Lock on and off.
Swimmers, however, will need to enable the mode while in the water as there is no automatic detection here. It is also quite hard to turn on the screen in the water once it goes dark, you have to literally whack the charger to do that.
Water resistance on the Charge 6 is rated at 5ATM (up to 50m depth).
Notifications still pop up while in Water Lock Mode, but you cannot interact with them until you exit the mode.
Sleep
One of the best sleep trackers around
I am happy to say that sleep tracking is really good on the Charge 6!
This is one feature I really care about, and especially with the Charge 6 being so light-weight and comfortable, it sounds like the perfect sleep tracker and it might just be! It accurately detected the time I went to bed and when I woke up, and it gave me a realistic breakdown of sleep stages (it is incredibly hard to scientifically confirm that, but some smartwatches are comically bad at this).
You also get a sleep quality score on a scale of 0-100, and I also found that number to be a useful reference.
I was also impressed that the Charge 6 detected a nap I took about an hour after I woke up (I felt I needed more rest that morning), something I think many other watches could have easily overlooked.
Fitbit App
The Fitbit app is the place where you will find all your workout data since the Charge 6 itself does not show all of that.
It's available on both Android and iPhone, with slight differences to the design. What's new is that it is now required that you have a Google account to access the app.
From the app, you can also change the wallpaper on the Charge 6, and you have a selection of 23 watch faces (nothing new from the previous generation).
Battery Life and Charging Speed
Two days with always-on display, close to five days without it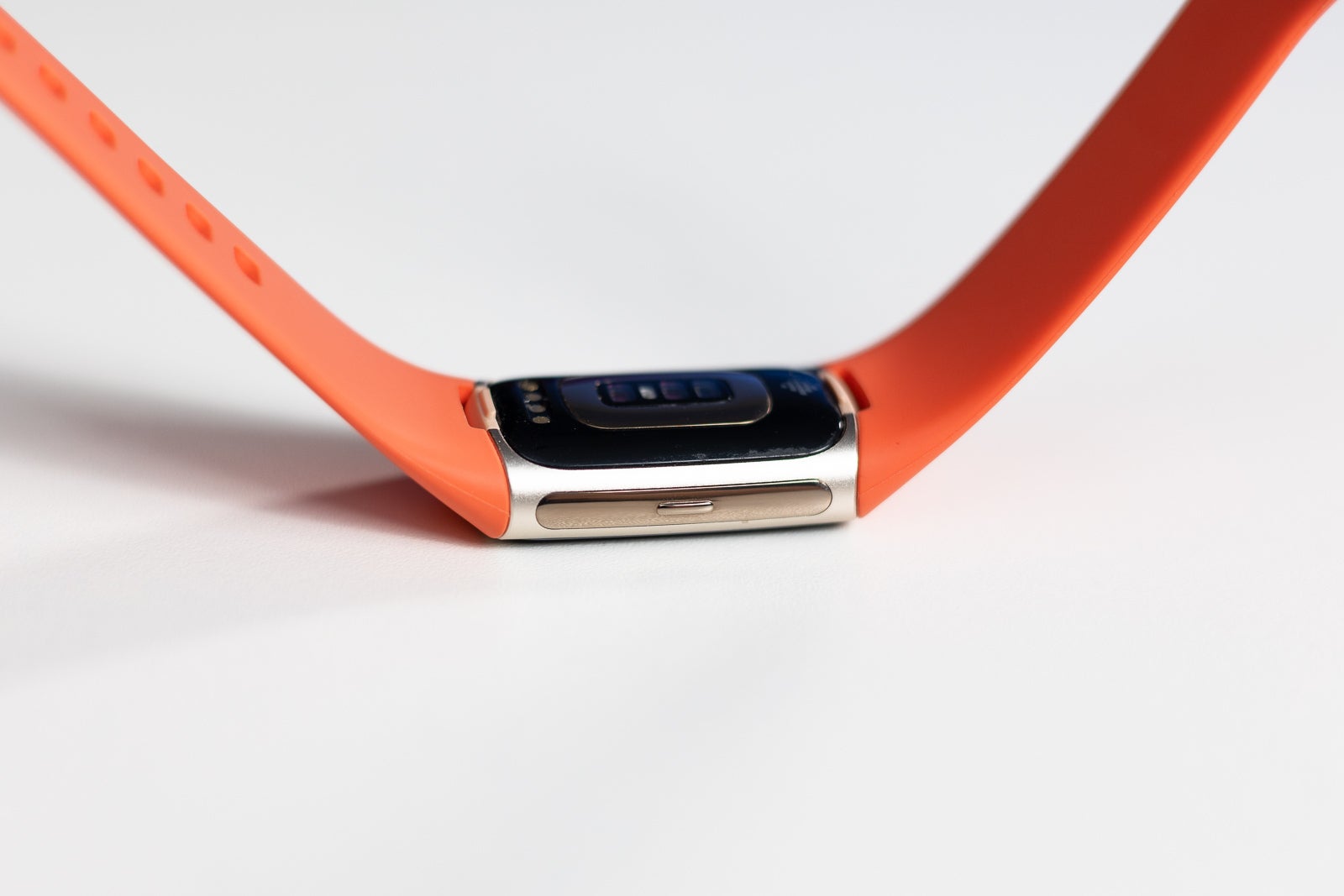 Battery life on the Fitbit Charge 6 is better than on your average smartwatch, but not by as much as you'd hope.
Fitbit says the Charge 6 can last as long as seven days between charges, but that is if you turn OFF the always-on display function AND with light use.
In my testing, with the always-on screen enabled and the brightness set to the maximum level (which I felt was necessary), I only got a bit more than two days of battery life. In an average 24-hour period, the Fitbit Charge 6 lost about 35% of battery life with one workout lasting about 40 minutes. Your mileage may vary slightly, but that's the ballpark.
When you turn off the "always-on" display function, battery life nearly doubles and you can expect around five days, which is much better.
The Charge 6 comes with a proprietary charger that uses pogo pins and magnets, so it's easy to align it and snap it to the back of the device.
There is no charging brick included in the box, but that is to be expected. What we were disappointed to see is that the charging cable uses the older USB-A standard on the other side, which feels outdated for a modern gadget.
Starting from a 1% charging level, we measured the following charging times on the Fitbit Charge 6:
in 15 minutes, it charged to 23%
in 30 minutes, it reached 42%
a full 1% to 100% charge took 1 hour and 38 minutes
That is more or less in line with other wearables, maybe just a tad bit slower when you look at the time for a full charge.
Final impressions
My feelings after using the Fitbit Charge 6 for about a week are mixed.
On one hand, I absolutely love how light-weight and comfortable it is to wear, and especially so for sleep tracking. I also love the battery life: two days with an Always-on screen is not much, but when you need more, you can turn it off and still get nearly five days, which is substantially better than smartwatches. And heart rate accuracy is also really good. Last but not least, I love the price.
But then on the other hand, I just wish it was just a little bit better. You can only get so much on a tiny screen and it would have been nice to see at least the weather. Some athletes might also be disappointed with the GPS accuracy. And I wish some key features worked better: raising to wake was the biggest one as the screen only works sometimes. The lack of offline music is also something to consider.
If you just want a simple and long lasting tracker that excels in sleep tracking and has very good heart rate sensor, the Fitbit Charge 6 is absolutely worth it. For the more demanding folks, however, you might want to look at the Google Pixel Watch 2 or other smartwatches.
[ For more curated Samsung news, check out the main news page here]
The post Fitbit Charge 6 Review: Comfortable and affordable, but one issue remains first appeared on www.phonearena.com