From www.tomsguide.com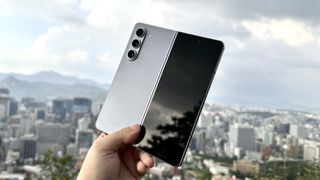 (Image credit: Future)
While we're looking forward to the Samsung Galaxy Z Fold 6 next summer, a claim that Samsung's planning to offer "more competitively priced foldable phones" from next year has caught our attention in a much bigger way.
A Trendforce analysis (via Revegnus) of foldable phone sales versus regular phones suggests that Samsung is considering launching a cheaper foldable as soon as 2024, which we think could end up marketed as a Galaxy Z Fold or Z Flip "FE", like the Galaxy S23 FE.
Prices for foldable parts have gradually been coming down as the technology and processes needed to build them have become more established. As a result, it is to some degree inevitable we'd start to see folding displays appear on cheaper phones. In fact, a Samsung VP told us as much in an interview earlier this year.
The main problem is we've been hearing about Samsung working on a cheaper Galaxy Z Fold/Flip for some time, but each recent foldable launch from the company still featured only the two phones we expected. Perhaps 2024 will finally be the year, but we won't get our hopes fully up until we start seeing a greater flow of leaks for this alleged Z Fold FE model.
Trendforce refers to the "mid-range market" when talking about this new cheaper foldable, which is a little confusing. That title usually refers to phones costing around $400 – $500, although we doubt Samsung would sell a foldable for the same price as its Galaxy A54. When considering that a Galaxy Z Fold 5 costs $1,800, and a Galaxy Z Flip 5 costs $1,000, we may see mid-range mean a price closer to $800 – $1,200 when applied to a foldable.
What else can we look forward to?
In the same report, we see that analysts still don't expect an iPhone Flip any time soon, due to "Apple's unwavering obsession with user experience." iPhones are often slow to adopt new technology compared to Android phones, but the wait can pay off with high-quality features that work smoothly from launch, instead of debuting in a rough state and being refined over time.
Back at the top end of smartphone pricing, we're hearing the Galaxy Z Fold 6 will feature a wider body with room for a built-in stylus and full water/dust protection like a regular flagship smartphone, but with the same cameras we've had on Samsung's foldables since 2022.
That's not a lot to go on with, but there's still plenty of time for more leaks for this, the Galaxy Z Flip 6 and the tipped cheaper foldable to appear before their expected Summer 2024 debut.
More from Tom's Guide
[ For more curated Samsung news, check out the main news page here]
The post Forget Galaxy Z Fold 6 — next year we could finally get a cheaper Samsung foldable first appeared on www.tomsguide.com