From www.techradar.com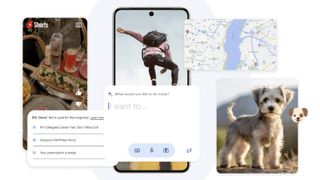 Assistant with Bard is Google's latest AI project (Image credit: Google)
At the same time as launching the Pixel 8, Pixel 8 Pro and Pixel Watch 2 last week, Google also unveiled its new AI-powered Assistant with Bard tool – and now we've got a better idea of which phones might be getting the app first.
The team at 9to5Google has dug into the latest Google app for Android to look for references to Assistant with Bard, and based on hidden code that's been uncovered, it looks as though the Pixel 8 and Samsung Galaxy S24 phones will be first in line.
With the Pixel 8 and Pixel 8 Pro shipping tomorrow, it seems likely that users of these phones will be able to try Assistant with Bard before anyone else – and Google intimated as much when it announced the AI bot. The Samsung Galaxy S24 isn't due to launch until January or February next year.
However, Google has also gone on record as saying Assistant with Bard will be available to "select testers" to begin with, before more people get it over the "next few months". In other words, even if you've got a Pixel 8, you might be waiting a while.
Coming soon
After Pixel 8 and Galaxy S24 owners have had a good play around with everything that Assistant with Bard has to offer, 9to5Google suggests that the Pixel 6, Pixel 7, and Galaxy S23 handsets will be the next to receive the upgrade.
Some example queries have also been found in the Google app code, including "help explain in a kid-friendly way why rainbows appear" and "give me some ideas to surprise my concert-loving friend on their birthday".
Those lines will be familiar to anyone who's already played around with the generative AI in Google Bard: like ChatGPT, it can write poetry, reports, emails, and much more, as well as coming up with ideas and explaining difficult topics.
Assistant with Bard adds all that to what we already have in Google Assistant: answering questions, controlling smart lights, finding out what the weather's doing, and so on. It could soon be the most powerful Google app on your phone.
You might also like
[ For more curated Samsung news, check out the main news page here]
The post Galaxy S24, S23, and Pixel phones could be first in line for Assistant with Bard first appeared on www.techradar.com