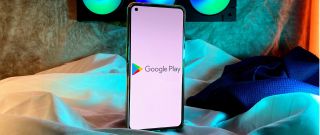 (Image credit: Chris Wedel/Android Central)
What you need to know
Google is giving users the ability to save space on their devices.
The search giant is making auto-archiving apps available for everyone.
Users can enable the feature by default, which wasn't the case earlier.
Archiving apps on your device is an excellent tool from Google via Play Store that can save space when required. It helps in saving storage by archiving unused apps that have been sitting on your device for a while. While there were certain criteria to enable the tool before, Google is now making it available for all.
As noted by prolific tipster AssembleDebug on X, the search giant is making the "Automatically archive apps" option in the Play Store available for all users. You can opt-in for auto-archiving through Play Store settings > General > Automatically archive apps, irrespective of storage available on their Android phones.
Before you say that this feature was already rolled out to users, you should also know that there was a condition to be fulfilled before you can opt-into auto archiving. The condition was- have very low storage so that Google can show you an opt-in dialog while installing an app. pic.twitter.com/NuXnWrGWubSeptember 16, 2023
See more
The feature on the page is self-explanatory, revealing apps that are rarely used will be archived when the device's storage runs low. The tipster notes that users earlier with low storage on their phones were the only eligible ones who were able to opt-in for the archive feature. It is apparently changing; the search giant is rolling out to everyone, and the prior requirement isn't mandatory.
We all have been there where we'd seen a new app we wanted, installed it, and later forgot that it had existed in the first place. It would take up some amount of storage on your phone, which you wouldn't care about unless the storage gets full. Well, the new auto-archiving of such apps saves you time in figuring out which apps to uninstall.
For those unaware, archiving apps removes the app from the handset and doesn't delete your app data. The app icon would still be visible in your app tray. Clicking on it would reinstall the app right away, which is convenient, to say the least, and saves a bit of time, so you don't have to go back into the Play Store and search for the app again.
The tipster in another Telegram post has indicated that archiving individual apps is also a possibility that is yet to be enabled by Google officially. It is currently hidden behind a flag, and the search giant needs to be working on the "Manage" tab located in your apps section on the Google Play Store that lets you see the apps you've archived.
[ For more curated Samsung news, check out the main news page here]
The post Google makes auto-archiving available for everyone on Android to help save storage space first appeared on www.androidcentral.com