From pocketnow.com
Google shipped more smartwatches in Q4 2022 than Samsung, overtaking the company as the second-largest wearable manufacturer. How did this happen?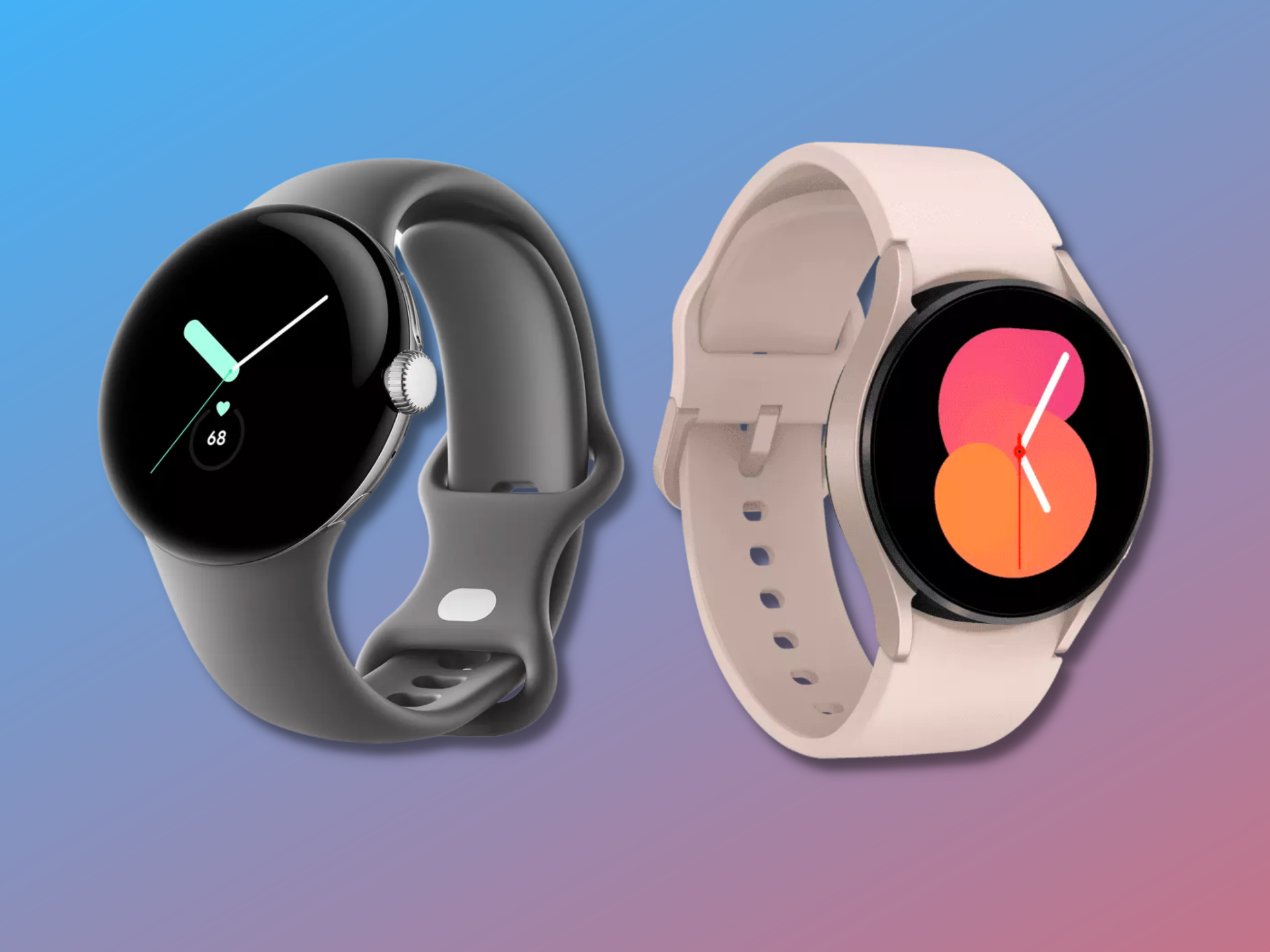 The Google Pixel Watch is one of the best smartwatches on the market today, despite its less-than-desirable battery life and some paywalled features. It's the closest device to compete against the Apple Watch, and it's smooth, and comes with excellent optimizations and features that most features would want to use. It has perfect integration with third-party apps, as well as the Fitbit ecosystem, and it's no surprise Google managed to sell so many units. Or did it? There are a few explanations for why Google overtook Samsung in the wearable market, and we'll discuss them further below.
According to a new report from Canalys, the wearable band market has declined by 18% and reached 50 million units. It's the first time the decline is measured in double digits, despite the fourth quarter dominating the sales over the holiday period. The smartwatch category suffered a similar fate with a 17% decline, while the basic watches market grew just 3%.
Canalys
"" data-modal-id="single-image-modal" data-modal-container-id="single-image-modal-container" data-img-caption="""">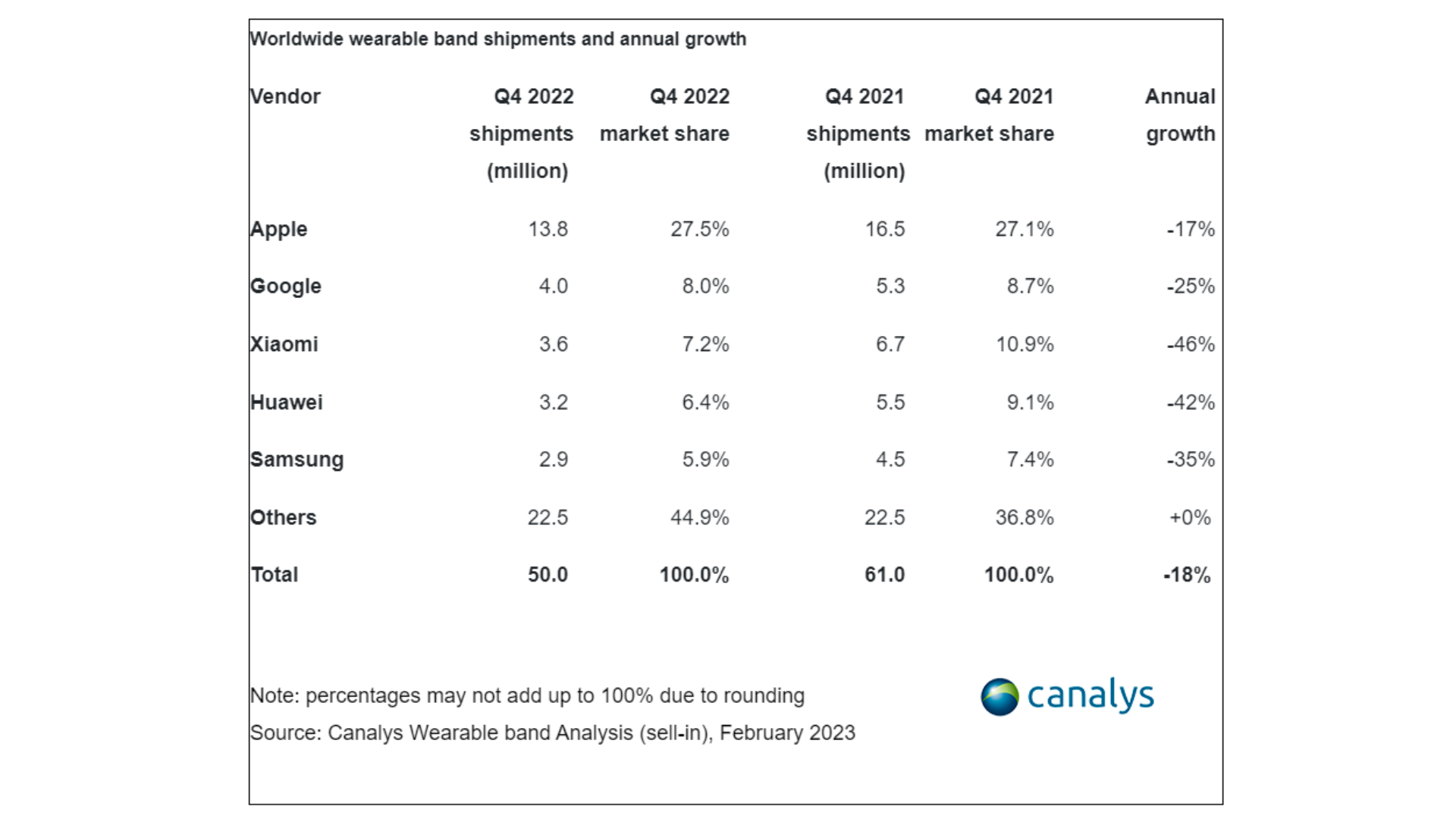 Worldwide wearable band shipments and annual growth, Source: Canalys
The market has largely remained the same, with Apple on top, reaching a 27.5% market share, having shipped more than 13.8 million devices. Google rose to second place with an 8% market share and shipped 4 million devices. Xiaomi takes the third position with 7.2% market share and 3.6 million shipped devices, followed by HUAWEI with 6.4% and 3.2 million units. Samsung fell to fifth place and ended the fourth quarter with a 35% decline. Samsung had a 5.9% market share and shipped just 2.9 million devices with its dwindling sales.
In 2022, the smartwatch market grew just 3%, while basic watches rose 21%. Basic bands fell 39%, leading to the entire wearable band market declining by 5%. While the news isn't too surprising, given the current economic downturn, it's still surprising to see Google overtake such a household name as Samsung, HUAWEI, and even Xiaomi, but it's not unjustified.
Fitbit helped Google establish itself as a wearable leader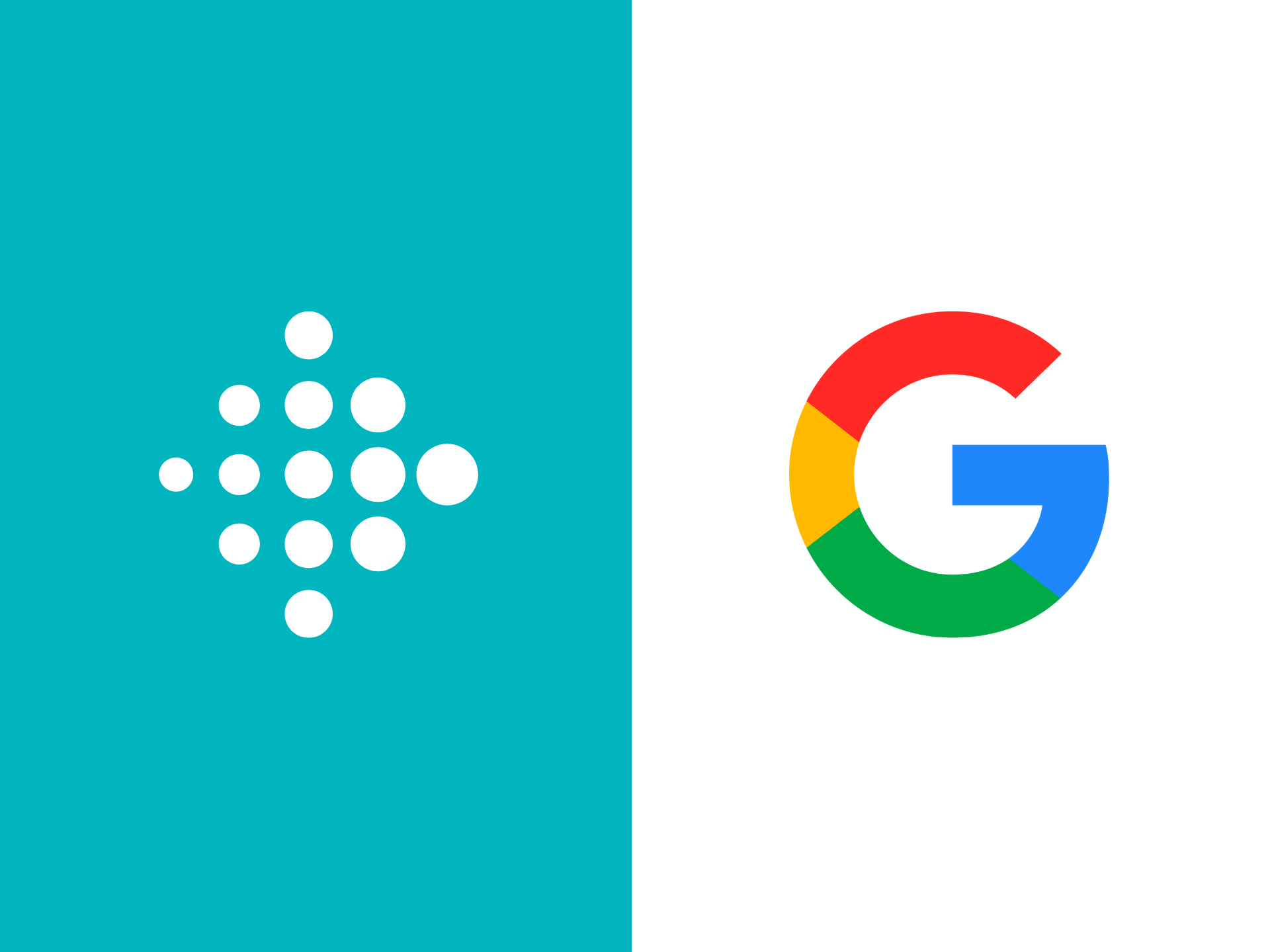 Google acquired Fitbit back in 2019 for approximately $2.1 billion, which helped Google bring in talent and an already established platform to build upon. Google further refined Fitbit's offerings, but ultimately, it didn't change a lot. The company still focuses on fitness bands and fitness-oriented smartwatches that help users track their progress, measure their performance, and track their health.
The Google Pixel Watch certainly helped the company become a more established house name in the wearable market, and customers have certainly noticed. After all, both the Google Store and Fitbit pages highlight the Pixel Watch as one of the best tracking devices that users can buy.
Google shipped more than 880,000 Pixel Watches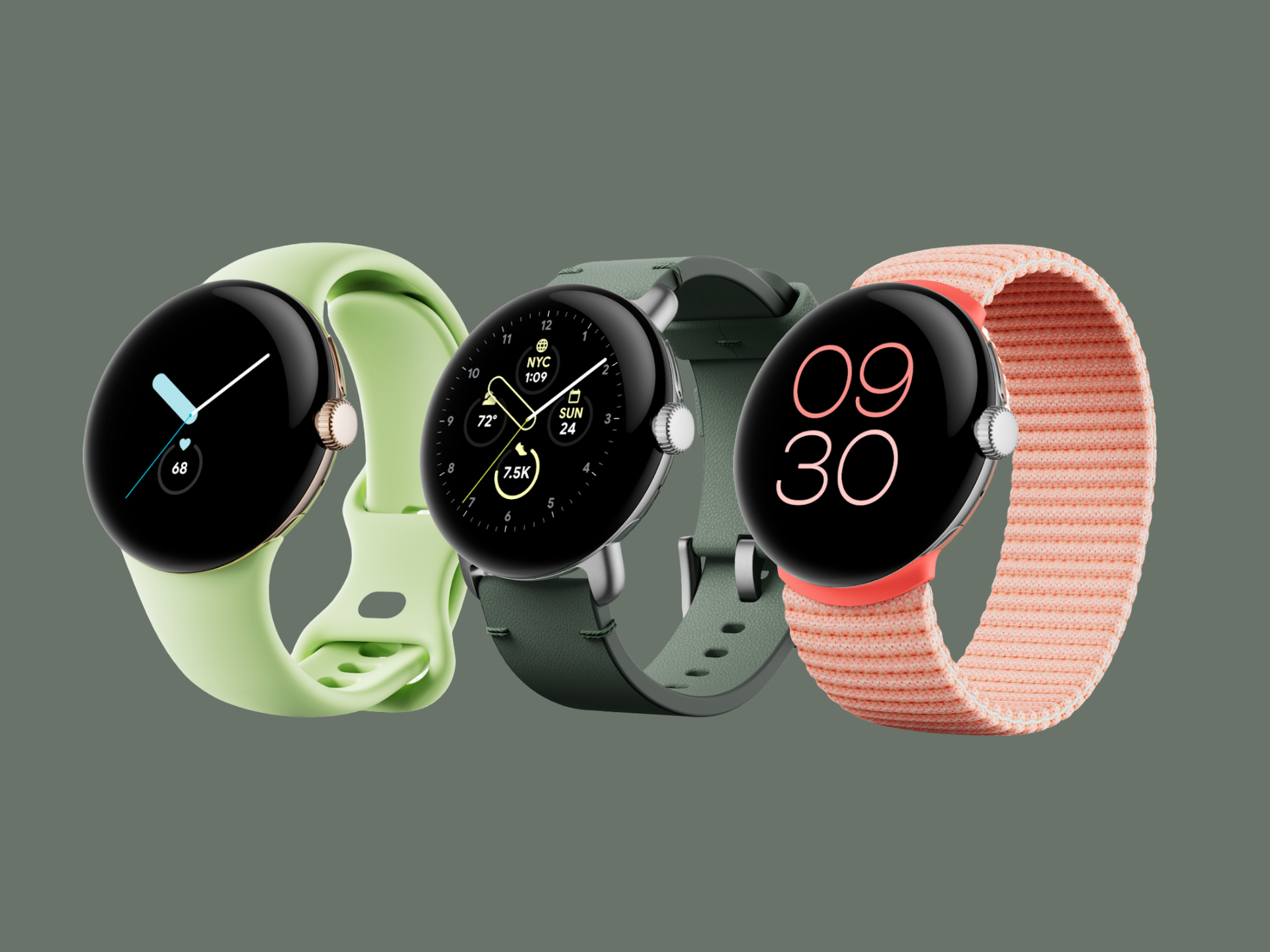 The Canalys report claims that Google shipped 880,000 Pixel Watch devices in Q4, 2022. That number has helped the company become a more established player in the field, and it shows there is demand for the smartwatch. Despite Google only selling its Pixel-branded devices in nine countries, the company managed to overtake Samsung and many other companies that have been in the business for many years. Given that the Pixel Watch starts at $349 and $399, for the GPS and LTE models, respectively, it's a great achievement.
Imagine if Google sold its devices in more than 30 markets, like Samsung, or Apple, with its 60 countries. The company would likely boost its sales even more, and while we doubt it could take on Apple, it certainly has a chance to dominate the market and continue its second place for a while longer.
Pixel 7 bundle helped the Pixel Watch sales grow even further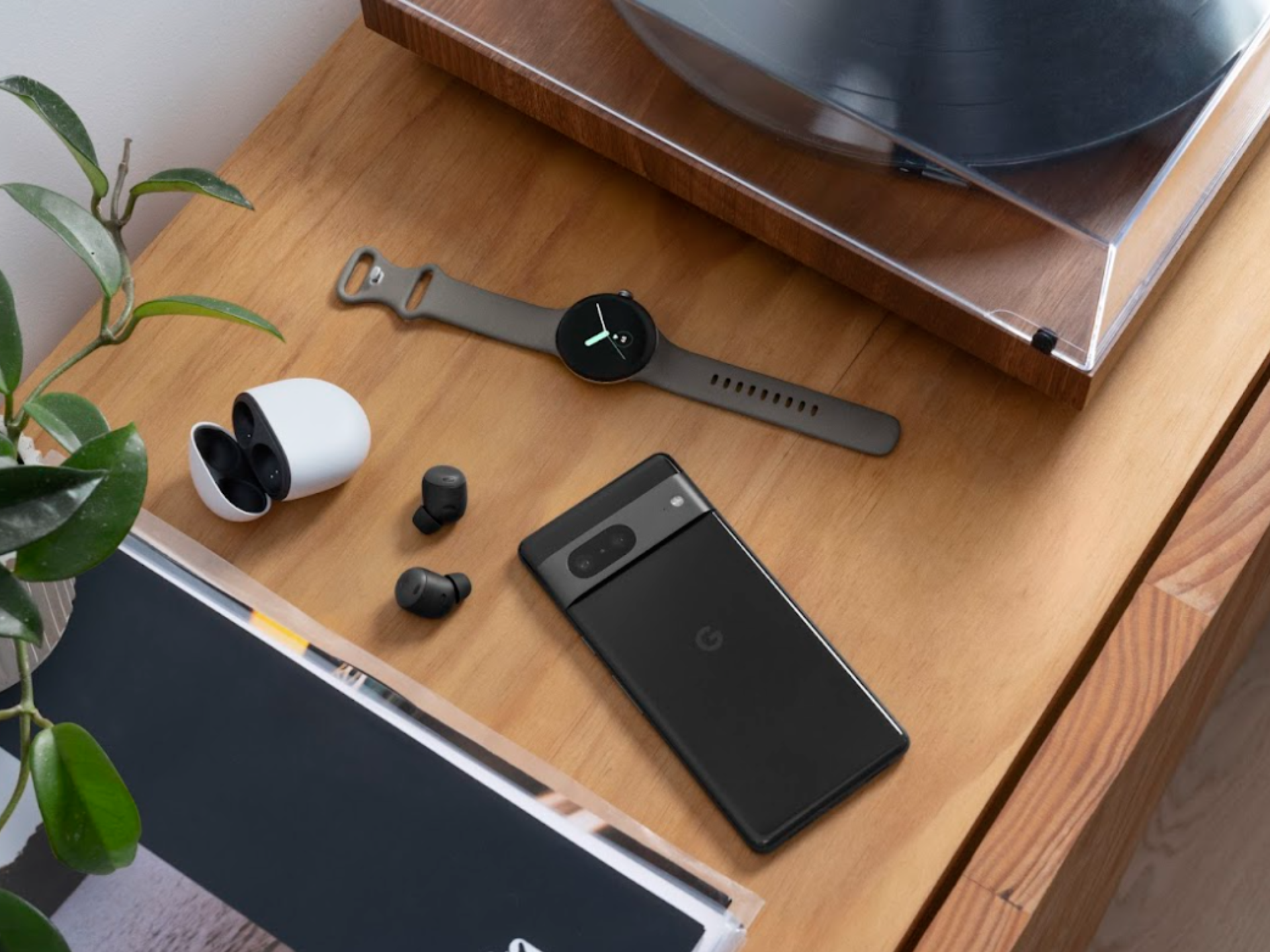 While Google managed to ship more than 880,000 Pixel Watch devices, that doesn't give us the full picture of how many of those units were sold. You see, Google bundled the Pixel Watch with all Pixel 7 Pro devices when the new flagships were revealed in October. The special promotion was live in select few countries, including the UK, where all customers who purchased the Pixel 7 Pro received the Pixel Watch for free. Those who purchased the standard Pixel 7 have received a hefty discount to buy the Pixel Watch for significantly less.
We don't know how many Pixel 7 series devices Google sold. Still, it's safe to assume that the new flagship devices sold well – at least, according to Google's own expectations – and it managed to ship tens of thousands of smartwatches to bring people into the Google and Fitbit ecosystem.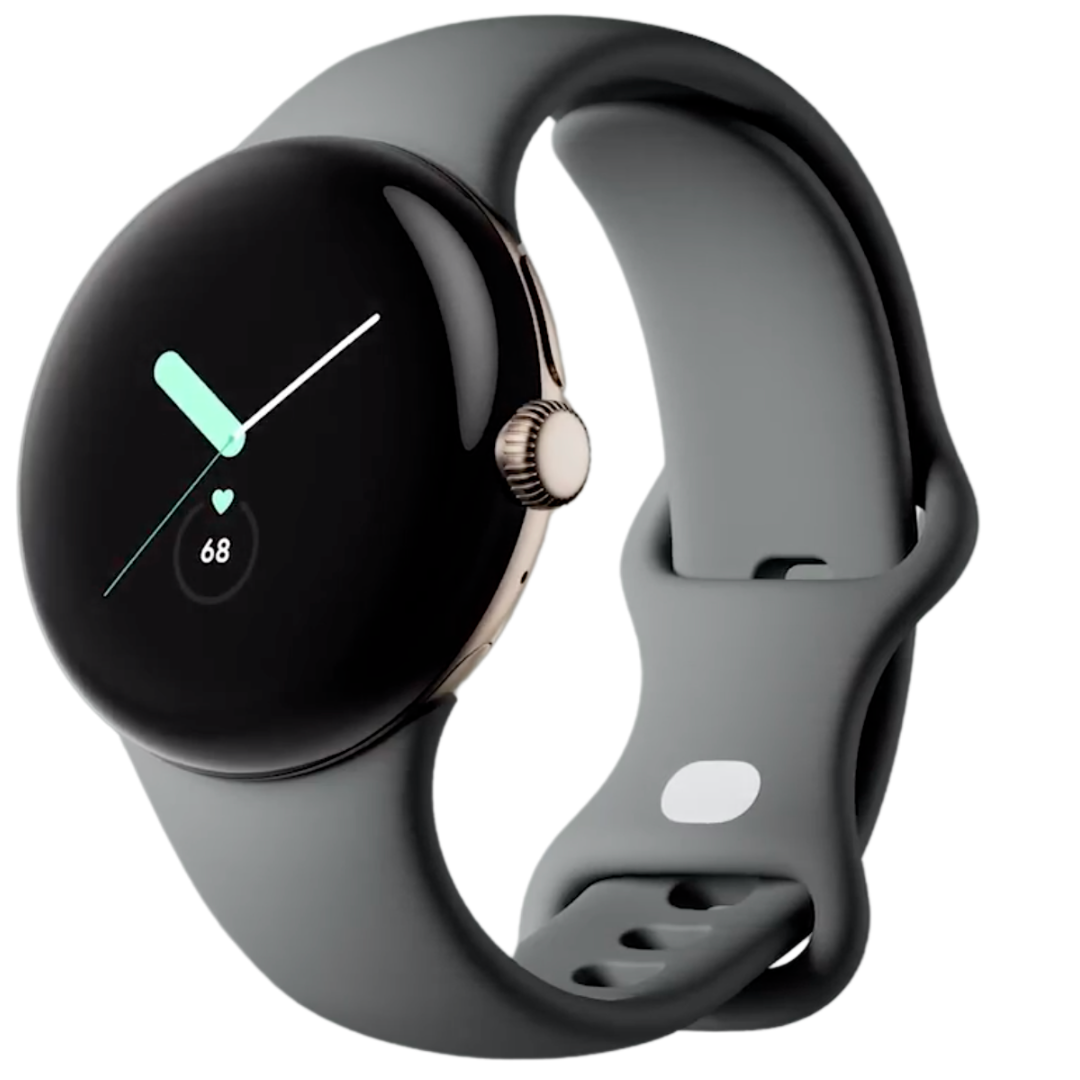 The Google Pixel Watch is the first smartwatch from the software giant, and it's been in the works for multiple years. The watch is powered by Wear OS 3 and has Google Assistant, Fitbit health tracking features, and more.
The post Google overtakes Samsung in wearable market: How did this happen? first appeared on pocketnow.com
In many places around the world, horse races are an attraction that a lot of people love to watch. With the fast-paced action and thrill that each game provides, it is no longer surprising to know that millions of fans have grown fond of it.
Cybersecurity threats have become vast and more sophisticated. The rate of malware attacks and malicious activity counts within seconds despite the size or sector the organization belongs to — no one is safe enough to expect that foe actors will bypass vital company resources.