From www.tomsguide.com
Figuring out the winner of a Google Pixel 7a vs. Samsung Galaxy A54 will go a long way toward figuring out which of the best cheap phones available right now is best for you. Both phones cost less than $500, yet deliver the kinds of capabilities you normally find in more expensive flagship devices.
The Pixel 7a is the latest midrange model to hit the market. Debuting at this year's Google I/O conference, the budget phone now offers a faster refresh rate, brighter screen and upgraded camera area. Most importantly, Google equipped the Pixel 7a with the same Tensor G2 processor that powers its Pixel 7 flagships. Our Pixel 7a review marveled at the kind of features Google managed to pack into a $499 phone.
Then again, you could make the same comment about the Galaxy A54. The top phone in Samsung's midrange Galaxy A lineup offers processor and camera improvements of its own. We're particularly impressed by the phone's 50MP main camera as well its long-lasting battery and bright, colorful display.
But which of these midrange phones offers the most complete package. That's what our Google Pixel 7a vs. Samsung Galaxy A54 comparison looks to answer now that we've had a chance to test out both phones.
Google Pixel 7a vs. Samsung Galaxy A54 specs
Swipe to scroll horizontally
| | | |
| --- | --- | --- |
| Row 0 – Cell 0 | Google Pixel 7a | Samsung Galaxy A54 |
| Starting price | $499/£449/AU$749 | $449/£449/AU$699 |
| Display | 6.1-inch OLED (2400×1080) | 6.4-inch AMOLED (2340×108) |
| Refresh rate | 90Hz | 120Hz |
| Chipset | Tensor G2 | Exynos 1380 |
| RAM | 8GB | 8GB |
| Storage | 128GB | 128GB, 256GB |
| Expandable? | No | Yes, up to 1TB via microSD |
| Rear cameras | 64MP (f/1.89) main; 13MP (f/2.2) | 50MP (f/1.8) main, 12MP (f/2.2) ultrawide, 5MP (f/2.4) macro |
| Front camera | 13MP (f/2.2) | 32MP (f/2.2) |
| Battery size | 4,385 mAh | 5,000 mAh |
| Battery life (Hrs:Min) | 10:05 (60Hz) | 11:46 (60Hz); 10:20 (adaptive) |
| Wired charging speed | 18W | 25W |
| Wireless charging? | Yes | No |
| Size | 6 x 2.8 x 0.4 inches | 6.2 x 3.0 x 0.32 inches |
| Weight | 6.8 ounces | 7.1 ounces |
Google Pixel 7a Samsung Galaxy A54 price and availability
The Galaxy A54 went on sale in April; you can buy the phone for $449/£449/AU$699, with Galaxy A54 deals potentially discounting the price even further.
While the Pixel 6a matched Samsung's pricing for its midrange phone, that's not true of Google's successor. At $499/£449/AU$749, the Pixel 7a is more expensive than last year's model, with U.S. shopper seeing a $50 price hike.
The Pixel 7a went on sale immediately after Google took the wrap off the phone on May 10. You can check out Pixel 7a deals to see if there are any discounts on the device.
Both phones come with 128GB storage, but the Galaxy A54 has a microSD slot to add extra capacity if you need it. That's not an option for Pixel 7a owners.
Winner: Samsung Galaxy A54
Google Pixel 7a vs. Samsung Galaxy A54 design
Samsung phones are starting to look alike, though in the case of the Galaxy A54, that's a good thing. Much like the recently released Galaxy S23 lineup, the Galaxy A54 features a vertical row of cameras descending down the back of the phone. From a distance, in fact, you'd be hard pressed to spot the differences between an S23 and an A54, though the differences become more apparent once you hold either handset.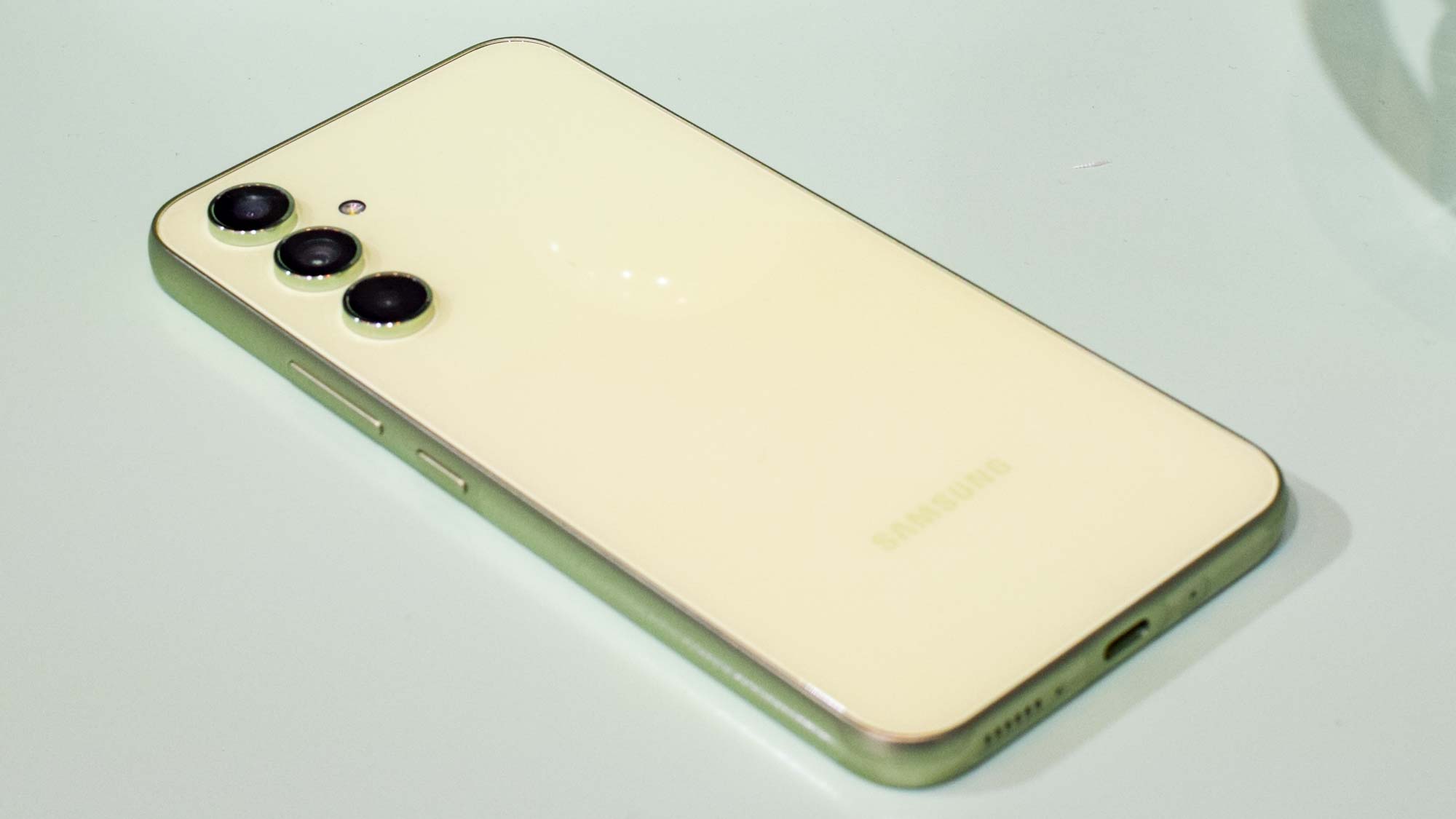 The Pixel 7a also takes its cues from a flagship — in this case, that means the Pixel 7. You'll find the same horizontal camera bar stretching across the back of the Pixel 7a. Besides giving the phone a distinctive look, it means the Pixel 7a doesn't wobble when you set it down with its screen facing up. Thanks to the Galaxy A54's protruding camera lenses, there's a bit of a wobble.
Both the Galaxy A54 and Pixel 7a use a lot more plastic than their flagship counterparts, and Samsung and Google have scaled back on the durability standards to save money. Instead of Gorilla Glass Victus, the Galaxy A54 features Gorilla Glass 5 while the Pixel 7a makes do with Gorilla Glass 3. Both phones have IP67 ratings for water resistance, so they can endure a dunk in 1 meter of water for up to 30 minutes.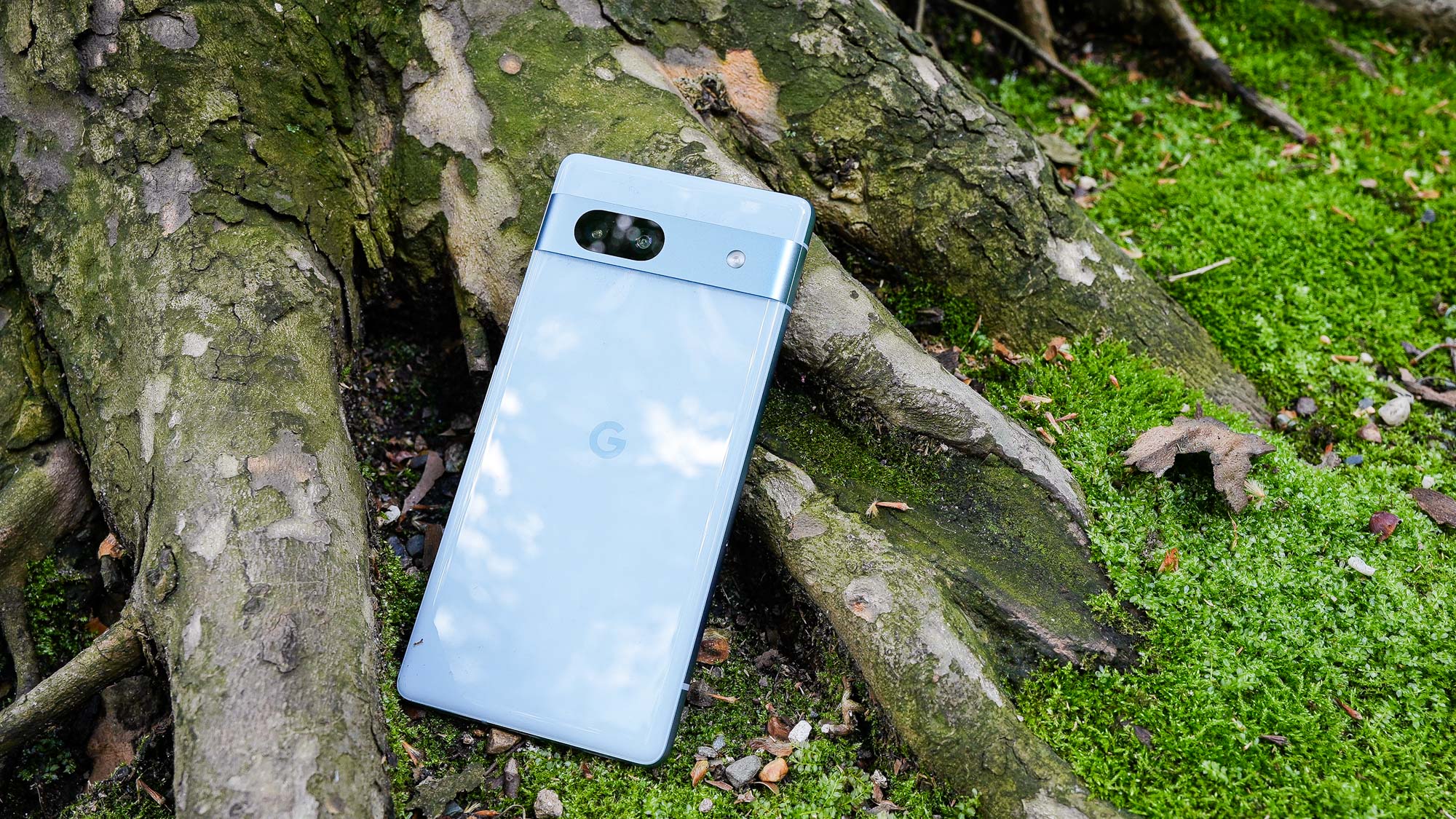 You have a choice of four colors with each phone. In the case of the Galaxy A54, that's graphite, white, lime and violet, while the Pixel 7a offers you a choice of black, white, blue and orange. (The latter color — called Coral — is a Google Store exclusive.)
Design really comes down to personal taste. While I appreciate the bright colors that Samsung offers, ultimately, I prefer the distinctive look (and lack of wobble) I get from the Pixel 7a design. But this is a pretty narrow victory for Google.
Winner: Google Pixel 7a
Google Pixel 7a vs. Samsung Galaxy A54 display
Here's another tightly-fought category between two midrange phones with very bright displays. The Galaxy A54 impressed us with a 6.4-inch display that registered a maximum of 854 nits when we tested with a light meter. That's bright enough to see in direct sunlight.
But the Pixel 7a is even brighter. Our light meter hit a peak of 931 nits with Google's phones.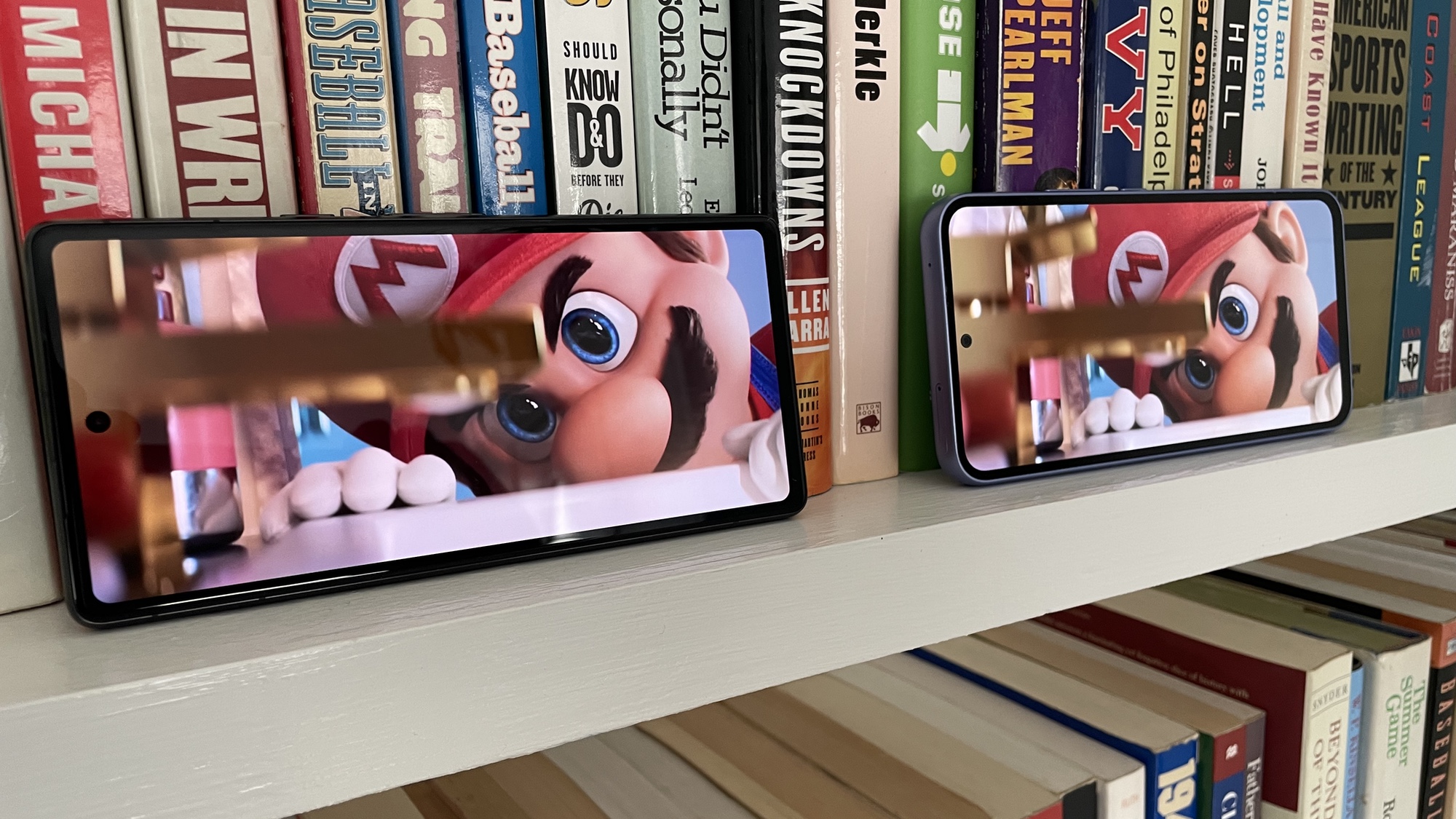 The Galaxy A54's panel is slightly more colorful, capturing 127.1% of the sRGB color gamut and 90% of the more demanding DCI-P3 color gamut when set to Natural mode. The Pixel 7a screen set to natural captured 111.7% and 79.1%, respectively. The Galaxy A54 also proved to have the more accurate colors with a Delta-E rating closer to zero than the Pixel 7a's score.
Swipe to scroll horizontally
| | | |
| --- | --- | --- |
| | Google Pixel 7a | Samsung Galaxy A54 |
| Display size | 6.1-inch OLED | 6.4-inch AMOLED |
| sRGB (%) | 129.8% (Adaptive), 111.7% (Natural) | 127.1% (Natural) |
| DCI-P3 (%) | 91.9% (Adaptive), 79.1% (Natural) | 90% (Natural) |
| Delta-E | 0.05 (Adaptive), 0.11 (Natural) | 0.06 (Natural) |
| Peak brightness | 931 nits | 854 nits |
Ultimately, though, the display category comes down to refresh rates. Google took a big step forward in that area, adding a 90Hz refresh rate to the Pixel 7a, after the Pixel 6a was stuck at 60Hz. But the Galaxy A54 does the Pixel one better with an adaptive 120Hz rate. That means smoother scrolling from Samsung's phone.
Winner: Samsung Galaxy A54
Samsung Galaxy A54 vs. Google Pixel 7a cameras
Both phone makers are trotting out big improvements to the camera hardware on their midrange phones. Specifically, Samsung is equipping the Galaxy A54 with the same 50MP sensor found on the Galaxy S23 and Galaxy S23 Plus. As for the Galaxy A54's other cameras, the 50MP main shooter is joined by a 12MP ultrawide lens and 5MP macro sensor. Up front, you get a 32MP selfie camera.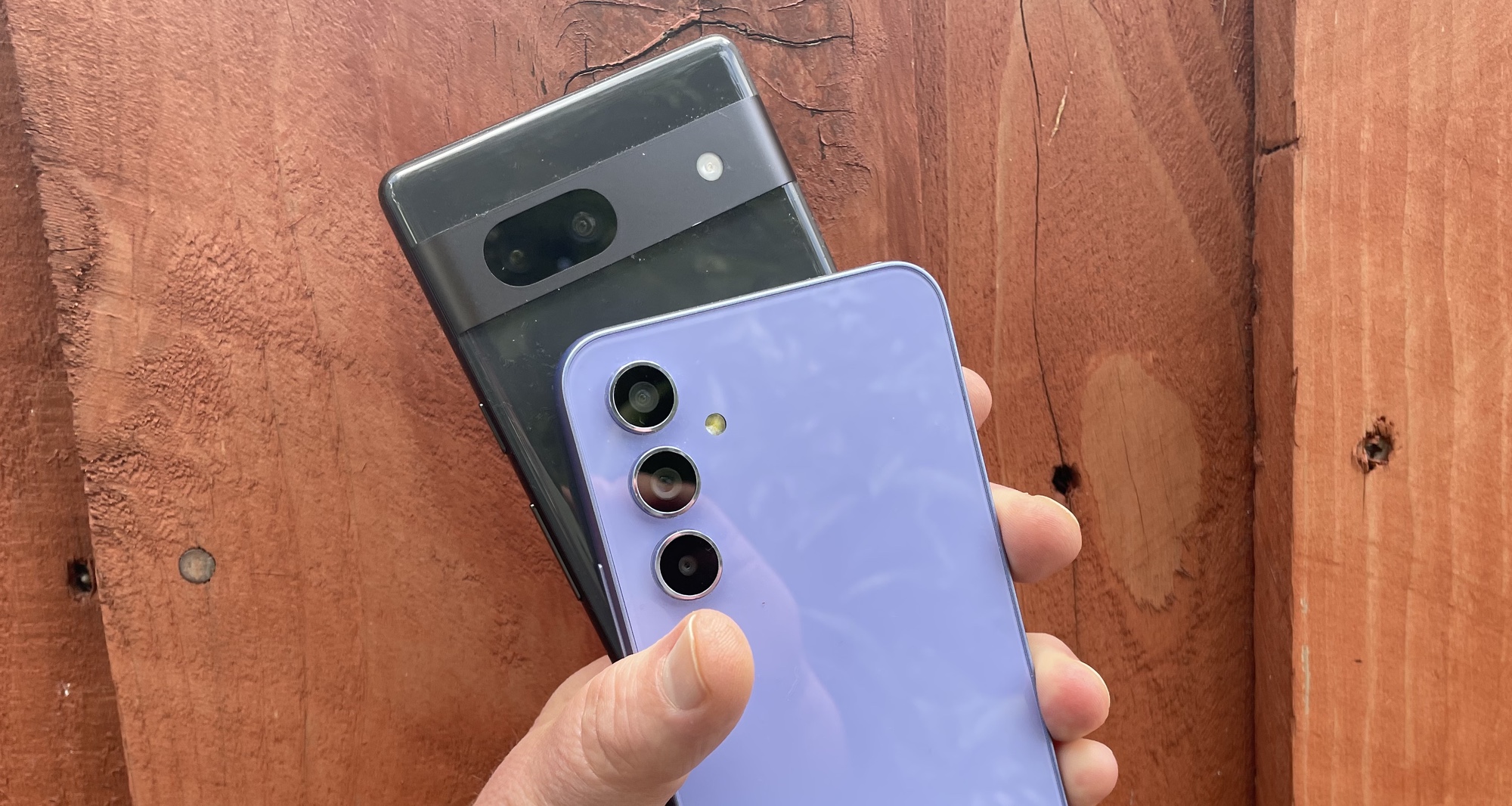 As for the Pixel 7a, Google upgraded the entire camera setup from the 12.2MP main and ultrawide cameras on the Pixel 6a. Instead, you now get a 64MP main camera accompanied by a 13MP ultrawide angle lens. There's no dedicated macro sensor on the Pixel 7a like there is on the Galaxy A54. Google's camera does have a 13MP selfie cam.
Our Pixel 7a vs. Galaxy A54 camera face-off features extensive photo comparisons that show off how the two camera phones perform. Ultimately, it's a very close match-up with the Pixel 7a faring particularly well in both the dark and with portrait shots. Google's camera does favor darker colors, though, which gives the Galaxy A54 an edge in some scenarios.
The Pixel 7a's tendency to make things look darker pays off here with this sculpture of a bug made out of reused parts. The red paint is a deep, rich color that's solid throughout in the Pixel 7a shot, and you can spot details like the yellow tongs that double as the creature's nose. The Galaxy A54 has over-exposed its shot, so you see some significant glare throughout.
In this photo of a carousel, we see the Galaxy A54 at its best — you can make out more details in its more balanced shot, such as the surfaces of the ticket booth as well as the individual horses on the merry-go-round. You could argue that the Pixel 7a's darker cast is more affecting, but I think you lose too many details in the shadows.
We can argue about the merits of a dedicated macro lens, but if you like extreme close-ups, this photo of a yellow flowers shows you why the Galaxy A54 is a better bet. Its macro sensor captures a lot of detail, particularly on the textures of the petals, while keeping the center of the flower in focus. The Pixel 7a tries valiantly to keep up, and even does a good job recreating the right tone of yellow, but ultimately it has a hard time keeping everything in focus.
In most of our night shots, the Pixel 7a outperformed the Galaxy A54. Take this outdoor photo with minimal ambient lighting. The colors of the stuffed animals come through loud and clear in the Pixel 7a shot, and you can even see some flowers and a pole emerging from the inky black background. The colors are far more muted in the Galaxy A54 photo as its night mode prefers a more shadowy approach to low-light images.
Finally, this shot showing off portrait mode of the two phones tips the scales in the Pixel 7a's favor. The Galaxy A54 actually has the better, more consistent bokeh effect, but it's also over-exposed the shot, leaving a washed-out background. While my colleague Mark's eyes are overly darkened in the Pixel 7a shot, it's a sharper image overall, with a better use of color.
Winner: Google Pixel 7a
Google Pixel 7a vs. Samsung Galaxy A54 performance
Performance is another area where Samsung's been forced to step up its game, as the Tensor in last year's Pixel 6a turned in better benchmark results than the Exynos 1280 silicon powering the Galaxy A53. Considering Google's Tensor chips are better known for their machine learning-fueled capabilities instead of their performance, that's pretty embarrassing for Samsung.
For the Galaxy A54, Samsung turned to an Exynos 1380 chipset, which should deliver better performance than before. Specifically, Samsung promises a 20% CPU boost and a 26% GPU improvement over what the Exynos 1280 offered.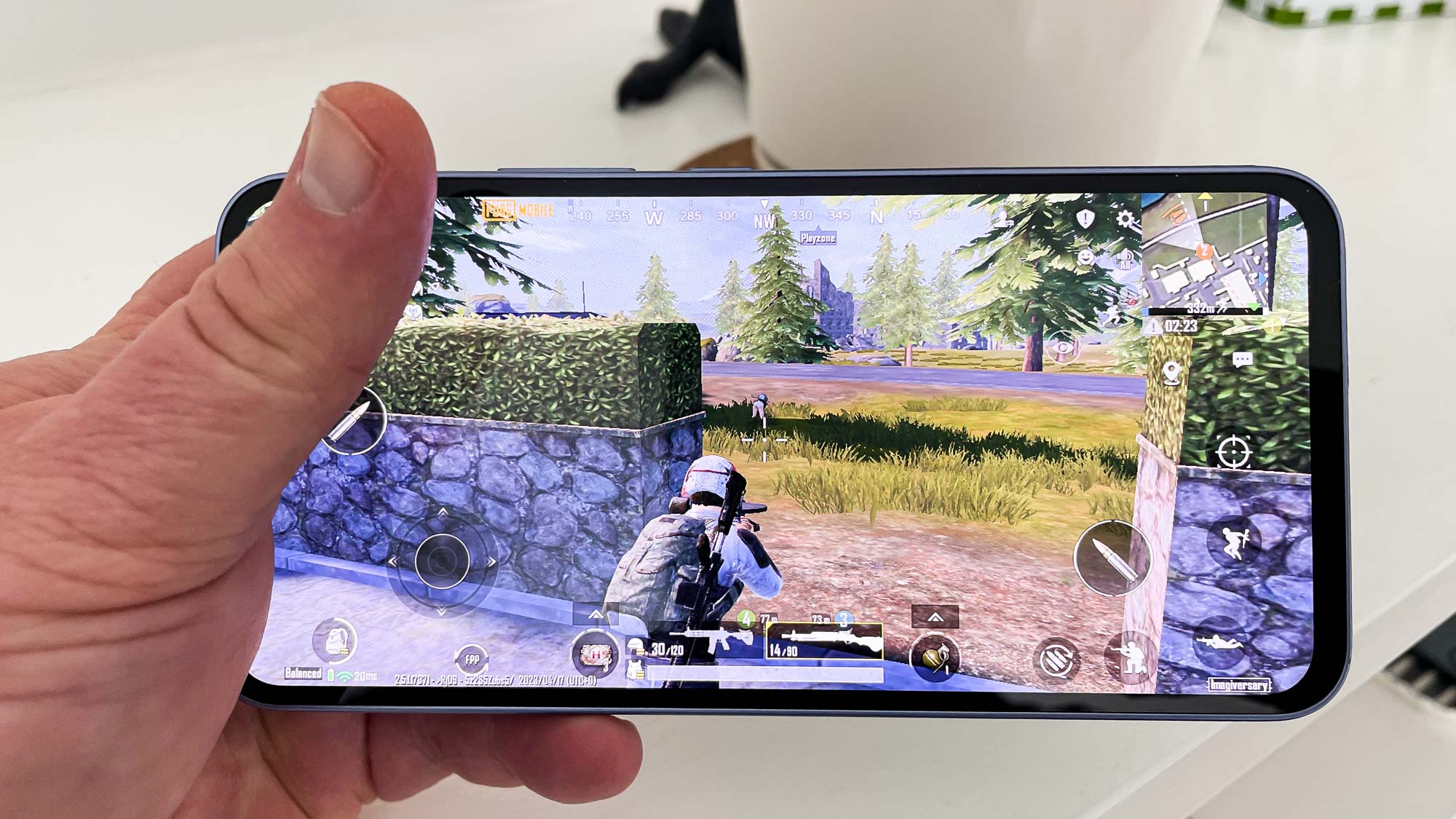 While the Galaxy A54 did outperform the A53 in our testing, its benchmarks still lagged the Pixel 6a and its Tensor G1 chip. As you might imagine, that meant better benchmark numbers for the Pixel 7a, as Google has equipped its phone with a newer Tensor G2.
Swipe to scroll horizontally
| | | |
| --- | --- | --- |
| | Google Pixel 7a | Samsung Galaxy A54 |
| CPU | Tensor G2 | Exynos 1380 |
| Geekbench 5 (single core/multicore) | 1018/3065 | 781/2664 |
| 3DMark Wild Life Unlimited (fps) | 41.1 | 16.9 |
| Adobe Premiere Rush (Mins:Secs) | 0:56 | 1:12 |
The Pixel 7a posts better single- and multicore results in Geekbench 5, topping the Galaxy A54's scores in those test by 30% and 15%, respectively. Google's phone also excels in graphics benchmarks, registering 41 frames per second in 3DMark's Wild Life Unlimited test; the Galaxy A54 managed a little less than 17 fps.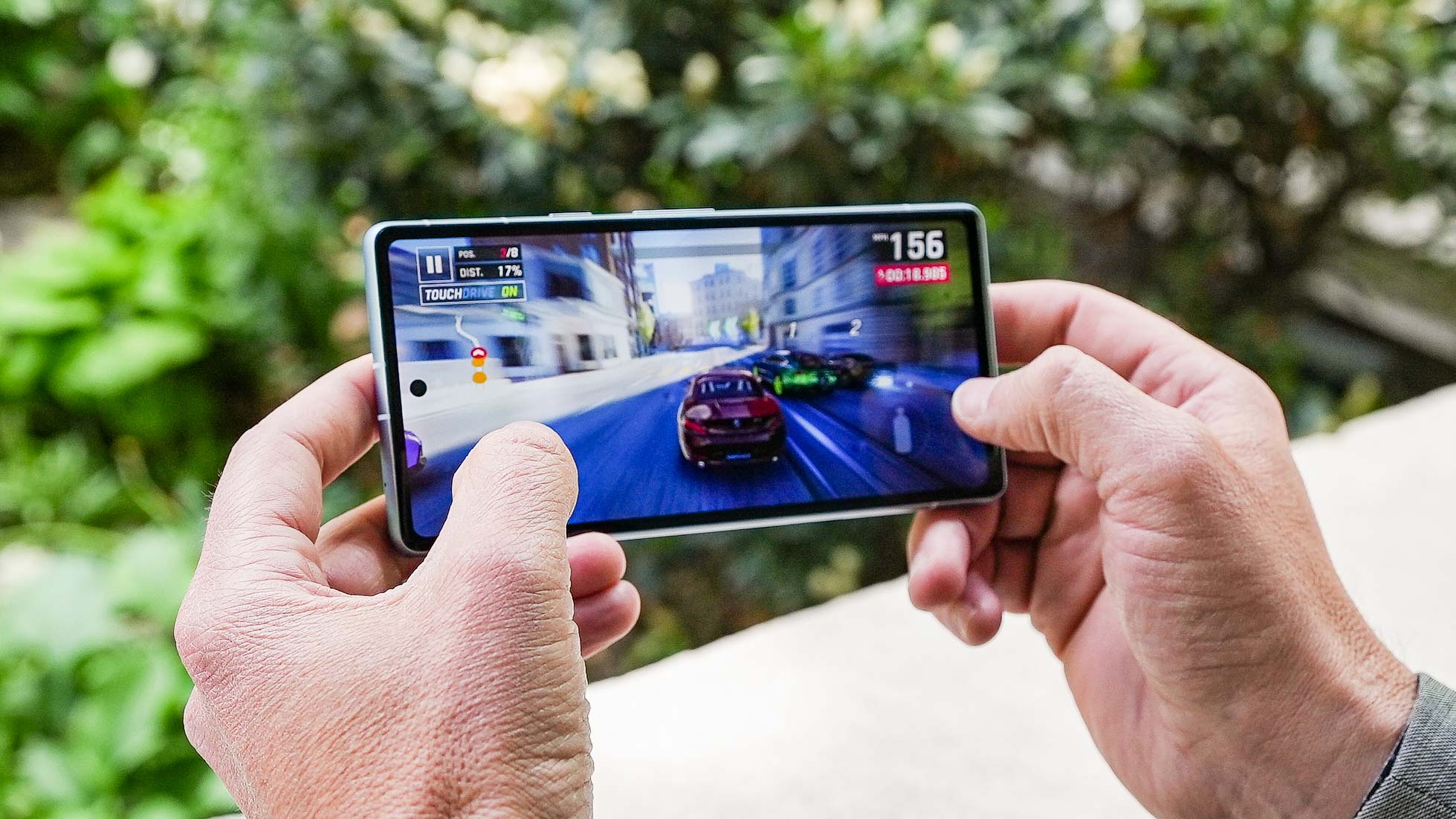 Even though the Pixel 7a took a step back from the Pixel 6a's time in our real-world test with Adobe Premiere Rush — we transcode a video using that mobile app, timing the results — it still outperformed the Galaxy A54. The Pixel 7a beat the Galaxy A54's transcode time by 16 seconds.
The Tensor G2 isn't necessarily designed to be a performance powerhouse — its real calling card is the AI-powered experiences it enables, as we'll get to in a moment. But Google's phone still out-muscle's the Galaxy A54 in all the test we run.
Winner: Google Pixel 7a
Google Pixel 7a vs. Samsung Galaxy A54 battery life and charging
First, the good news — both phones last longer on a charge than their predecessors. In the case of the Pixel 7a, that's despite the fact that the battery is a little more compact than it was before.
We have every phone we test surf the web continuously over cellular until they run out of power. The Pixel 7a held out for 10 hours and 5 minutes on this test, beating the average smartphone time by about 10 minutes. That's about 3.5 hours better than the result we got from the Pixel 6a last year, so Google's to be congratulated to such a big improvement.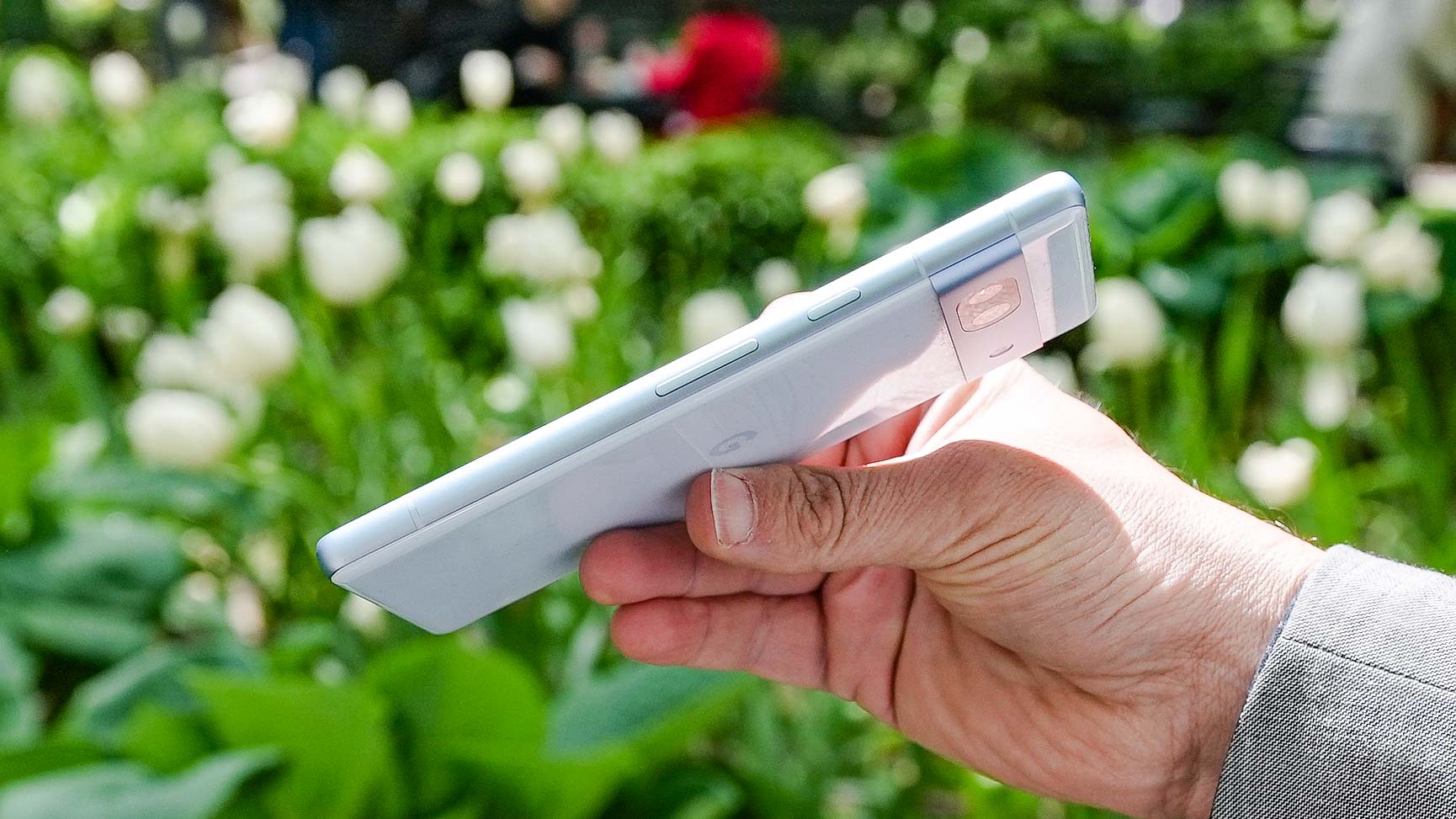 There's one caveat to the Pixel 7a's result — we got that number with the phone's higher refresh rate turned off. We're testing right now to see how letting the display refresh at 90Hz affects battery life, though that time is nearly always worse than the 60Hz result
Things are more encouraging with the Galaxy A54's battery result. It lasted 10 hours and 20 minutes with its refresh rate set to 120Hz. That's better than the Pixel 7a's time, and the gap grows even further when we turn off the fast-refreshing display. That lets the Galaxy A54 last more than 11.5 hours, landing it a spot on our best phone battery life list.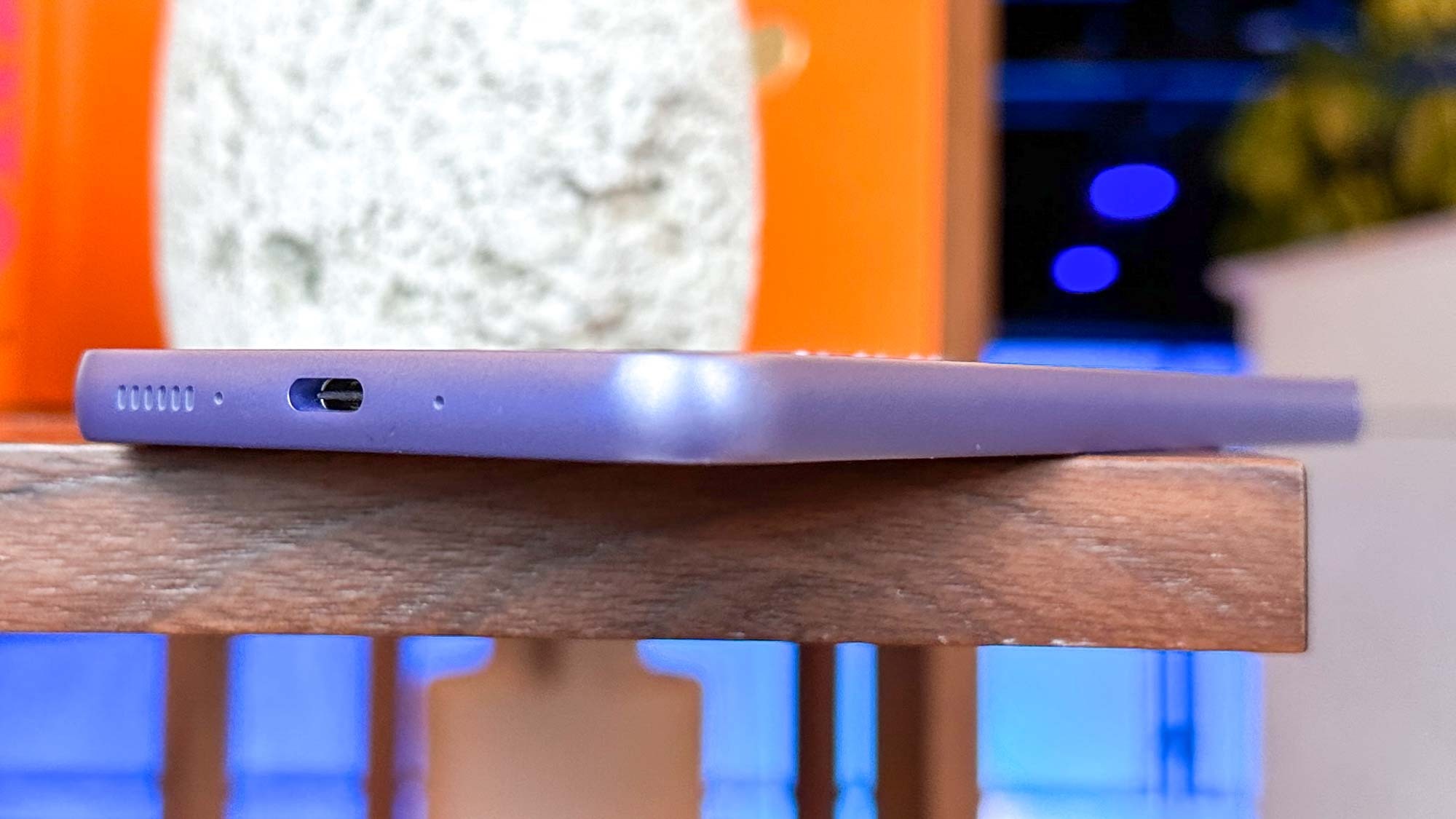 The Galaxy A54 supports faster wired charging than the Pixel 7a, offering 25W charging to the Pixel 7a's 18W speed. However, the Pixel 7a supports a feature you won't find on many midrange phone — wireless charging. That's absent from the Galaxy A54, so Google's phone is the one to get if you've got a charging pad at home.
Still, with its better battery test result and faster wired charging times, the Galaxy A54 gets the nod in this round of the face-off.
Winner: Samsung Galaxy A54
Google Pixel 7a vs. Samsung Galaxy A54 software
The Pixel 7a's Tensor G2 silicon is the story here. It enables features that the Galaxy A54 just can't approach.
If you're familiar with the Pixel 7, you know all about the Tensor G2 and what it can do. But as a refresher, some of the new features include Photo Unblur, which takes older photos — even those shot by other phones — and removes any blurriness from faces using AI. Direct My Call features can help you navigate directories when you call 800 numbers, and the excellent Recorder app on the Pixel now flags when different people are talking.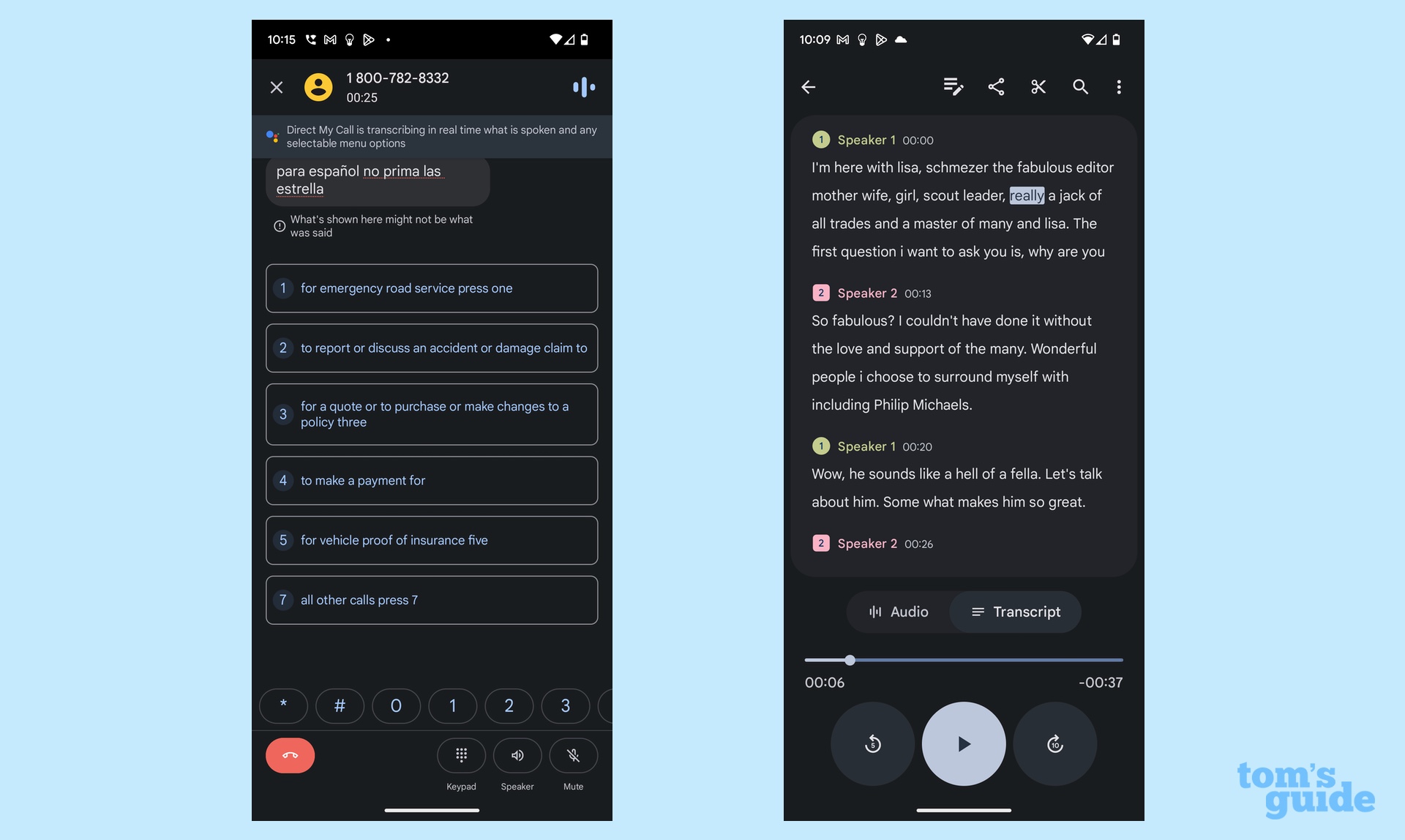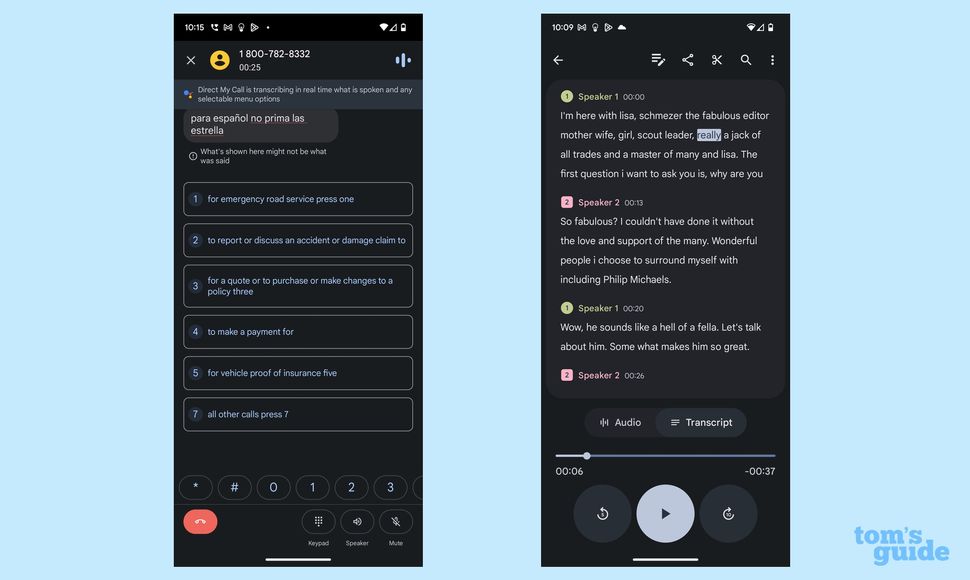 All of these capabilities have found their way to the Pixel 7a, meaning you get the same experience you'd have on the Pixel 7 but for $100 less. More importantly, there's noting like it available on the Galaxy A54.
Samsung's phone claws back some consideration thanks to its more generous update policy. Galaxy A54 owners can count on four Android updates — that will leave three more OS upgrades after Android 14 arrives later this year. You also get five years of security updates from Samsung.
Google will match those five year of security updates for the Pixel 7a. But the phone is only entitled to three years of Android OS updates.
Winner: Google Pixel 7a
Google Pixel 7a vs. Samsung Galaxy A54 verdict
A Google Pixel 7a vs. Samsung Galaxy A54 face-off is as close as can be, and you could probably flip a coin and wind up with an outstanding midrange device no matter which one you ultimately pick. That's how well Google and Samsung have done with their latest budget devices.
But when we measure the phones against each other across a wide variety of categories, the Pixel 7a edges ahead on the strength of its Tensor processor and all the capabilities that enables.
Swipe to scroll horizontally
| | | |
| --- | --- | --- |
| Row 0 – Cell 0 | Google Pixel 7a | Samsung Galaxy A54 |
| Price (10 points) | 7 | 8 |
| Design (10 points) | 8 | 7 |
| Display (15 points) | 11 | 13 |
| Cameras (20 points) | 19 | 18 |
| Performance (20 points) | 16 | 13 |
| Battery life and charging (15 points) | 10 | 13 |
| Software (10 points) | 10 | 8 |
| Overall (100 points) | 81 | 80 |
We appreciate the Galaxy A54's lower price and expandable storage, and even though it costs $50 less than the Pixel 7a, Samsung doesn't sacrifice features like screen refresh rate, display brightness or battery life. The camera competition between Samsung and Google is as close as it's ever been.
But in the end, the Pixel 7a still takes better pictures in low-light, and it offers some high-end features of its own in a sub-$500 package. The most important, though, is that Tensor G2 silicon and all the great AI-driven capabilities you can enjoy.
More from Tom's Guide
The post Google Pixel 7a vs. Samsung Galaxy A54: Which budget phone wins? first appeared on www.tomsguide.com
In many places around the world, horse races are an attraction that a lot of people love to watch. With the fast-paced action and thrill that each game provides, it is no longer surprising to know that millions of fans have grown fond of it.