From www.techradar.com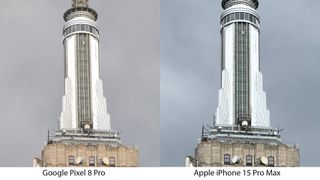 (Image credit: Future / Lance Ulanoff)
How good is your zoom? That's the core question I sought to solve with two of the newest flagship phones on the market: the excellent Apple iPhone 15 Pro Max, and the intriguing and also quite good Google Pixel 8 Pro.
We've reviewed both phones in depth, so be sure to check out Philip Berne's Google Pixel 8 Pro review, and my own Apple iPhone 15 Pro Max review for everything you need to know about the handsets; but I was particularly interested in how their 5x telephoto cameras measured up.
The iPhone 15 Pro Max's 5x f/2.8, 12MP camera is a new benchmark in the iPhone line. The previous flagship maxed out at 3x optical zoom (and that's all you get with the iPhone 15 Pro). Plus, the new lens employs Apple's first tetraprism technology (basically bending the light through prisms to get more focal distance out of very little space).
5x zoom is not new to the Pixel line, but the Google Pixel 8 Pro's telephoto camera does have a slightly wider aperture, going from f/3.5 to a better light-gathering f/2.8. Google's phone is capable of capturing 30x digital zoom photos, but I'm not interested in that. The majority of digitally zoomed images captured by Pixels, the best Samsung Galaxy phones, and others are filled with too much AI-imager-enhancing noise. There's simply not enough reality in these admittedly exciting images.
For my test, the rules were simple: no digital zooms, no filters, no tapping on the screen for exposure adjustment, and no choosing a focus point. I simply pointed the phone camera at my subject and tapped the shutter button.
Zooming into the truth
Below, I present my findings in two formats. I chose a small selection of images for full-resolution crops in which we can judge the detail, color, and clarity, of each image. Below that, I offer slider images of all my comparative photos. They are, obviously, compressed, but they do give you a good sense of the at-a-glance quality you'll find when viewing them on either the Google Pixel 8 Pro or Apple iPhone 15 Pro Max (two truly excellent screens by the way).
Overall, these are two excellent telephoto cameras, capturing amazing detail and, for the most part, getting the colors, clarity, and exposure right. More broadly, the Pixel 8 Pro leans toward warmer colors and brighter images, sometimes at the expense of some, but not too much, detail. While the iPhone 15 Pro Max sometimes appears to add a bit more grain (it reminds me of the 400 film I used to love), it could also be the pixels that are necessary to provide all that detail.
The Apple iPhone 15 Pro Max's clarity might have an edge, thanks to the new 3D sensor-shift optical image stabilization. Still, I didn't have any real trouble capturing sharp images with the Google Pixel 8 Pro's 5x optical zoom.
There's an obvious pixel disparity between the two phones, but while the Pixel 8 Pro 5x zoom camera has a 48MP sensor, it shoots by default at a binned 12MP. The iPhone's telephoto camera is 12MP, and, as is often the case with iPhones, makes the most of its comparatively number of pixels.
The good news is that I think you'll be happy with either 5x telephoto camera. I did not, by the way, test Samsung's Galaxy S23 Ultra. With a 10x optical zoom lens, it's arguably the smartphone optical zoom lens leader, but I wasn't able to directly compare it with the iPhone and the Pixel because its next closest optical zoom lens is a 3x optical zoom camera; its 5x zoom capabilities appear to be digital. Even so, if you want the ultimate in smartphone zoom, the S23 Ultra is your obvious choice.
Side-by-side comparisions
These side-by-side images show the entire captured images from both the Google Pixel 8 Pro and the Apple iPhone 15 Pro Max. Naturally, they've been compressed to fit on this page.
You might also like
[ For more curated Samsung news, check out the main news page here]
The post iPhone 15 Pro Max vs Google Pixel 8 Pro: who wins the 5x zoom challenge? first appeared on www.techradar.com