From www.techradar.com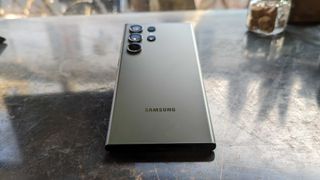 The Samsung Galaxy S23 Ultra (Image credit: Future | Alex Walker-Todd)
Samsung's Galaxy Ultra phones have kept with roughly the same design for the last two years, and it looks like they will do for at least one more year too, going by some leaked images of Samsung Galaxy S24 Ultra cases.
These images – shared by reputable leaker @UniverseIce – on Weibo (via NotebookCheck), show a case for a very rectangular phone, with a likely quad-lens camera. There are actually six circular cut-outs where the cameras would be, but based on previous models one of those would be the LED flash, and one would be a laser autofocus.
The camera layout is exactly the same as the Samsung Galaxy S23 Ultra's, and so is the position of the power and volume buttons on the right edge. So visually it doesn't seem like the Samsung Galaxy S24 Ultra will be changing much if these cases are accurate – which they likely are, given that they're also in line with leaked Samsung Galaxy S24 Ultra renders.
Similar designs for the other phones too
Although most of the images are focused on the Galaxy S24 Ultra, one also shows cases for the Samsung Galaxy S24 and the Galaxy S24 Plus. And these also look a lot like their predecessors, complete with triple-lens cameras and curvier corners than the Ultra.
In the case of the Galaxy S24 and Galaxy S24 Plus this is at least a design that Samsung has only been using for one year (as before that they had a metallic camera block), but it's still a shame not to see some changes.
For the Samsung Galaxy S24 Ultra we might simply get spec changes – and not entirely good ones, with reports suggesting Samsung will replace the 10x optical zoom of the Galaxy S23 Ultra with a 5x zoom here.
So the Samsung Galaxy S24 line might not be overly exciting, but we should find out fairly soon, as leaks suggest these phones will land in January.
You might also like
[ For more curated Samsung news, check out the main news page here]
The post Leaked Samsung Galaxy S24 series case images show overly familiar designs first appeared on www.techradar.com