From www.tomsguide.com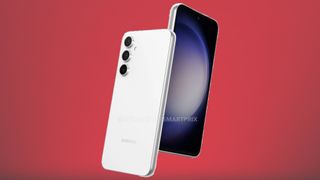 (Image credit: OnLeaks/SmartPrix)
If you're still waiting for the launch of the Samsung Galaxy S23 FE, then you might want to listen up. Not only does the latest leak, from Yogesh Brar on Twitter, detail the phone's alleged specs, it also claims that the S23 FE will be launching at some point in September.
According to Brar the phone will come packing a 6.4-inch AMOLED display with 120Hz refresh rate, a 4,500 mAh battery, 25W charging, wireless charging, a triple lens camera (50MP, 8MP, 12MP telephoto) and a 10MP selfie camera. Plus an unspecified IP water resistance rating.
Samsung Galaxy S23 FE- 6.4″ FHD+ Dynamic AMOLED, 120Hz- Qualcomm Snapdragon 8 Gen 1 / Exynos 2200- 50MP (OIS) + 8MP + 12MP (Tele)- Selfie: 10MP- Android 13, One UI 5.1- 4,500mAh battery, 25W Charging- 4+5 years support- wireless charging, IP ratingSeptember releaseAugust 23, 2023
See more
The processor is apparently either a Snapdragon 8 Gen 1 or a Samsung Exynos 2200. If this is the case, we'd assume that Samsung may be reverting back to its old habits and use the Exynos chip in international phones — while the North American market gets the Snapdragon.
Both chips are a couple of generations old, and relatively comparable, but if history is anything to go by the Snapdragon-powered S23 FE might get a big advantage in the performance department.
Brar also notes that the phone will come running Android 13 with Samsung's OneUI 5.1 running on top. Plus "4+5 years support", which presumably means 4 years of full Android updates and five years of security updates — which Samsung has been offering for the past couple of years.
Some of you may have realized that Android 14 is due to arrive very soon, possibly before this phone launches, so why Android 13? This is going to be a cheaper version of the Galaxy S23, and it would be a little bizarre to have Android 14 launch on an FE phone before the rest of the flagship Galaxy S range.
Plus you have to remember Samsung Galaxy phones use OneUI, rather than stock Android, so the company needs time to configure a new version of the skin to account for all the changes coming with Android 14. So expect the Galaxy S23 FE to get Android 14 at some point, but it's likely that it'll be part of a wide rollout across the S23 range.
We've heard bits and pieces about the Galaxy S23 FE before, and it all pretty much matches what we'd expect from a slightly cheaper version of Samsung's flagship. The phone won't be as good as the Galaxy S23 or its bigger siblings, but it's still a step up from the mid-range Galaxy A54 — especially in the performance department.
That also means the price is likely to sit between the $449 A54 and $799 S23. But exactly how much it might cost is anyone's guess. We're hoping around $599, but we won't know for sure until Samsung actually announces the phone. In the meantime be sure to check out our Samsung Galaxy S23 FE hub for all the latest news and rumors about the phone.
More from Tom's Guide
[ For more curated Samsung news, check out the main news page here]
The post Samsung Galaxy S23 FE tipped for September launch with these specs first appeared on www.tomsguide.com