From www.tomsguide.com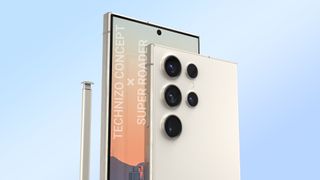 (Image credit: Technizo Concept/Super Roder)
The performance of the Samsung Galaxy S24 may differ significantly from other phones tipped to use the new Snapdragon 8 Gen 3 chipset, according to leaks from Yogesh Brar and Ice Universe. And it's because the alleged "For Galaxy" version that'll be exclusive to Samsung's 2024 flagship phones will run faster in some areas and slower in others.
The good news is that the For Galaxy version of the new chip apparently has a higher-speed prime CPU core and GPU. The CPU's highest performance core runs at 3.4GHz in the Snapdragon 8 Gen 3 For Galaxy, compared to the base chip's 3.3GHz chip, while its GPU runs at 1000MHz instead of 900MHz like the standard one.
Qualcomm Snapdragon 8 Gen 3(SM8650 – AB)- 1 x 3.3GHz Cortex X4- 5 x 3.2GHz/3GHz Cortex A720- 2 x 2.3GHz Cortex A520Snapdragon 8 Gen 3 for Galaxy(SM8650 – AC)- 1 x 3.4GHz Cortex X4- 5 x 3.15GHz/2.96GHz Cortex A720- 2 x 2.27GHz Cortex A520Overclocked GPU for better AINovember 3, 2023
See more
However, the potentially bad news is that the other performance and efficiency cores within the CPU run at slower speeds. The remaining seven cores in the Snapdragon 8 Gen 3 For Galaxy will run at 3.15GHz, 2.96GHz or 2.27GHz according to Brar instead of 3.19GHz, 3.0GHz and 2.3GHz like they do in the base version.
If the Snapdragon 8 Gen 3 For Galaxy exists, then Samsung's undoubtedly worked with chip maker Qualcomm to tune the silicon to its demands. And it would appear that those demands were higher top-end performance, but a lower typical power output.
This could be to reduce heat production or power consumption during regular use, which would hopefully mean better battery life and a more comfortable in-hand experience when using the phone for extended periods of time. However, we will only know for sure once we see some test results once the phone launches, as well as rival devices thought to be using the standard 8 Gen 3 chip, such as the OnePlus 12.
These rumored different chip tunings in the Galaxy S24 will definitely be relevant to U.S. users, but possibly not anyone reading this in the U.K. Rumors indicate that Samsung will offer its own Exynos chip in at least the Galaxy S24 and Galaxy S24 Plus series outside the U.S., except possibly in the Galaxy S24 Ultra.
This is different from the current Galaxy S23 series, which uses Snapdragon chips worldwide, but is in line with the Galaxy S22 and earlier models, which had U.S. users get the more powerful Snapdragon silicon in their Galaxy S phones while the rest of the world settled with the less effective Exynos variant.
A January launch for the Galaxy S24 series has been rumored, a little earlier than expected. Normally we'd see a new Galaxy S phone arrive around February, but if Samsung wants to launch its new phones early, one that will likely be one of the best phones around going by the rumors of titanium frames, LTPO displays on all models and a new 50MP telephoto camera for the Ultra, we won't complain.
More from Tom's Guide
[ For more curated Samsung news, check out the main news page here]
The post Samsung Galaxy S24's chipset could be both faster and slower than rivals — here's how first appeared on www.tomsguide.com