From www.tomsguide.com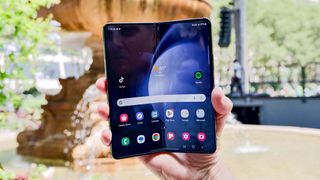 (Image credit: Future)
Samsung's Galaxy Z Fold 6 may arrive next year without any big camera upgrades to show off, according to a new claim from leaker IceUniverse.
IU only mentions a singular camera in the Twitter/X post, which could mean he's just talking about the main rear camera. Equally, it may be a typo of "cameras", and he is in fact talking about the five total sensors found on and in the Galaxy Z Fold 5.
Don't expect much change in Galaxy Z Fold6. At least we can be sure of the camera. It is the same as Fold4 and Fold5, that's for sure.October 19, 2023
See more
The new claim backs up an earlier rumor from Revegnus that it could be the Galaxy Z Fold 7 in 2025 to finally bring the next big round of camera updates.
Samsung equips the current Galaxy Z Fold 5 with a 50MP main camera, a 12MP ultrawide camera, a 10MP 3x telephoto camera, a 10MP outer selfie camera and a 4MP inner under-display selfie camera.
This is a comprehensive set of cameras, but they don't add up to the high-quality experience you'd get from the Google Pixel Fold. Plus as IU mentioned, this is the same set of cameras that you got on the Galaxy Z Fold 4, with the ultrawide and inner selfie cameras being ported over from 2021's Galaxy Z Fold 3.
The Galaxy Z Fold 6 could use upgrades somewhere
Another year without camera upgrades to the Z Fold line would not be a complete surprise. Samsung and other major phone makers like Apple and Google often keep the same sensors in use on their phones for years at a time — taking time to refine their current tech before having to start the process over again with a new future-proof sensor.
Keeping the cameras the same doesn't mean there's zero possibility of upgrades though. Software changes can always make a difference, whether it's to the cameras themselves or to the phone's whole operating system. So we'll keep our fingers crossed that Samsung still has something new to offer users when it comes to the Galaxy Z Fold 6's cameras.
That said, Samsung needs to seriously up its foldable game in general. The newly released OnePlus Open just became the new top dog of the best foldable phones gang, and the Google Pixel Fold has plenty of its own appeal too. Samsung's still got the benefit of having made foldable phones for longer, and offering some of the best displays in the business with stylus support to boot. But without more a substantial overhaul, the Galaxy Z Fold series, once a pioneer, could end up irrelevant.
Luckily for us, Samsung does appear to be working on other big changes for the Galaxy Z Fold 6 that aren't camera-related. For one, according to reporting from The Elec, it may have a thinner profile thanks to reverse engineering efforts on rival foldables like the China-only Huawei Mate X3.
We may also see the next Z Fold adopt a new form factor for the refreshed foldable, specifically with a wider front display, along with dust protection to accompany the current IPX8 water resistance rating. We may even get an all-new "Lite" model that'll be a more affordable option than the $1,800 full-fat Z Fold.
It's likely that we'll see the Galaxy Z Fold 5 launch in the summer of next year, at a Galaxy Unpacked event in either late July like this year, or August as was the case in previous years. We'd expect the smaller Galaxy Z Flip 6 to arrive alongside it, a phone which according to the rumors may be lucky enough to get a camera upgrade, adopting the 50MP main sensor seen on the Galaxy Z Fold 5 and the Galaxy S23 and Galaxy S23 Plus.
More from Tom's Guide
iOS 17.1 arrives soon — here's what's coming to your iPhone
[ For more curated Samsung news, check out the main news page here]
The post Samsung Galaxy Z Fold 6 may not get this key upgrade first appeared on www.tomsguide.com