From bgr.com
Rumors say iPhone 15 Pro models will have ultra-thin bezels, but a more interesting technology, where the iPhone will get bezel-less, is already in the works. A few weeks ago, the Korean version of The Elec said Samsung offered a curved edge display for Apple. Still, Cupertino wasn't happy about that as it would like to maintain the iPhone's flat display and angular design on the side of the product.
Now, according to Weibo leaker IceUniverse, Samsung Display has recently demonstrated the next bezel-less screen technology: a display with zero borders. In the image, the company shows the different cutouts between the latest Galaxy and iPhone models and that both will transition to this all-around full screen.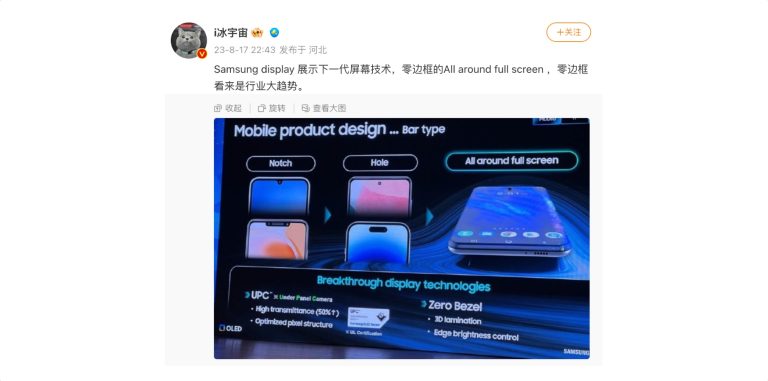 The key features include 3D lamination and edge brightness control to avoid distortions, which Apple avoids for the current bezel-less curved display technology. In addition, Samsung Display is working on an under-panel camera with 50% high transmittance improvement and optimized pixel structure for clear photos and videos.
Although it's unclear when a bezel-less iPhone could be available, a few months ago, DSCC analyst Ross Young offered an interesting tidbit about the iPhone roadmap until 2027. He says that by 2025, Apple is expected to apply under-panel Face ID technology to its phone.
Since most of the TrueDepth sensors are related to unlocking your phone and ensuring it captures your image, Young believes Apple will go for a true bezel-less iPhone by 2027, when both Face ID and front-facing sensor will be under the display.
That said, a bezel-less iPhone looks to be still a few years away from becoming a reality – although they will come in this decade.
While it's unclear how long it will take Samsung Display to improve thin-film encapsulation (TFE) and under-panel camera technologies, the company isn't shy to reveal its latest discoveries.
BGR will look closer at this upcoming bezel-less iPhone and all its new technologies. Meanwhile, check the latest rumors about the iPhone 15 below.
[ For more curated tech news, check out the main news page here]
The post Samsung just showed what the bezel-less iPhone of the future might look like first appeared on bgr.com