From macrumors.com
by Tim Hardwick
Samsung says it is set to begin mass producing OLED laptop displays that integrate touch sensors directly into the panel, with the technology expected to make a debut in new Galaxy Book models next week (via ZDNet).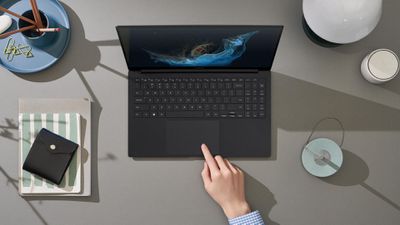 The panels use OCTA, or on-cell touch AMOLED technology, to achieve the feat, which allows them to be thinner than solutions that use a separate touchscreen panel film. Samsung claims that it is the world's first laptop OLED panel with an integrated touchscreen.
Previously only used in smartphones like the Galaxy S series and Apple's iPhones, the panels are expected to come in 13-inch and 16-inch sizes, and are capable of supporting 3K resolution and up to 120Hz refresh rates.
The Korean company did not say which laptop would debut the technology, but it is expected to unveil updated Galaxy Book laptops with OLED touchscreens at its Unpacked media on February 3. Samsung also plans to mass produce the OLED touchscreen panels for other laptop brands and partners as more makers transition to them.
Samsung has been supplying Apple with OLED displays for high-end iPhone models since 2017, and its latest announcement comes on the back of recent rumors that Apple is planning to launch its first MacBook with an OLED display in the next couple of years, potentially followed by an OLED touchscreen MacBook. Samsung is also said to be prioritizing the development of specific types of OLED displays that Apple plans to use in upcoming iPad Pro models.
According to analyst Ming-Chi Kuo, Apple could release the first OLED MacBook as early as next year. Kuo did not specify whether the OLED MacBook would be a Pro or Air model, but last month display industry analyst Ross Young said Apple plans to introduce a new 13-inch MacBook Air with an OLED display in 2024.
All existing MacBooks have LCD panels, with the latest 14-inch and 16-inch MacBook Pro featuring mini-LED backlighting and ProMotion. Unlike LCDs with mini-LEDs, OLED displays have self-emitting pixels and do not require backlighting, which would give MacBooks even better contrast ratio and allow for longer battery life.
According to Bloomberg's Mark Gurman, Apple is also working on adding touchscreens to Macs, beginning with a MacBook Pro with an OLED display in 2025. The first MacBook Pro with a touchscreen would retain a traditional laptop design with a trackpad and a keyboard, but the display would gain support for touch input like an iPhone or iPad.
For years now, Apple has maintained that adding touchscreen technology to laptops results in a poor user experience ergonomically, so if Apple does go ahead with the plans it would be a major reversal for the company. The launch of a touchscreen OLED MacBook could arguably help consolidate Apple's Mac sales, which have been particularly strong since the transition to Apple silicon, but face a challenging couple of years ahead as demand for consumer electronics drops amid the global economic downturn.
Popular Stories
Friday January 20, 2023 11:43 am PST by Joe Rossignol
In a recent press release, Apple confirmed that iOS 16.3 will be released to the public next week. The software update will be available for the iPhone 8 and newer and includes a handful of new features, changes, and bug fixes. Below, we've recapped bigger features in iOS 16.3, including support for physical security keys as a two-factor authentication option for Apple ID accounts, worldwide …
The iPhone 15 Pro models will have thinner, curved bezels compared to the iPhone 14 Pro models, potentially resulting in an Apple Watch-like appearance, according to the leaker known as "ShrimpApplePro." ShrimpApplePro clarified that the next-generation "Pro" iPhone models will still have flat displays, since only the bezels are to be curved. According to a source speaking to the leaker,…
Friday January 20, 2023 2:59 am PST by Sami Fathi
Apple this week broke a tradition it has maintained for the past 13 years by announcing new products in the first month of the year. This week, Apple unexpectedly announced several new products, including updated 14-inch and 16-inch MacBook Pros powered by M2 Pro and M2 Max, a new Mac mini with M2 and M2 Pro, and an updated HomePod. As it has occasionally done, Apple announced the latest…
The first graphics-focused benchmark results have surfaced for Apple's M2 Pro and M2 Max chips, offering a closer look at GPU performance improvements. Metal scores on Geekbench reveal that the M2 Pro with a 19-core GPU and M2 Max with a 38-core GPU in the new MacBook Pros offer around 30% faster graphics performance over the M1 Pro and M1 Max, in line with Apple's advertised claims. The…
Wednesday January 18, 2023 12:44 pm PST by Juli Clover
Apple today introduced new 5B59 firmware for the AirPods 2, the AirPods 3, the original AirPods Pro, and the AirPods Max, up from the 5B58 firmware that was released in November. Apple does not offer immediately available release notes on what's included in refreshed firmware updates for the AirPods‌, but the company does maintain a support document with release information. There is no…
Monday January 23, 2023 10:10 am PST by Juli Clover
Apple today released iOS 16.3, the third major update to the iOS 16 operating system that first came out in September. iOS 16.3 comes over a month after the launch of iOS 16.2, an update that added the Freeform app, Apple Music Sing, Advanced Data Protection, and more. iOS 16‌.3 can be downloaded on eligible iPhones and iPads over-the-air by going to Settings > General > Software Update….
The post Samsung to Debut First Laptop With a Touchscreen OLED Display Next Week first appeared on macrumors.com
In many places around the world, horse races are an attraction that a lot of people love to watch. With the fast-paced action and thrill that each game provides, it is no longer surprising to know that millions of fans have grown fond of it.
Cybersecurity threats have become vast and more sophisticated. The rate of malware attacks and malicious activity counts within seconds despite the size or sector the organization belongs to — no one is safe enough to expect that foe actors will bypass vital company resources.