From www.techhive.com
Image: Ben Patterson/Foundry
Want a nearly 100-inch picture in your living room without installing a projector and lowering the drapes? Then Samsung has the TV for you: one with a massive yet svelte 98-inch display that mounts on a wall and churns out bright, detailed 8K images. All you need is 40 grand to spare.
Samsung invited me to its showroom in Manhattan's Meatpacking District to check out the Neo QLED 8K QN990C, the latest—and largest—in Samsung's QN900C series of 8K QLED TVs. Just to be clear, this was a casual eyes-on experience, with less-than-ideal lighting conditions and no way to test out the UHD Blu-rays I'd brought for demo purposes (Samsung stopped making Blu-ray players back in 2019, after all).
Even with those limitations, the QN990C was a sight to behold. Streaming an episode of The Mandalorian in 4K (upscaled to 8K using Samsung's Neural Quantum Processor 8K) on Disney+, the QN990C boasted an impressively sharp yet nuanced image, with enough brightness to compete with the overcast skies outside the flanking windows in the store. Samsung credits the QN990C's mini-LED panel for delivering such impressive levels of brightness.
An X-Wing zipping across a dark starfield served up plenty of detail, yet I saw no evidence of edge enhancement or other digital sharpening artifacts; nor could I spot any evidence of blooming around the thick letterboxing bars on the top and bottom of the screen.
Again, keep in mind that I wasn't able to view the QN990C's picture in a darkened room, where blooming and other image deficiencies would be more noticeable. There was also a fair amount of glare on the glossy screen due to the brightly lit showroom; a version of the QN990C with an anti-reflective surface is available, I'm told.
Physically, the QN990C makes an impression beyond its sheer size. Just 0.8 inches deep, the set has a perforated "360-degree" metal chassis, and it can be used with a stand or wall-mounted. There's also a solar-powered "Eco" remote that can also "harvest" radio waves from nearby wireless routers to recharge its batteries.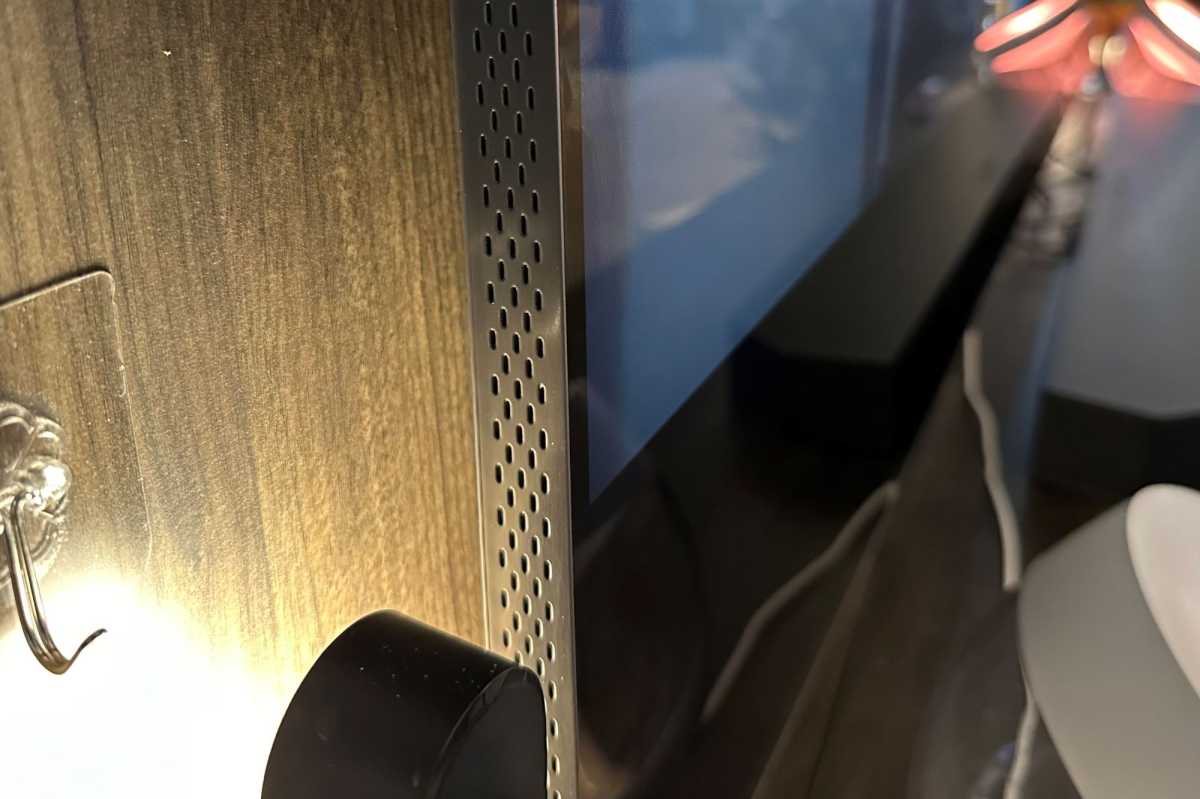 Ben Patterson/Foundry
In terms of audio, the QN990C comes with a built-in 6.4.4-channel speaker array, complete with four rear-mounted woofers, while additional rear drivers bounce sound off your walls for the surround and height channels. Samsung's "Object Tracking Sound" technology helps to scatter sound effect around the room, and you can also pair the QN990C's speakers with a Q Symphony-enabled Samsung soundbar, such as the Samsung HW-Q990C (read my review).
All very impressive, but the 98-inch Samsung Neo QLED 8K QN990C ain't cheap—we're talking a cool $39,999.99, versus just $7,999.99 for Samsung's 85-inch Neo QLED 8K QN900C.
Ben Patterson/Foundry
How the QN990C's image would hold up under scrutiny is an open question. The TV gurus at RTINGS.com haven't published a review of the 98-inch set yet, but in a head-to-head between Samsung's smaller 8K QN900A QLED series TVs and the manufacturer's more affordable 4K QN90A sets, the reviewers preferred the latter, citing its better contrast ratios and local dimming performance, as well as brighter SDR and HDR images.
Ben has been writing about technology and consumer electronics for more than 20 years. A PCWorld contributor since 2014, Ben joined TechHive in 2019, where he covers smart speakers, soundbars, and other smart and home-theater devices. You can follow Ben on Twitter.
[ For more curated Samsung news, check out the main news page here]
The post Samsung's 98-inch 8K mini-LED TV is big, bright, and expensive first appeared on www.techhive.com