Google has traded wireless charging in favor of a more efficient pin-based system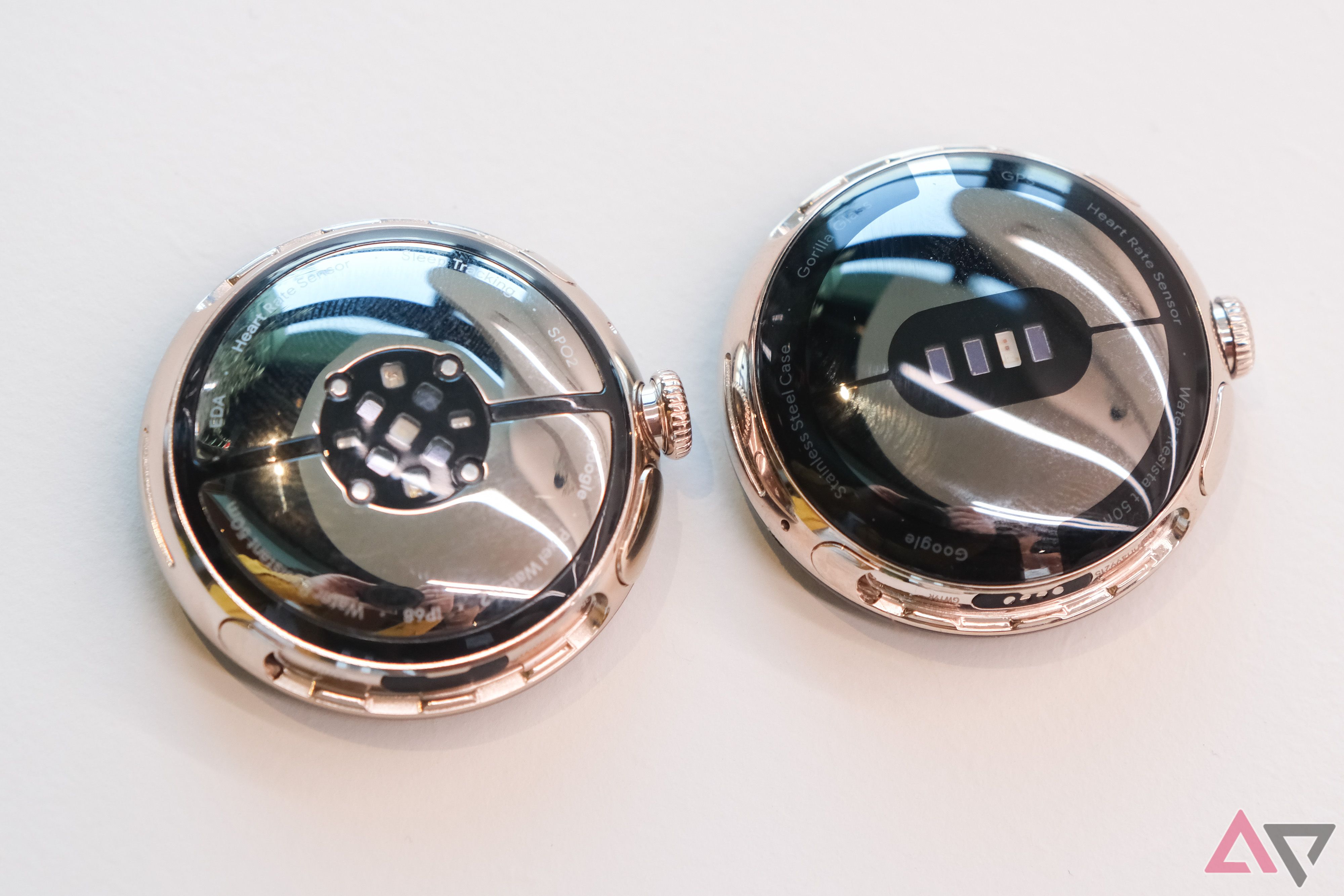 Summary
The Google Pixel Watch 2 has significant upgrades, including better performance and longer battery life, but it no longer features wireless charging.
The Pixel Watch 2 uses a pin-based charging system, which charges faster than its predecessor and generates less heat, potentially avoiding durability issues.
While the pin-based charging system is more efficient, it requires specific orientation and may be less convenient than wireless charging in regular use. However, this decision makes sense considering the limitations of wireless charging in other smartwatches.
The Google Pixel Watch 2 might look the same as its predecessor, but it packs some big upgrades. Google's second smartwatch promises better performance, longer battery life with always-on display enabled, and packs additional new safety features. But compared to its predecessor, the Pixel Watch 2 has one significant regression: it does not feature wireless charging. Look closely, and you will see the Pixel Watch 2 has four golden contact points on the rear. This is for the new pin-based charging system that the watch uses.
Google already uses the same charging mechanism on the Fitbit Sense 2 and Versa 4. Theoretically, this means you can use the charger of those wearables to refill the Pixel Watch 2's 306mAh battery and vice versa. But if you have some spare Pixel Watch charging pucks, you can't use them to top up the new watch. The Pixel Watch 2's charging puck looks a lot like its predecessor, but it has four pins for power transfer.
While the switch to a pin-based charging system is a downgrade, the move has certain benefits. Google claims the Pixel Watch 2 charges faster than its predecessor, with a 0-80% refill taking 43 minutes. A full 100% top-up takes 75 minutes, which is merely 5 minutes faster than the Pixel Watch, but that's likely due to the trickle charging mechanism kicking in.
Interestingly, the 0-50% top-up time remains the same for both wearables at 30 minutes. However, the Pixel Watch 2 will likely generate less heat, as its pin-based charging mechanism should be much more efficient. This could help avoid the back falling off issue that plagued the first-gen Pixel Watch.
A faster and more efficient charging speed is always welcome, but this implementation has a major downside. What's worse is that the charging puck connects to the Pixel Watch 2 in a specific orientation. While magnets will help align the connection, this is an issue as you can't place the watch on the adapter in any direction and expect charging to begin. More than the lack of wireless charging, this will likely be an inconvenience in regular use.
Durability is also a concern with this pin-based charging mechanism. Many older smartwatches and fitness bands used a similar pin-based adapter. Based on my experience, the pins eventually used to break, especially if the charger is handled roughly.
While the best Android smartwatches feature wireless charging, most can't be topped up using a regular Qi wireless charger. It was the same story with the Pixel Watch, which could not be reversed wirelessly charged with a Pixel phone either. Even the Apple Watch supports wireless charging, but you can't top up its cell with a regular Qi charger. So, to a certain extent, Google ditching wireless charging in favor of a more efficient pin-based solution on the Pixel Watch 2 makes sense.
[ For more curated Samsung news, check out the main news page here]
The post The Google Pixel Watch 2 doesn't charge wirelessly first appeared on www.androidpolice.com