From www.techradar.com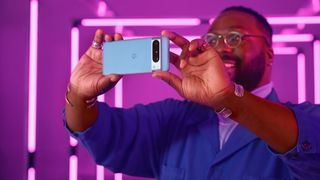 A happy Pixel 8 Pro user clearly not seeing any screen tint issues (Image credit: Google)
While it's not affecting all units – as our Google Pixel 8 Pro review is testament to – some Pixel 8 pro users have noticed a weird screen tint issue on their phones. The good news is that Google has noticed, and is working on a fix.
The problem, as per Google's official issue tracker (via Android Central), is "uneven discoloration" when the screen is in its always-on display mode, and in a dark room. White text turning an orange/pink color is specifically mentioned.
It's difficult to assess exactly how many people have experienced the bug, but judging by this Reddit thread, it's quite a few. In some cases, Google has already offered replacement smartphones to those who have reported the issue.
A Google representative has now responded to the issue tracker thread, saying that the issue will be fixed in an upcoming Android update. There's no time frame on that, but these updates are pushed out on a fairly regular basis.
A bug's life
Google software engineers are also busy tackling a nasty bug related to Android 14 – this seems to be affecting the Pixel 8 Pro as well as various other models of Pixel phone, and has left some users unable to access files on their phone, or stuck on the boot up screen.
In this case, the issue seems to be related to having multiple profiles set up on the handset. As with the Pixel 8 Pro screen tint problem, a fix should be coming in an Android update in the not-too-distant future.
While we don't doubt that hardware and software development is difficult, it's disappointing that most smartphone and mobile OS launches now seem to be accompanied by a succession of pretty serious bugs that need addressing.
Apple recently pushed out an iOS 17 update that solved an overheating problem with certain iPhone 15 models, and has yet to officially address reports of some iPhone owners having their handsets randomly shut down and restart overnight.
You might also like
[ For more curated Samsung news, check out the main news page here]
The post The Pixel 8 Pro has a weird screen tint problem, but Google is rolling out a fix first appeared on www.techradar.com