From www.techradar.com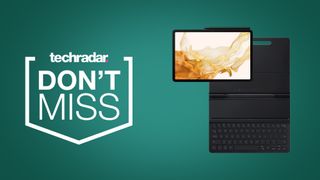 (Image credit: Future)
We all appreciate tablets for their flexibility and ease of use when casually browsing, watching videos, or gaming. But, when it comes to getting some more involving work done, finicky touchscreen keyboards don't really cut it. For those who held off picking up one because of that, the good news is that the full Samsung Galaxy Tab S8 range now comes with a free keyboard for a limited time – saving you up to £299.
What's more, if you have any old tablet to trade in at the same time – even if it's broken or has a cracked screen – you get a guaranteed £150 off any Galaxy Tab S8 when bought directly from Samsung.
Combined, you can get a Samsung Galaxy Tab 8 with a Slim Book Cover Keyboard for £599 (opens in new tab). That's a total saving of £269 compared to buying both items separately and a solid price for Samsung's latest tablet with the useful addition of a keyboard and cover all in one. Oh, and the S-Pen is already included as well. Altogether, it's one of the best tablet deals available today.
Similar deals apply to the Galaxy Tab S8 Plus and Galaxy Tab S8 Ultra. The latter you can find on our best tablets list for those after an Android device. Check out the full details below if you'd prefer either of the larger or more powerful tablets.
Samsung Galaxy Tab S8 with free keyboard cover
As we found in our Samsung Galaxy Tab S8 review, even though it may be the standard choice when it comes to the latest range of tablets, it's far from basic.
It features an 11-inch, 2560 x 1600 resolution display that also sports a high refresh rate of up to 120Hz. It's a top-quality screen that will deliver a smooth image during demanding tasks such as gaming. As for cameras, you get a 13MP main camera and 6MP wide option on the back, as well as a 12MP ultra-wide front-facing camera that's well-suited to video calls.
Those with the budget should go for one of the more expensive options, though. We were very impressed with the high-end option in our Samsung Galaxy Tab S8 Ultra review.
Sure, for the everyday user, this device is likely going to be overkill for general tasks such as browsing, media streaming, and gaming. However, creatives and professionals who need a bigger second screen will appreciate the much larger and much crisper 14.6-inch Super AMOLED display.
And if you feel any of the options aren't right for you, then you can browse more of today's best tablet deals below. We've got options from a range of manufacturers to suit all price ranges and needs.
The post The Samsung Galaxy Tab S8 now comes with an essential accessory for free first appeared on www.techradar.com
In many places around the world, horse races are an attraction that a lot of people love to watch. With the fast-paced action and thrill that each game provides, it is no longer surprising to know that millions of fans have grown fond of it.
Cybersecurity threats have become vast and more sophisticated. The rate of malware attacks and malicious activity counts within seconds despite the size or sector the organization belongs to — no one is safe enough to expect that foe actors will bypass vital company resources.