What you need to know
YouTube Music has a new feature that indicates whether a song is a cover or live recording.
It comes in the form of a label that only appears on the search results screen.
The new feature doesn't seem to be widely available, and it looks like it is part of a test at the moment.
YouTube Music has a new way of telling you if a song is a cover or a live recording right on the search screen.
The new feature was first spotted by a Reddit user, and we've also seen it on one of our devices. When searching for "If Tomorrow Never Comes," which was originally performed by Garth Brooks, the app displays some results with the labels "live" and "cover" beside the artist's name to properly mark songs that aren't original.
These labels are similar to the "E" label that's been in place for a long time to clearly identify explicit songs. However, they only show up on the search results screen when finding a song, specifically in the "More from YouTube" section. The same label is oddly not visible in the Songs or Community playlists section.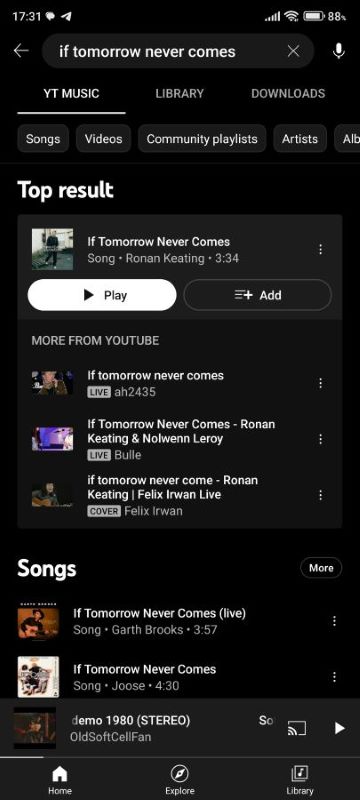 Furthermore, navigating to the album where that song resides does not show the same label anymore.
Android Police notes that the results can be inconsistent, with some actual cover songs not displaying the appropriate label. This suggests that the feature is currently being rolled out in phases. There's also the possibility that this is only part of a broader test by the platform.
Some of the leading music streaming services, like Spotify, don't have a similar feature. Prior to this update, it was difficult to distinguish between covers and original songs without listening to them, so the new feature will be much appreciated.
That said, it's worth noting that not all cover songs are listed as such on YouTube Music since not all cover artists have obtained permission from the copyright holders of the original songs.
The post YouTube Music adds new label for cover songs and live recordings first appeared on www.androidcentral.com
In many places around the world, horse races are an attraction that a lot of people love to watch. With the fast-paced action and thrill that each game provides, it is no longer surprising to know that millions of fans have grown fond of it.