From www.phonearena.com
YouTube is believed to be working on an ad-supported streaming service that would allow users to stream television shows, television movies, and television channels for free. The Wall Street Journal report says that Google is in talks with entertainment companies and is testing the concept with some of them. The result would be similar to apps like Pluto TV which offers streaming television programming from content providers like Paramount Movie Channel, TV Land Drama, and other channels.
As noted by
The Verge, companies like Vizio and Roku sell television sets that offer similar streaming services but both companies make more money from advertising and commissions on subscriptions than they do from selling their hardware. Vizio and Roku, based on their latest earnings reports, make $27 and $44 annually per year per user. The Journal says that an unnamed YouTube spokesperson confirmed that tests are being run and the service could roll out more widely this year.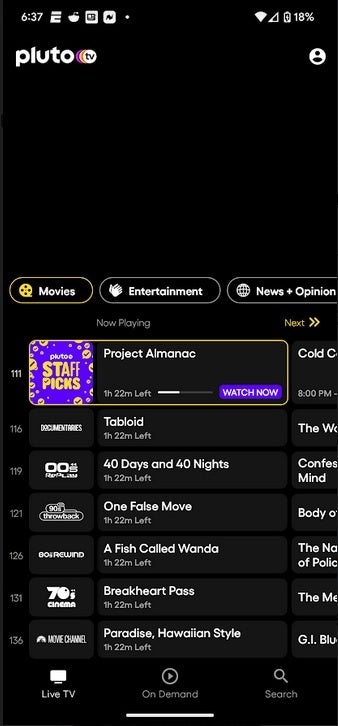 The free ad-supported YouTube TV service might resemble the Pluto TV app
Among the content providers that YouTube is in conversations with are Lionsgate and A&E. The latter owns the History Channel, FYI, and Lifetime. Google is reportedly asking for a 45% cut of the ad revenue. YouTube recently inked a deal with NFL Sunday Ticket and the games will be streamed on YouTube TV and YouTube Primetime Channels starting with the 2023-2024 season.
Google has approximately 5 million subscribers to YouTube TV which offers over 100 live television channels for $64.99 per month. Google could decide to market the free ad-supported service under the YouTube TV brand.
Google is also looking to increase the amount of popular content on its YouTube Shorts service which offers short-form videos using a vertical format. The company is sharing its ad revenue with the platform's creators giving them a bigger payday than TikTok to use their content.
The biggest trend in streaming services right now is to offer a free or lower-priced ad supported tier of service. Netflix, Peacock, Disney+ and HBO Max all have ad-supported tiers of service and it looks like YouTube TV will be next.
The post YouTube tests free ad-based service streaming TV channels first appeared on www.phonearena.com
In many places around the world, horse races are an attraction that a lot of people love to watch. With the fast-paced action and thrill that each game provides, it is no longer surprising to know that millions of fans have grown fond of it.
Cybersecurity threats have become vast and more sophisticated. The rate of malware attacks and malicious activity counts within seconds despite the size or sector the organization belongs to — no one is safe enough to expect that foe actors will bypass vital company resources.