From www.techradar.com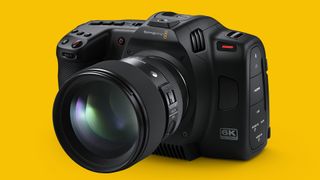 (Image credit: Blackmagic Design)
Blackmagic is hugely popular name in the video industry and with good reason, as it makes some of the best video cameras for pros, at competitive prices. Now the new Blackmagic Cinema Camera 6K, marks two exciting firsts for the company; it uses a full-frame sensor and L-Mount lenses.
Design-wise, the Cinema Camera 6K looks a lot like the existing Blackmagic Pocket Cinema Camera 6K and other Pocket models, most of which shoot onto a smaller Super35 sensor (APS-C). On the inside, however, is a different story.
Ditching the Pocket name, the latest model packs a 6048 x 4032 pixel 'open gate' full-frame sensor for 6K video up to 36fps, with 400 and 3200 dual native ISO. Open gate means the camera can record from the full width and full height of the 3:2 aspect sensor, so you're not throwing away detail.
Blackmagic Cinema Camera 6K price and release date
The Blackmagic Cinema Camera 6K body only list price is $2,595 / £2,119 / AU$4,245, which is decent value given what it's capable of and that the smaller sensor Pocket Cinema Camera 6K Pro costs around that much, too. Accessories include the compatible Pocket 'Pro EVF' – a tilt-EVF for waist level viewing that costs $495 / £459 / AU$809, plus the Pocket 'Pro Grip' which will set you back $149 / £125 / AU$249. In a press release, Blackmagic Design says that the camera is available now, although currently most retailers list it as pre-order.
And the inclusion of the L-Mount is an exciting choice, because there are loads of existing Leica, Panasonic and Sigma lenses in the L-Mount family to choose from, plus it's an easy lens mount to adapt other lenses from, including popular lens mounts like Canon EF (that's the mount that the 'Pocket' version uses), and full-frame Cooke anamorphic.
We don't get in-body image stabilization or phase-detect autofocus like in the Sony FX3 or Panasonic Lumix S5 II, this is a Blackmagic camera after all. No, it is a camera to mount to a support or a gimbal to gain smooth footage, and focus pull for seamless manual focusing – this is what most video industry pros do. And if you're a pro video shooter, there's plenty more to the Cinema Camera 6K that elevates it above the likes of Sony and Panasonic.
Built specifically for video creatives
An increasing number of hybrid mirrorless cameras pack an impressive array of video resolution and frame rates options, together with internal ProRes raw recording to preserve the most possible detail. So what makes a dedicated video camera like the Blackmagic Cinema Camera 6K stand out?
The rear tilt touchscreen is a healthy five inches, much bigger than the three inch units found in most mirrorless cameras. The display is so big that you might not even need an extra external monitor for clear viewing, though you can still attach one via the full size HDMI. It also has connection ports on the side that go beyond what hybrid models offer, including two XLR inputs. If you're using a Sony rival, chances are you'll need an expensive adaptor for those audio inputs.
Add the seriously impressive looking specs for anamorphic video with 6:5 4838 x 4032 output, seamless workflow for Blackmagic raw video files to DaVinci Resolve Studio software (included), USB-C power and recording to external SSD, 12V DC Power, cooling vents, tally lamp, CFExpress memory, rudimentary 24MP still images, and the Blackmagic Cinema Camera 6K is an excellent option for video, at an excellent price, that has really stuck it to Sony and Panasonic. We'll be conducting an in-depth review soon.
You might also like
[ For more curated tech news, check out the main news page here]
The post Blackmagic finally goes full-frame with 6K video camera that has Sony-rivaling features first appeared on www.techradar.com