From www.tomsguide.com
Tom's Guide Verdict
The Bose QuietComfort Headphones are excellent always-on noise-cancelers with enhanced sound and battery life, but some nice-to-have features are missing at the high price.
Pros
+

Bose top-tier noise cancelation

+

Updated sound profile

+

Comfy design

+

Plenty of serviceable features

+

Better battery life than predecessors
Cons
–

ANC can't be turned off

–

No spatial audio mode

–

Lacks motion and touch controls
Bose QuietComfort Headphones: Specifications
Price: $349 / £349 / AU$649
Colors: Black; cypress green; white smoke
Battery life (rated): Up to 24 hours
Connectivity: Bluetooth 5.1 (codecs: SBC, AAC)
Size: 6.18 x 3.15 x 7.68 inches
Weight: 8.32 ounces
Bose has been busy revamping its 2023 headphone line with the release of the QuietComfort Ultra Earbuds and QuietComfort Ultra Headphones new flagships. But did you know that Bose has also replaced its popular QC45 headphones?
Billed as the successor to the QuietComfort 45 that launched at $329 in 2021, the new QuietComfort Headphones have been quietly ushered in and boast many of the same hallmarks including companion app support with personalization, excellent active noise cancellation, and fantastic comfort. On top of that, they welcome improved sound along with several other updates in a modernized design.
The number of changes isn't massive, and some of my biggest concerns about the design of the QC45 haven't been fully addressed in this release. Still, these noise-cancelers are an outstanding update to a franchise that sets the standard for ANC performance on wireless headphones.
Read my full Bose QuietComfort Headphones review to discover how they stack up and to see where they rank among the best noise cancelling headphones you can buy right now.
Bose QuietComfort Headphones review: Powerful, customizable ANC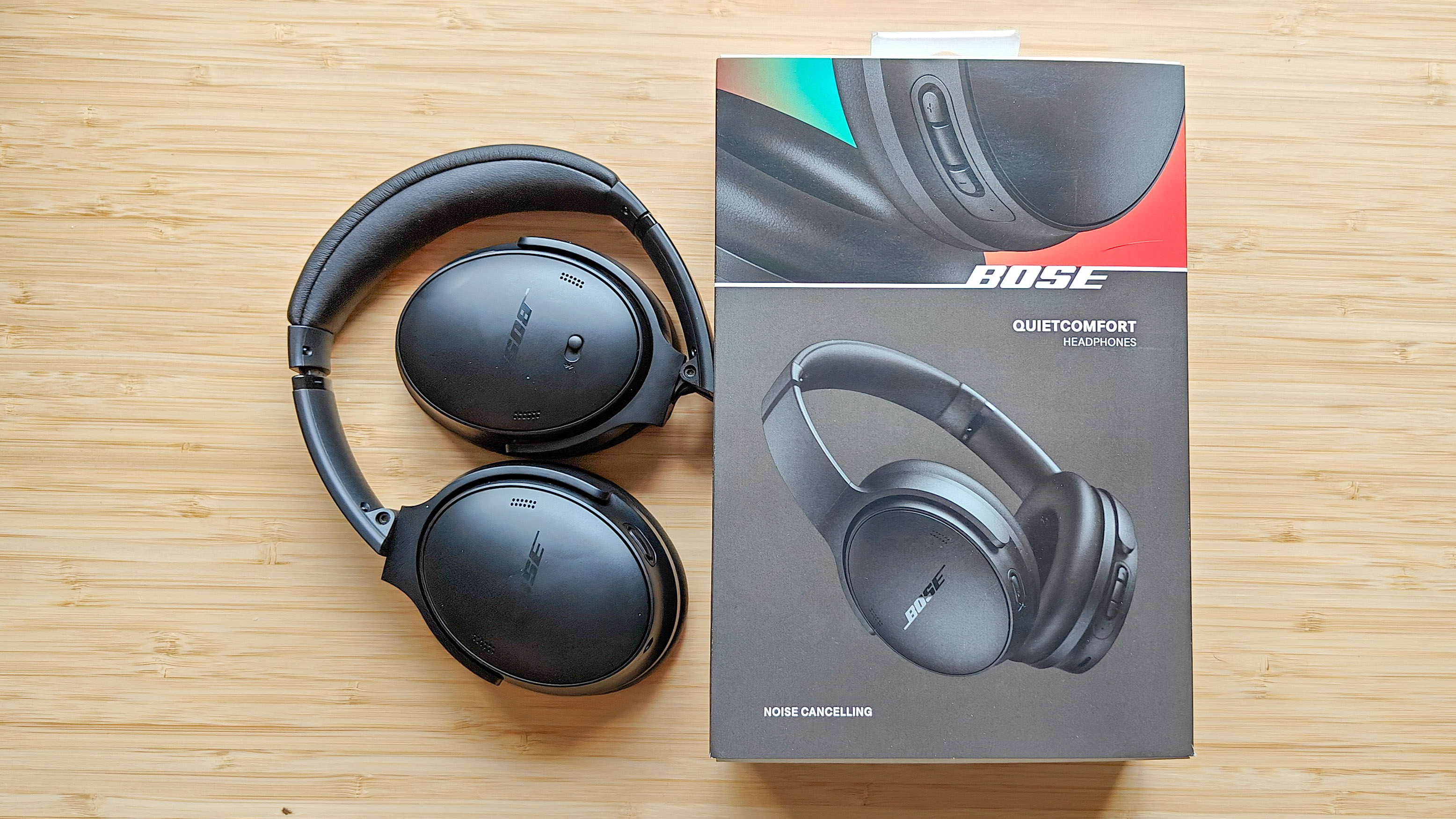 The Bose QuietComfort Headphones are available to buy now at $349 directly from the Bose store, as well as online retailers including Amazon, Best Buy, Walmart, and Crutchfield
Bose carried over the QC45's strong noise cancelation with Quiet (ANC) and Aware (transparency) modes. The technology is highly effective for blocking out close to 90% of unwanted sounds. One change that Bose implemented is the ability to customize ANC performance by creating multiple modes with set noise control levels. You can also enable the Wind Block feature to increase wind resistance when ANC is on.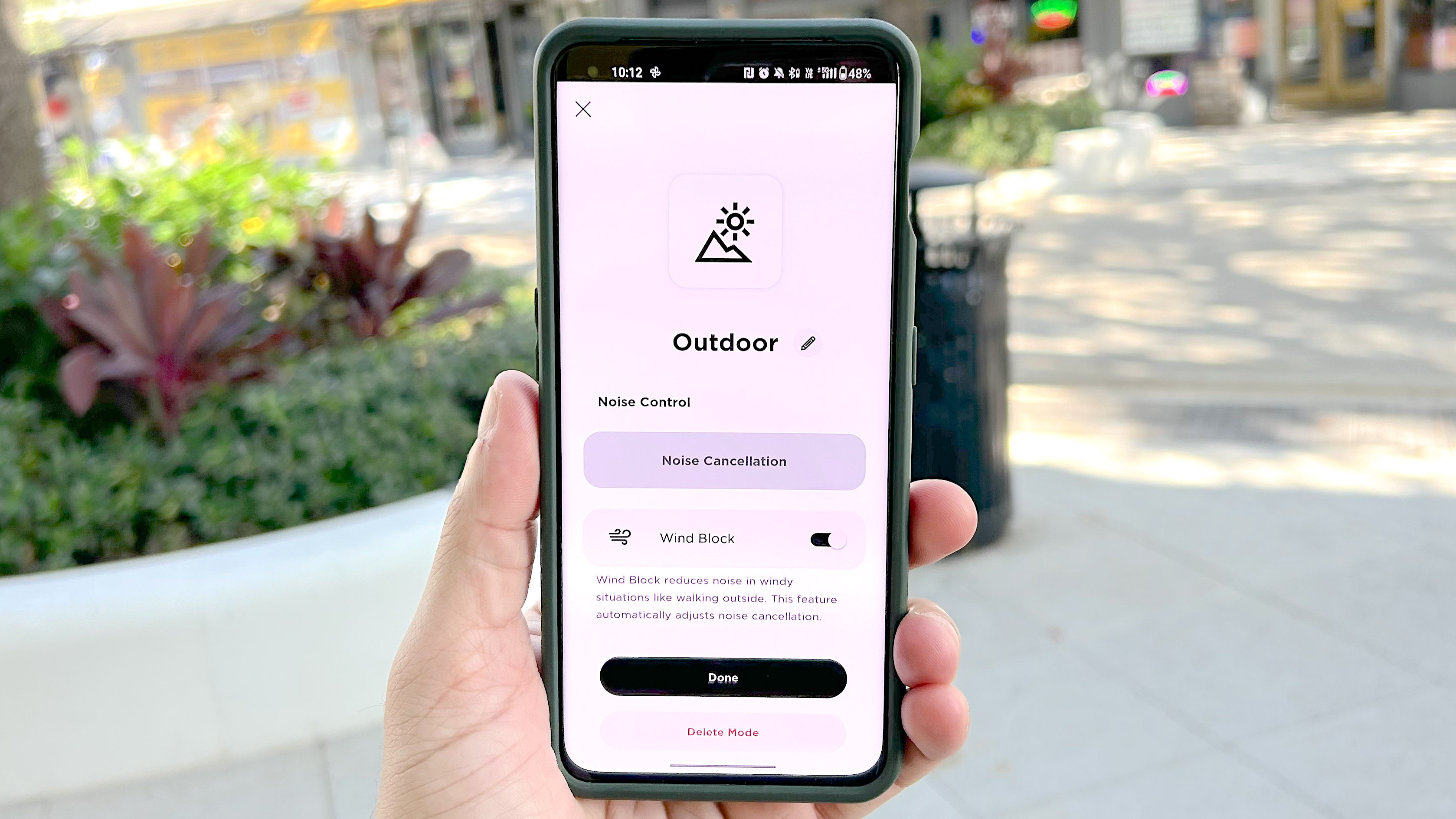 I've used the QC Headphones when working from home during what has been an endless construction project outside of my apartment. They completely silenced the drilling noises. Other outdoor disruptions went unnoticed (e.g., barking dogs, chatty pool-goers, landscaping), along with my son's loud cries and my wife's speakerphone conversations. Wind Block decreased the wind presence in gusty conditions. High-frequency sounds occasionally entered the soundscape, but it was mostly blaring noises like fire alarm sirens and whistles. Overall, the QC Headphones eliminated noise at the same level as their predecessor.
Aware continues to operate at a high level. It balanced volume and enhanced my awareness of surroundings without compromising audio quality. The mics picked up every peep in my house, which kept me on high alert when juggling emails and watching my 2-year-old toddler during work hours. I had full conversations with the missus from across the living room. The feature even came in handy during my downtime; I could hear random noises like my cat struggling to escape the snack cabinet and knocking over boxes.
Bose QuietComfort Headphones review: Better sound, playtime, and special features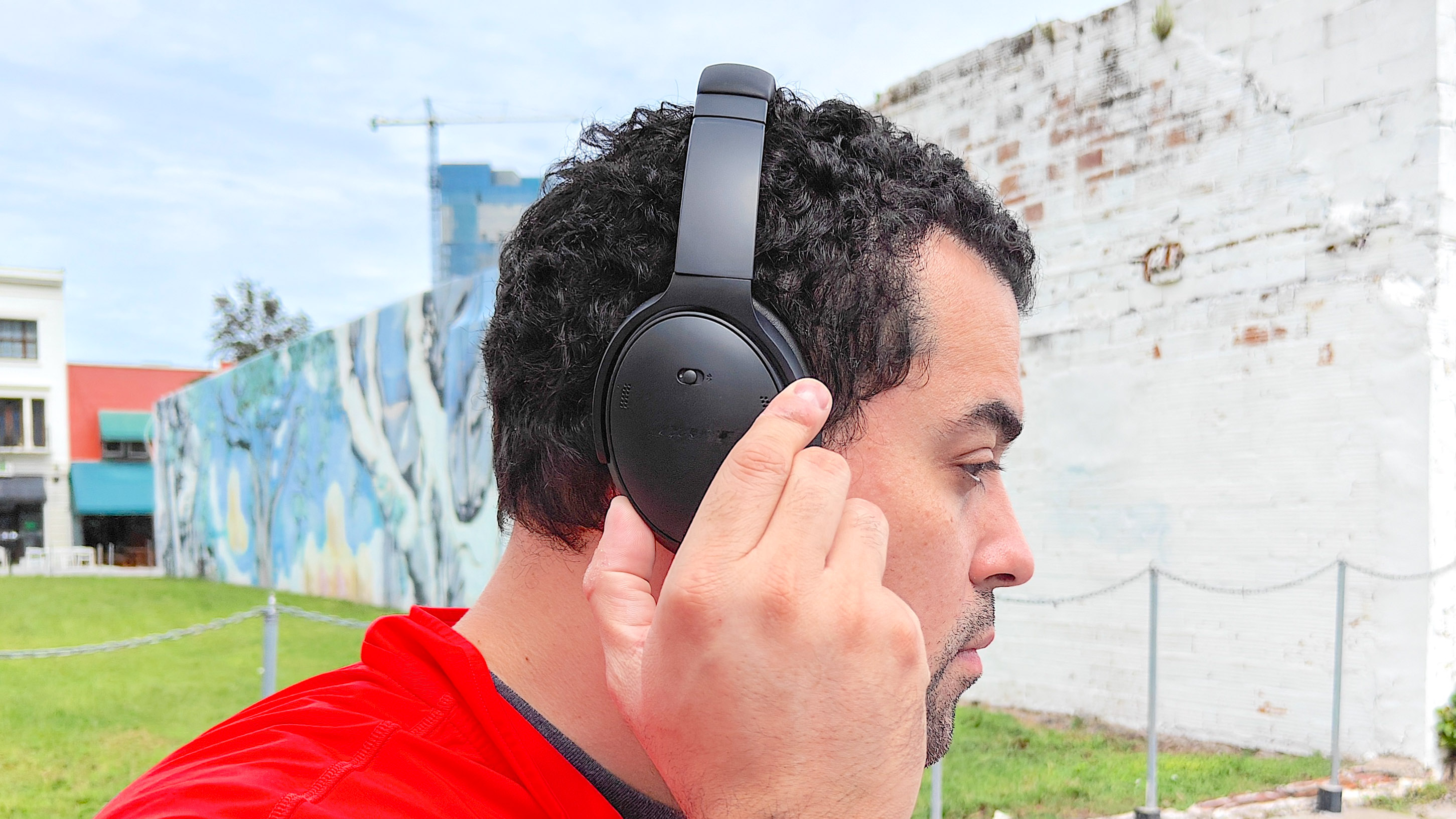 According to Bose, DSP changes were implemented to give the QC Headphones deeper bass and more natural sound. They didn't share any more details, but music selections when listening with Apple Music and Spotify were delightful. However, the hi-fi presentation on Tidal best demonstrated the model's audio improvements.
The bass riff opening on Cream's "Sunshine of Your Love" was shockingly crisp and produced electric reverberation that echoed smoothly with every strum. I loved the vocal detailing most, as the harmonized hook and wailing singing were beautifully layered, showcasing the headphones' sharp midrange. Orchestral recordings were even more satisfying. The frequency range on Donny Hathaway's "Valdez in the Country" was wide and well balanced, creating just enough room for every low, mid, and high to shine. Every bongo tap felt emphatic with bold-sounding brass instruments, and cymbals were delivered with striking percussive effect. The electric piano play had a mellow vibrancy to it that I'd wager would match the level of reproduction found on some of the best audiophiles headphones.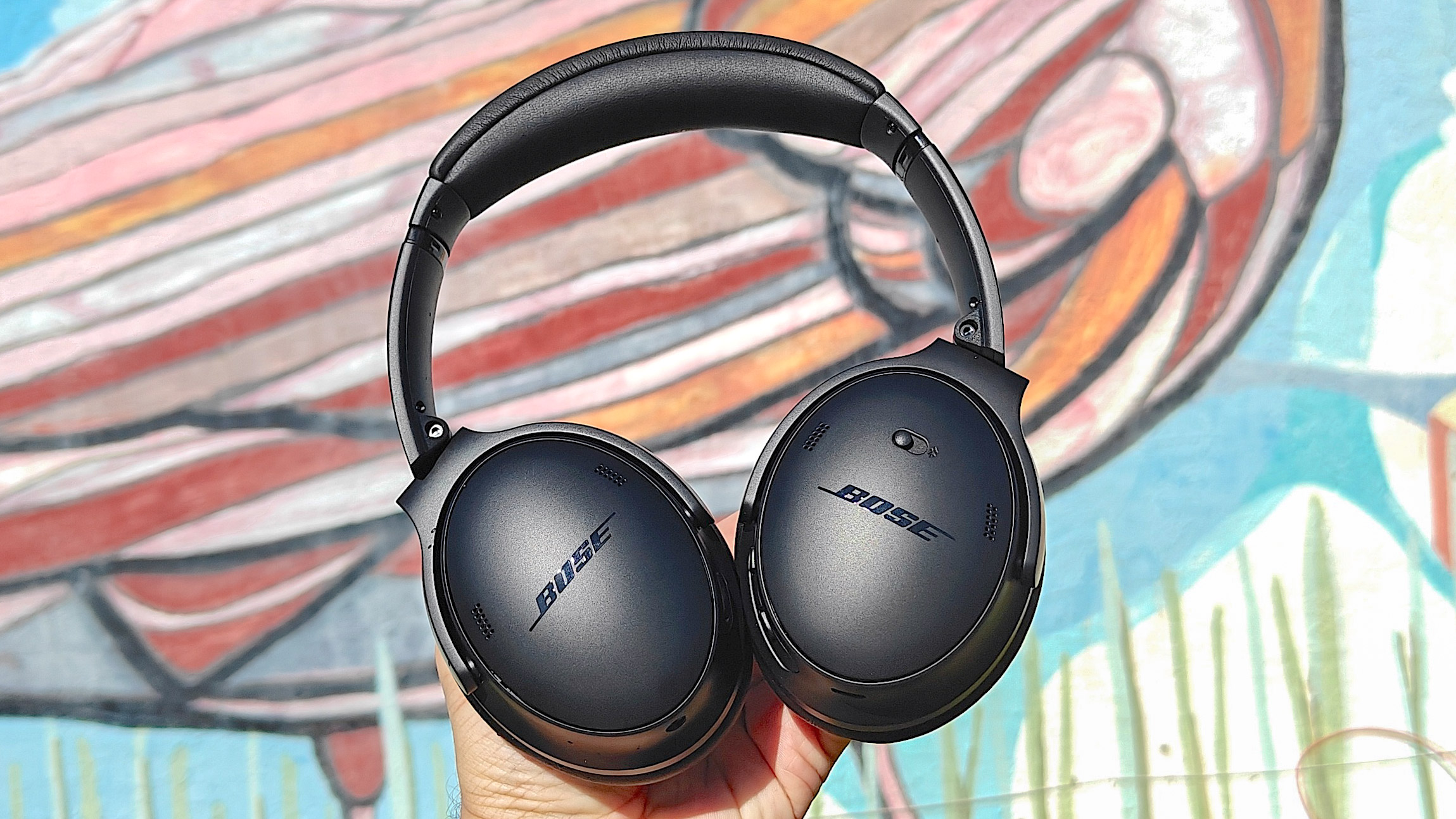 The QC Headphones come with Bose's Active EQ that automatically tweaks audio on the go. You're given access to a standard EQ via Bose Music app for bass and treble adjustment, as well as the option to manually create your own sound profile.
One enhancement I didn't see coming was the uptick in battery life. A full charge generates 24 hours of ANC playtime, which is only 2 hours more than the QC45, but greatly appreciated. What about battery life with ANC off? As with all Bose headphones, there's no way to disable noise cancelation, leaving you with one less power-saving option. An auto-off setting is available in the app that will automatically power off the headphones when inactive for a certain amount of time. Quick charging has been increased: a 15-minute charge equals 4 hours of listening time.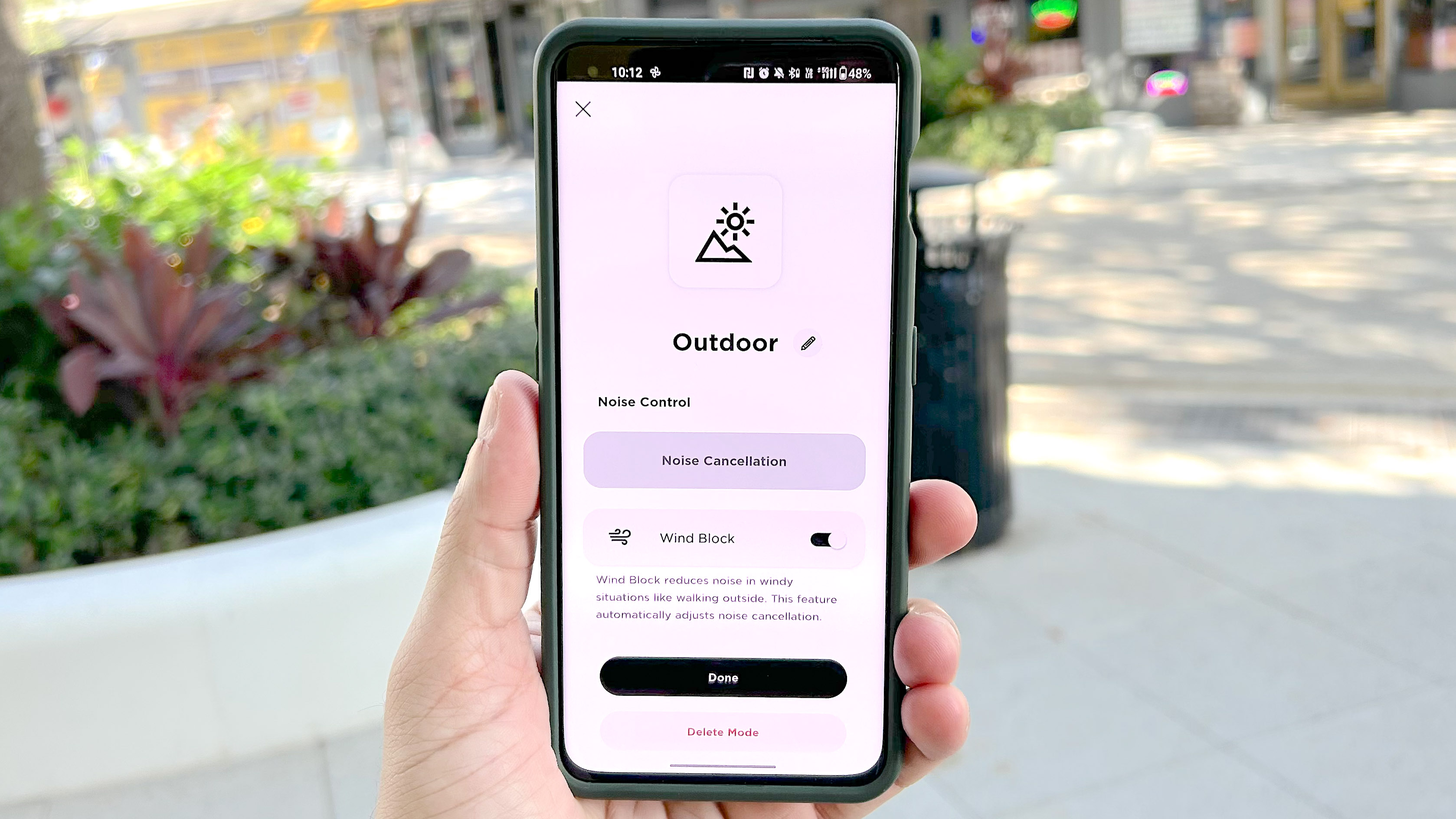 Additions to the QC Headphones are small on paper, but beneficial in real time. Multipoint technology returns to allow for connectivity between two devices at the same time and a toggle has been introduced to easily switch from multipoint to single point connection. Spotify Tap is now supported and will automatically pull up the streaming service when assigned to the action button. The bundled aux cable comes with an inline mic to take calls and enjoy music in passive mode, granted using it disables Active EQ and ANC.
Extra functionality still runs through Bose Music. The app houses all aforementioned features, plus a battery level indicator, Bluetooth Connections setting, music player, volume slider, and toggles for different functions. SimpleSync also makes the cut, letting you pair the headphones with a Bose smart soundbar and use it as a volume remote when watching TV.
Bose QuietComfort Headphones review: Untouched design and voice calling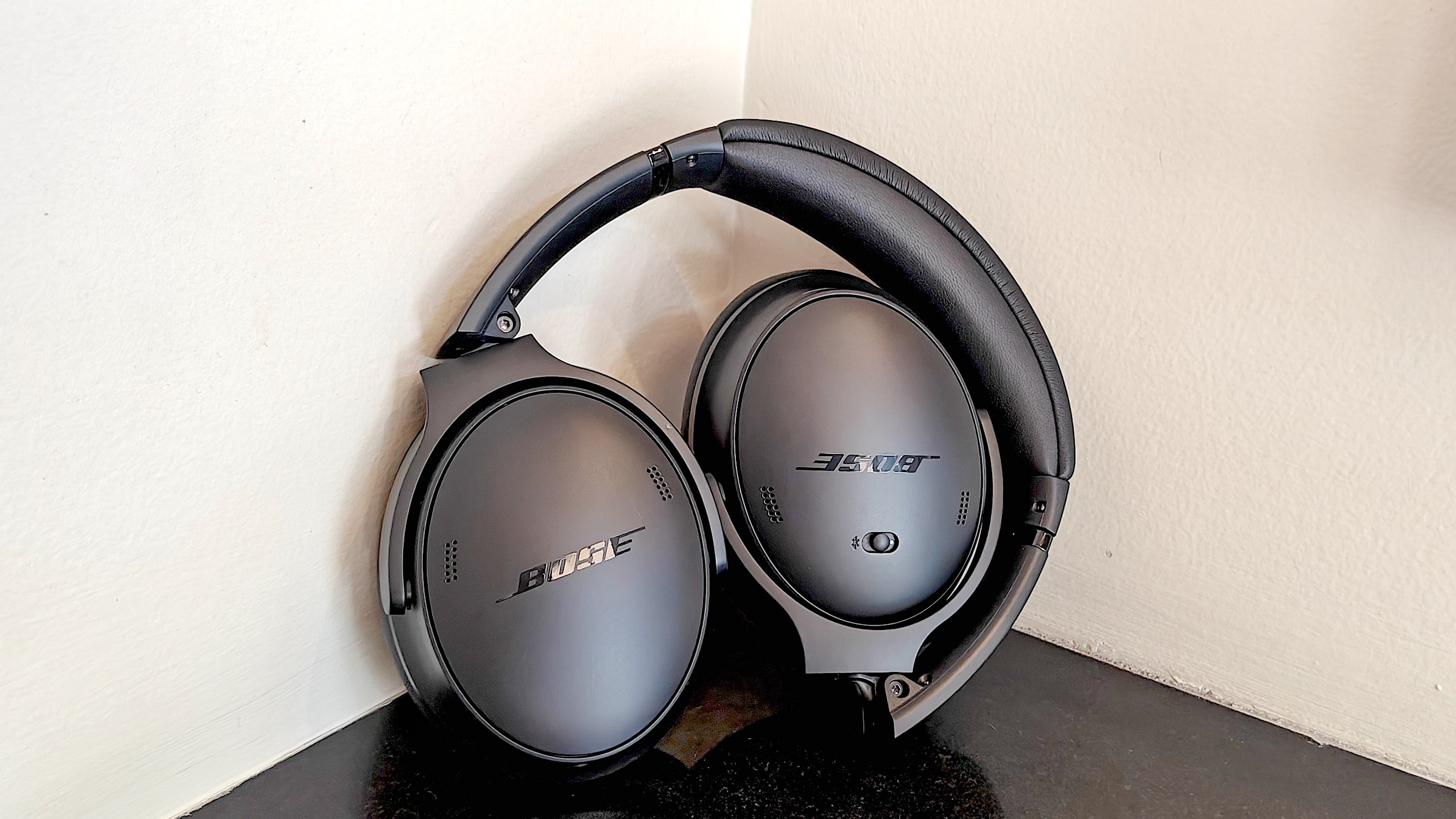 Construction-wise, the QC Headphones are practically the QC45, but without the reflective metallic branding on each earcup. All design elements are kept intact. Plastic makes up most of the frame. Soft leather is wrapped around the headband and each earcup. All buttons, ports, and mic holes have remained unmoved. Even the color options are mostly the same, though each model has its own exclusive colorway: the QC45 can be purchased in midnight blue and the QC Headphones in cypress green. The pliable materials make for a comfortable wear during long listening sessions, while the lengthy extenders accommodate larger heads for a better fit.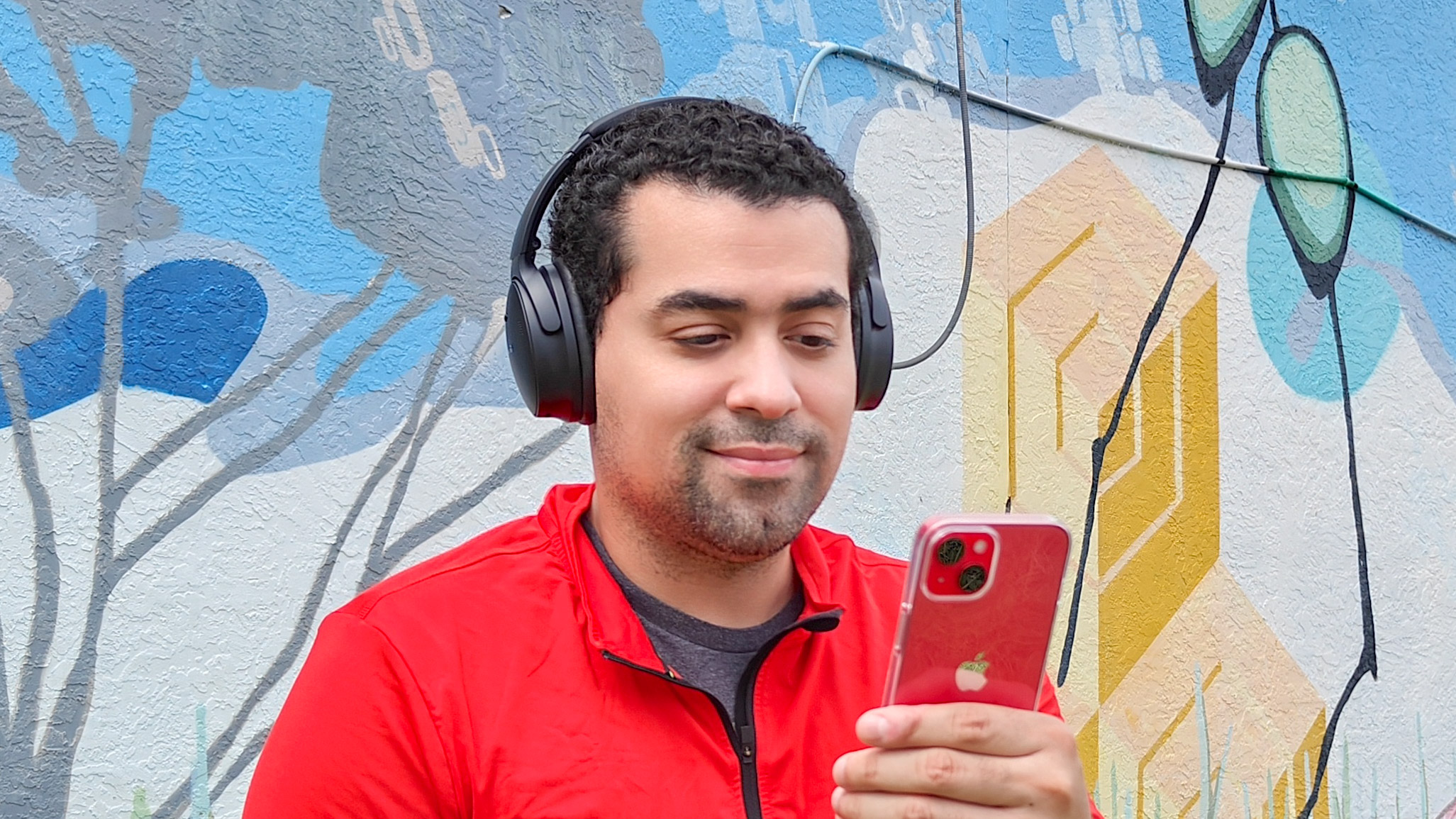 The QC Headphones are a step up in call quality from the QC45, but fall short of the Bose 700 and QC35 II. My wife could hear me loudly and clearly until background noise occurred. She singled out noises like bird chirping and cars cruising through the streets. I found the aux cable with inline mic to be a better solution for voice calls. It boosted clarity and kept ambient noise to a minimum. The best conversations were had indoors, where common household fracas wasn't audible. Bose's Self Voice feature was useful for increasing vocal volume.
Bose QuietComfort Headphones: Still missing popular technologies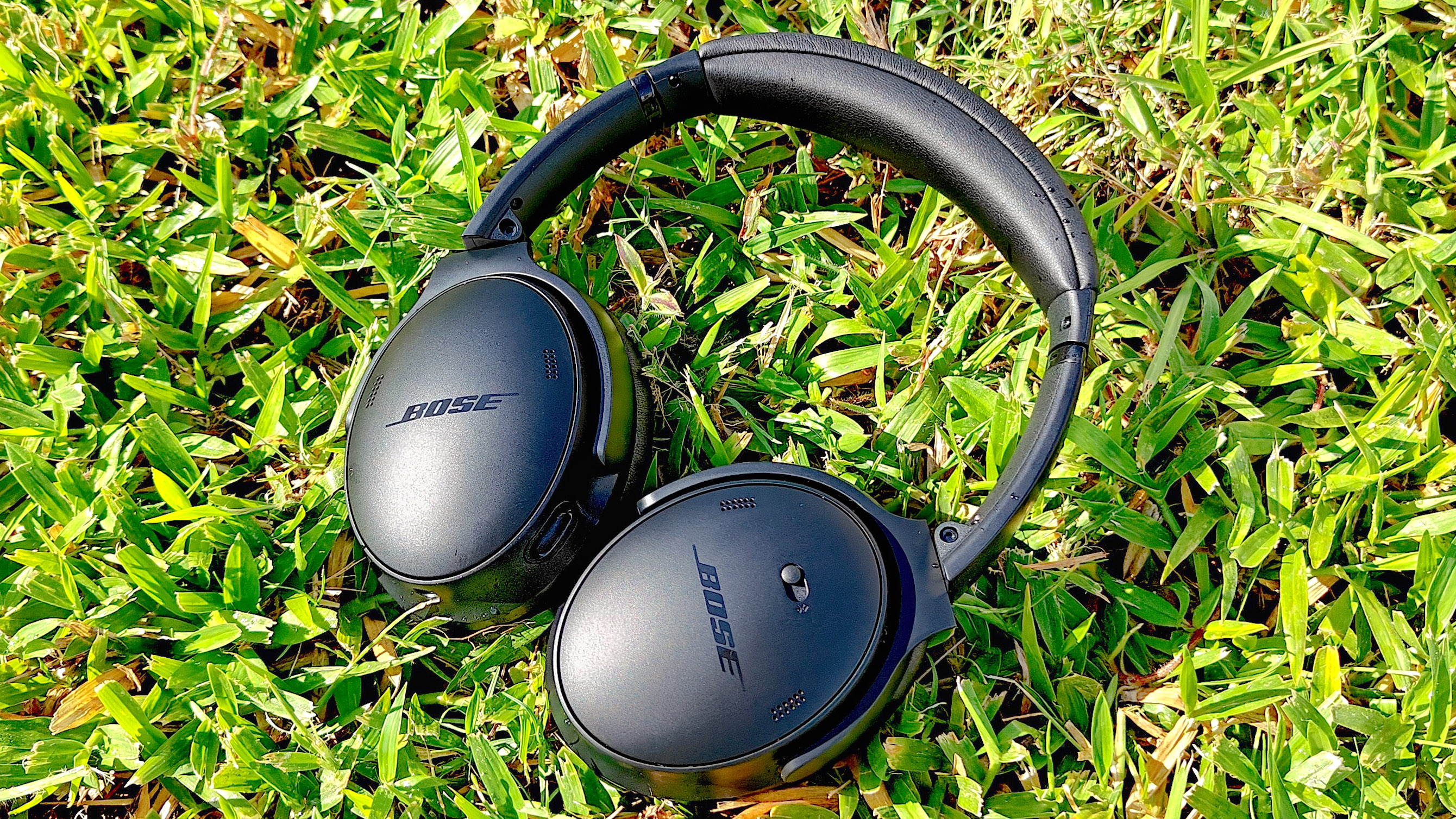 Any pair of sub-$350 headphones must come with modern features like touch controls, wear detection, and a Find My Headphones mode, but these key features are missing from the QC Headphones. Furthermore, the introduction of Bose's Immersive Audio technology, which is a game changer on the QC Ultra Earbuds and QC Ultra Headphones and , is missing from the QC Headphones' spec sheet. The feature is exclusive to the Ultra series, though these cans would have greatly benefited from the 3D audio format and completed Bose's trilogy of new releases.
At first glance, it's easy to view the QC Headphones as just as a refresh to the QC45, but every advancement raises performance to another level. The DSP changes produce richer sound when streaming on music platforms, and while two more hours of playback isn't much, it makes them a far more superior model for Bose fans. Adjustable ANC is another huge perk for full control over noise neutralization. While I normally complain about next-gen headphones with non-updated designs, the classic Bose QuietComfort look suits this release well and serves as homage for a series that brought noise-canceling headphones into the mainstream.
Bose could have incorporated more features to have these cans to better compete with the luxury QC Ultra and other upscale rivals like the Apple AirPods Max and Sony WH-1000XM5, especially when factoring in the steep $349 MSRP. On the plus side, it is only a $20 increase from what the QC45 sell for at full price.
In the end, the QC Headphones are a quiet release that warrant attention from brand enthusiasts wanting the elite Bose noise-canceling experience at a more attainable price than the flagship $429 cost levelled at the all-new QuietComfort Ultra Headphones. A $50 markdown would have made the QuietComfort Headphones a more enticing purchase, but there's plenty to enjoy over the QC45.
More from Tom's Guide
[ For more curated tech news, check out the main news page here]
The post Bose QuietComfort Headphones review: A QC45 upgrade with better sound and battery life first appeared on www.tomsguide.com