From www.whathifi.com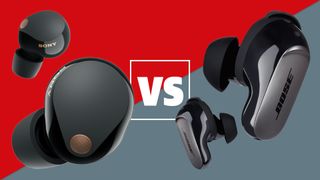 (Image credit: What Hi-Fi?)
The world of premium true wireless earbuds seems to move a mile a minute these days. With the ink of our review of Sony's exemplary WF-1000XM5 wireless earbuds still just about drying on the page, Bose confirmed that it, too, would be releasing its own challenger to compete within this most crowded of markets. Say goodbye to the Bose QuietComfort Earbuds II, and hello to the all-new QuietComfort Ultra Earbuds.
Don't let the names confuse you: the Ultra Earbuds are essentially the direct replacement for the Award-winning QC Earbuds II, albeit with a new name and a new price tag. Our five-star recommendation of the XM5 reveals our affection for the brilliant buds, yet that doesn't mean that the current king of the hill is by any means invincible.
In truth, the Bose QC Earbuds II facing off against the XM5 was a battle for the ages, with many members of our team torn between the punch and dynamism offered by the Bose in contrast to the precision and clarity boasted over in the Sony camp. Similar arguments may be raging within the walls of your home or at your favourite spot in your local, but one thing is for certain: this is going to be one heck of a fight for true wireless supremacy when the Ultra Earbuds are available in early October.
Bose QuietComfort Ultra Earbuds vs Sony WF-1000XM5: price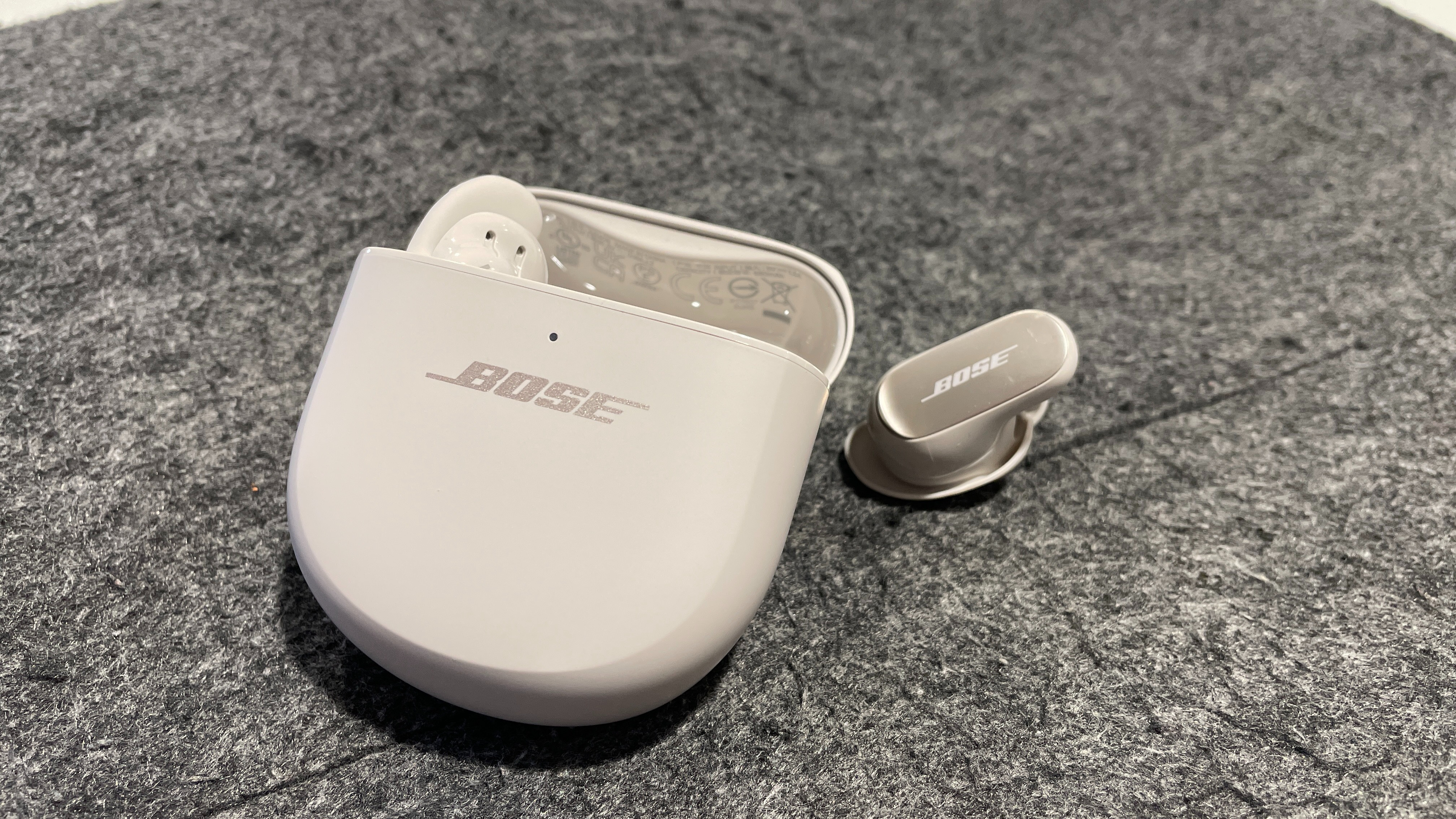 The Bose Ultra Earbuds and the Sony WF-1000XM5 are at the same end of the noise-cancelling wireless earbud spectrum, with the former very much keeping up with the latter's premium status as the Japanese audio brand's latest, and most costly, wireless buds.
With both pairs new to the market, expect the prices displayed here to be the same ones you'll be paying when you scour the internet in search of a good deal. There simply hasn't been enough time elapsed for those tags to have dropped significantly, and while the ousted models (Bose QC II and Sony XM4) may now plummet in price, the new boys will wear their full price tags with pride for the foreseeable future.
The QuietComfort Ultra Earbuds will launch at £300 / $299 / AU$450 while the Sony XM5 will currently set you back around £259 / $299 / AU$419. That, for UK customers at least, could make the Sony buds marginally preferable, at least in this regard.
Bose QC Ultra Earbuds vs Sony WF-1000XM5: design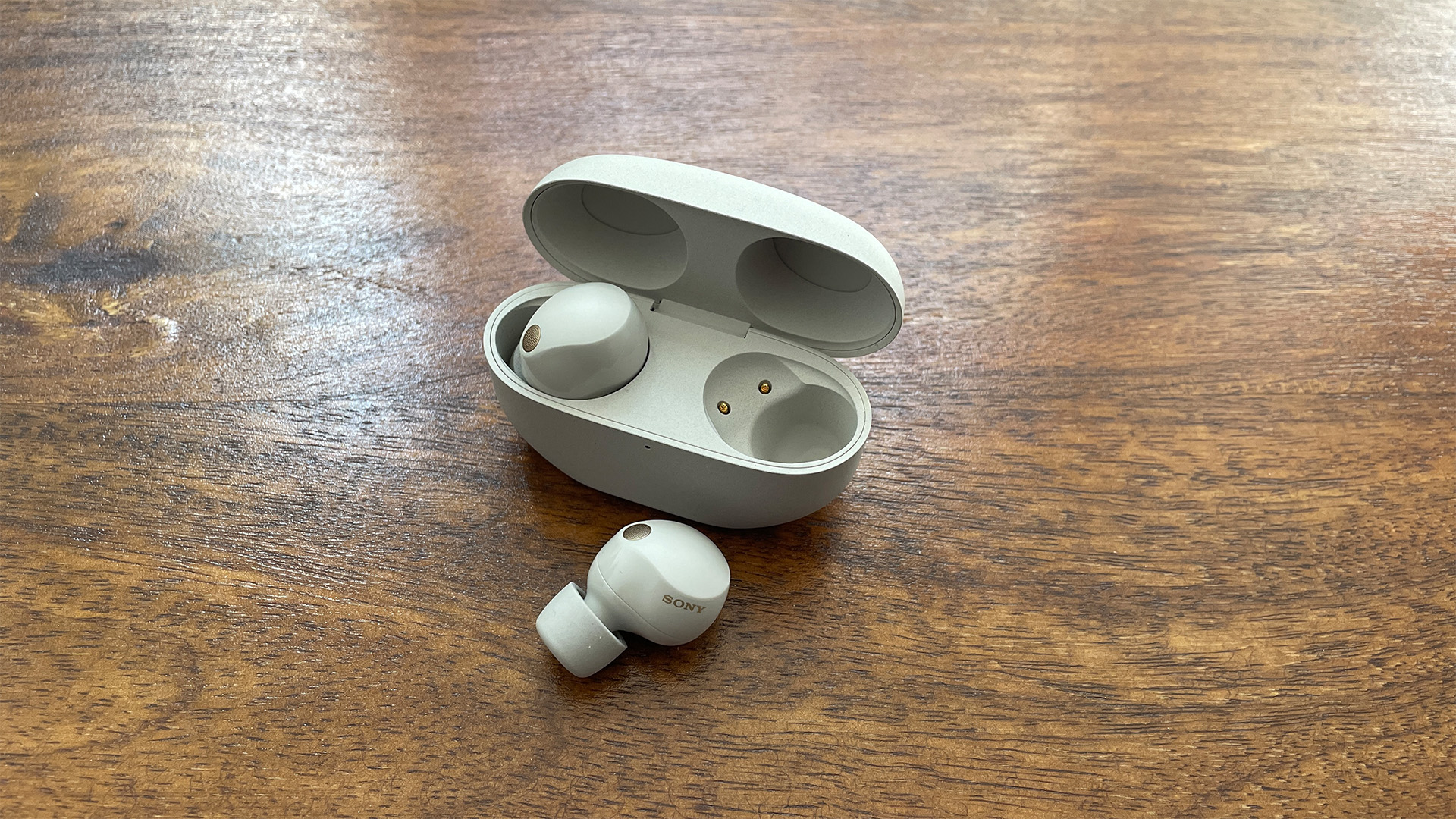 Let's start, once again, with the newer Bose Ultra Earbuds. Bose has made a big deal about splitting from the old iteration of its wireless buds, swapping out not only the line's old name but bringing in a revamped design in an attempt to forge ahead into a bold new future.
Bose says the Ultra Earbuds' design has been tweaked to include a new metallic treatment for a sleeker, more "luxe" aesthetic, and while they're very much still recognisably Bose buds, it's a nice touch that aims to give a more premium feel to what were already some rather pleasingly built performers.
Comfort is still the keyword, though, with the 2023 sequels utilising stability bands with an improved, interlocking fit to help ensure the buds stay secure, delivering optimised comfort, stability and, hopefully, performance.
The Sony XM5, meanwhile, are an attractive and comfortable pair of buds, even if we're unconvinced that this is the very pinnacle of design and wearability of which Sony is capable. Many members of our testing team have had issues with the spongey ear tips provided with the premium buds, with quite a few even preferring the clever, comfortable and exceedingly clever ergonomic design boasted by the cheaper WF-C700N model.
Not only are the XM5 less of a natural fit than the C700N, but they also lagged behind the Bose QuietComfort Earbuds II in this crucial department. The Bose's slender wings really allowed them to dig into place, a trick repeated by the 2023 Ultra Earbuds sequel.
If the Bose Ultra Earbuds have anything like the comfort and fit that their predecessors did, we could see them taking the prize over what many consider to be the XM5's only real weak point.
Bose QC Ultra Earbuds vs Sony WF-1000XM5: features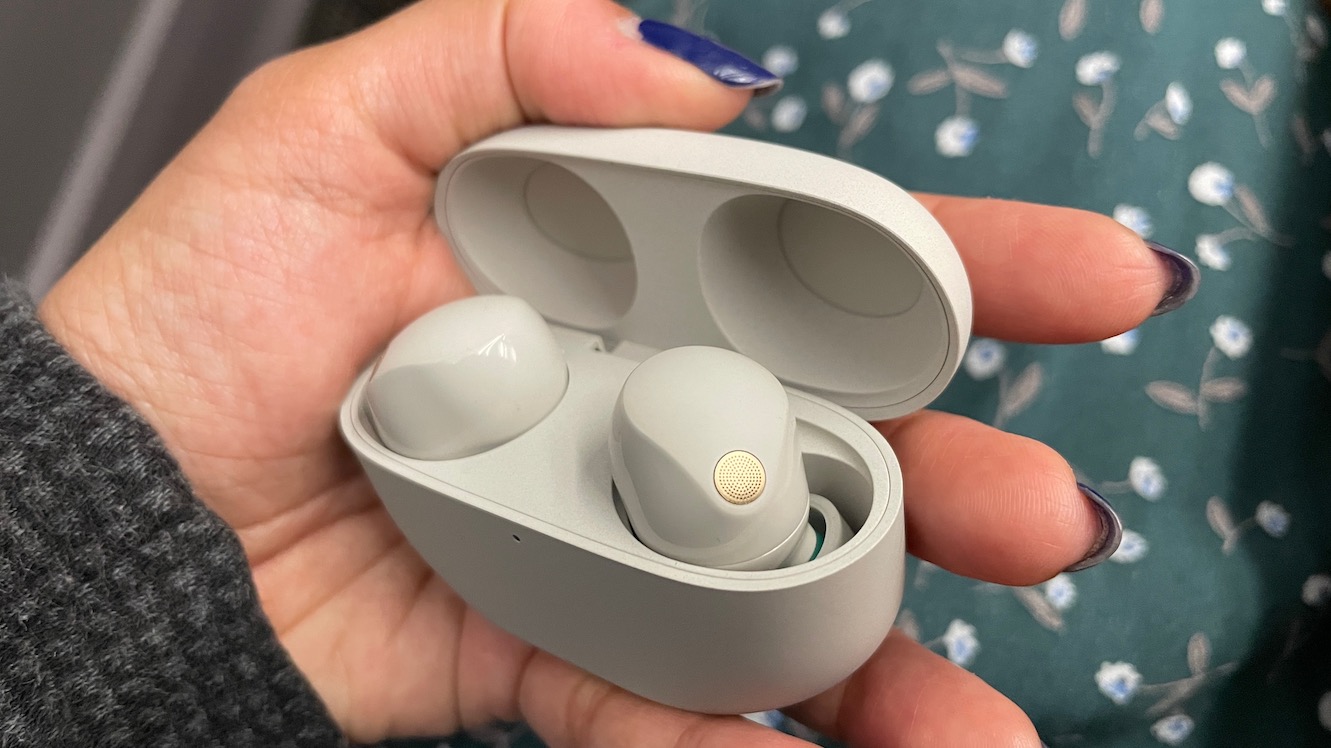 Bose Immersive Audio is the headline-grabbing party piece built into the new QuietComfort Ultra Earbuds, akin to spatial audio seen in other earbuds.
It's a feature the US company claims creates "a wider, more spacious soundstage so your content becomes multi-dimensional and layered, regardless of the audio platform or device". Essentially, you should get a deeper, better-organised soundstage for, as you might have guessed, a more immersive listening experience.
Noise cancelling returns, with the QC Ultra Earbuds attempting to fill the huge void left by the QC Earbuds II's peerless implementation of the sought-after feature. Featuring a completely re-engineered system with proprietary signal processing, advanced mics and support for Bose Aware Mode with ActiveSense, this is an area in which the Ultra Earbuds could score a win over the XM5.
Everything else you'd expect is packed in there, too, including intuitive on-ear touch controls, CustomTune sound calibration, an IPX4 rating, and voice pickup for better voice calls.
Speaking of the XM5, that bag of proverbial party pieces is equally bulging on the Sony side. The likes of touch controls and the same IPX4 rating are included, but you'll also be treated to the joys of Bluetooth Multipoint (not available with the Ultra Earbuds – yet), PreciseVoicePickup technology, LDAC codec support and some rather superb noise cancelling (more on that later). Sony's Digital Sound Enhancement Engine (DSEE), the brand's clever upscaling technology, is on hand to enhance the quality of compressed low-quality audio files.
While there's certainly so much that we're keen to try out with the Bose Ultra Earbuds, the XM5's strengths are tried and tested. If the new QuietComfort buds do manage to score a win, it will have been extremely well-earned.
Bose QC Ultra Earbuds vs Sony WF-1000XM5: noise cancelling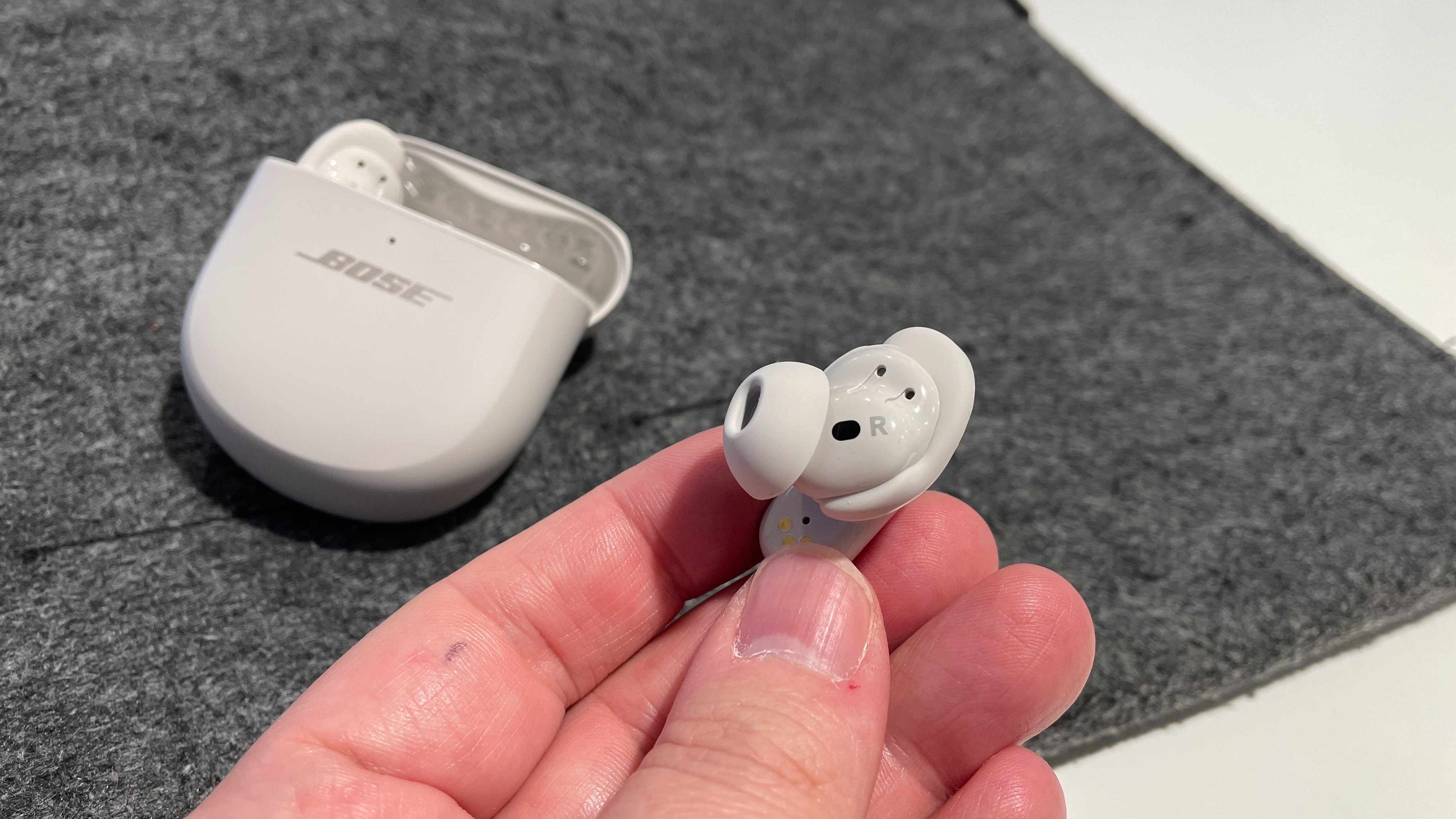 The Sony WF-1000XM5 come equipped not only with decent active noise-cancelling but also Sony's Adaptive Sound Control that adjusts depending on your location and surroundings. They're utterly at home making voice calls, as Sony's Wind Noise Reduction Structure makes a noticeable difference if you're on the phone in blustery conditions. Voice calls on the XM5 sound clear, natural and transparent, adding another feather to the earbuds' sizeable cap of clever features.
Sony's premium buds also make use of a handy Speak-to-Chat feature, which reduces the volume of what you're listening to (or even pauses) when it recognises you're speaking. These premium earbuds offer 20 per cent more noise cancellation than the older XM4 model, something we found to be utterly believable during testing. Each earbud has an additional mic (three on each) for more effective filtering of unwanted noise, working most effectively in the sonic midranges.
That new and advanced HD Noise Cancelling QN2e processor – another nice addition for the XM5 – has a clear effect on ANC, as does the buds' Wind Noise Reduction Structure for less intrusion and more clarity when the weather gets blustery. If ANC and call quality are top priorities for you, then the XM5 are bona fide class leaders.
As hinted above, the Bose QuietComfort Ultra Earbuds make a big deal of ANC, so this could be an area of intense competition. Featuring a completely re-engineered system with proprietary signal processing, advanced mics and support for Bose Aware Mode with ActiveSense, this is an area in which the Ultra Earbuds could, possibly, score a win over the XM5.
It's all hypothetical right now, but Bose could realistically draw some significant blood. After all, we dubbed the outgoing QC Earbuds II "a new benchmark for noise-cancelling wireless earbuds", citing them as having ANC that was "up there with the best we've ever heard from any premium wireless earbuds".
Our prediction (or at least our hope) would be for the Ultra buds to carry that legacy forward with even greater improvements to ANC. Bose teases "world-class noise cancellation" with the support of dynamic microphone mixing and adaptive filters", and while many brands use bluster and bravado, even hyperbole, to sell their products, we believe Bose when they use terms like "world-class".
Let's hold back on a verdict, then, and find out which pair ultimately comes on to once testing really begins in earnest. We can't wait…
Bose QC Ultra Earbuds vs Sony WF-1000XM5: battery life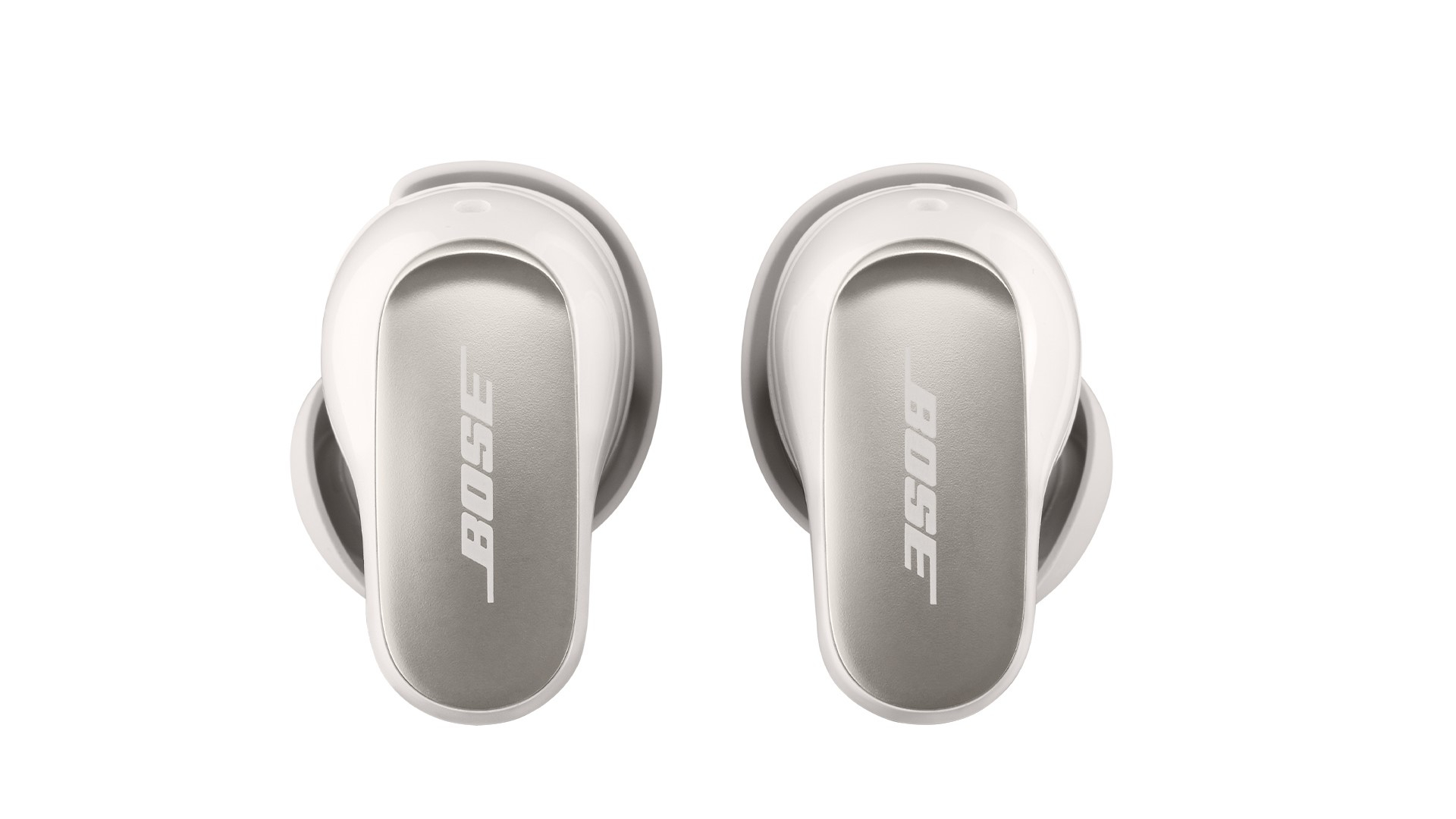 As hinted above, the Sony XM5 have the advantage when it comes to giving you as much juice as possible without the need for a refill. The WF-1000XM5 offer up to eight hours of charge time with Bluetooth and/or ANC turned on, with a total of 24 hours including the charging case.
That puts Sony's most detailed earbuds at the top end of premium noise-cancelling wireless tree. It certainly compares favourably to the six hours offered by the outgoing Bose QuietComfort II earbuds and the AirPods Pro 2, the latter of which will offer six hours from the buds themselves.
The new QC Ultra Earbuds, meanwhile, provide six hours of battery life on a single charge while Immersive Audio is switched off, and up to four hours when Immersive Audio is turned on, while the total time (including the charging case) extends to up to 24 hours.
At the moment, it seems as though Sony is poised to take the cake on this front, with up to eight hours of charge time from the buds with Bluetooth and/or ANC leading the way in the premium true wireless market.
Bose QC Ultra Earbuds vs Sony WF-1000XM5: sound quality
The XM5's bigger 8.4mm Dynamic Driver X is more advanced (as you'd expect from a new premium flagship pair) and is equipped with a larger magnet which Sony claims not only improves audio fidelity but also the effectiveness of ANC, especially at low frequencies.
As a departure from their predecessors' more musical approach, the XM5 prioritise detail, nuance and clarity to an astonishing level, giving songs room to breathe within a wide, spacious canvas. In doing so, they reveal so much more texture and layers of subtlety to any song or any genre that we play through it, and while some may prefer a more dynamic and immediately likeable flavour to their wireless earbuds, it's hard to deny just how impressive Sony's latest are at revealing a track's many various intricacies and intentions.
Once we get a chance to full test and listen to the Bose QuietComfort Ultra Earbuds, we'll be in a much stronger position to judge which model reigns supreme. We suspect, however, that, just as a rift was created in our offices between those who favoured the QC Earbuds II's slightly more fun and fluid approach over the detail and refinement of the XM5, a similar dichotomy will emerge here.
Bose QC Ultra Earbuds vs Sony WF-1000XM5: verdict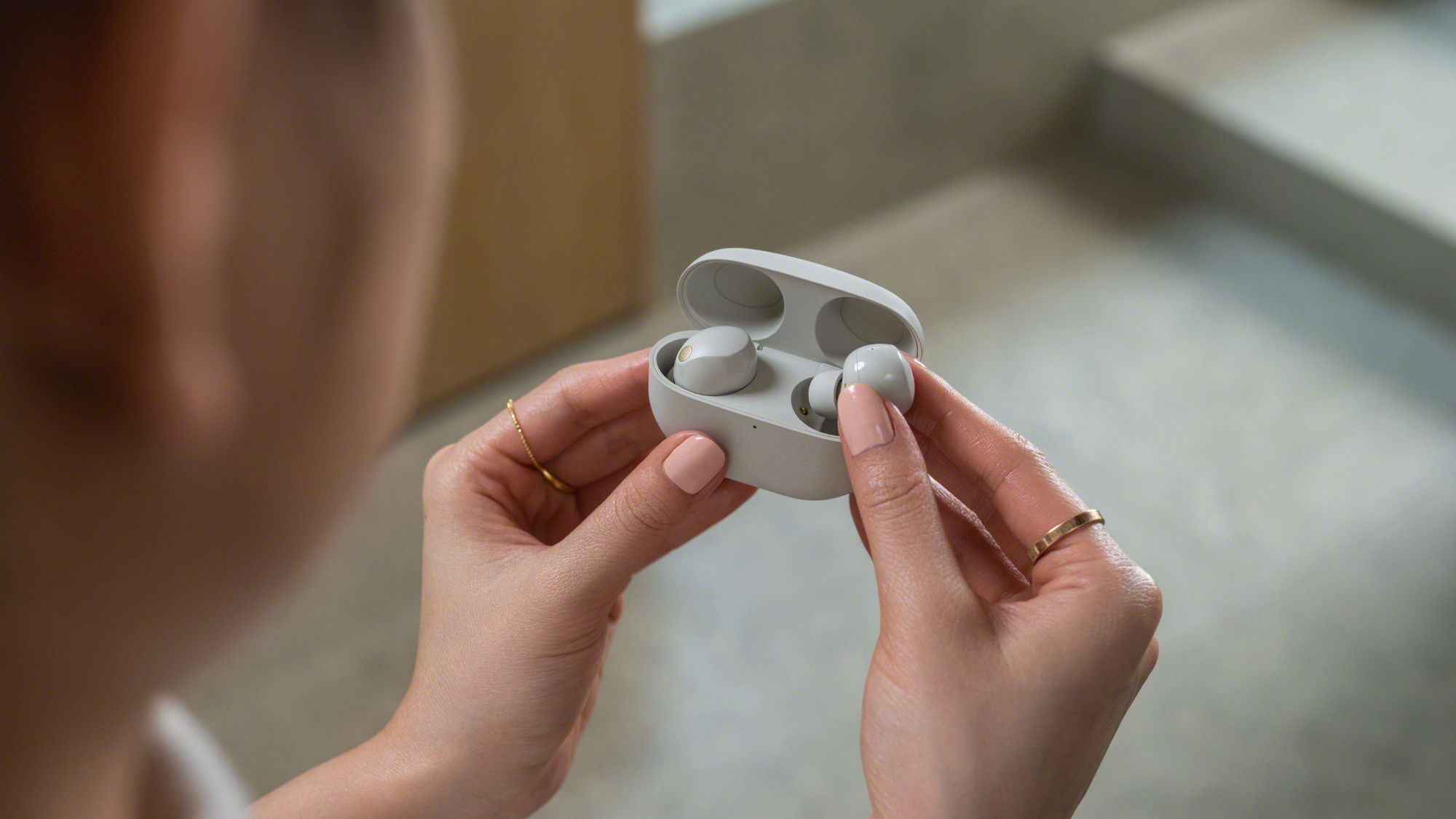 As you might have supposed, we can't give a definitive answer on which pair of wireless earbuds is better at this time until we put the new Bose buds through the review process.
What we can say, though, is that the Ultra Earbuds will have to work extremely hard if they are to earn a definitive recommendation over Sony's premium earbuds, especially as they're slightly more expensive than their rivals. Our current favourite five-star performers are without question some of the most insightful wireless earbuds we've ever heard, continuing Sony's quite astonishing run in the headphones department.
If any company can compete, however, it's Bose. The QC Earbuds II are our reigning What Hi-Fi? 2022 Award winners, and the fact that we're even comparing the upcoming Ultra Earuds with the XM5 should tell you just how highly we rated the previous generation of the QuietComfort line.
Once we get these two models side-by-side for some direct comparative listening, then we can really provide a definitive assessment of which rules supreme in the land of true wireless earbuds.
MORE:
These are the best wireless earbuds you can buy
5 sound settings you shouldn't ignore on the Sony WF-1000XM5
I love the Sony WF-1000XM5 but there's one thing I would change (and it isn't the noise-cancelling)
Read our full Sony WF-1000XM5 review
[ For more curated tech news, check out the main news page here]
The post Bose QuietComfort Ultra Earbuds vs Sony WF-1000XM5: what are the differences? first appeared on www.whathifi.com