From www.techhive.com
Image: Bose
Having a hard time hearing the voices over the explosions and swelling music? If you are, Bose's latest soundbar might offer some relief.
A replacement for Bose's top-of-the-line Smart Soundbar 900, the Smart Ultra Soundbar comes with a new AI-enabled dialogue mode designed to give voices a boost.
Available now at Bose.com for $899, the same price as the two-year-old Smart Soundbar 900, the Smart Ultra Soundbar appears to offer little more than its new A.I. Dialogue Boost feature to set it apart from its predecessor.
This news story is part of TechHive's in-depth coverage of the best soundbars.
The new mode uses machine learning to automatically tweak the "tonal balance" of the sound, giving voices a lift without "losing any impact" of the surround cues and other effects.
Of course, many other soundbars offer dialogue-boosting features of their own, so it'll be interesting to see (and hear) if Bose has brought anything new to this particular party.
Boasting roughly the same design as the Smart Soundbar 900, complete with the same glass-covered top (quite sleek, but also reflective), the Bose Smart Ultra Soundbar serves up Dolby Atmos audio with height effects supplied by up-firing drivers.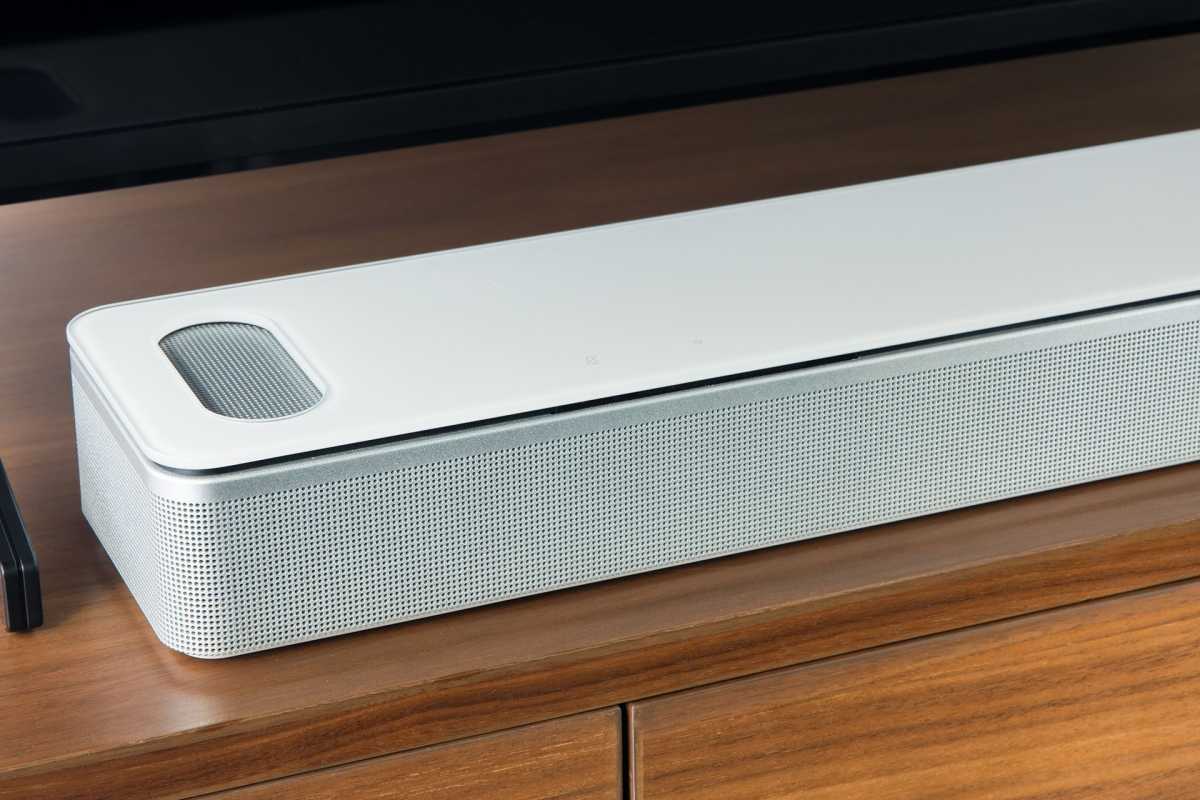 Bose
Those Atmos height cues are augmented by Bose's PhaseGuide technology (also present in the Smart Soundbar 900), which is designed to place and "pin" surround effects to positions in the listening area where there aren't any speakers.
When you're not listening to Atmos-enabled content, Bose's TrueSpace tech upmixes the audio to utilize the upfiring drivers, while QuietPort functionality enhances the bass with "virtually" no distortion, Bose says.
Another Bose feature lifted from the Smart Soundbar 900, ADAPTIQ room correction allows the Smart Ultra Soundbar to analyze the surrounding acoustics using a microphone embedded in an included wired headset, and then adjusts the soundbar's audio accordingly.
Measuring 41 x 4 x 2.3 inches (again, pretty much the same as the Smart Soundbar 900), the Smart Ultra Soundbar comes with a single HDMI-eARC connector (meaning no extra HDMI inputs), along with support for Apple's AirPlay 2 and Spotify Connect; there's no mention of Chromecast, which was supported on the Smart Soundbar 900.
Like its predecessor, the Bose Smart Ultra Soundbar is an all-in-one unit. But you can upgrade its audio with additional Bose speakers, including the manufacturer's Bass Modules (starting at $399) and Surround Speakers (starting at $399 for a two-speaker kit).
You can also sync the Smart Ultra Soundbar to a pair of Bose headphones–including the brand-new Bose QuietComfort Ultra Earbuds we just reviewed–courtesy of Bose's SimpleSync feature.
I was a fan of the Bose Smart Soundbar 900, which I praised for its "silky, musical sound," although I felt that more Bose speakers would be needed to add a true feeling of immersion.
So, how does the Bose Smart Ultra Soundbar sound? I'll let you know once I give it a close listen, so stay tuned for a full review.
Ben has been writing about technology and consumer electronics for more than 20 years. A PCWorld contributor since 2014, Ben joined TechHive in 2019, where he covers smart speakers, soundbars, and other smart and home-theater devices. You can follow Ben on Twitter.
[ For more curated tech news, check out the main news page here]
The post Bose's new Smart Ultra Soundbar delivers AI-boosted dialogue first appeared on www.techhive.com