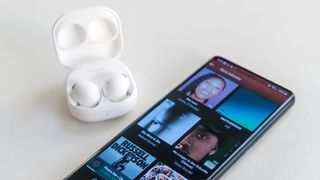 (Image credit: Ted Kritsonis / Android Central)
What you need to know
Spotify announced a new HiFi tier in 2021 that would provide users with lossless audio, but at a price.
A year later, the feature was apparently delayed "indefinitely."
Spotify's co-president recently stated that the feature is still coming, but did not reveal when.
Other apps have since rolled out lossless audio at no extra cost to users, which has apparently soiled Spotify's plans.
It's been a long wait for Spotify HiFi, the app's upcoming lossless audio tier, which promised to provide users with CD-quality, lossless audio on their compatible headphones and speakers. However, it seems we'll keep waiting for some time, as Spotify can't seem to figure out the best way to roll out the feature.
In an interview with The Verge, Spotify's co-president Gustav Söderström stated that one of the reasons for the feature's extended delay is that "the industry changed for a bunch of reasons."
Spotify originally announced its plans for a new HiFi tier back in early 2021 (it's really been that long), but the feature was apparently set to launch as an add-on that would cost users extra. However, the industry "changed" very quickly, as Apple soon launched lossless audio for Apple Music at no extra cost to subscribers. Amazon soon followed suit by no longer charging extra for HD streaming.
It goes without saying that Spotify did not launch its HiFi tier when it said it would, and the following year, a representative said that the feature was delayed indefinitely. Based on Söderström, that still seems to be the case.
"We are going to do it, but we're going to do it in a way where it makes sense for us and for our listeners," he told The Verge, without going into detail on launch specifics. "We want to do it in a way where it works for us from a cost perspective as well."
Spotify has since launched many new features and changes to the app over the years, including its latest home screen revamp and new AI DJ.
For now, it seems we have to wait for any HiFi audio on Spotify, which is a shame seeing as how it has the largest subscriber base of any music streaming service. According to The Verge, the feature has been ready for over a year, with Spotify employees already using it.
Some experts agree that it's hard for companies to justify charging more for lossless audio. Phillip Donaldson, an audio engineer at Canada's largest television and sports networks, told Android Central last year that lossless audio is "a niche thing…. most people wouldn't even know the difference." The consensus among experts seemed to be that it is just a marketing term used to lure consumers. It's also possible that Apple and Amazon are essentially "giving away" lossless audio to help boost their hardware sales, something Spotify doesn't have.
Based on Söderström's comments, whenever the feature does arrive, it seems more than likely that it'll cost users extra. However, if that's the case, Spotify may have to convince users that it's worth it when other services offer it for free.
The post Delayed Spotify HiFi is still on the way, but may not follow after Apple or Amazon first appeared on www.androidcentral.com
In many places around the world, horse races are an attraction that a lot of people love to watch. With the fast-paced action and thrill that each game provides, it is no longer surprising to know that millions of fans have grown fond of it.
Cybersecurity threats have become vast and more sophisticated. The rate of malware attacks and malicious activity counts within seconds despite the size or sector the organization belongs to — no one is safe enough to expect that foe actors will bypass vital company resources.