From www.techradar.com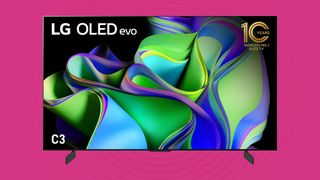 (Image credit: LG)
In a promising update, LG Display has announced that it has started making 32-, 34- and 39-inch OLED panels , according to FlatpanelsHD. These panels will be used for new monitors and will join their current lineup of 27- and 45-inch OLED monitor panels.
Although no release dates have been formally announced, the fact that LG Display is working on these new panels is an exciting step forward and means that their OLED panels, which are found in some of the best TVs, might even find their way into 32-inch OLED TVs – something that is desperately needed in the TV market.
The latest update follows news (via FlatpanelsHD) from earlier this month that LG Display had unveiled the first 32-inch 4K, 240Hz OLED monitor This raises the question as to whether the 32-inch panel, which is in a 16:9 ratio, could be used for smaller TVs too? The monitor, developed by Dough, will use an LG WOLED panel, the likes of which LG supplies to companies like Sony, Panasonic and LG for their OLED TVs.
Another noteworthy feature of this new 32-inch panel is that it reaches a peak brightness of 1,000 nits for HDR. Interestingly, this is a higher level of brightness than the LG C3, which we measured topping out at 830 nits and is one of the best OLED TVs on the market.
Opinion: 32-inch OLEDs are a welcome opportunity
At the time of writing, the smallest OLED TVs available are 42-inch, with offerings from various companies, such as LG with its C3 model mentioned above. Although 42-inch TVs – for many people – is a compact enough size, there are a lot of instances where people will need smaller TVs, often dictated by the size of the room. But, why should those people miss out on OLED technology?
Having worked for a major TV retailer, I used to get questions all the time from customers when discussing 32-inch TVs and whether OLED was available in that size. When I told them it wasn't, I was met with disappointment as they felt they were missing out. For some, they could upgrade in size but for others, 32-inches was all that was available to them.
The best 32-inch TVs do an admirable job of trying to provide the best picture, but they are currently capped at 1080p or Full HD resolution. With the introduction of these smaller OLED panels by LG Display, could 32-inch TV owners finally get their hands on OLED TVs in the future and as potential bonus 4K resolution? Here's to hoping this is the case, as then people with varying sized living rooms will be able to get the most out of their movies and video games.
Admittedly, based on previous trends with new OLED technology, if 32-inch OLED TVs are introduced, they will probably come with a sizeable price tag. But as prices continue to fall for OLED TVs and talk of more cheaper OLEDs to come in the future ramps up, it might not be too long before prices on these potential 32-inch TVs drop. A 32-inch OLED TV is a gap in the market that needs to be filled and I for one am hoping this changes soon.
You might also like
[ For more curated tech news, check out the main news page here]
The post Finally, smaller OLED TVs are coming – and we desperately need them first appeared on www.techradar.com