From bgr.com
After a years-long wait, we finally have all of the details about what Humane has been up to. In a short ten-minute video, the company has officially unveiled the Humane Ai Pin, an AI-powered device that looks to utilize AI, a camera, a speaker, and lasers to pull people's eyes away from their smartphone and focus instead on the world around them.
The Humane Ai Pin is certainly one of the most hyped technology products over the last decade, and it is finally here to take us into the AI era with some hardware. The company describes it as a "standalone device and software platform built from the ground up with AI" — meaning that you won't need to pair it to your smartphone in order to use it.
You can watch the announcement video on X below:
With the Ai Pin, you can call, text, take a photo or video, listen to music, get directions, learn about food nutrition, and more. You can interact with the device using your voice or touch and play audio through either the built-in speaker or through a pair of Bluetooth-connected headphones. It's powered by a built-in battery but also pairs with a "battery booster" for extra juice that also serves as a magnet to attach it to your clothing.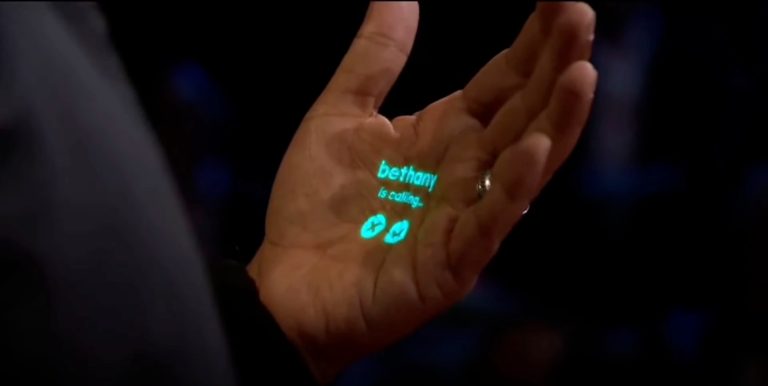 The company says that there are no apps with the AI Pin — instead, the device is completely powered by AI. Your assistant does everything for you — from finding messages to having a conversation in another language. Paired with the camera, the AI can also recognize objects like food to inform you of their nutrition. It can also recognize items in the real world and even purchase them for you online.
The company has partnered with Microsoft, T-Mobile, Google, OpenAI, Slack, Tidal, and more to bring these hands-free experiences to life. You'll also get access to the Humane Center, which is where you'll be able to access all of the content you capture and query using the device.
The Humane Ai Pin will cost $699 and come with the Pin, an extra battery, the charging case, the charging pad, and a charging cable. The company has announced a range of accessories, including a clip for attaching it to thicker things like a jacket or bag as well as a non-battery magnet to attach it to finer clothing like a workout shirt. They are also releasing protective covers if you want to give your Pin a flare of color while protecting the sides of the device.
In addition to the $699 base price, you'll need to pay $24 per month for a subscription plan. That plan, which works with T-Mobile, gives you voice, text, data, and an unlimited number of queries with the AI. People can start ordering the Ai Pin in the United States on November 16th.
The Ai Pin is definitely one of the most ambitious and radical technology products I've seen since we started to see VR and mixed-reality headsets start to make their way onto the scene. I wouldn't mind a world where I don't need a smartphone to navigate it anymore. Whether or not that will happen in the form of Humane's AI Pin or perhaps Apple's rumored smart glasses remains to be seen.
Whatever happens, AI sure seems to make an alternative to the smartphone possible.
[ For more curated tech news, check out the main news page here]
The post Humane officially unveils the Ai Pin, a device that aspires to replace your smartphone first appeared on bgr.com