From www.techradar.com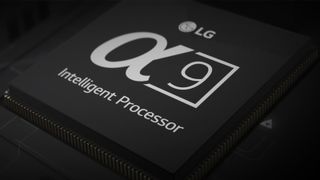 (Image credit: LG)
With any kind of TV, the panel is clearly crucial, but the processor powering it is just as important when it comes to the best OLED TVs. The difference between otherwise very similarly specified TVs can be dramatic if one has a better chip than the other, and LG is reportedly preparing to introduce its most advanced processor yet.
It's the successor to the Alpha 9 pictured above, and it sounds very interesting. The new processor, most likely called the Alpha 10, is a significantly more powerful processor than the current Alpha 9. And that means it could deliver a serious upgrade to what LG's OLED TVs can do.
What can we expect from LG's 2024 OLED TVs?
According to Korean newspaper Etnews, as reported by FlatPanelsHD, the new processor features a Neural Processing Unit (NPU) that will "significantly improve its 'on-device' performance" compared to existing AI-based chips. In plain English that means the kind of processing we're becoming used to seeing in the best phones, with the heavy lifting happening on the device rather than remotely in a far-away data center.
The reports says the new processor will deliver significant improvements in its ability to analyse images, reduce noise, recognize and prioritize objects and apply smart audio enhancements too, so there should be audible as well as visible improvements across the 2024 LG range.
One of the most tantalising bits of the report is the suggestion that the Alpha 10 will also enable new, motion-based services where the TV knows where you are and reacts accordingly. It doesn't go into detail but there are possible uses in gaming, in gesture control, in object-based audio positioning and possibly in video calling too, although for now its unclear whether this is a case of potential new features or something LG is actively working on. And it's worth bearing in mind that the chip isn't just intended for TVs, so the motion stuff might be for more interactive devices rather than Smart TVs.
LG usually unveils its new TVs for the year to come in January, so we'll be able to see for ourselves how well this new chip performs then.
You might also like
[ For more curated tech news, check out the main news page here]
The post LG's 2024 OLED TVs could get a serious jump in picture quality thanks to a next-gen chip first appeared on www.techradar.com