From www.techhive.com
Image: Jon L. Jacobi
At a glance
Expert's Rating
Pros
Excellent sound
Interesting styling
6-hour battery life with ANC (9 without)
Spotify Tap support
Buds rated IPX4, case rated IPX5
Cons
USB-C port on case isn't deep enough
Playback control floats over the app even when no music is playing
Our Verdict
If you want excellent sound and listen time, plus conversation-starting styling, the Marshall Motif II ANC earbuds should be near the top of your short list.
Price When Reviewed
$199.99
Best Prices Today: Marshall Motif II ANC
Marshall redesigned its Marshall Motif noise-cancelling in-ear headphones (aka earbuds), and I like the results. The most salient improvement are in the areas of audio performance and battery life, the latter of which is now 6 hours of listening time with active noise cancellation enabled and up 30 hours with charges from the case. That's up from the first-generation's 4.5 and 20 hours respectively.
You'll also find a few slight style changes, and you can now EQ to taste (one of my few gripes about the original model). The Marshall Motif ANC II is an even better headphone, but it bears the same $200 price tag. That puts it in the same range as the Google Pixel Buds Pro and close to the Apple AirPods Pro–which are both excellent–but significantly cheaper than the category-leading Sony WF-1000XM5.
We no longer need to include a qualifier that Marshall home audio products are manufactured under a brand license, because Zound Industries acquired Marshall Amplification in March 2023. The company is now known as Marshall Group.
Marshall Motif ANC II design and feature set
The Motif ANC II are quite similar in look and feel to the original Motif ANC, except the tips of the stems now have a brass finish, recalling the knobs on Marshall amplifiers. If you weren't aware, Marshall amplification has been a mainstay of guitar bands since the 1960s.The new earbuds also retain Marshall's long-standing love affair with alligator Tolex, the textile that's wrapped around the buds and their charging case.
This review is part of TechHive's in-depth coverage of the best noise-cancelling headphones.
While the design conceit might strike you as boomerish, I've seen people of all ages sporting Marshall audio gear. That's most likely because it not only sounds good, but the styling is a sure-fire conversation starter.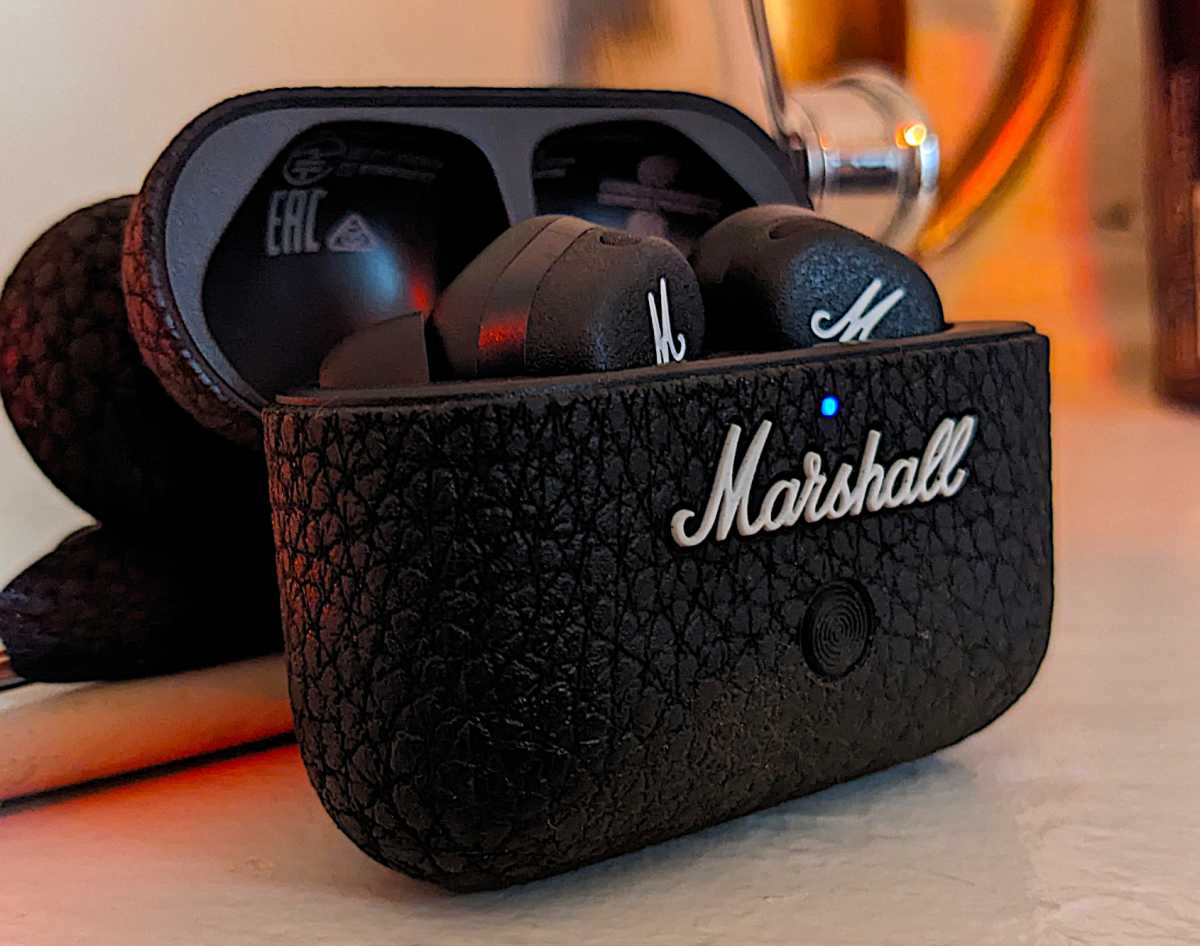 Jon L. Jacobi
The Motif ANC II are touch sensitive, as are most earbuds, and you can tap either bud to initiate actions. In this model, the commands have been altered to accommodate Spotify Tap: a single tap for play/pause, and two taps to answer a call, an action that also skips forward while you're listening to music. Three taps skips backwards, and a long press toggles ANC. Two taps and a hold starts Spotify Tap; i.e., it assigns actions to control the Spotify app.
Bluetooth pairing is done with a button beneath the logo. This can be a little hard to spot, but the activity/status light lets you know when you've got it under thumb. Which brings me to my sole complaint about the Motif ANC II: the USB-C connector on the bottom of the unit doesn't allow the male end on the cable to fully insert. Yeah, I'm picking nits here, but when you're spending $200, I think you're entitled to make such observations.
While the Motif II ANC don't support hi-res codecs such as aptX Adaptive or LDAC, they do support AAC and the new LC3 codec that is part of Bluetooth LE Audio.
Each ear bud weighs 4.31 grams (about .15 ounces), about half a gram lighter than the first-gen model, and the case weighs about 28 grams (just over an ounce). The eco-conscious Marshall says it used 70 percent recycled plastic where possible to build this product. Every little bit helps.
The Motif ANC II themselves are rated IPX4 while the case is IPX5. That basically means they're well protected from sweat and rain, but Marshall makes no claims for protection from dust. We'll tell you everything you need to know about IP codes at the preceding link.
Marshall Motif ANC II audio performance and active noise cancellation
The Motif ANC II deliver similarly excellent sound as their predecessor, using similar 6mm drivers. You'll experience no shortage in bass response, as is common with in-ear headphones, because your ear canal acts as a bass port. The high-end frequency reproduction was nigh on perfect with the default EQ, and the mid-range was equally so. Stereo separation is a given when you have one speaker stuck in each ear, but there was no cross-talk that I could notice.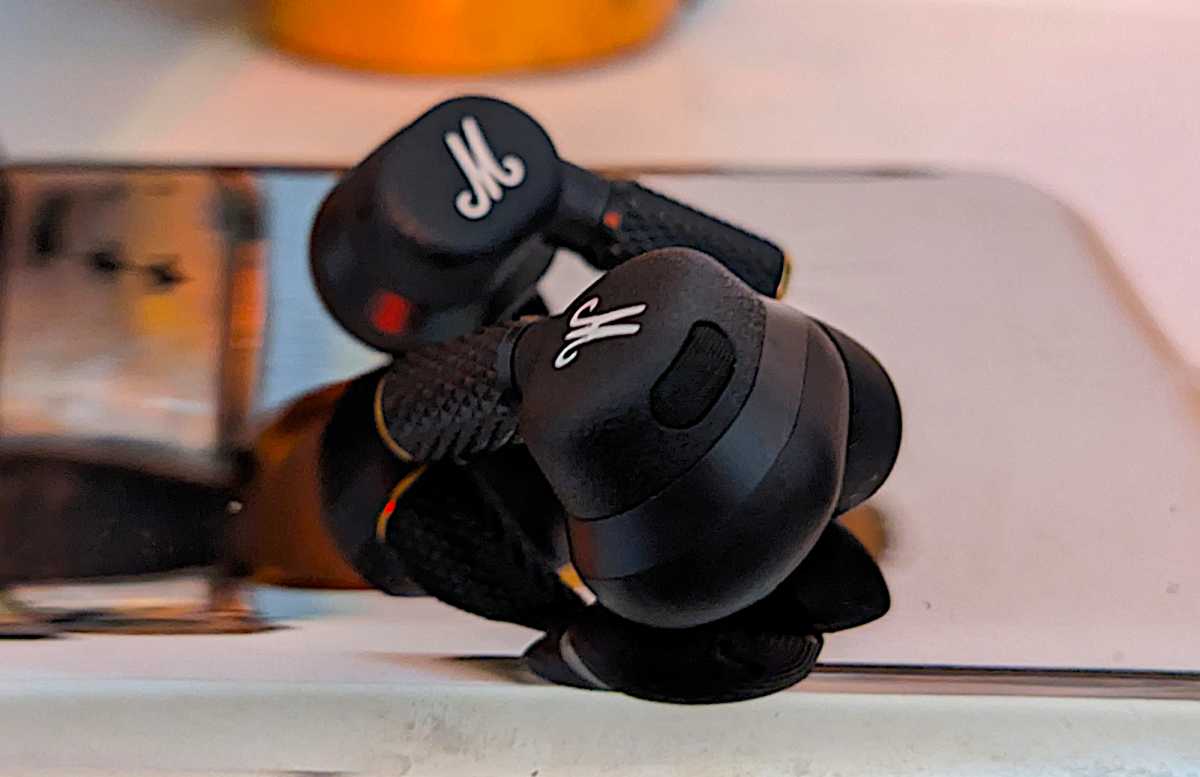 Speaking of EQ, you can now do it any way you want with the new Marshall app if none of the standard presets suit your taste. When I reviewed the first-gen pair, the app offered only presets, with a promise of customization down the road. I opted for scooping the mid-range and upping both the 160Hz and treble frequencies sightly, but all the presets I tried will be listenable to someone.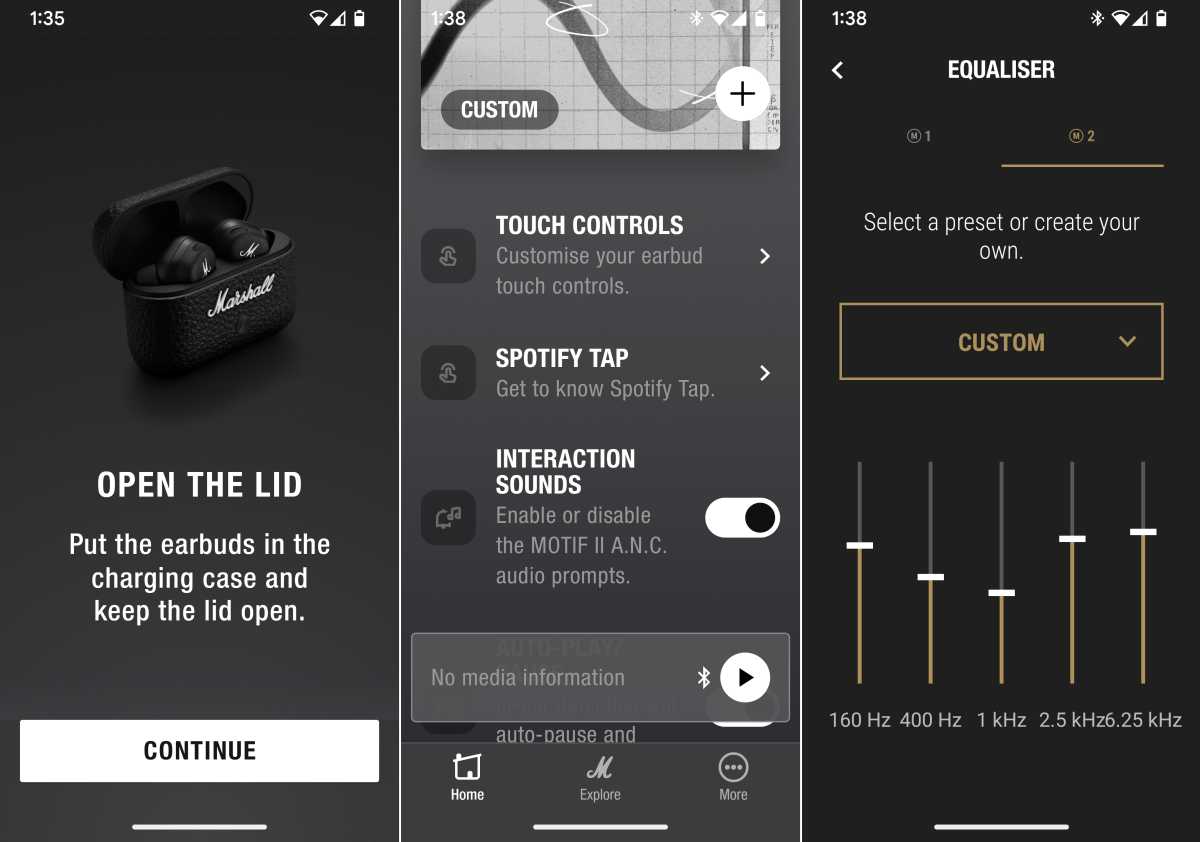 My friends Thiago and Bridget told me phone-call quality over the Motif ANC II and their built-in microphones was better than the actual phone. I thought the same from my end of the calls.
Marshall's active noise cancellation is very effective, and you can dial in any level of transparency you wish using Marshall's app. I never engage ANC when I'm walking about in San Francisco, because I've seen too many close calls with people who are disconnected from their surroundings. I want to hear what's going on so I can react to it.
Kudos to Marshall for the app's extremely well thought out and efficient user interface. You can do just about everything from there, including pairing and turning Bluetooth on. The only thing I didn't like was the overlay box that sits on top of the scrolling main page for playback of media. I'd rather it disappeared when there's nothing playing. Yeah, another picayune complaint.
Marshall Motif ANC II run time and comfort
You should get 6 hours of listening time on a charge, with a 30-hour reserve in the charging case. You can stretch those numbers to 9 and 43 hours if you disable Marshall's active noise cancellation.
A 15-minute charge will give you another hour of listening, while a full charge of both the earbuds and the case takes 90 minutes with a USB-cable and power adapter. You can also wirelessly charge the case using a Qi charger, but I don't value such inefficient power transfer.
The Motif ANC II come with three sizes of cushions, with the mediums already secured in place. I'm not a huge fan of having things stuck in my ear, so if I tell you I didn't find them uncomfortable, that's saying something. I was a tad concerned about the rough-textured stems, but that turned out to be a non-issue.
Should you buy the Marshall Motif ANC II?
The noise-cancelling headphone market is a crowded place these days, whether you're talking over-the-ear cans or in-ear models such as these. But when you look at what people are using, you'll see the same handful of brands over and over–and I don't think it's necessarily because they're the best you can buy.
If you're looking for a great set of noise-cancelling earbuds, and you want to stand out from the crowd while listening to your favorite artists, give the Marshall Motif ANC II careful consideration. I highly recommend them.
Best Prices Today: Marshall Motif II ANC
Jon Jacobi is a musician, former x86/6800 programmer, and long-time computer enthusiast. He writes reviews on TVs, SSDs, dash cams, remote access software, Bluetooth speakers, and sundry other consumer-tech hardware and software.
[ For more curated tech news, check out the main news page here]
The post Marshall Motif II ANC review: First-rate earbuds, rock 'n' roll style first appeared on www.techhive.com