From bgr.com
Mercedes saw Tesla's Supercharger network and thought, "I want a piece of that." There's no denying that Tesla's Supercharger network helped solidify the company's popularity. If you don't own a Tesla, your charging experience is a much more risky affair than for those driving Elon Musk's vehicles. While more and more car brands are signing deals to start adopting Tesla's charging connector and get access to its charging network, others are ready to compete on charging.
One of those companies is Mercedes, which announced today that its first charging stations would open in the United States, China, and Germany this fall. The company originally announced its intention to build out its own charging network in partnership with ChargePoint back in January, so it appears that Mercedes is making good on its promise.
According to the company, starting in October, stations in Atlanta, Chengdu, and Mannheim will become operational for EV owners to start enjoying. The company says that the chargers will support up to "400 kW, provided via the respective standard charging systems CCS1, CCS2, NACS, and GB/T."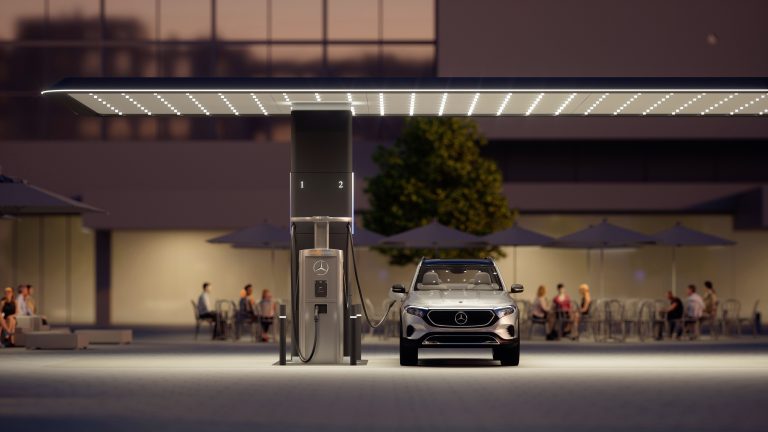 The company says that the charging stations will be placed in high-traffic areas for convenience. It also revealed that, while all will feature fast charging, only some will have canopies to protect drivers from the weather. Get ready to bring your raincoat! While the stations will allow any EV access to charge, Mercedes vehicles will get special benefits, such as the ability to reserve a charger via the Mercedes-Benz me Charge service.
The Mercedes-Benz charging network will be seamlessly integrated and will complement the more than 1.3 million charging points to which users already have access worldwide. With the help of Mercedes-Benz's Navigation with Electric Intelligence, the charging stations will be integrated directly into route planning to show the best way to charge. To make the charging experience even more convenient, the charging stations will offer additional convenience features, such as Plug & Charge. This service enables Mercedes-Benz customers to automate the charging and payment process as soon as the charging cable is plugged in.
While the first few stations will open this fall, Mercedes plans to quickly expand the network over the next year. The company says that its goal is to have over 2,000 charging points available by the end of 2024. By the end of 2029, that number is expected to cross 2,000 charging stations and over 10,000 charging points.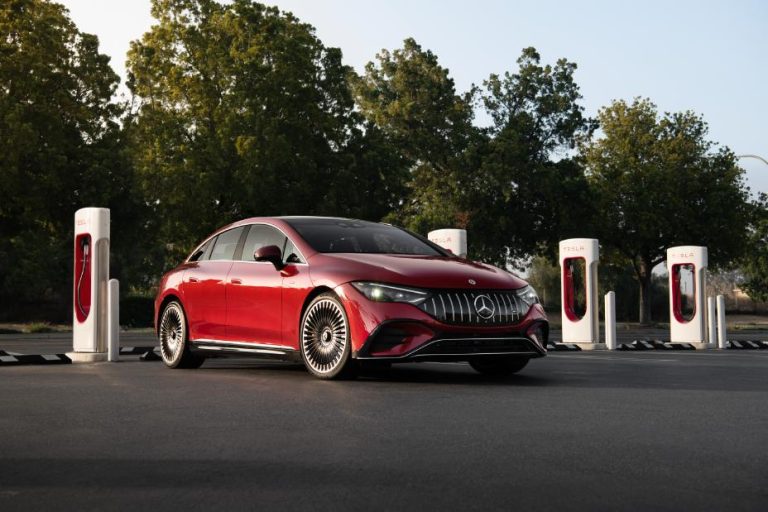 Franz Reiner, Mercedes-Benz Mobility AG CEO, said in a statement that launching the charging network is part of the company's goal of moving vehicles to electric in order to build a "sustainable, zero-emission future."
"We firmly believe that electric mobility is the key to a sustainable, zero-emission future. Our goal is to create an infrastructure that offers electric vehicles reliable and easy charging options. In this way, we are actively supporting the transformation to electric mobility. With the Mercedes-Benz High-Power Charging Network, we are expanding global charging options and setting new standards in electric vehicle charging. We want to encourage our customers to switch to zero-emission vehicles and thus make a positive contribution to protecting our environment."
It's interesting to note that even if Mercedes achieves over 10,000 charging points by 2030, Tesla plans to have over 12,000 in North America alone by 2026. Still, being open like Tesla is now doing, Mercedes will develop a new revenue source for the company, and likely a profitable one, too. There was a recent report covered by The Electrek that the Tesla Supercharger network could turn into a $10-20 billion a year business.
As Mercedes builds out its own charging network, the company plans to integrate more with Tesla in other ways. It announced last month that, like many other EV brands, it would adopt Tesla's NACS charging connector in its future vehicles.
[ For more curated tech news, check out the main news page here]
The post Mercedes will challenge Tesla with its own charging network this fall first appeared on bgr.com