From www.tomsguide.com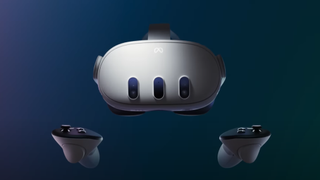 (Image credit: Meta Quest/YouTube)
The Meta Quest 3 should get its official launch at Meta Connect later this week. But now we may know when you can get your hands on it (and what's inside) thanks to a flurry of leaks and updates that have come out in the lead-up to Connect on September 27.
First, the Quest 3 is now tipped to release on October 10. This means you should be able to get your hands on the new VR headset about two weeks after it launches at Meta Connect. This rumor is based on a Tweet from Lunayian on Twitter (X) that reportedly comes from an anonymous source at GameStop. So this isn't a guarantee, but it does seem that this rumor is fairly credible.
The promotional materials this source provided to Lunayian also likely confirmed the pricing for Meta's two Meta Quest 3 models. The first one, the 128GB model, is $499, but we already knew that from Meta's previous announcements.
Potential Exclusive:An anonymous source at GameStop reached out to me with Meta Quest 3 promo information they got today ahead of next week's launch at Meta Connect.Release Date: October 10th, 2023SKU #1 128GB, $499 USDSKU #2 ???GB, $649 USD pic.twitter.com/ZzvJ99svxPSeptember 21, 2023
See more
Per the allegedly leaked promotional materials from Gamestop, the second Quest 3 model will cost $649. Based on a previous spec sheet leak, we expect that this $649 model will feature 512GB of storage.
But that's not the only pricing news that came out. Meta has officially reduced the prices for the base 128GB model in a few regions (h/t Mixed News). In the E.U, the 128GB price has dropped from €569.99 to €549.99 and in the U.K. the price has dropped from £499.99 to £479.99. It's unclear why these prices have dropped, but it will certainly be a welcome sight for customers in Europe.
A specs leak earlier this month revealed most of what we didn't already know, including RAM and a 512GB storage option. But a new specs leak from Reddit has that earlier leak in question.
Meta Quest 3 Leaked Specs
Price: $499 (128GB) [Confirmed], $649 (512GB)
Expected launch date: September 27
Expected release date: October 10
CPU: Qualcomm Snapdragon XR2 (Gen 2)
RAM: 8GB
Storage: 128GB [Confirmed], 512GB
Display: LCD with 2064 x 2208 pixels per eye
Full-color passthrough: 4MP 18 PPD
Refresh rate: 120 Hz
Weight: 509 grams
Battery life: up to 3 hours
Backwards compatible: Yes [Confirmed]
Connectivity: Wi-Fi 6, Bluetooth 5.0
According to Redditor u/JMS1717, the Quest 3 will have 8GB RAM rather than the 12GB that the previous leak had tipped (h/t Mixed News). This is disappointing if true, especially since the Meta Quest Pro came with 12GB of RAM, so there was precedent for Meta to use 12GB rather than 8GB.
Aside from that, there's not a ton revealed by this spec sheet (seemingly an official piece of marketing material from Meta) that we didn't already know. The only other piece of new information is specs for the "High-fidelity, full-color passthrough powered by Meta Reality." The specs leak reports that the passthrough will be 4MP color video passthrough with 18 pixels per degree resolution. The expectation is that the 18 PPD figure is specific to the video passthrough function and not the same PPD to expect when using the headset in virtual reality, which should be higher.
Everything else essentially confirmed what we already knew. The display is an LCD display using pancake lenses to achieve 2.2K resolution (2064 x 2208 pixels per eye is what we expect) and the Quest 3 will likely be powered by a new Qualcomm Snapdragon XR2 Gen 2 chipset, which Meta has said will "have twice the graphics performance" of the XR2 Gen 1 that powered the Meta Quest 2.
Stay tuned to our Meta Quest 3 coverage for more details as we hear them, including from Meta Connect on Wednesday, September 27.
More from Tom's Guide
[ For more curated tech news, check out the main news page here]
The post Meta Quest 3 release date, specs and final prices just leaked ahead of Connect first appeared on www.tomsguide.com