From www.tomsguide.com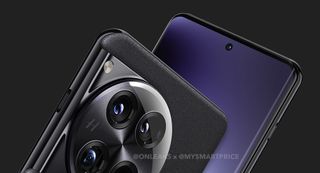 (Image credit: OnLeaks/MySmartPrice)
Newly leaked details of the OnePlus 12, courtesy of Digital Chat Station on Weibo, may have revealed it'll beat the Galaxy S24 Ultra on display brightness.
As DCS tells it, the OnePlus 12 will come with not just a large 6.82-inch display with a 120Hz refresh rate (slightly larger than the 6.7-inch OnePlus 11), but one with a maximum brightness of 2,600 nits.
That would be brighter than the newly launched, 2,400-nit Pixel 8 Pro. It would also beat the 2,500 nits tipped for the top Galaxy S24 model. And if we look beyond Android flagships, this figure would also defeat the iPhone 15 series, including the iPhone 15 Pro Max, which is rated for a 2,000-nit maximum brightness.
On top of the increased brightness, Digital Chat Station also says the OnePlus 12's screen will feature 2160Hz PWM dimming, a system that in theory helps reduce strain on your eye.
High brightness, big memory
DCS also says OnePlus will offer an 8GB RAM and 256GB storage base model of the OnePlus 12, plus a 16GB/512GB version. But it apparently will equip the top OnePlus 12 with 24GB RAM and 1TB storage
This is a much larger quantity of RAM and storage than currently available on the OnePlus 11, plus much more RAM than basically any other smartphone on sale today. Joining it will be a Snapdragon 8 Gen 3, DCS' post continues, an unsurprising upgrade for a 2024 Android phone but likely a worthwhile one.
We likely won't see the OnePlus 12 turn up until next year in the global market, even if the Chinese launch happens this December, as has become OnePlus' pattern. But in the far nearer future, the OnePlus Open is confirmed to be arriving next week, bringing a new foldable phone competitor to the market that could beat its main Galaxy Z Fold 5 and Google Pixel Fold rivals on price and specs.
More from Tom's Guide
[ For more curated tech news, check out the main news page here]
The post OnePlus 12 display could beat the Galaxy S24 Ultra — here's how first appeared on www.tomsguide.com