From www.techradar.com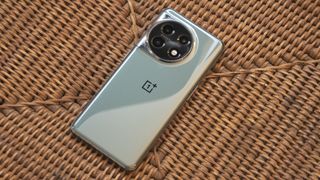 The OnePlus 11 (Image credit: Future / Philip Berne)
If you're eagerly awaiting the arrival of the OnePlus 12, then you shouldn't have much longer to wait: the phone is expected to break cover before the end of the year, and we've now got some more leaked information on exactly what's coming.
Well-known tipster Digital Chat Station (via GSMArena) notes that the phone has made an appearance at the relevant Chinese regulator, apparently confirming that the device is going to come with 100W wired charging – matching the OnePlus 11.
There will be improvements though, it seems: 50W wireless charging is set to be added, while the battery capacity is said to be going up from 5,000mAh on the OnePlus 11 to 5,400mAh on the OnePlus 12. Hopefully, that means better battery life too.
These specs have actually been mentioned before, as this phone has been leaked quite extensively – but the more they get mentioned in the run up to the launch, the more certain we can be that this unofficial information is accurate.
Camera quality
The rear camera setup on the OnePlus 12 has also been teased this week, with Li Jie Louis, the president of OnePlus in China, posting some sample shots to social media (via 9to5Google). We don't get any information regarding specs, but these images look good – especially the way they handle shadow.
Another post from OnePlus itself confirms that the OnePlus 12 is going to come with a new Sony Lytia camera sensor, although no further details are given. It's thought that the sensor will be an upgrade of some kind over the one in the OnePlus Open foldable.
In our OnePlus Open review, we talked about the "excellent cameras" that it carries with it – the best cameras we've seen on a foldable phone in fact, though you do have to put up with a rather large camera bump in return.
All should be revealed before the end of 2023, with an international launch outside of China expected to come early in 2024. It's very likely that we'll see more leaks and official teasers from OnePlus before then.
You might also like
[ For more curated tech news, check out the main news page here]
The post OnePlus 12 leaks point to upgrades for the battery and camera setup first appeared on www.techradar.com