From www.phonearena.com
Global smartphone shipments declined 1% year-over-year during the third quarter as 293.4 million units were shipped during the three months according to Canalys. Despite a decline of 6% in shipments on an annual basis, Samsung remained the number one smartphone manufacturer worldwide by delivering 57.4 million handsets during the quarter. That gave the company a leading 20% share of the market.
Apple moved a little closer to its South Korean rival by shipping 50 million iPhones during the quarter which included the release of the new iPhone 15 series. Apple shipped 6% fewer phones than it did during the same quarter last year but moved within 3 percentage points of Samsung with a 17% slice of the global smartphone pie.
Third-place Xiaomi was the only major phone manufacturer to produce a year-over-year gain in shipments during the third quarter. The company shipped 41.5 million units, one million or 2% more than it delivered during last year's Q3. This performance garnered Xiaomi 14% of the global smartphone market putting it one basis point closer to Apple. With 26.4 million phones shipped from July through September, Oppo was number four in shipments and its 8% year-over-year decline dropped its global market share to 9%.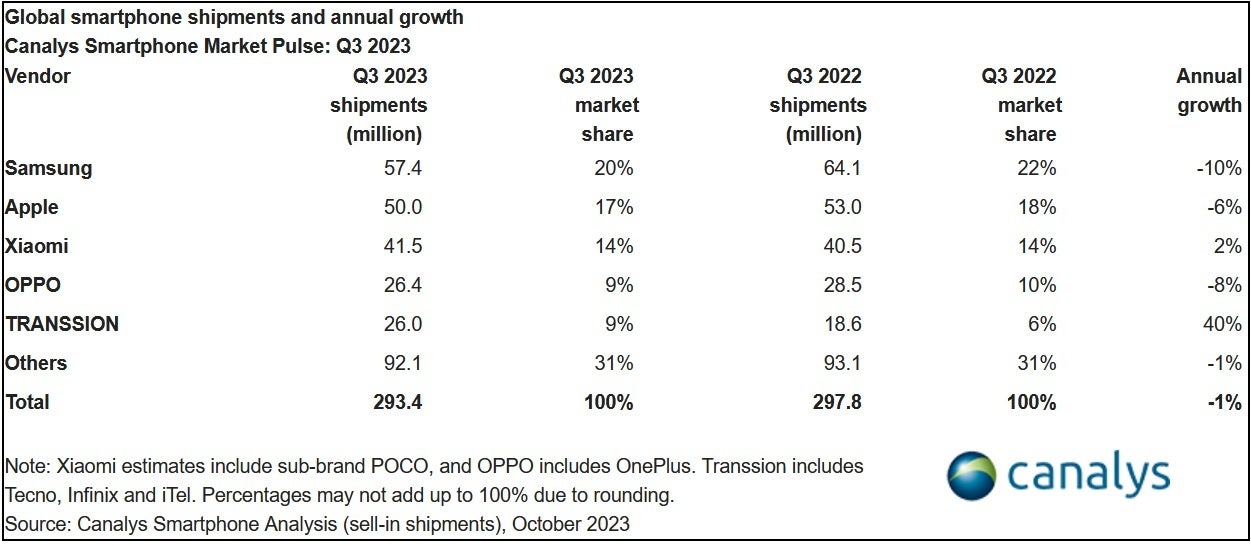 Samsung, Apple, Xiaomi remain the top three smartphone manufacturers in the world
Chinese company Transsion had the best overall performance during the quarter with a whopping 40% increase to 26 million units from the 18 million it delivered during the same quarter last year. The firm sells its handsets in the Middle East, Latin America, Southeast Asia, and South Asia, and also has a 9% share of the worldwide smartphone market.
Lucas Zhong, Research Analyst at Canalys, says that manufacturers are focusing on the premium segment of their business. He wrote, "Brands are enhancing their premium segment offerings to expand their utility through design and user interface improvements. The global competition for foldable smartphones is set to intensify. Samsung's Galaxy Z Flip and Fold 5 series were released two weeks earlier than usual to bolster Q3 2023 revenue and market performance." He says that with the increased competition in the foldable smartphone market, Samsung's dominance of this sector is at risk.
Zhong added, "Learning from demand challenges due to the over-differentiation of the iPhone 14 series, Apple narrowed the gap through the addition of the USB-C and Dynamic Island support to the iPhone 15 and 15 Plus models, resulting in stronger-than-expected volume and supporting the brand's footprint in the high-end."
[ For more curated tech news, check out the main news page here]
The post Only one major smartphone manufacturer increased its shipments year-over-year during Q3 first appeared on www.phonearena.com