From www.techradar.com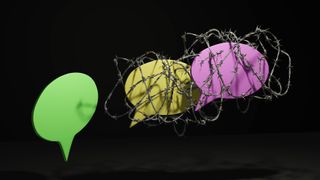 (Image credit: Getty Images)
The concept of a global, open internet for all has been in a backsliding mode for quite some time now. To be more precise, 2022 was the 12th year in a row that saw internet freedoms declining across the world.
"More governments than ever are exerting control over what people can access and share online by blocking foreign websites, hoarding personal data, and centralizing their countries' technical infrastructure," reads the last Freedom House report (opens in new tab).
Whether that's for silencing critical views or, worse, hiding evidence of wrongdoings, censorship campaigns and internet shutdowns sadly make up a big part of many governments' playbook nowadays.
This is why one of the best VPN providers around, Surfshark, and internet watchdog NetBlocks have joined forces to track and record the countries responsible for restricting their people's internet and social media access last year.
4.2 billion people had their internet censored in 2022. Why? Together with @netblocks, we tracked and recorded the countries actively restricting their people's internet and social media access in 2022.Did your country feature? See the map and find out https://t.co/4dT5W0KIoIJanuary 31, 2023
See more
The evidence collected depicts a pretty grim scenario.
There were 19 more countries enforcing some forms of online disruptions during the coverage period. The total toll reached 32, counting the governments which started such a process before 2022. Among all the social media platforms blocked, Facebook was the #1 target.
All this means that over half of the worldwide population was deprived of their digital rights in 2022. So, what exactly is at stake for users over the course of the next 12 months?
Protest and political turmoil behind all internet shutdowns in 2022
"One of the most shocking findings of the research is that a total of 4.2 billion people were hit by internet shutdowns in 2022 – that's more than half of the world's population," Gabriele Racaityte-Krasauske from Surfshark told TechRadar.
The year kicked off with seven new shutoffs in four different countries, adding to the 34 restrictions already in place. By the end of the year, people living in 32 countries worldwide suffered some forms of online repression, counting a total of 112 restrictions. Among these, 41 persisted with the new year.
Asia was the area where the internet went dark the most. The disputed territories of Jammu and Kashmir region keep leading the wave of disruptions, counting 31% of the instances worldwide. It's been since 2019 that, here, internet shutdowns have been intensifying during periods of political instability.
Iranian authorities restricted Instagram and WhatsApp for a total of over 2,400 hours as a means to crack down on the mass-antigovernment protests still ongoing.
These were added to more than 300 hours of curfew on all the internet overall.
Following the war in Ukraine, Russian censorship machine inflamed against social platforms, independent news media as well as major international outlets. In July, it was the time for Cuban authorities to disrupt internet access to crack down on protesters.
"These numbers become even more alarming when we consider the fact that all new shutdowns recorded in 2022 happened amid protests or other political turmoil – which is when people are in dire need of accessing the internet and getting in touch with loved ones," said Gabriele.
Social media platforms were often the first online service to be censored. Among all, Facebook keeps being the main enemy of autocratic governments. At the time of writing, people in Russia and Burkina Faso cannot still access such a service. The latter actually suffered the longest-running internet restriction last year.
Instagram sits at second place as the most blocked social media, followed by TikTok which keeps being restricted in India, Azerbaijan and Jordan.
Other censored platforms include WhatsApp, YouTube, Twitter and Telegram.
Even though new disruptions were roughly 40% less than those occurred in 2021, they still managed to negatively impact the lives of over 2.3 billion more people. Even worse, many of these cases actually started way before the coverage period and are still ongoing.
China and North Korea are especially infamous for censoring virtually all the major social media platforms for years. Also, in Iran many services are still restricted, with some getting dark as late as 2009. In Eritrea, YouTube has been blocked since 2011. Following the 2021 military coup, Myanmar has been actively restricting many services too.
Despite the cease fire order, internet connections appears to be still disrupted across the Tigray region. Other countries to keep somehow curbing people's digital rights in 2023 include Oman, Qatar, Thailand, Turkmenistan, Uzbekistan, Yemen and the UAE.
As Gabriele explained: "This is a troubling start to the year, and people living in countries notorious for their internet restrictions are at risk of being disconnected from their loved ones and the outside world as soon as protests or other kinds of political turmoil erupt."
How VPNs can help
"Unfortunately, if we're dealing with full-on national internet shutdowns, there's not much that people can do to reconnect to the internet as long as the restriction is in place," said Gabriele.
"However, if we're dealing with just partial internet restrictions related to specific social media sites or websites, a VPN can be an effective solution for overcoming these restrictions."
That's because a VPN is software that spoofs users' real IP address location, allowing it to appear as browsing from a totally different place in the world within seconds. At the same time, it encrypts all the data in transit so that also people's privacy would better protected.
Despite VPNs use soaring worldwide in such a period of unrest and warfare, governments also learned to fight back. As Freedom House reported, governments are increasingly blocking, criminalizing, or imposing regulatory requirements on circumvention tools.
On this point, Gabriele from Surfshark said: "As more and more countries are blocking VPN services, it's as important as ever for VPN providers to invest in their products to make them accessible in as many countries as possible."
Surfshark is one of those that developed some specific features focused to bypass these types of blocks. Its NoBorders option, for example, connects users to the servers performing the best under network disruptions by default.
VPN obfuscation technology is also a handy component, as it aims to scramble the VPN traffic to make it like a normal connection.
Bypassing censorship and internet blocks is just a way to mellow down the symptoms, though.
"That's why it's so important for the people outside of the affected area to spread awareness on what's happening and to speak up for those who cannot speak up for themselves," Gabriele explained to us.
"With Surfshark's Internet Shutdown Tracker (opens in new tab), we hope to spread awareness on government-imposed internet restrictions and to build international pressure on governments to stop continuously cutting their citizens off from the World Wide Web."
The post Over half of the world's population suffered internet disruptions in 2022 first appeared on www.techradar.com
In many places around the world, horse races are an attraction that a lot of people love to watch. With the fast-paced action and thrill that each game provides, it is no longer surprising to know that millions of fans have grown fond of it.
Cybersecurity threats have become vast and more sophisticated. The rate of malware attacks and malicious activity counts within seconds despite the size or sector the organization belongs to — no one is safe enough to expect that foe actors will bypass vital company resources.