From www.slashgear.com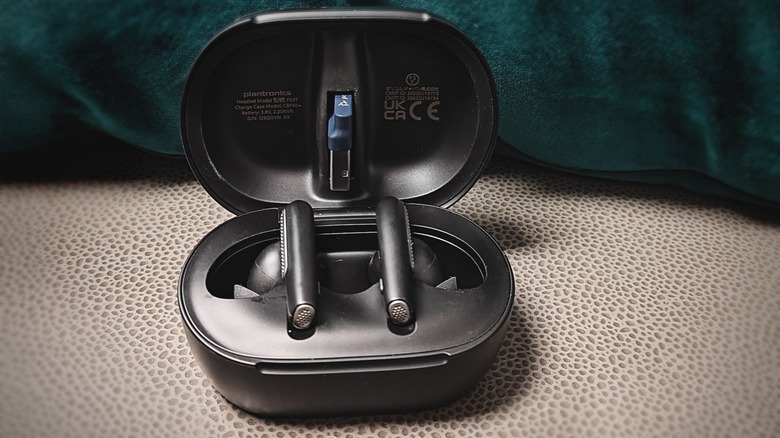 Adam Doud/SlashGear
By Adam Doud/May 11, 2023 3:16 pm EST
EDITORS' RATING : 9 / 10
True wireless earbuds are a dime a dozen these days. Ever since Apple's "courageous" omission of the headphone jack, the market for TWS (true-wireless stereo earbuds) has unapologetically boomed. These days, reviewers like myself don't even bother dinging a phone for a lack of a headphone jack because as a society, we've moved on. I'm no stranger to TWS pitches in my inbox, but when Poly reached out, I got excited.
Poly (now a sub-brand of HP) is doing something really fun while at the same time focusing on what brings home the bacon — business customers. Poly used to be Plantronics and when it adopted its new name, it pivoted from consumer earbuds to business-focused headsets. It's the kind of company that makes headsets worn by cubicle smurfs and truck drivers.
But in this case, HP and Poly are bringing something new to the table, and it's this newness that is exciting. You're probably used to carrying around TWS in a nice battery case, but when HP saw that battery case, all it saw was some wasted space. So it decided to use that wasted space. I've been using a review sample of the Poly Voyager Free 60+ UC TWS for two weeks and this is my full review.
Wasted no more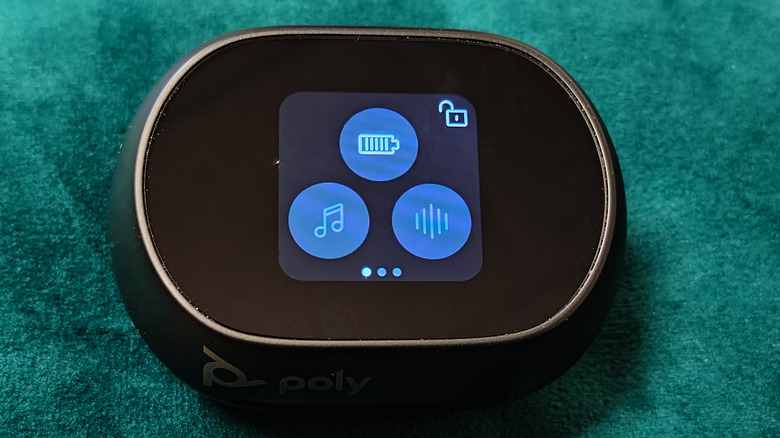 Adam Doud/SlashGear
Before we get into the normal stuff, let's talk about why these earbuds are so much fun. The main reason is that Poly decided to use that space on the top of its charging case. It put a small touchscreen on the case, which allows you to do a lot with the earbuds. You can play and pause your music. You can turn active noise canceling on and off. You can pair a new device with the earbuds.
Of course, this is all stuff you can usually do with earbuds if you open your phone and/or tap on the earbuds, and you can still do all that stuff with your phone or with taps on the earbuds, but you can also do them on the case. You might think this is a novelty that will wear off. Dear reader, it is not. Yes, you can and do control the earbuds using gestures, but you can also use the case if you want to, and there are times when that ability comes in really handy.
Rather than trying to remember what gestures do what, or where the reset button is, you can just swipe and tap away on the touchscreen. It's a joy.
Gestures are still here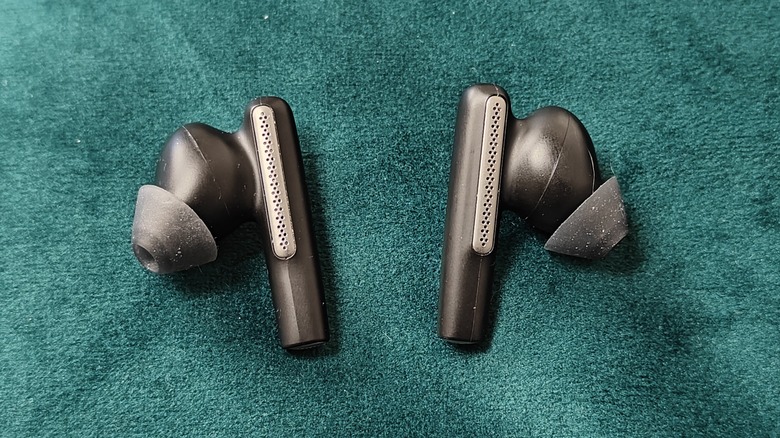 Adam Doud/SlashGear
Like most earbuds, these can be controlled by gestures and buttons too. Each earbud has a button at the bottom of the stem that can be used for play and pause. Additionally, each earbud has a swipe area that you can use to increase or decrease volume with an up or down swipe. You can also turn on Active Noise Cancelation with the same swipe gesture. The difference is in the media. If the media is playing, swiping changes the volume. If it's not, it turns ANC on and off. You can also customize those swipes in the app, or you can just use the touchscreen on the case.
Much of the other stuff that you can customize in the app has to do with voice prompts. You can control how loud they are and whether you get a voice prompt or a beep for things like reaching maximum volume There are also options like auto-pausing music when you remove an earbud, auto-answering phone calls, and the equalizer. All told, there are many options you can manage, but one that missing is customizing swipes based on which earbud you're swiping. Personally, I'd like the ability to adjust the volume with my left ear and track position on the right.
Quality sound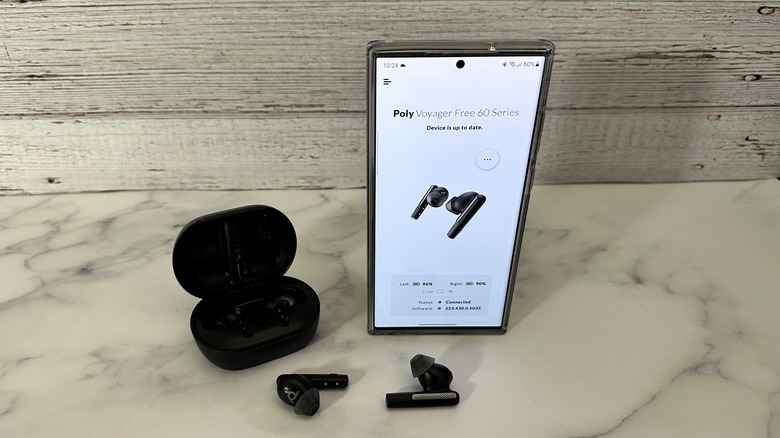 Adam Doud/SlashGear
Speaking of the equalizer, these buds come with some impressive sound. Since these earbuds are geared toward business and Zoom calls, the default equalizer is flat. If you switch the EQ to bass, you are treated to some quality thumping. Considering Poly's focus on voice headsets and their midrange-heavy sound, you'll be surprised at how good the sound is. Indeed, you can get that if you choose the Bright EQ setting, but unfortunately, that's the end of the list when it comes to EQ. You can choose Bass, Flat, or Bright. There is no custom setting, which is quite disappointing.
The other disappointing part of these buds also relates to sound in that the buds don't fit correctly in my ear. The buds come with three different-sized ear tips, but the tip doesn't actually go into your ear as much as you might generally like. The angle of the ear tip points down at a sharp angle and because the ear tip rests on the outside of my ear canal, there isn't a great seal.
I compared these buds to the recently reviewed OnePlus Nord Buds Pro 2 and the angles are very similar, but it looks like the OnePlus buds point just a bit further out, so they can fit into my ear properly. After a while, you will get used to the fit. I mostly listen to podcasts, so I'm not losing a lot of sound quality overall, but it's the most disappointing part of the earbuds in my world.
ANC is a double edged sword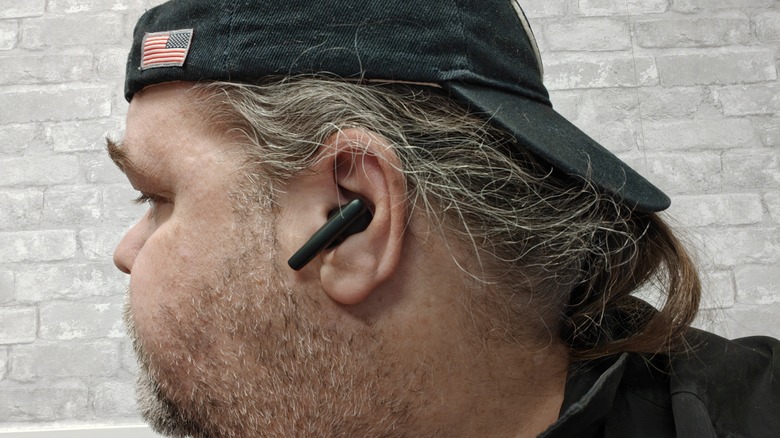 Adam Doud/SlashGear
The Active Noise Canceling in the buds is pretty good, drowning out most ambient noises, but there's one area where these buds struggle mightily: wind. Whether out on a bike ride or simply driving with the window down, the hind howls in your ears, to the point where they're unusable in those situations. The gesture area where you swipe and the tip of the earbud are both perforated to allow for microphones for voice pickup and ANC. Unfortunately, those perforations both face forward when the earbuds are properly worn, and that allows in just a ton of wind noise.
I could partially fix the problem by wearing a knit cap down over my ears, but that was only a partial fix. Plus, it's May which means the Midwest will have as many 80-degree days as 50-degree days, so that's not really a solution. Of course, these buds were not made for bike riding — they were made for teleconferencing, in which case the ANC works great. But if you're the active sort or you don't plan to exclusively use these while sitting at a desk, it's something you should know.
The extras
Adam Doud/SlashGear
In addition to the touchscreen control, these buds come with two other perks. The first is the Bluetooth dongle that is stored inside the earbud case. This allows you to connect to a PC that doesn't necessarily already have Bluetooth. It's conveniently stored in the case should you find yourself in a situation where you need it. That's nice to have, but the other extremely nice feature is a favorite.
The earbuds also ship with a 3.5mm audio jack to a USB-C connector. This allows you to connect your Bluetooth headphone case to a device with a 3.5mm output, such as a computer or an airplane seat. When you do, your earbud case becomes a Bluetooth transmitter to the earbuds. The airplane seat in particular is a nice use case because many people travel for business, and they may not want to use a cheap headset handed out by a flight attendant. Instead, you can use your trusty earbuds that you use for everything else. It's a very nice extra; I just wish there was someplace to store the cable in the case. It's a minor quibble though.
This is going to hurt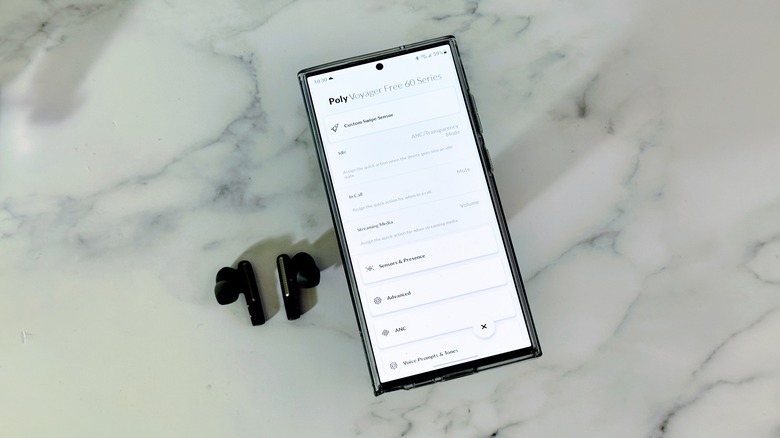 Adam Doud/SlashGear
If you're excited about these buds, allow me to douse your excitement by quite a bit. There's no way to sugarcoat this — these earbuds cost $329.95 That's enough to give anyone pause. The fact that the proper name of these buds includes the word "free" in it is almost laughable. But it's also not a completely crazy price point.
Considering how good the sound is and the extras that come with the buds — including a touchscreen on the top of the case, and the computing power needed to run that touchscreen — that's not an extraordinary price to ask for, but it's double my usual go-to earbuds, the Soundcore Liberty 4 Pro earbuds. It's over five times the cost of the OnePlus Nord Buds Pro 2. But these buds were designed for business, which by its very nature tends to come at a premium. I'm not saying it's right, but it is what it is.
Other test notes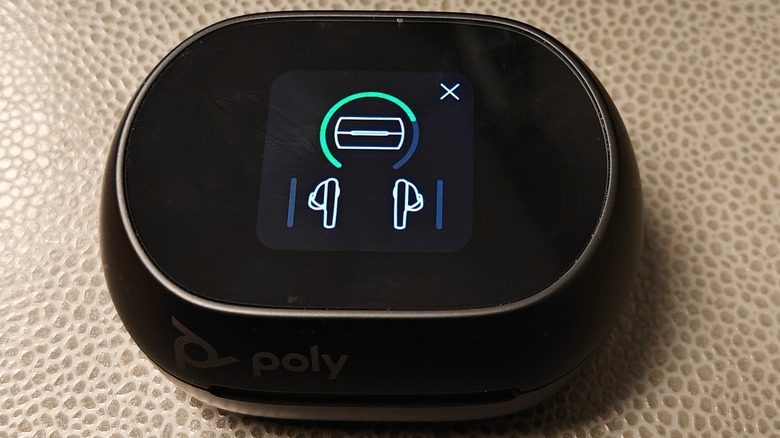 Adam Doud/SlashGear
These buds also support Multipoint Bluetooth which means the buds can connect to two devices simultaneously. That's a little-used feature in Bluetooth and one that more buds should support, but it's here so you can be happy with it.
Battery life is very good. Poly advertises about 24 hours of use with the case and with Active Noice Canceling on, which seems consistent with my testing. With a charging case this big, you'll usually get closer to 48 hours, but again, considering the components that had to go in here to make the touchscreen work, it's an acceptable compromise. The buds also support Qi wireless charging.
There are two other variants of these buds: the Voyager Free 60 UC for $279.95 and the Voyager Free 60 for $229.95. Neither of those has a touchscreen case nor an airplane adapter, while the Voyager Free 60 earbuds also leave out the Bluetooth dongle.
Voyage Free 60+ UC earbuds final verdict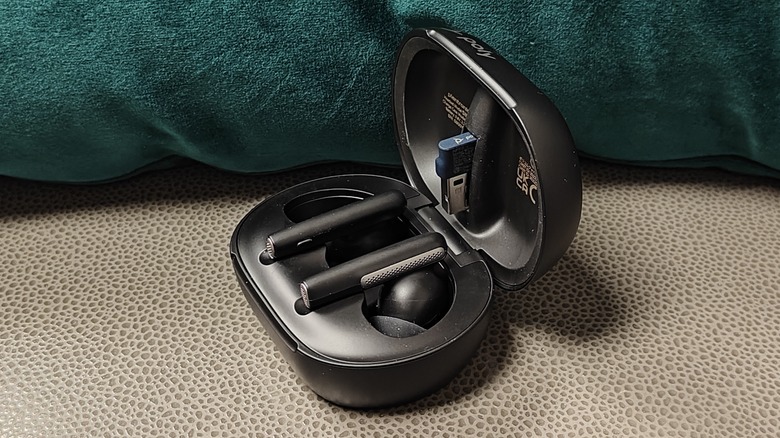 Adam Doud/SlashGear
If you're like me, you were probably pretty excited reading this review until you got to the price. That's a fair point, and while I understand why these buds cost as much as they do, I'm not sure the overall experience justifies the price. That being said, these buds sound really good and have a versatility to them that is hard to ignore. If you're a frequent traveler, or you want to connect these buds to your laptop's headphone jack and still be wireless, these are a good pickup.
The novelty of the touchscreen case does not wear off. It's super handy for pausing music, adjusting volume and even turning ANC on and off. It's also nice picking up the earbud case and seeing where the battery on the case and the individual buds are without having to rely on Bluetooth reporting that information.
At the end of the day, these buds are a luxury item. You can absolutely find other earbuds that sound just as good for less. But the extras that go into these buds rightly jack up the cost. So in that case, they're "worth it," but they're still hard to recommend for that reason alone.
The post Poly Voyager 60+ UC Earbuds Review: Premium Features For A Premium Price – SlashGear first appeared on www.slashgear.com
In many places around the world, horse races are an attraction that a lot of people love to watch. With the fast-paced action and thrill that each game provides, it is no longer surprising to know that millions of fans have grown fond of it.