From bgr.com
Reddit announced major updates and new tools for sharing posts on other social media platforms and messaging apps on Tuesday. The developers explain that previously when someone came across a post that was too good not to share, it wasn't easy to send it to another person or post it elsewhere. The new tools should help to solve that problem.
This update is part of a broader plan to simplify the platform and help users increase their engagement. Interestingly, this comes after the forum was reportedly planning to charge for its API, putting Apollo and other third-party clients at risk.
That said, there are four main changes to how Reddit users can share posts. The first is the ability to share content directly from the platform to Instagram Stories without having to first screenshot or download content. The second change brings an updated shared link preview for text posts that Redditors have shared via messaging services. The appearance of the shared post now includes a visual preview of the content, the subreddit name, and the total number of upvotes and comments.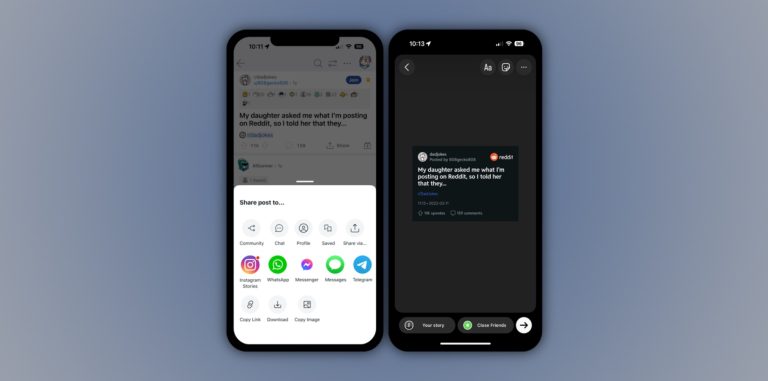 The third feature is a new custom share sheet featuring Redditor's most used sharing channel, which appears when the user clicks on the share icon under a post, making it easier to publish without having to leave Reddit. Last but not least, a one-tap screenshot-sharing experience allows users to share content without saving images to their devices – meaning they can link to the content rather than sending a screenshot.
In addition to these changes, Reddit wants to improve the posting experience for publishers. The app is introducing a toolbox that makes it easier to display Reddit content on other platforms. According to a press release, this "new toolbox comes with easy-to-use, self-serve tooling and includes features that clearly outline the predictable height of a post or comment, more prominently showcase the community the content is from and display the total tally of upvotes and comments."
These features are now rolling out, and Redditors can start using them right away.
The post Reddit makes it easier to share posts on Instagram Stories, messaging apps, and more first appeared on bgr.com
In many places around the world, horse races are an attraction that a lot of people love to watch. With the fast-paced action and thrill that each game provides, it is no longer surprising to know that millions of fans have grown fond of it.
Cybersecurity threats have become vast and more sophisticated. The rate of malware attacks and malicious activity counts within seconds despite the size or sector the organization belongs to — no one is safe enough to expect that foe actors will bypass vital company resources.