From www.techhive.com
Image: James Barber/Foundry
At a glance
Expert's Rating
Pros
Supports Dolby Atmos and DTS:X
Outstanding audio quality in the right space
Easy setup
Cons
Lacks the power to fill a large room
No dedicated mute button on the remote
Our Verdict
The Ambeo Soundbar Mini doesn't pump out enough volume to power a full-sized home theater, but it's a fantastic choice for a small apartment or bedroom.
Price When Reviewed
$799.95, reviewed with Sennheiser Ambeo Sub ($699.95)
Best Prices Today: Sennheiser Ambeo Soundbar Mini
Sennheiser has delivered another quality soundbar with the Ambeo Soundbar Mini, but this great-sounding unit comes with notable limitations. Buyers who've been waiting for a more affordable option from Sennheiser might be disappointed if they want the Mini to be the main audio source for a home theater. But anyone living in a small apartment or looking to upgrade the audio for a bedroom TV will likely be delighted.
Even at $800, the Ambeo Soundbar Mini is not a budget option. You're paying a premium for a unit with outstanding sound and design from one of the world's great audio brands. Whether it's worth the price will depend on how you want to use it.
If you want a Sennheiser soundbar that truly can be the centerpiece of a home theater, the Ambeo Soundbar Max ($1995.95, formerly known as simply the Ambeo Soundbar) is your best bet. It can easily fill a room, while delivering a reasonable simulation of surround sound audio. It's also a beast at 40 pounds, and so tall that you'll want to use it with a wall-mounted television because it'll block the bottom of the screen if place it in front of your TV. (Sennheiser recently dropped the price on the Max, and the $500 discount makes the larger unit worth considering if you can afford it.)
Meanwhile, the step-down Ambeo Soundbar Plus ($1499.95) can't quite match the sheer power of the Max, but it sounds fantastic and comes in a far more manageable size for most home theater systems.
Design & setup
The Ambeo Soundbar Mini is relatively small, just 28 x 4 x 2.6 inches (WxDxH) and weighing just 7.3 pounds. There are a total of six drivers powered by Class D amplifiers, including four full-range cones and two woofers that are designed to deliver a 7.1.4 audio experience. The total amplification power is 250 watts.
This review is part of TechHive's in-depth coverage of the best soundbars.
I'd consider Sennheiser's Ambeo Sub subwoofer ($699.95) to be a required addition to the setup. The subwoofer measures 12.2 x 12.2 x 12.2 inches (WxHxD), weighs 18.7 pounds, and features an 8-inch proprietary woofer and 350W Class D amplifier. The Ambeo Sub automatically pairs with the Ambeo Soundbar Mini when you turn it on.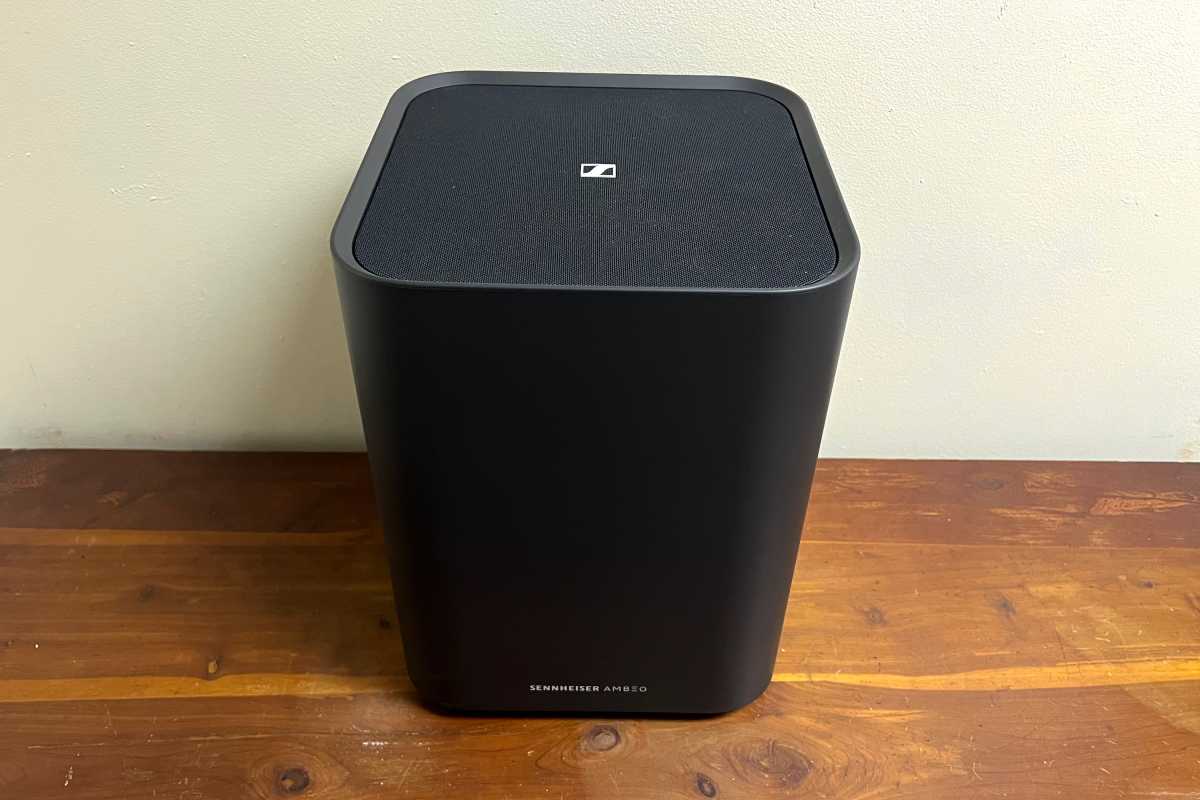 James Barber/Foundry
There's no wired subwoofer output on the Mini, so you'll have to use the Ambeo Sub to get that extra bass. Users can connect up to four Ambeo Sub subwoofers to the Mini, but that many subs would be overkill based on the maximum output of the Mini.
Setup is a breeze with the Sennheiser Smart Control app for iOS and Android. Plug in the included power cord and attach the HDMI cable to the Mini and your television's HDMI-eARC ports. Use the app to calibrate the system, a process that involves the soundbar playing a series of beeps to gauge the dimensions of the room. That's it–you're ready to start watching.
Audio and smart features
The Ambeo Soundbar Mini supports Dolby Atmos, DTS:X, and Sony 360 Reality Audio. Users can play music from their phone using Apple AirPlay 2, Bluetooth SBC or AAC, Chromecast, Spotify Connect, and Tidal Connect. The Mini also comes with built-in Alexa.
The Ambeo features equalization presets that Sennheiser calls Adaptive, Music, Movie, News, Neutral, and Sports. I've had the best luck using the Adaptive setting. There are no custom EQ options.
There's also the Ambeo button that turns the soundbar's virtual surround setting. Users can eliminate loud audio spikes in action pictures with the Night Mode option and enhance dialog with the Voice Enhancement option.
Remote
Sennheiser has included its SB02-RC remote, which is standard for the Ambeo line. That means users will have to deal with the one weird choice the company made in an otherwise outstanding design: The remote doesn't have its own dedicated mute button.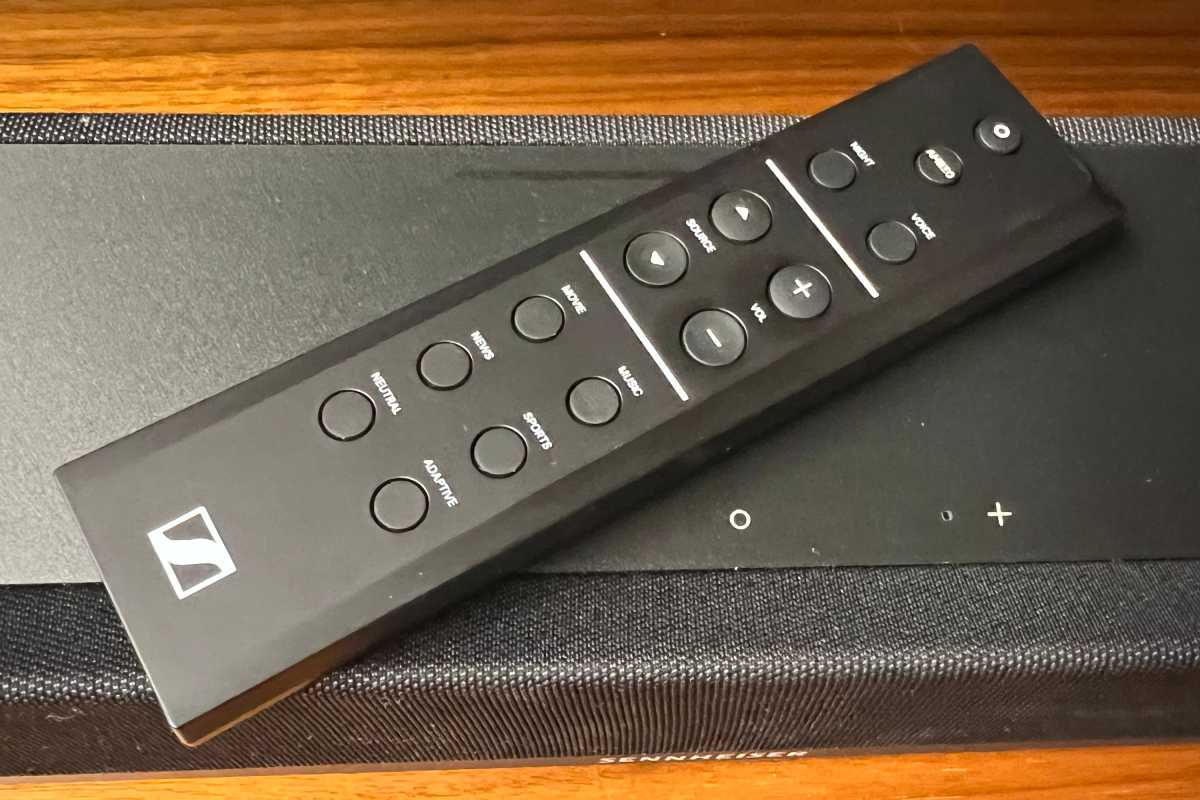 James Barber/Foundry
Instead, there's an "O" multifunction button that mutes the soundbar. It's laggy out of the box, and it's especially aggravating if you decided to activate the Mini's Alexa capabilities. Then, the single press activates Amazon's voice assistant, and you'll have to press the "O" button for three seconds to use the mute function. It's a surprising flaw from a company whose entire product line features outstanding user interfaces and, as someone who mutes the commercials, it's almost a fatal flaw for me.
Otherwise, the remote is excellent. There are volume-up and -down buttons next to the Source forward and back buttons, and the respective volume-down and source-back buttons have indentations that make them especially easy to identify without looking. The aforementioned processing modes (Movie, Music, Adaptive, etc.) have individual buttons, as do the night and voice settings. Each of these modes can be tweaked to your liking via the Smart Control app. If you ever want the virtualization processing turned off, use the Ambeo button to control the setting.
Audio performance
The Ambeo Soundbar Mini delivers stellar audio output, provided you use it in a relatively small space. The Mini experience falls apart in a large space as it struggles to deliver the 7.1.4 simulated surround sound experience. Why does the Mini's audio suffer in larger rooms? The answer becomes clear when you consider that the Mini is limited to 250W output, while the step-up Plus pumps out 400W and the Max tops out at 500W.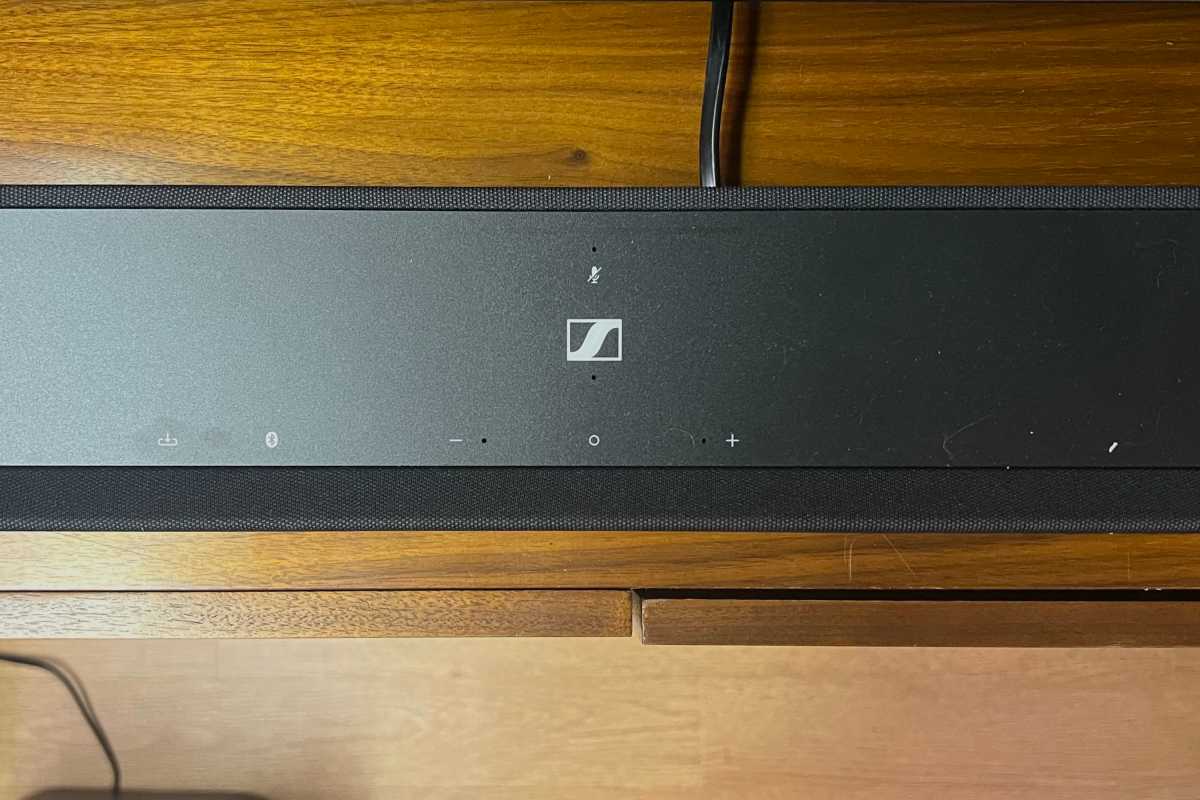 James Barber/Foundry
Sennheiser has shrunk the Ambeo experience into a smaller package and lowered the output to match the new size. The Mini wasn't designed to deliver the same experience as its larger siblings; rather, it's a smaller soundbar designed to create the same Ambeo experience in a smaller space.
When I turned off the Ambeo surround processing, the Mini's stereo setting did a better job of generating a loud enough sound in my living room. If you're looking to invest in a soundbar at this price, you're looking for more than a stereo experience.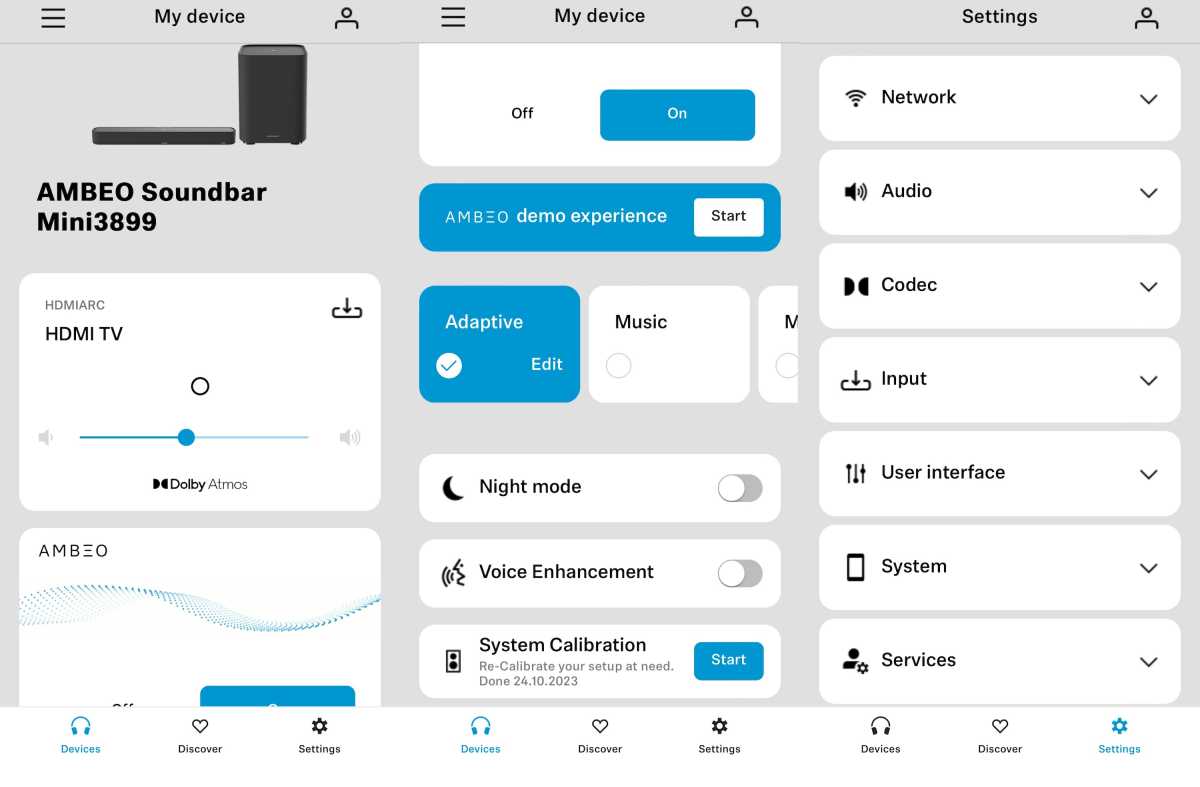 James Barber/Foundry
After moving the Ambeo Soundbar Mini to my bedroom television, all my reservations disappeared. The Mini offers a Sennheiser-quality audio experience if you use the soundbar in the way it was intended in a room of the right size.
Should you buy the Sennheiser Ambeo Soundbar Mini?
If you live in a small apartment, the Ambeo Soundbar Mini will give you an outstanding soundbar experience in a cozy space. Just know that you shouldn't expect it to be the centerpiece of your home theater once you move into a place with a full-size family room.
Of course, $799.99 is a lot of cash for a soundbar in a second room. If you're looking for more affordable alternatives, there's the all-in-one Sonos Beam (second-gen) with virtual Dolby Atmos support for $449.99, while the Polk Audio React ($199) delivers teriffic stereo sound. Finally, the Roku Streambar packs solid audio performance plus a built-in Roku streaming-video player for just $99.
Specifications
Date reviewed: October 2023
Channel configuration: 7.1.4
Number of drivers: 6 (4x full-range, 2x woofers)
Audio formats: Dolby Atmos, DTS:X, 360 Reality Audio
Casting support: AirPlay 2, Chromecast, Spotify Connect, Tidal Connect
Smart home support: Built-in Alexa
Room calibration: Yes
Voice enhancement: Yes
Total power: 250 watts
Connectivity: 1x HDMI-eARC
Wireless: Wi-Fi 6
Bluetooth version: 5.0
Best Prices Today: Sennheiser Ambeo Soundbar Mini
James has worked in music as a producer, A&R executive, music publisher, manager and record store clerk. He writes about music, technology and movies from his home in Georgia.
[ For more curated tech news, check out the main news page here]
The post Sennheiser Ambeo Soundbar Mini review: Best for small spaces first appeared on www.techhive.com