From www.tomsguide.com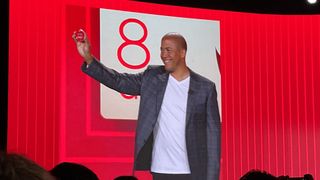 (Image credit: Tom's Guide)
The Snapdragon 8 Gen 3 is on the way to power the next wave of the best Android phones. Qualcom's flagship mobile chipset has long been one of the best available to Android phones, but it always manages to lag behind Apple's A-series chips in a bunch of key areas — and the A17 Bionic is looking like it'll be no exception.
The Snapdragon 8 Gen 2 and Gen 2 for Galaxy chips did manage to close the gap, with the Galaxy-exclusive chipset managing to beat the A16 Bionic in graphics benchmarking tests. So the pressure is on the Snapdragon 8 Gen 3 to, at the very least, keep up the pace. If you're wondering how Qualcomm could manage such a feat, here's everything we know about the Snapdragon 8 Gen 3 so far.
Snapdragon 8 Gen 3: Release date
Typically the flagship Snapdragon chipset is announced towards the end of the calendar year. The Snapdragon 8 Gen 2 launched in November 2022, while the Gen 1 launched in early December 2021. The first phones with those chips can then start arriving a few weeks later — with the incoming Samsung Galaxy S phones being some of the earliest high-profile offerings.
Rumors claimed that things will be a little different this year, suggesting Qualcomm could launch the Gen 3 in October — ready for phones to feature the chip in Q4 2023. The fact we haven't had a Snapdragon 8 Plus Gen 2 this year only added fuel to the fire of that particular rumor.
Qualcomm has since confirmed the next Snapdragon Summit will be happening from October 24 to 26. Considering the Summit is where the company announces all its latest Snapdragon news, it's almost certainly going to be where the Snapdragon 8 Gen 3 is unveiled.
It isn't clear which phones will be among the first to run from the Gen 3, but no doubt we'll find out more information at Snapdragon Summit — if not before.
Snapdragon 8 Gen 3: Design and hardware
One thing we think we know for sure about the Snapdragon 8 Gen 3 is that it will be manufactured with a 4nm process. The Gen 1 and Gen 2 chips were 4nm, and word on the supply chain is that Apple has purchased all the available 3nm production capacity for the A17 Bionic. Therefore, Qualcomm is pretty-much stuck at this level for the immediate future.
3nm chips are smaller than those made on the 4nm process, and that compact nature gives them an edge where both power and energy efficiency are concerned. While the Gen 2 chip proved you don't need to reduce your chip's size to improve both factors, it would have helped the Snapdragon 8 Gen 3 better match the iPhone 15 series on paper.
An early rumor from back in March claimed that the Snapdragon 8 Gen 3 would have a 1+5+2 core configuration, for 8 total cores. That includes a single 3.2 GHz Cortex-X43 for the brunt of the chip's performance, five 3.0 GHz Cortex-A720s for efficiency tasks and a pair of 2.0GHz Cortex-A520s for base level tasks.
The rumor also claims that the chip will come with an X75 5G modem, an Adreno 750 GPU and, bizarrely, support for UFS 4.1 storage. Currently the best storage is UFS 4.0, meaning 4.1 is a new unannounced spec. In fact, beyond this particular rumor, there's been no talk of UFS 4.1 online.
Still UFS 4.0 has afforded phones much faster read/write speeds and better power efficiency, so the next version up can only improve upon that. We'll just have to wait and see if and when it appears in a smartphone.
One other thing we've heard about the Snapdragon 8 Gen 3 is that it won't be compatible with 32-bit systems. That's not a huge surprise, given the world of software development the past few years, and the fact the Snapdragon 8 Gen 2 already pulled back some of its 32-bit support last year.
Rivals MediaTek did the same with the Dimensity 9200, and Google has been slowly pulling back on 32-bit software for the past several years. So we're one step closer to the 64-bit future, though you ordinary folks probably won't notice any real difference.
Snapdragon 8 Gen 3: Performance and benchmarking
Apparently the Snapdragon 8 Gen 3's eight cores will all combine for a maximum clock speed of 3.75 GHz. That's 0.5 GHz more than we expect to see from the A17 Bionic and the 3.36 GHz in the Snapdragon 8 Gen 2 for Galaxy. There is more to CPU prowess than fast clock speed, but as long as it can be utilized without wasting power or generating too much heat, it should prove to be a boon.
IceUniverse later claimed that the performance of the Adreno 750 GPU has been "greatly improved", but didn't go into much detail. However they claim that the Gen 3 chip will "maintain the overall energy efficiency of the 8Gen2", which is definitely a good thing — though we sincerely hope it's at least slightly better this year. Digital Chat Station has claimed that the GPU would be 50% more powerful than the Adreno 740.
Leaked benchmarking tests claim that the Snapdragon 8 Gen 3 for Galaxy clocked in with a 2,223 single-core score, while the multi-core score hit 6,661. Apparently the chip was inside a Galaxy S23 Plus and used the Geekbench 6 benchmarking test. The Gen 2 for Galaxy chip in the same phone has produced a single-core score of 1,867 and a multi-core score of 4,949. So if these figures prove accurate, it would be a significant leap in performance.
Swipe to scroll horizontally
Snapdragon 8 Gen 3 rumored benchmarks

| | | |
| --- | --- | --- |
| Row 0 – Cell 0 | Geekbench 6 (single-core) | Geekbench 6 (multi-core) |
| Snapdragon 8 Gen 3 for Galaxy (alleged) | 2,233 | 6,661 |
| Apple A17 Bionic (alleged) | 3,269 | 7,666 |
| Snapdragon 8 Gen 2 for Galaxy | 1,867 | 4,949 |
| Apple A16 Bionic | 2,514 | 6,361 |
However we can't not compare these scores to the iPhone, no matter how impressive a leap they may be. As it turns out the iPhone 14 Pro, running a 2022 A16 Bionic managed to score 2,514 on a single core test — absolutely thrashing the 2,223 the Gen 3 supposedly scored. Which is very disappointing, even if the Gen 3's 6,661 multi-core score managed to beat the A16's 6,361, and puts the Gen 3 in a pretty weak position considering the impending launch of the iPhone 15 and A17 Bionic.
In fact a recent leak claims that the A17 Bionic managed to score 3,269 on a single core benchmarking test and 7,666 on a multi-core test. That's apparently using an iPhone 15 Pro with what appears to be Geekbench 6. If all these figures are accurate, it means Apple's 3nm chip could easily wipe the floor with Qualcomm.
Snapdragon 8 Gen 3: Supported phones
So far we haven't had much confirmation on which phones will be running the Snapdragon 8 Gen 2. In fact, word on the street is that the new chip is set to be rather expensive, with Digital Chat Station claiming that the cost "seems to be a bit high".
This means a bunch of phones may skip the upgrade, preferring to stick with a Gen 2 chip or adopting a cheaper MediaTek Dimensity chip instead. We may also see a tiered approach to CPU power, with ultra and premium models getting the Gen 3 and less expensive options sticking with something else. Much like how Apple has started reserving its latest A-series chipset for the Pro model iPhones, while the two base models get a version of last year's chip.
Previously we would have expected to see phones currently running with a Gen 2 chip upgrade to the Gen 3 for the next generation. However we can't be so sure of that happening if the chip really is more expensive — especially for brands like OnePlus who consistently try and undercut their larger rivals on price.
We've already been hearing some speculation about a Snapdragon 8 Gen 3 for Galaxy, thanks to Geekbench benchmarking results, it suggests Samsung is on board to adopt the new chip in at least one of its Galaxy S24 models — which are expected to arrive in January 2024. Since Samsung may get a custom chip all to itself, we'd guess that it would want to slap it into every Galaxy S24 model — though there is still a chance it may be reserved for Plus or Ultra models.
We're just going to have to wait and see how this pans out. Needless to say you can guarantee that you won't be seeing the Snapdragon 8 Gen 3 on phones that already use an in-house chip — like Apple or Google.
Snapdragon 8 Gen 3: Outlook
There's still plenty more we don't know about the Snapdragon 8 Gen 3 so far, including what sort of special features it may have to offer. Considering the explosion in AI earlier this year, it would be surprising if Qualcomm didn't lean heavily on whatever AI and machine learning features it has bundled into the chip — more so than it has done in previous years.
What we've heard so far paints a fairly positive picture of the Snapdragon 8 Gen 3, but only in comparison to the Gen 2. In fact, compared to some of the leaks regarding Apple's A17 Bionic chip, it sounds like Qualcomm may be starting to fall behind. A list of hardware specs is only part of the picture, but so far things are definitely leaning in Apple's favor — especially if rumors of a price increase are true
More from Tom's Guide
[ For more curated tech news, check out the main news page here]
The post Snapdragon 8 Gen 3: Everything we know so far first appeared on www.tomsguide.com