From www.slashgear.com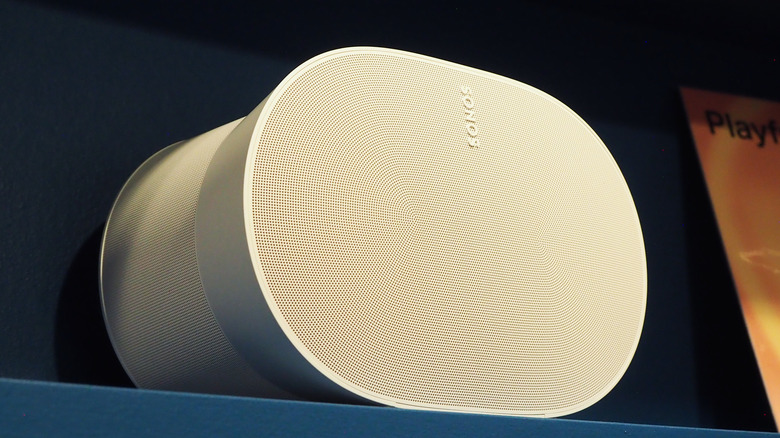 Chris Davies/SlashGear
By Chris Davies/Updated: March 7, 2023 9:28 am EST
Sonos is coming into its spatial audio era, and the fittingly-named Era 300 is the first speaker to deliver it. Looking — and sounding — like no model before it, it keeps all of the Sonos features we're familiar with like multi-room audio, but liberates it beyond simply stereo courtesy of six directional drivers. At $449, it's neither the cheapest nor the most expensive speaker to bear the Sonos logo, but it's certainly the most interesting in some time.
Spatial audio — or Dolby Atmos audio — basically does for music what Atmos did for home theater surround sound. In addition to rear channels, it supports height, too, effectively bouncing music off the ceiling so as to create an all-encompassing experience. Sonos has supported that with its soundbars already, first with Arc, and indeed the company says it has seen that model being used as an Atmos music reference speaker, too. Era 300, however, puts music first.
We'll have to spend more time with it to see just how effective it is, but things certainly sounded promising in a preview that Sonos invited SlashGear to attend. There's a marked sense of both width and height to the soundstage, music feeling more enveloping than you'd get with a regular, stereo speaker like the Sonos Five. Unlike the spatial audio experience that can be had with headphones or earbuds, though, the effect doesn't feel overwhelming.
Built for spatial audio, but suited to stereo, too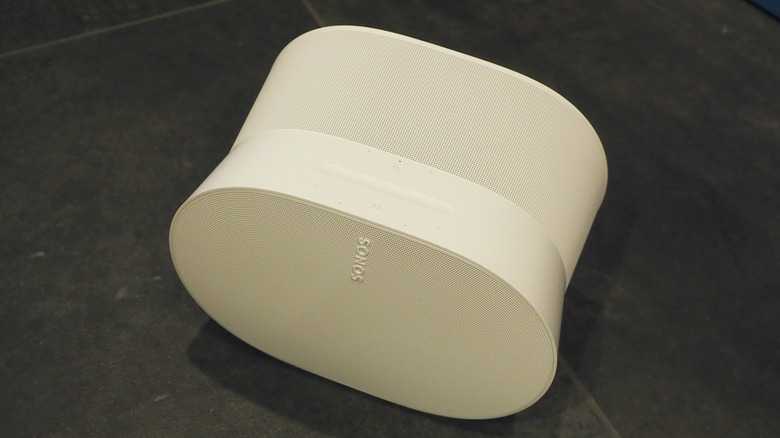 Chris Davies/SlashGear
That, Sonos' Giles Martin, SVP of Sound Experience says, is intentional. "You can really impress someone" with a mix that more aggressively delineates different instruments and vocals around the room, the producer points out, "but then you've got to live with the things." Instead, Sonos has aimed for more transparency in playback. "You shouldn't be listening to technology, you should be listening to music," Martin explains.
Similarly, Sonos isn't doing spatial mixes of stereo audio. "It sounds a bit crap," Martin says, bluntly. All the same, the stereo soundstage is pleasingly broad, with instruments spread out while vocals take advantage of the Era 300's center channel driver.
That matters because not only are sources for Dolby Atmos music still in the minority, at launch the Era 300 will only support one of them. Initially, you'll need an Amazon Music Unlimited subscription ($8.99 per month); come March 28th, Sonos says, the Era 300 will gain support for Apple Music's spatial audio and lossless tracks.
Unique form follows function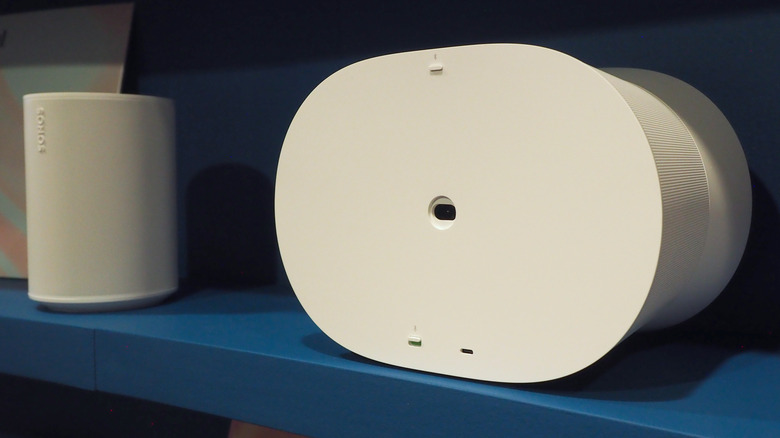 Chris Davies/SlashGear
The Era 300 certainly doesn't look like any prior Sonos speaker. The company says form follows function, here — the drivers need to point at a certain angle for the spatial audio to be most effective — but the pinched aesthetic certainly stands out (even if it's not as outlandish as some other spatial audio speakers we've seen). It'll be offered in matte black and white, though the latter is slightly different from what Sonos has used before so as to allow for more recycled plastic.
Inside, there's a total of six drivers. Two woofers on the bottom corners, for low-end, and two mid tweeters on the top shoulders with waveguides to properly direct the sound. A directional horn tweeter on the top bounces sounds off the ceiling, while a final forward-firing mid tweeter handles the center image.
Like Sonos' other speakers, there's support for Trueplay within the iOS app. However, the Era 300 also gets a new Quick Tuning method, which uses the far-field microphone array within the speaker to tune the EQ to the space whenever it's plugged in or moved. That means Android users no longer need to borrow an Apple device. Individual bass, treble, and loudness adjustments are possible within the Sonos app.
More connectivity options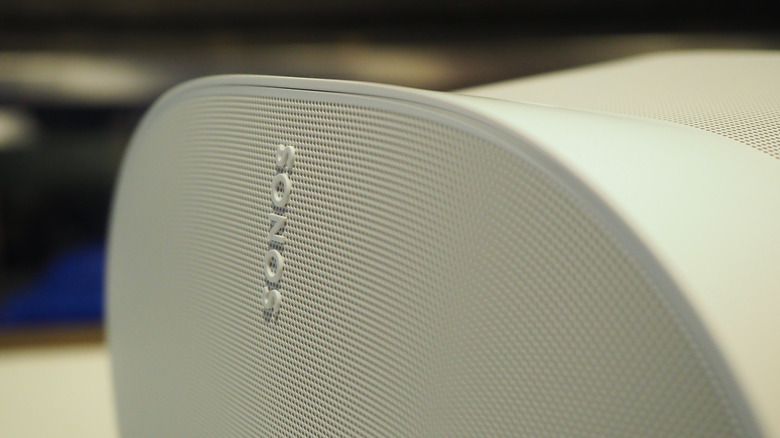 Chris Davies/SlashGear
Apple Music's spatial audio isn't the only absence at launch: the Era 300 will support Amazon Alexa and the Sonos Voice Assistant, but not the Google Assistant to begin with. That, Ryan Moore, Sonos' Principal Product Manager for Hardware says, is down to a change in Google's requirements, though support is on Sonos' roadmap. A physical microphone mute switch is on the rear.
Connectivity includes Wi-Fi 6 and Bluetooth 5.0 together with a USB-C port on the rear. Initially, Sonos will have two USB-C adapters: one with a 3.5mm jack that can be used as a line-in, and another with both a 3.5mm and an Ethernet port. You still get AirPlay 2, and now both wired and Bluetooth line-in will be supported, with playback on just the Era 300 itself or streamed across multiple Sonos speakers on the network. That's a big improvement, considering currently you'd need a Sonos Five, Amp, or Port for line-in.
It'll slot into the existing speaker range rather than supplanting the Sonos Five, and while the dimensions may be similar, it's not a replacement for the discontinued Play:3. In fact, the Five remains more powerful (and, at $549, more expensive), and if your primary intention is stereo listening, then it arguably should still be your first port of call.
Your home theater room can benefit, too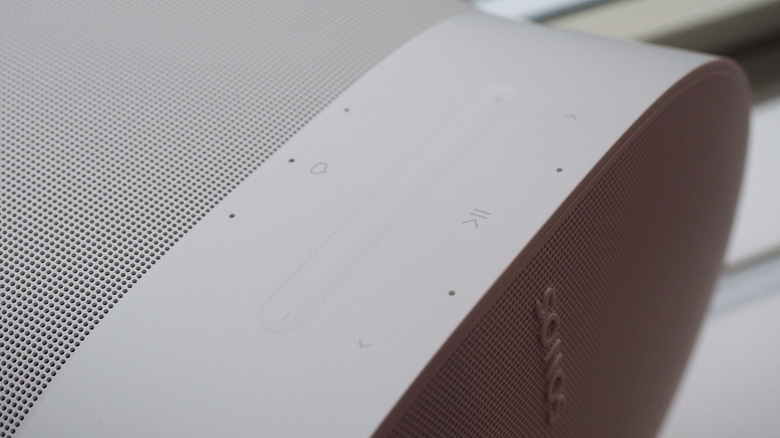 Chris Davies/SlashGear
For home theater duties, meanwhile, like Sonos' other speakers, you'll be able to use a pair of Era 300 as rear channels with an Arc or Beam (Gen 2). The advantage there is — with a Sonos Sub thrown in — you'll get 7.1.4, since the Era 300 supports left, right, and height rather than the mono that an existing Sonos speaker would deliver in that rear surround position.
Sonos will have both floor stands and wall mounts designed for the Era 300. For positioning, the speaker will need at least a foot of headroom from the ceiling, according to Moore. As well as an Arc or Beam (Gen 2), you'll need a TV with an HDMI eARC connection in order to get Dolby Atmos surround sound. You'll also need a source to supply it, a list that currently includes services like Netflix, Amazon Prime Video, Disney+, and Apple TV+, though some demand you subscribe to a more expensive tier first.
Sustainably designed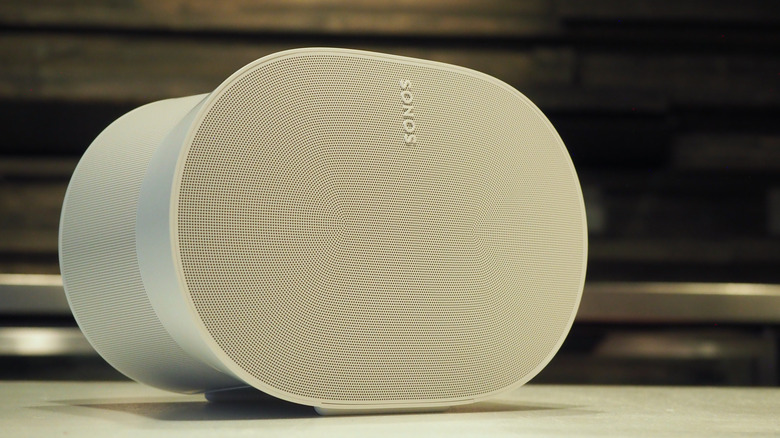 Chris Davies/SlashGear
One significant focus of the Era 300 and Era 100 is what Sonos is referring to as responsible design. That includes a greater use of post-consumer recycled plastic inside and out, along with things like recycled plastic and sustainably-sourced paper for the packaging. Even the fabric handles on the boxes are now made of rattan, while the latches that hold them together are 40% smaller to reduce the materials required.
Beyond that, though, there's been thought to the lifespan of the speakers. Power consumption has been cut down to less than 2W when the speakers are idle. Meanwhile, Sonos has ditched glue in many places in favor of screws — 93 of them in each Era 300, in fact — so that not only is end-of-life dismantling more straightforward, but repairs to components can be made to delay that. Don't assume that you'll be able to upgrade speakers down the line, however, as new hardware becomes available. While theoretically possible — and, as Sonos' Moore agrees, would "be awesome" — it's not part of the current scope.
Preorders of the Sonos Era 300 will kick off today; it's priced at $449 and will be offered in matte black and matte white, with availability from March 28, 2023.
The post Sonos Era 300 Is A Sleek And Affordable Spatial Audio Speaker: First Look – SlashGear first appeared on www.slashgear.com
In many places around the world, horse races are an attraction that a lot of people love to watch. With the fast-paced action and thrill that each game provides, it is no longer surprising to know that millions of fans have grown fond of it.
Cybersecurity threats have become vast and more sophisticated. The rate of malware attacks and malicious activity counts within seconds despite the size or sector the organization belongs to — no one is safe enough to expect that foe actors will bypass vital company resources.