From www.techradar.com
TechRadar Verdict
The Sony HT-AX7 is an inherently niche speaker – but as someone who lives in a small space, I kind of love it. Instant, hassle-free surround sound from a tablet, laptop or Bluetooth-connected projector is a little bit magical, as it can turn any space into a personal home theater. As a Bluetooth speaker for music, it's horribly overpriced. But if you want surround sound that you can then just pack away when you're done, it works well.
Pros
+

Super-easy surround sound over Bluetooth

+

Gigantic battery life

+

Small size and smart design

+

Hassle-free operation (mostly)
Cons
–

Volume of rear speakers needs tweaking

–

Music quality is weak for the price

–

No HDMI, optical or Wi-Fi

–

Top speakers are easy to knock off
Why you can trust TechRadar We spend hours testing every product or service we review, so you can be sure you're buying the best. Find out more about how we test.
The Sony HT-AX7 is in a category of its own. It's a portable Bluetooth-connected surround sound system, where you can just grab the two rechargeable mini 'puck' speakers from the top of the main unit, place them behind you, and be surrounded by movie audio. Or you can just place them around a room for more diffused music than from a single speaker, Sony says.
The Sony HT-AX7 isn't promising 5.1-channel sound or anything quite so simple. It's processing your music and adding Sony's 360 Spatial Sound Mapping to create its best approximation of a bubble of sound around you, based on the location of the three units. There are two speaker drivers plus two passive bass radiators in the main unit, and a speaker in each of the satellites. The price for all this tech is pretty steep compared to your average portable Bluetooth speaker, though, at $499 / $499 (approx. AU$960).
We're not aware of any of the best Bluetooth speakers with a setup like the Sony HT-AX7's. And while some of the best soundbars have detachable and rechargeable rear speakers, as well as Bluetooth, they're far from portable. This device measures just 12 x 5.2 x 4.8 inches / 306 x 133 x 123 mm with the speakers attached.
Clad in simple gray fabric, it's an odd, though not ugly, device aesthetically – kind of like a Lego brick when the speakers are on. The plastic on top has a high-quality matte feel. It bends inwards where you press the buttons for turning it on and off, activating Bluetooth pairing mode, playing/pausing (and taking calls – it has a mic), volume up and down, and the 'Sound Field' button that activates its surround-sound processing.
The two satellite speaker pucks are held on by magnets, and have a smartly designed charging system so you don't have to worry about their rotation at all. The magnets aren't especially strong, which makes them easy to grab, but also is easy to knock off accidentally. If you move the speaker too quickly when picking it up, you may lose one – I did exactly this when turning it to put it on charge. They're also easy to nudge off. However, they're built very solidly, so dropping them was no problem for me. The fabric is the thing most likely to get damaged if they hit something rough.
I had the Sony HT-AX7 out of its box and connected to my iPad Pro in about a minute, with surround sound following seconds behind that. Like all the best Bluetooth speakers, it's super simple – you hit the Bluetooth pairing button on top, connect from your tablet, phone (or whatever), play a movie, and position the rear speakers however you want them.
And with Sony's Sound Field tech on, it sounds good – though I was disappointed by the lack of strong rear effect at first. The volume of the satellite speakers and main speaker is controlled all together, and they were just too quiet by default. But Sony's Home Entertainment Connect app enables you to ramp up the volume of the rear speakers, and I found that increasing their volume by three gave me the impact I was hoping for.
With my iPad or phone, the effect is great – I watched lounging in bed, with the rear speakers on the head board, the front speaker down by my feet, and the tablet in my hand. But I don't actually watch like this all that often – most of my tablet or phone movie watching is done on planes or trains, with some of the best noise-cancelling headphones pulling audio duty.
So next I connected it to what most excited me: my portable projector. I have a Samsung The Freestyle (2022), and for a while I've been planning to get rid of my spare-room TV and just use the projector, but I haven't known what to do about good sound. Its own speakers aren't sufficient, but I haven't found anything that's quite right to connect it to instead – either the connection is wrong or the size is.
But the Sony HT-AX7 is ideal. It connects to the Freestyle over Bluetooth, and the HT-AX7 doesn't have to be permanently out. I can put it on a shelf when I'm not watching, and then just grab it, spread its three speakers out in a few seconds, get in position and start enjoying genuine surround sound with the projector. I'm instantly in love.
And happily, the Sony's sound is really effective when watching movies. It's got enough bass to provide meat to action or big movie soundtracks, but I found dialog easy to pick out, and it's dynamic enough to give impacts and sound effects some heft.
The soundscape feels wider than the small box across the front. Even with my projected screen hitting about 80-inches, the audio didn't feel like a mismatch compared to the screen.
There was impressively little lag over Bluetooth, and absolutely no discernible lag between the front and rear speakers – they felt like a coherent unit. I would not say the surround sound effect is as impressive as my Sonos setup I use for my TV – the rear speakers are too weedy to create a feeling of totally enveloping you (the system doesn't pump bass to them meaningfully at all, relying solely on the front speaker for that) – but they add directionality for music and effects, and really enhanced the cinematic feeling beyond just having a speaker at the front.
As well as the all-important Sound Field mode, it has two audio modes (accessible through the app) that may come in handy. There's Voice Mode, which pushes the EQ up into higher registers to help speech stand out further, and Night Mode, which clamps down the bass and reduces dynamic range, so it's less likely to wake people in other rooms if a movie turns loud suddenly.
I can certainly imagine there are kids and students who watch a lot more movies on their tablet than I do, and for them the HT-AX7 will be a better fit in a bedroom or dorm room. For me, it's a super-convenient companion to the new breed of small projectors, and it's a total winner in that regard.
However, there had to be a however. We need to talk about the music performance of the Sony HT-AX7, because that's what really causes the $500 / £500 price tag to stick in your throat.
If this were half the price, its music performance would be okay. But at this price, it's an outright disappointment. The mid-range and treble feel weighed down by the bass, and are only able to orbit it rather than express themselves freely, which makes the soundstage feel constrained.
I compared the Sony HT-AX7 directly to a Sonos Era 100, and the Sonos speaker has better balance and detail as a result. It also has a bit more energy… and it's half the price.
Now, the Sony HT-AX7 does, of course, have its party trick: you can take those satellite pucks and place them around the room so it's no longer like you have only one speaker. The sound is more diffused, great for actual parties. And in a party, no one cares about total audio fidelity.
But as I mentioned before, the system doesn't let the satellites handle bass, so they're only spreading part of the sound around – bass still clearly pulses from the main unit. You could spend the cost of this speaker on two Sonos Era 100 speakers for sound that's dispersed around a room, or less than it on a Sonos Move 2 if you want portability. You'd get better results either way.
It's also worth noting here that there's no support for higher quality sound of any kind. No LDAC for higher-res Bluetooth, no Wi-Fi, no 3.5mm jack or USB-C audio input (its USB-C port is used for charging only).
And for TVs, there's no optical connection or HDMI connection, so you can't connect it to any TV or projector without Bluetooth. I can understand not wanting to deal with HDMI ARC here, but an optical/3.5mm input would have really raised the flexibility of the HT-AX7 for people.
The technical features it does have work perfectly, though. It has multi-point pairing to two devices, which worked totally seamlessly for me. I had no trouble switching between my tablet and projector without any connection freak outs.
And the battery life is far better than Sony's promises, in my experience, though it may depend on volume. Sony says 30 hours officially, but I got well over 40 hours, admittedly playing it mostly at only about 20% of volume (because that's all I've needed while it's in the room with me, trying to run it down while I work). Still, that was with the two satellite speakers separated and playing wirelessly too, and the Sound Field processing on. It's extremely impressive (though I don't like that the app only reports battery life in 20% increments).
Sony recommends a 45W charger for using and charging at the same time, and it doesn't come with this in the box – just a USB-C cable. However, it will charge from a lower charger (I used my 20W phone charger), it just might take a while. But you won't need to charge it often, thanks to that battery life.
I really like the Sony HT-AX7 despite its flaws. I think for the price it simply needs to be more versatile and better with music – but someone who prioritizes those is not who I'd recommend it to. As I said, get two Sonos Era 100 speakers if music is your focus.
This is designed to solve a particular problem. To be a soundbar for Bluetooth devices, without the baggage of an actual soundbar. To be the portable sound equivalent to the best portable projectors, easy to pull out for a thrilling movie night, and to tidy away afterwards. If you're a cinephile in a small space, the Sony HT-AX7 is a quiet revolution. It was for me. I just wish the price felt more justifiable, and the speakers stayed on more steadily.
Sony HT-AX7 review: price and release date
$499 / $499 (approx. AU$960)
Released in August 2023
With a price of $499 / $499 (an Australian release is still pending), the Sony HT-AX7 finds itself in the company of products like the Sonos Move 2. As a Bluetooth-only speaker, something like the UE Epicboom is still much cheaper.
But maybe we should compare it some soundbars, too. For the price, the Sonos Beam Gen 2 is a direct competitor to connect to a projector or TV, though it doesn't have Bluetooth. The Samsung HW-Q800C can actually be found for a similar price now, and that has Dolby Atmos, a wide array of speakers, and a separate subwoofer. Of course, it's huge, not portable, and really prefers to be wired, though it has Bluetooth and Wi-Fi.
Sony HT-AX7 review: Specs
Swipe to scroll horizontally
| | |
| --- | --- |
| Row 0 – Cell 0 | Row 0 – Cell 1 |
| Weight: | 3.1 lbs / 1.4kg |
| Dimensions: | 12 x 5.2 x 4.8 inches / 306 x 133 x 123 mm |
| Battery life (quoted): | 30 hours |
| Connectivity: | Bluetooth 5.2 |
| Drivers: | 2x drivers, 2x bass radiators (main unit); 1x drive per satellite speaker |
| Aux-in: | No |
| Charger port: | USB-C |
| Microphone: | Yes |
| Waterproof rating: | N/A |
Should I buy the Sony HT-AX7?
Swipe to scroll horizontally
| | | |
| --- | --- | --- |
| Features | It lacks a bunch of connectivity options, but it has its big trick of detachable speakers, and it nails that. The battery life is huge too. | 3.5/5 |
| Sound quality | Impressive with movies for the size, and creates a good sound bubble. It's weaker with music, though. | 3.5/5 |
| Design | Compact, hardy, good-looking, and with some thoughtful choices. Speakers fall off too easily, though. | 4/5 |
| Value | Being in a class of one, it's kind of inherently good value. Unless you want it as a music player. Then it's not so good. | 3.5/5 |
Buy it if…
Don't buy it if…
Sony HT-AX7 review: Also consider
Swipe to scroll horizontally
| Header Cell – Column 0 | Sony HT-AX7 | Sonos Move 2 | Sonos Era 100 |
| --- | --- | --- | --- |
| Weight: | 3.1 lbs / 1.4kg | 6.61 lbs / 3kg | 4.4 lbs / 2kg |
| Dimensions: | 12 x 5.2 x 4.8 inches / 306 x 133 x 123 mm | 6.3 x 9.5 x 5 inches / 160 x 241 x 127mm | 4.72 x 7.18 x 5.14 inches / 120 x 183 x 131 mm |
| Battery life (quoted): | 30 hours | 24 hours | N/A |
| Connectivity: | Bluetooth 5.2 | Bluetooth 5.0, Wi-Fi, USB-C | Bluetooth 5.0, Wi-Fi, USB-C |
| Drivers: | 2x drivers, 2x bass radiators (main unit); 1x drive per satellite speaker | 2x angled tweeters, 1x midwoofer | 2x angled tweeters, 1x midwoofer |
| Aux-in: | No | Yes (via USB-C adapter) | Yes (via USB-C adapter) |
| Charger port: | USB-C | Sonos charging base or USB-C | N/A (powered only) |
| Microphone: | Yes | Yes | Yes |
| Waterproof rating: | N/A | IP56 | N/A |
Sonos Move 2 review.
" data-widget-type="deal" data-render-type="editorial">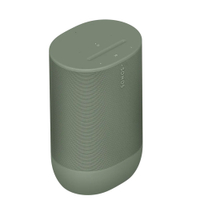 Sonos Move 2
The fact that there's nothing else like the Sony is awkward for making other recommendations, but if you want a Bluetooth speaker around this price that's focused on music and is way more flexible, here you go. It does Bluetooth, Wi-Fi and wired connections (the latter via a dongle), and it sounds rich, clearly and finely balanced.
Read our full Sonos Move 2 review.
Sonos Era 100 review.
" data-widget-type="deal" data-render-type="editorial">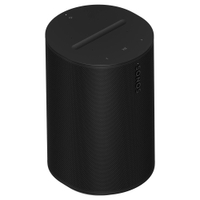 Sonos Era 100
We've mentioned it a bunch, but if music is a focus, this sounds better than the HT-AX7 and is literally half the price. It's not portable, though, and won't make a whole surround sound system on its own.
Read our full Sonos Era 100 review.
How I tested the Sony HT-AX7
Tested at home, in different rooms
Used to stream movies and music
Connected to iPad Pro, iPhone and Samsung The Freestyle (2022)
I tested the Sony HT-AX7 over the course of a week in my home. As mentioned in the review, I used with my 12.9-inch iPad Pro and Samsung The Freestyle projector for watching movies, and with my iPhone for listening to music. I watched movies from Netflix, Disney Plus and Apple TV. For music, I streamed tracks from Apple Music.
For testing the battery life, I played music from my phone to the speaker, with the two satellite speakers removed, and the Sound Field processing mode on.
First reviewed in October 2023
[ For more curated tech news, check out the main news page here]
The post Sony HT-AX7 review: a mobile surround sound system for projectors or tablets first appeared on www.techradar.com