From www.techradar.com
Early Verdict
The Sony X95L looks to be a great step up from last year's Sony mini-LED TV in every way, producing brighter highlights, more detail in dark tones, and big bold colors with reduced banding. Blooming is reduced, and there's extra sharpness. But while the brightness beats mid-range OLED TVs easily, cinephiles probably won't make the jump to Sony's TV yet.
Pros
+

Bright and detailed highlights

+

Good detail in dark areas

+

Powerful and clean colors

+

Great sharpness and motion
Cons
–

Raised black levels

–

Still some minor blooming
Why you can trust TechRadar Our expert reviewers spend hours testing and comparing products and services so you can choose the best for you. Find out more about how we test.
Sony's range of 2023 TVs includes the Sony X95L mini-LED model, as well as a lower-end Sony X93L mini-LED model in some countries, including the US (but not the UK). Sony hasn't confirmed pricing or release date yet, but these sets will sit below the flagship Sony A95L QD-OLED TV and above the more mid-range Sony X90L full-array LED TV, and should launch during the first half of 2023 to challenge the best TVs in the world.
I had the chance to see the Sony X95L in action with test footage and movie scenes, in a direct comparison with last-year's Sony X95K equivalent model, and the LG C2 OLED TV, along with a Sony reference monitor (the kind used in actual film production for being near 'perfect' pictures), all showing the same images.
The good news is that the Sony X95L is a great upgrade on last year's model, adding extra brightness that makes the whole picture pop, way more detail in dark scenes, and with a little extra sharpness and smoothness in motion, based on my time with it.
That will be partly thanks to the latest-gen XR image processor, which includes a new XR Clear Image algorithm that now analyzes the exact bitrate, resolution and source of video when upscaling it, so it's less of a one-size-fits-all approach to improving low-res video.
The latest XR Backlight Master Drive algorithm comes from the processor, so it can drive a higher number of dimming zones in the backlight. As a result, the X95L is capable of better dynamic range when light and dark areas are next to each other, and less blooming (where the light bleeds from bright areas into dark areas, causing black tones to look gray).
I was viewing all of the TVs in their 'Vivid' mode, or equivalent (with the exception of the Sony reference monitor, obviously), and yet the X95L also impressed me with how much closer it was to the color tone of the reference monitor than the previous model was – I assume that will be even better when viewed in a more movie-friendly mode, but we'll have to wait for our full review to judge that.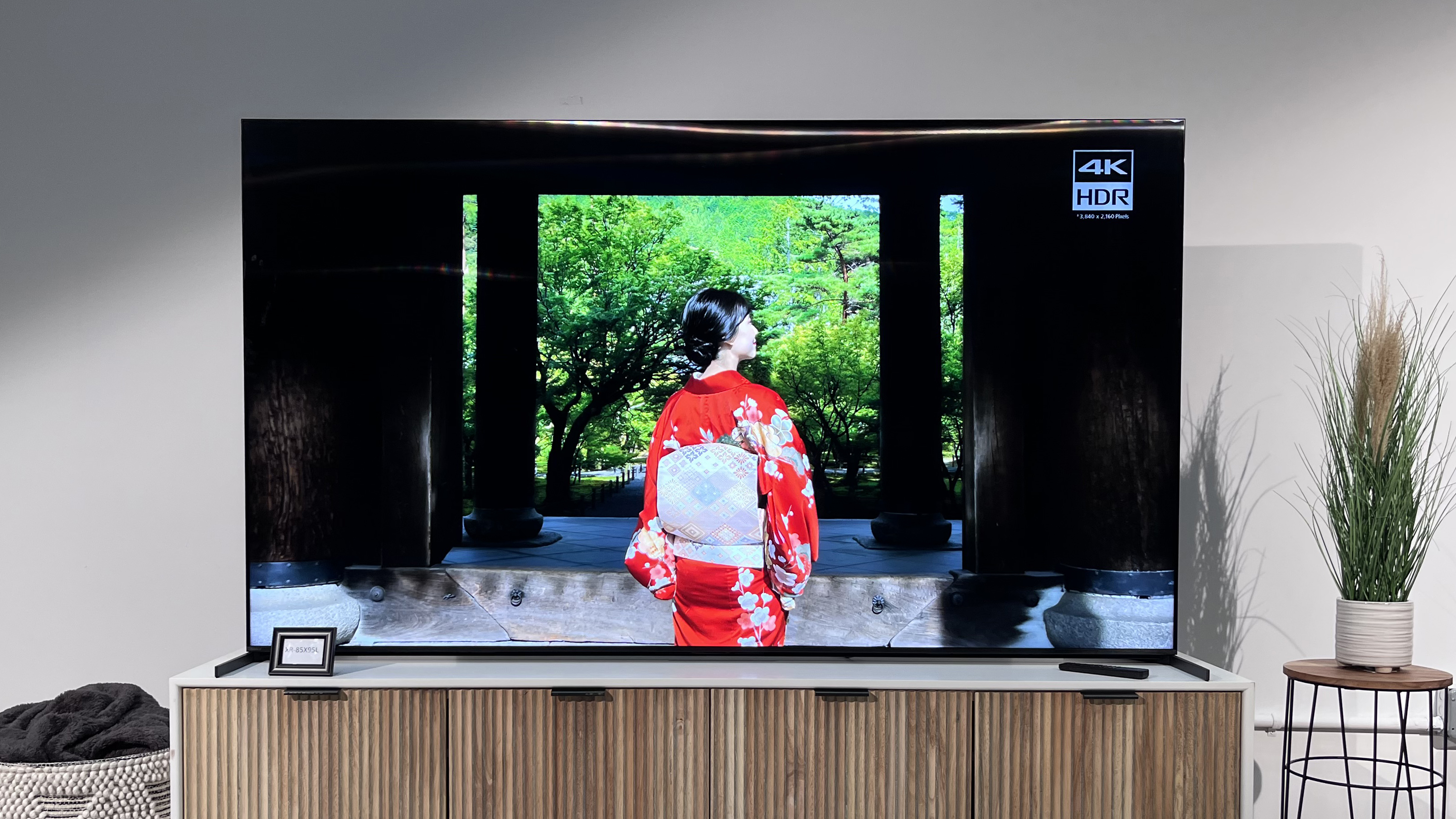 The new Sony X95L is an improvement in almost every way compared to last year's version, then, but the comparison with the LG C2 OLED is more complicated. As anyone who knows anything about mini-LED and this kind of mid-range OLED screen would expect, the maximum brightness of the Sony was way, way beyond what the LG C2 is capable of.
In individual scene highlights, this is clear; in sports or other bright settings with lots of colors, the difference is actually even clearer – the average brightness (not just in HDR highlights) is so much higher in the mini-LED TV. At a cursory glance, all this extra pop can easily make it seem the more appealing TV.
And it seems to have other advantages too – Sony's motion processing appears to be superior, and in the scenes we saw there was less color banding in big blocks of color, such as skies. This means, in the case of the examples we saw, you get a more realistic and natural graduation of colors in the huge (but subtly different) range of blue tones that make up any shot of the sky.
Again, this might vary depending on the mode, so we'll reserve full judgment until we can test it ourselves.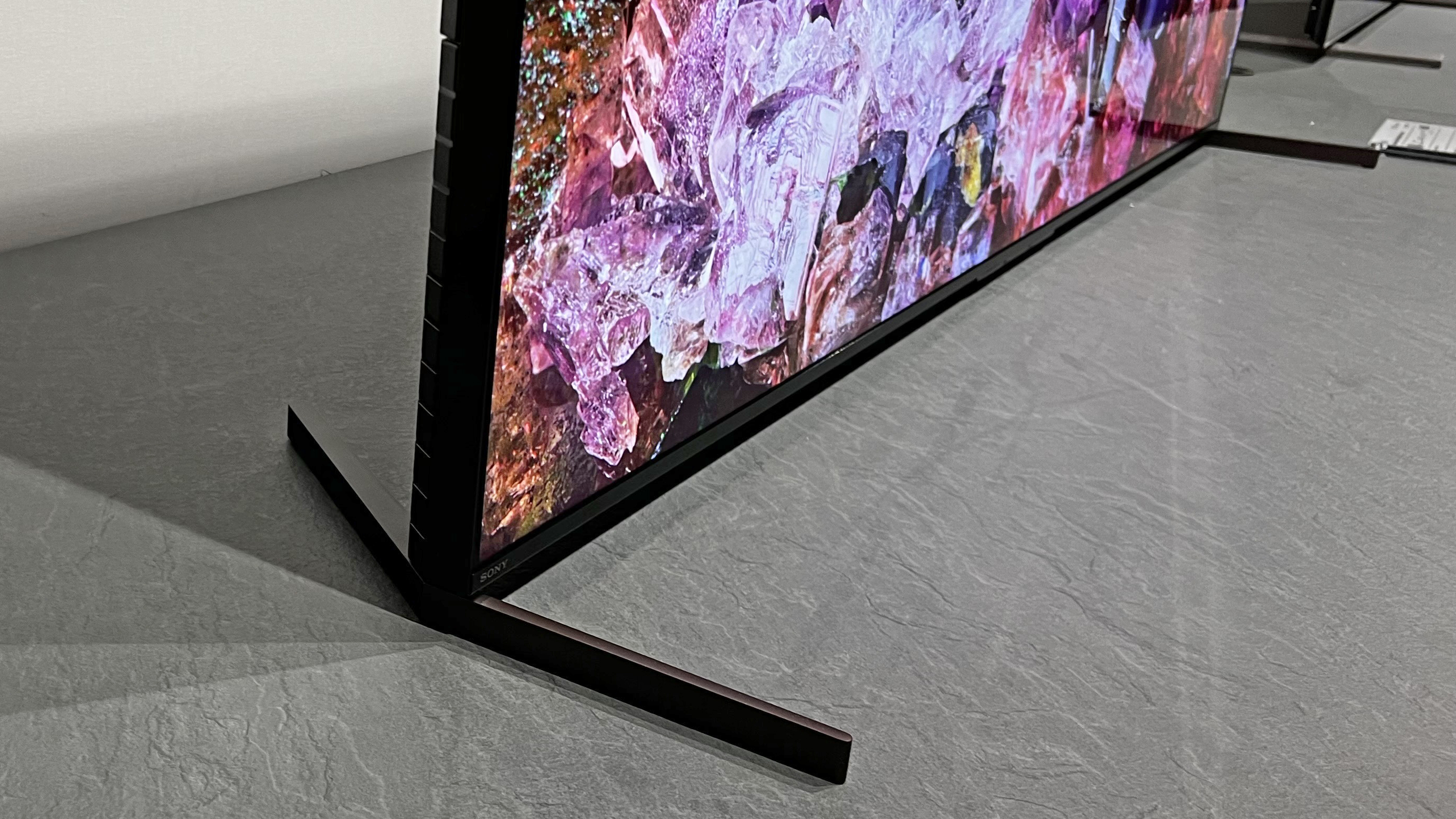 However, it was also clear that despite the big improvement in detail in dark areas, it loses out to OLED in that area. More texture was visible in the darkest areas on the C2, for example, and the dark areas appeared elevated (meaning more gray than near-black) in the hardest scenes.
And, of course, even though the X95L improves on the blooming from its mini-LED backlight compared to the older model, the contrast is still nowhere near as precise as OLED's self-lighting pixels deliver.
Also, although the punchier brightness is an advantage in many cases (especially if you watch in a bright room), and has an obvious appeal when put side-by-side with OLED, the LG C2's image overall looked closer to what I was also seeing on the Sony reference monitor.
I was watching in a dark room – the optimum way to view an OLED TV – so the C2 was really in its element. In a brighter room, the C2 may have been more washed-out among reflections, with the Sony A95L more able to push the picture through that. That's the advantage of bright mini-LED TVs.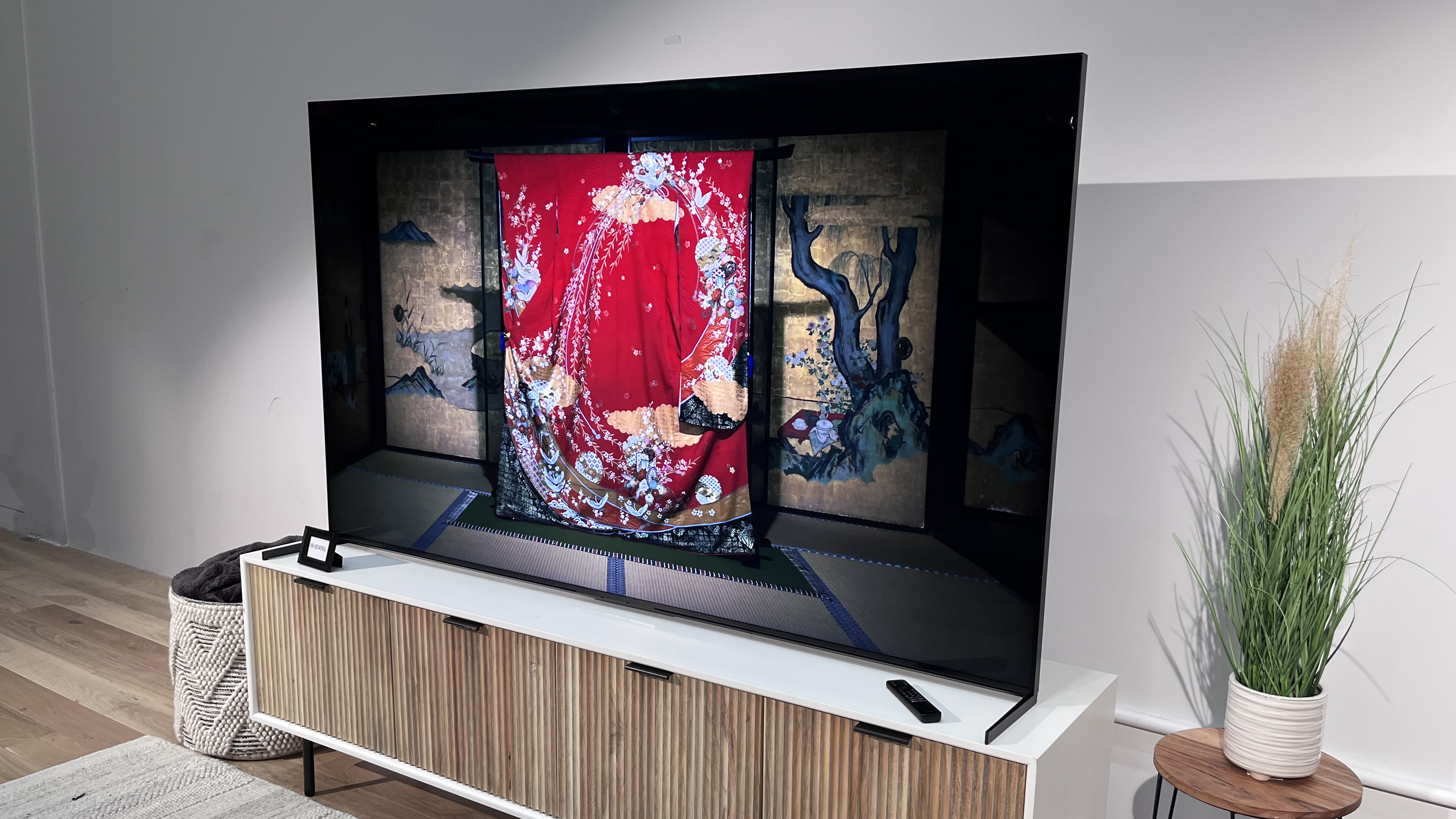 When it comes to sound, Sony is using a new Acoustic Multi Audio+ system here, which is a bit different to the Acoustic Surface Audio+ used in the Sony A95L. Rather than turning the screen into a speaker, this attaches tweeter drivers to the frame of TV high up on the left and right, combined with other speakers further down. The idea is to steer the sound to add positional audio, though I wasn't able to test this.
As is usual with higher-end Sony TVs, there's HDMI 2.1 support (on two of the four HDMI ports) for 4K 120Hz gaming with VRR. This TV is also 'Perfect for PlayStation 5', which means it supports the PS5's Auto HDR Tone Mapping (which means the PS5 adjusts the HDR of its pictures so it's optimal for your exact screen), and the auto-switching of gaming modes depending on the genre of game you're playing.
Sony's new gaming hub menu is also supported, which makes it easy to adjust specific gaming options, including raising black tones so you can see in the dark more easily, and even making the picture smaller within the screen, so that you can make it more 'glanceable' for some competitive games where that's an advantage.
It's hard to say where the Sony X95L is likely to fall in the scheme of the best 4K TVs without knowing its price, and without being able to test it in greater depth and under our own control; but if it can undercut the price of similar Sony QN95C, then it's shaping up to be a great choice for those who watch in a brighter room.
The post Sony's new X95L mini-LED TV gets closer to OLED contrast, but it's not there yet first appeared on www.techradar.com
In many places around the world, horse races are an attraction that a lot of people love to watch. With the fast-paced action and thrill that each game provides, it is no longer surprising to know that millions of fans have grown fond of it.
Cybersecurity threats have become vast and more sophisticated. The rate of malware attacks and malicious activity counts within seconds despite the size or sector the organization belongs to — no one is safe enough to expect that foe actors will bypass vital company resources.