From www.macrumors.com
by Tim Hardwick
Spotify says it still plans to launch a lossless music experience, although when that will be and what form it will take still appear undecided.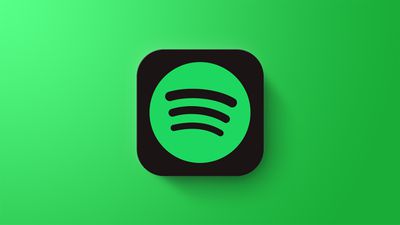 It's been more than two years since Spotify announced it would introduce a "HiFi" premium tier that would give users access to a catalog of CD-quality music tracks. Originally it said the tier would go live by the end of 2021, but similar moves by rival streaming services upended Spotify's lossless strategy.
Since then, Apple Music has included lossless listening options as part of its standard subscription price, and Amazon has stopped charging extra for its lossless music library. That's made the idea of Spotify asking users to pay more for a like-for-like service sound a lot less reasonable.
"We announced it, but then the industry changed for a bunch of reasons," Spotify co-president Gustav Söderström said on Tuesday in an interview with The Verge. "We are going to do it, but we're going to do it in a way where it makes sense for us and for our listeners. The industry changed and we had to adapt."
"We want to do it in a way where it works for us from a cost perspective as well," Söderström continued. "I'm not allowed to comment on our label agreements, nor on what other players in the industry did, for obvious reasons," he added.
According to The Verge, Spotify HiFi has been ready to launch for more than a year, and Spotify employees have access to HiFi, but it was originally intended to cost more than the standard plan. Given Apple and Amazon's moves, Spotify's lossless is now expected to appear as part of a more extensive plan that includes access to spatial audio tracks and other perks to do with audiobooks and podcasts.
When the plan will arrive, however, is still unknown, with Söderström only able to confirm to The Verge that HiFi "is coming at some point."
Popular Stories
Apple CEO Tim Cook sided with operations chief Jeff Williams in pushing to launch a first-generation mixed-reality headset device this year, against the wishes of the company's design team, the Financial Times reports. Apple headset concept by David Lewis and Marcus Kane The timing of the mixed-reality headset's launch has apparently been a cause of considerable contention at Apple. The…
While the iPhone 15 lineup is around six months away, there have already been plenty of rumors about the devices. Many new features and changes are expected for the iPhone 15 Pro models in particular, including a titanium frame and more. Below, we have recapped 11 features rumored for iPhone 15 Pro models that are not expected to be available on the standard iPhone 15 and iPhone 15 Plus:A17…
At WWDC 2022 last June, Apple previewed the next generation of CarPlay, promising deeper integration with vehicle functions like A/C and FM radio, support for multiple displays across the dashboard, personalization options, and more. Apple said the first vehicles with support for the next-generation CarPlay experience will be announced in late 2023, with committed automakers including Acura, …
Images of what appear to be components for Apple's upcoming mixed-reality headset have today been shared online. The images come from a Twitter user with a protected account who has a track record for sharing accurate information about Apple components. Three of the pictures show shaped ribbon cables that contour around a user's eyes, and may be used to connect display components to a board. …
Samsung's "Space Zoom" feature has come under fire amid complaints that images of the moon are being artificially enhanced to an extreme extent. Samsung introduced a 100x zoom feature with the Galaxy S20 Ultra in 2020, becoming a mainstay on recent flagship handsets from the company. Since its debut, Samsung has touted its devices' ability to take impressive pictures of the moon. Unlike…
Reddit is currently down for most users due to a "major outage" affecting the desktop and mobile versions of the website. Reddit's status page indicates the website is actively investigating the issue as of 12:18 p.m. Pacific Time on Tuesday. "Reddit is currently offline," reads a notice on the Reddit Status page. Reddit is "working to identify the issue," but there is no timeframe for a…
Monday March 13, 2023 3:53 pm PDT by Juli Clover
Apple today added refurbished iPhone 13, iPhone 13 Pro, and iPhone 13 Pro Max devices to its online store in the United States, offering the smartphones at a discounted price. The iPhone 13 is available starting at $619, the iPhone 13 Pro is available starting at $759, and the iPhone 13 Pro Max is available starting at $849. The iPhone 13 models initially came out in September 2021, and…
Apple's online store will begin selling the Chipolo CARD Spot on Tuesday, March 14, according to a Chipolo spokesperson. Like the AirTag, the CARD Spot supports Apple's Find My app. The circular Chipolo ONE Spot will not be sold by Apple. Priced at $35, the Chipolo CARD Spot is a card-shaped item tracker designed for use with wallets. The accessory allows you to easily track the location of…
The post Spotify Still Intends to Launch Delayed HiFi Lossless Plan, Just Don't Ask When first appeared on www.macrumors.com
In many places around the world, horse races are an attraction that a lot of people love to watch. With the fast-paced action and thrill that each game provides, it is no longer surprising to know that millions of fans have grown fond of it.
Cybersecurity threats have become vast and more sophisticated. The rate of malware attacks and malicious activity counts within seconds despite the size or sector the organization belongs to — no one is safe enough to expect that foe actors will bypass vital company resources.