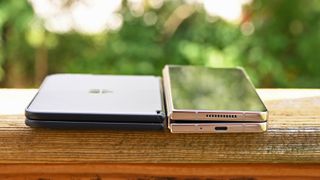 (Image credit: Daniel Rubino)
What you need to know
Microsoft has moved on from the dual-screen design of the Surface Duo, according to sources familiar with the matter.
Instead, Microsoft will shift to a device with a folding internal display, much like the Galaxy Z Fold 4.
Our readers were split regarding how many screens Microsoft should include in future Duo devices.
---
Microsoft decided to depart from the design of the Surface Duo and Surface Duo 2 when creating its next foldable, according to a recent report by our Senior Editor Zac Bowden. Instead of having two displays that sit side-by-side, the Surface Duo 3 will feature a foldable internal display. That brings the Duo family in line with other folding devices like the Samsung Galaxy Z Fold 4, Vivo X Fold, and HONOR Magic Vs, but is it the right move?
Earlier this week we ran a poll asking how many screens the Surface Duo 3 should have. Just because Microsoft has decided to move to an internal display that folds doesn't mean that fans of the Duo lineup agree.
Almost 52 percent of polled participants said that Microsoft should stick with the dual-screen design of the original Surface Duo and Surface Duo 2. Over 36% said they'd want to see a Surface Duo 3 with a foldable display plus an outer display. An additional 11.51% want to see a Duo 3 featuring a single foldable display but no outer display.
Windows Central take
I think that Microsoft should emulate a foldable that's already on the market when making the Duo 3, but not the one that you might think. Rather than following in the footsteps of Samsung, I believe the Surface Duo 3 should have an aspect ratio similar to that of the Oppo Find N or Oppo Find N2 (shown above by our colleague MrMobile).
Oppo's foldable looks like a merging of the Surface Duo 2 and a more traditional folding phone. It has a large single display that's still good for multitasking because it can split into a pair of virtual displays that have a similar aspect ratio to a normal slab phone.
If Microsoft took the multitasking prowess of the Duo 2 and put it on a device like the Find N2, you'd have a dream device. It would also have the benefit of being available and supported in North America, which is not the case for the Find N2.
Of course, Microsoft doesn't make hardware just to tickle my fancy. I don't expect the Duo 3 to look like the Find N2. Heck, it may not be called the Surface Duo 3. We'll have to wait and see to get a gauge for what Microsoft has in store.
The post Surface fans are split on the future of Surface Duo 3 first appeared on www.windowscentral.com
In many places around the world, horse races are an attraction that a lot of people love to watch. With the fast-paced action and thrill that each game provides, it is no longer surprising to know that millions of fans have grown fond of it.
Cybersecurity threats have become vast and more sophisticated. The rate of malware attacks and malicious activity counts within seconds despite the size or sector the organization belongs to — no one is safe enough to expect that foe actors will bypass vital company resources.