From www.techadvisor.com
Image: Huawei
Huawei has had some tough times lately, with the US government seemingly out to get it. But the Chinese company is hanging tough and still releasing some high-quality smartphones.
Here's all the latest news and rumours about its latest generation: the Huawei P60 series.
When will the Huawei P60 series be released?
The P60 series has already been revealed in China, where it launched on 23 March alongside the Mate X3 foldable phone.
The Pro model was given an international launch on 9 May, and is available now direct from Huawei in the UK and Europe, before hitting more retailers on 22 May. It looks like neither the regular P60 nor P60 Art will be getting a global launch, and as always don't expect any release at all in the US.
There's also been no sign yet of a follow-up to the foldable P50 Pocket – not even in China.
How much will the Huawei P60 series cost?
With only the P60 Pro getting a western launch, here's how much it costs:
8GB RAM + 256GB storage: £1,199/€1,199
12GB RAM + 512GB storage: £1,299/€1,399
Note that in Europe each of those configurations comes in a choice of colour – Rococo Pearl or Black – while in the UK you're limited to picking up the 8GB model in Black, or the 12GB one in Pearl.
There's also a special offer for UK buyers who pick a P60 Pro up before 5 June: Huawei will throw in a free Huawei Watch GT 3 to anyone who buys the phone, and if you pick up the more expensive model then you'll also get a £100 voucher to spend in the Huawei store, effectively negating the extra price of that version.
As for the other models, here's their pricing in China, including the Pro for comparison's sake:
Huawei P60 – ¥4,488 (around $650/£515)
Huawei P60 Pro – ¥6,988 (around $1,000/£800)
Huawei P60 Art – ¥8,988 (around $1,300/£1,000)
What are the P60 specs and features?
With three phones in the series we'll break them down one by one – starting with the Pro, on the basis that this is the only model launching in the West.
P60 Pro
The P60 Pro packs a large, 6.67in LTPO OLED display with an FHD+ resolution (1220×2700) and a 1-120Hz refresh rate. The panel is protected by Kunlun glass – a protective alternative to the more common Gorilla Glass – and there's also an IP68 rating for water-resistance.
As mentioned above, it's launching internationally in two colours: Rococo Pearl, which you can see above, or the simple Black.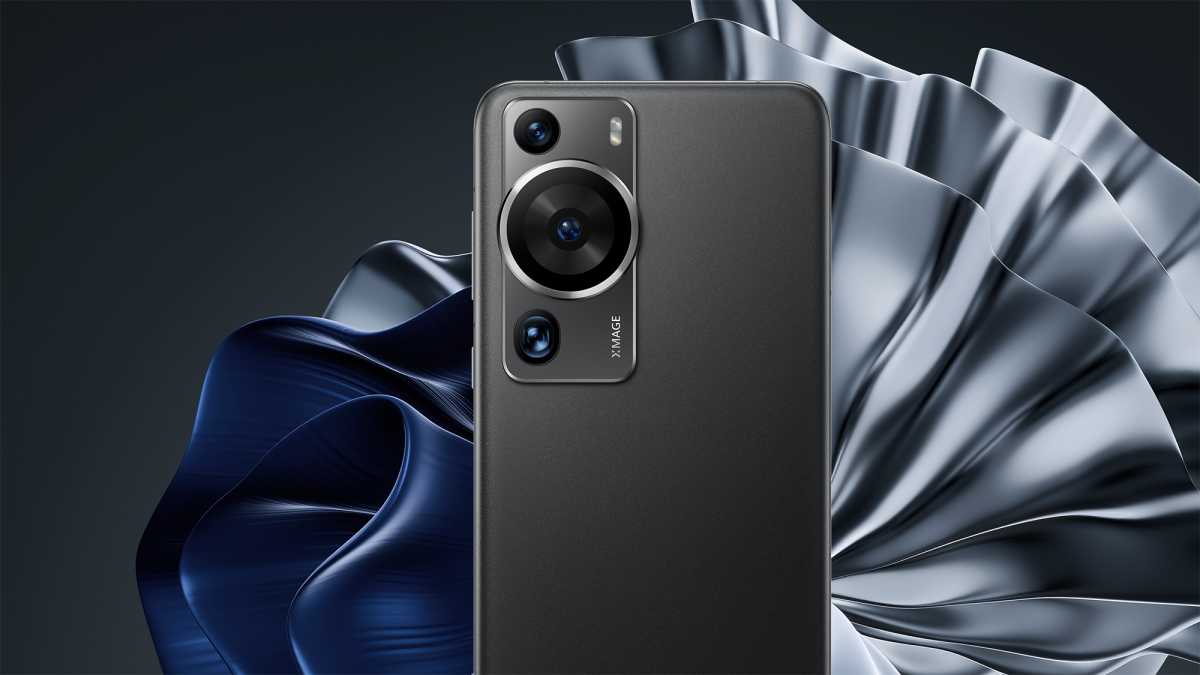 Huawei
The phone is powered by the Qualcomm Snapdragon 8+ Gen 1 – as opposed to the more recent 8 Gen 2 – and thanks to Huawei's ongoing US trade sanctions this will be a 4G version of the chip, with no 5G support at all. In China the phone supports Beidou satellite messaging, but this is unlikely to be supported worldwide.
Power is supplied by a 4815mAh battery, with 88W wired charging and 50W wireless speeds.
Then there's the camera, always a highlight with Huawei. The 48Mp RYYB main camera looks seriously impressive, with variable aperture tech borrowed from the Mate 50 Pro, ranging from f/1.4 to f/4.0. That should allow it to excel in a huge range of lighting conditions, with the phone automatically optimising for present conditions.
A 13Mp ultrawide with an f/2.2 aperture is promising but unexciting, but the 48Mp telephoto is more unique: its f/2.1 aperture is unusually fast for a smartphone telephoto, meaning this could be the best zoom lens around for low light shots.
On the front, you'll find a 13Mp, f/2.4 selfie camera.
You can read our full review of the Huawei P60 Pro here.
P60
The regular P60 is surprisingly close in specs to the Pro model. It packs the same display, same chipset, and a similar design – though lacks Kunlun glass protection.
Huawei
In fact, it really only drops specs in two areas. The first is the telephoto: instead of that impressive 48Mp zoom lens the regular P60 has a much more ordinary 12Mp telephoto with an f/3.4 aperture. It'll probably still be good, but not a standout like on the Pro.
The regular model also has slightly slower wired charging, at 'just' 66W. Wireless speeds are the same though.
P60 Art
Finally, the P60 Art – a new model name for this generation.
As the pricing suggests, this is a step up from the Pro. First up, it has its own design, with a tweaked camera module to help it stand out from its siblings.
Core specs are the same, though it comes with more storage, starting from 512GB and going up to 1TB.
Like the P60, its changes are also focussed on the camera. Its core camera is similar to the P60 Pro, but it has an upgraded ultrawide with a 40Mp sensor, though also at aperture f/2.2.
It also has an improved battery. It's larger for a start, at 5100mAh, and uses new silicon-carbon tech, which has a higher energy density for better longevity.
Take a look at our current recommendations for the best smartphones and the best new phones coming in 2023 to see what Huawei has to beat.
The post The Huawei P60 Pro lands in Europe with an extraordinary camera first appeared on www.techadvisor.com
In many places around the world, horse races are an attraction that a lot of people love to watch. With the fast-paced action and thrill that each game provides, it is no longer surprising to know that millions of fans have grown fond of it.