From www.techradar.com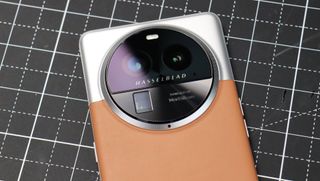 The Oppo Find X6 Pro (Image credit: Future / Lance Ulanoff)
Samsung's Ultra phones tend to have fantastic cameras, with the Samsung Galaxy S23 Ultra topping our list of the best camera phones. But in 2024 Samsung might have some serious competition from the Oppo Find X7 Pro.
This phone – which is likely to land in early 2024 – will have a quad-lens camera according to leaker Digital Chat Station, writing on Weibo (via GizmoChina). All four of these cameras will apparently be 50MP, and they're said to include a one-inch main sensor, an ultra-wide snapper, and two periscope cameras, with one offering 2.7x optical zoom and the other reaching 6x optical zoom.
There are a lot of things to unpack here. First off, a 6x optical zoom would have most phones beat, other than the 10x optical zoom of the Samsung Galaxy S23 Ultra. This would also rank among the very few phones that has two zoom cameras, and it would be the first to sport two periscope cameras.
Periscope cameras use a prism to bend light, in a similar way to a submarine's periscope, and this design means they don't have to stick out of the phone as much as typical telephoto cameras.
A bigger sensor for better photos
The mention of a one-inch sensor for the main camera is also notable, as while a small number of phones already have one-inch sensors, the vast majority of smartphone cameras – including those on top flagships like the iPhone 15 Pro Max and the Galaxy S23 Ultra – use smaller sensors.
A larger sensor lets more light in, which is particularly beneficial to low light images, but can lead to improvements in image quality regardless of the lighting.
It's also nice to see that all four cameras will reportedly be 50MP, when many phones offer fewer megapixels on secondary snappers.
So this all sounds extremely promising, and might even make for a better setup than the Samsung Galaxy S24 Ultra has. Leaks suggest this phone will have a 200MP main camera, a 12MP ultra-wide, a 50MP telephoto (offering 3x optical zoom), and a 10MP periscope (capable of 5x optical zoom).
So in some ways it would be a step down from the 10x zoom of the S23 Ultra, and it wouldn't quite match the 6x zoom we're hearing the Oppo Find X7 Pro will have. Its rumored megapixel counts are also far less consistent, and it's unlikely to have a one-inch sensor.
The Oppo Find X7 Pro will probably compete with Samsung's upcoming flagship when it comes to power too, as Digital Chat Station also claims that Oppo's phone will have a Snapdragon 8 Gen 3 chipset, which is also what we're expecting from the Galaxy S24 Ultra.
So if you're looking for one of the best phones, it might be worth waiting until both of these handsets are out before deciding which to buy. The Galaxy S24 Ultra is likely to land in January, and while we're less sure of when we'll see the Oppo Find X7 Pro, it probably won't be far behind.
If you can't wait until then though, check out our guide to the Black Friday phone deals, for all the top sales and offers available now.
You might also like
[ For more curated tech news, check out the main news page here]
The post The Oppo Find X7 Pro might have better cameras than the Samsung Galaxy S24 Ultra first appeared on www.techradar.com