From hothardware.com
Lenovo has officially unwrapped the Legion Go handheld gaming PC and Legion Glasses at IFA 2023 in Berlin. The Legion Go handheld has been extensively leaked in the runup to the official event, but it is nevertheless good to see the official specs, and the reveal of one or two surprising features which the leakers missed.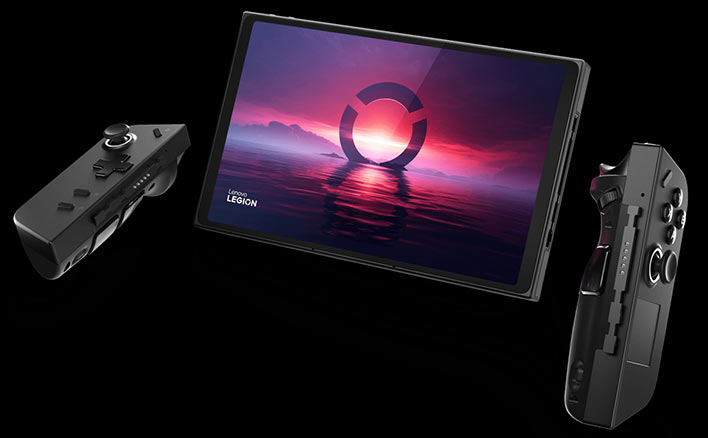 Let's start our look at the Legion Go by confirming the essentials. In essence this is a large screen Windows gaming handheld, packing an 8.8-inch QHD+ IPS display with 144Hz refresh support. Inside the Legion Go are state of the art components for a handheld: an AMD Ryzen Z1 Series processor, up to 16GB LPDDR5X-7500 RAM, up to 1TB PCIe Gen4 SSD plus up to 2TB micro-SD support, a rapid-charge 49.2WH battery, and Legion Coldfront cooling to calm the full 25W of TGP processor.
The size already makes Lenovo's Legion Go stand somewhat apart from the Steam Deck and its followers like the ROG Ally. However, it takes another sizable step away from the norm by making the left and right flanking controllers detachable. You may wonder about the utility value of the detachable Legion TrueStrike controllers, but they do more than just offering wireless control.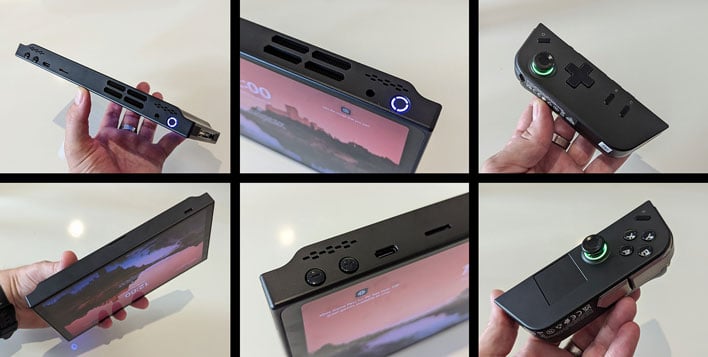 The right controller converts to a mouse-like device with a flick of a switch. Users can insert the right controller into a supplied base to nimbly mouse around. Many iconic PC games work best with a mouse, so this controller innovation could mark the start of a trend.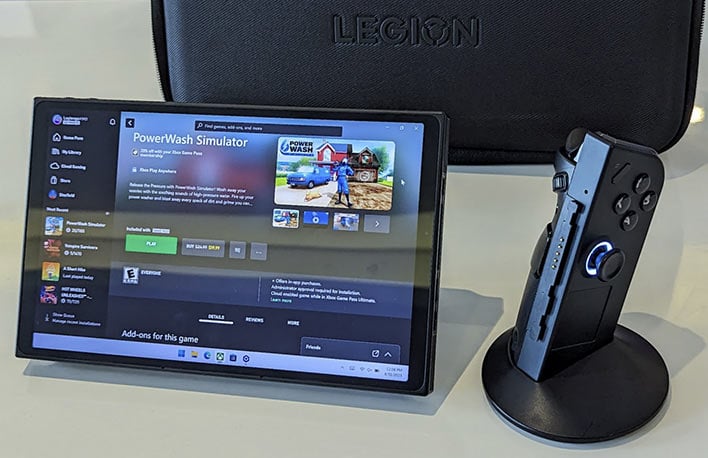 Lenovo's choice of QHD+ display in its handheld might cause a raised eyebrow or two. AMD's integrated graphics are good, but can struggle with modern titles at FHD. However, users of the Legion Go can enjoy crisp integer display scaling from 800p on this panel, where frames per second are of the utmost importance. For less visually demanding games, FHD or even QHD+ might be options.

The Lenovo Legion Go is expected to be available starting November 2023 starting at $699.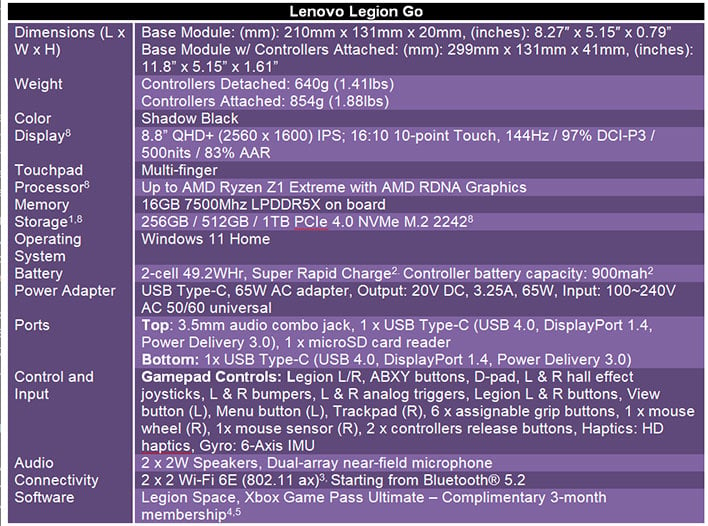 Lenovo Legion Glasses
We have seen less about these glasses on the runup to IFA. These aren't smart-glasses or VR glasses or similar. Instead, they are simply dual displays that allow for glasses-based content consumption. Over each eye there is a Full HD (1920 x 1080 pixels) 60 Hz display which uses micro OLED technology. Lenovo says you can plug them into any device which can output via USB Type-C with DP Alt mode. The attached cable is 1.2m (3.93ft) long.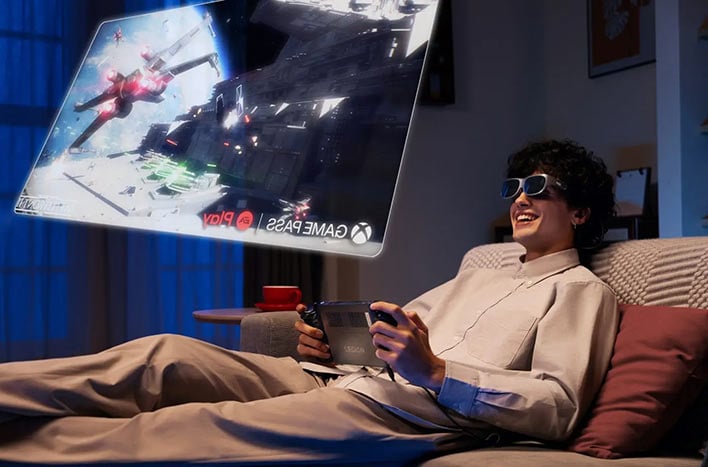 Due to their simplicity, they are thus compatible with Windows, Android, and MacOS, just like any other USB Type-C monitor. That means they work nicely with the new Lenovo Legion Go, too.

Rounding off the glasses appeal, there are some small "high fidelity" speakers in the glasses' frames. So, your viewing experience is quite private and isolating.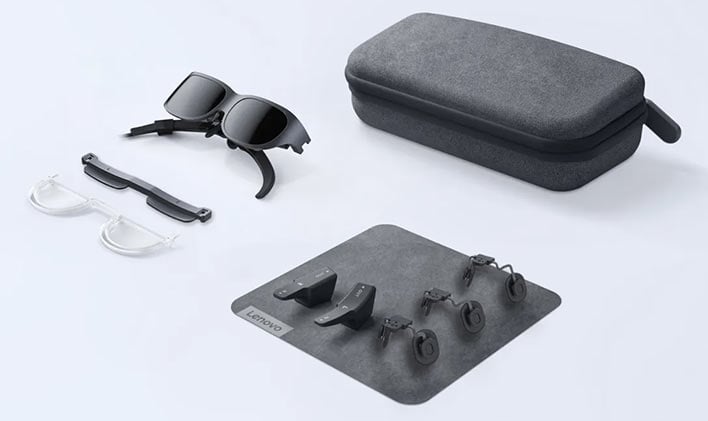 The Lenovo Legion Glasses are expected to be available in October 2023 starting at $329. That puts pricing on par with a good-quality gaming display, so we are keen to see if the novelty and potentially discrete nature of the technology can justify the price.
[ For more curated Computing news, check out the main news page here]
The post Lenovo Legion Go Handheld And Micro-OLED Glasses Bring Exciting New Twists For PC Gamers first appeared on hothardware.com