Google uses Google I/O to announce its plans for the coming year. The opening keynote presentation is where all the major announcements happen. We're talking about the newest version of Android, to some hot new hardware. Here is everything that was announced at Google I/O this year.
Google Pixel Fold
Let's take a look at some of the specs:
5.8-inch outer OLED display, which is smaller than other Pixel phones.
2400 x 1080 resolution, 120Hz refresh rate, and a max brightness of 1,550 nits.
7.6-inch OLED display

2208 x 1860 resolution joins a 120Hz refresh rate,
max brightness of 1,450 nits
6:5 aspect ratio. It's also the thinnest folding phone

available on the market

Does have noticeable bezels surrounding the device

$1,799 price and available preorders are open now and will ship next month.
Google Pixel 7a
Google I/O is traditionally where Google announces the next version of its mid-range A-series phone, and this year is no different. The Google Pixel 7a, leaks were flowing everywhere leading up to Google I/O where it has been officially revealed. Keeping with tradition, it is the more tamed version of the flagship Pixel 7, but it is plenty powerful with excellent camera capabilities.
Spec Rundown:
Camera Setup:

Largest megapixel ever seen on an A-series Pixel phones, with a 64-megapixel main lens
13-MP selfie camera — can record videos in 4K

Same Google Tensor G2 processor as the Pixel 7a
Slightly smaller 6.1-inch OLED screen (versus 6.3 for the regular Pixel 7)
Includes another first for the Pixel A series — a 90Hz refresh rate. (same as the Pixel 7)
Available right now starting at $499
Google Pixel Tablet
The Pixel Tablet marks Google's return to the tablet market since its release of the Pixel Slate back in October of 2018. As of January 20, 2021, all listings for the Pixel Slate were removed from the Google Store and no longer available for purchase. Google is banking on the Pixel Tablet to have a more favorable welcome to the market.
Key Features:
10.95-inch LCD display that runs a 2560 x 1080 resolution.
Pixel Tablet is powered by the Tensor G2 processor.

which enables AI features like voice typing, Magic Eraser, and Photo Unblur.

8GB of fast LPDDR5 RAM.
You can choose between 128GB or 256GB, it's UFS 3.1 rather than the newer and faster UFS 4.0.
8-megapixel capable of 1080p video capture at 30fps.
Other specs include quad speakers, a 4-pin accessory connector, Wi-Fi 6, Bluetooth 5.2, and UWB connectivity
USB-C port for recharging the 27 Wh battery , yields up to 12 hours of video streaming
Pre-order it for $499, and that includes the $129 peaker base which when docked, unlocks more features.

The tablet's speakers are deactivated and any media you're playing will stream through the dock's speaker.
When docked, it can be used as an additional screen and Chromecast to it. First tablet with Chromecast built-in.
AI features for Photos, Gmail Maps, and Search
With Help Me Write, Gmail will be able to create entire replies for you. The on-stage demo showed Help Me Write create a reply to a customer service email, it then added important contextual information, and included order information from previous emails. You can customize the reply to be as detailed or simple as you want.
Google Maps is getting added extra AI power with Immersive View for routes which will allow users later this year, to use Immersive View to zoom along a 3D-generated simulation of their route. From a bird's eye view, you can see landmarks along the route. Based on the time of day, you will get generated traffic amounts. Immersive View for routes is coming later this year to 15 cities, including New York, San Francisco, London, and Tokyo.
Google Search is getting improved AI integration to compete with Microsoft's Bing which has integrated ChatGPT to improve search results and take away market share from Google.
Key takeaways:
More In-depth Search results by answering more complex questions using the generative AI to write detailed answers. Search will also include relevant links next to the detailed answers giving you the ability to dive deeper into the topic. Google will also give exact sources to give more relevance to the created text.
More inclusive Product details results. Querying the AI-powered Search for recommendations and you will be presented with a list of features to check for. The results will include price, description, review links, and list of retailers selling the product.
As you would expect, Google can make content for you just like ChatGPT. The example in the picture below asks the AI to write a poem about a mischievous cat named Whiskers.

The SGE update for Google Search will launch sometime within the coming weeks. United States users you can try out the AI starting today by heading over to Google Labs and sign-up on the waitlist.
Google Bard Updated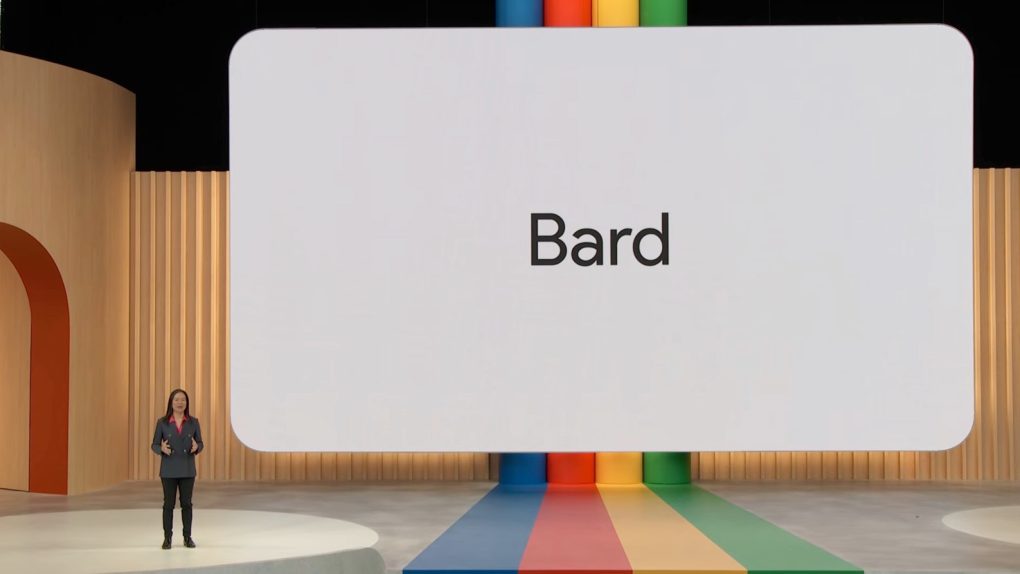 This time, Google Bard made it through the presentation without embarrassing itself by giving incorrect information. The updated Google Bard adds a host of new features and looks ready to take in ChatGPT.
Key Features:
Soon, you will no longer have to wait to get access to the chatbot as Google will be getting rid of the waitlist. Google Bard will also be available in Japanese and Korean from today, with 40 other languages also coming soon.
Google Bard is getting Google Suite integration and soon Bard can generate spreadsheets based on your specific criteria, and then export that spreadsheet directly into Google Sheets.
With a partnership between Google and Adobe, starting soon, you'll be able to prompt Bard to generate images for you. To help you avoid any potential copyright issues, Adobe won't be relying just on stock images, instead, Adobe will train Firefly entirely on its own stock of images.
Android 14
Android 14 did show up with a few new features, let's check them out.
Customizations for the lock screen include new lock screen shortcuts, giving you access to your most frequent activities — directly from your lock screen.
Cinematic and Emojis Wallpapers

The cinematic wallpaper feature lets you turn any photo you choose into a 3D image with motion effects to add as your wallpaper. There s a sparkle icon button that gives photos a parallax effect while you tilt the device back and forth.
The emoji wallpaper feature lets you choose up to fourteen different emoji, browse various patterns and customize colors for a unique wallpaper on the home and lock screen.