From www.imore.com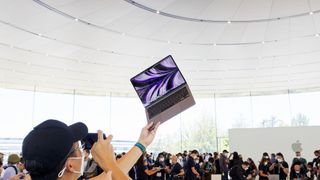 (Image credit: Apple)
Just days before it hold its Mac October event, a top insider has revealed everything that Apple plans to unveil at the event.
The Scary Fast event will take place on Monday, and Bloomberg's Mark Gurman says Apple's new Macs come "at a critical moment for Apple" citing the PC market slump ending and burgeoning competition.
So what will Apple announce on Monday? Gurman says we can expect "fresh MacBook Pro laptops and iMac desktops" with new chips, but that these likely "won't have a radical new look." Let's get into the details.
The event slate
According to Gurman, Apple is preparing new "high-end MacBook Pros", likely the M3 14-inch and 16-inch MacBook Pro, that "will probably include speedier new M3 Pro and M3 Max processors." The M3 Pro processor could have 12 cores, six high-performance, and six high-efficiency. The GPU will have 18 cores, so two more of each than the M2 Pro. however, Gurman says there's also an M3 Pro chip in testing with 14 CPU cores and 30 graphics cores, so who knows which one we might see? M3 Max will reportedly feature 16 main cores and 40 graphics cores. There are also new RAM configurations including 24 and 48GB options.
The other big story is the M3 iMac, which isn't getting a "bold new design" and will look "nearly identical to the existing versions." The new 24-inch iMac will have a slightly changed stand and internals, and new colors are a possibility. According to Gurman, this will feature the M3 iMac with 8 CPU cores and 10 graphics cores.
Apple is also "likely" to unveil new USB-C versions of its trackpad, mouse, and keyboard.
That all confirms Gurman's previous assertion that the 13-inch MacBook Pro, 13- and 15-inch MacBook Air, new iPads, and new AirPods are all being saved for 2024. With the event just a few days away we don't have long to see Apple's next best MacBook come to life.
More from iMore
[ For more curated Apple news, check out the main news page here]
The post New MacBooks and iMacs from Apple's October Mac event just leaked — here's everything you can expect first appeared on www.imore.com